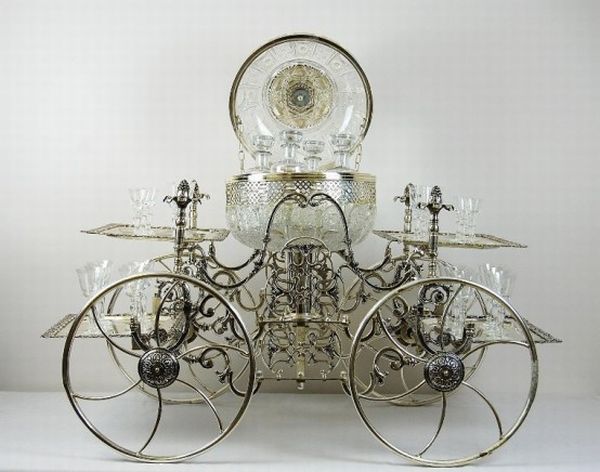 As a child, you must have heard a lot of stories from your grandmother about the kings and queens. And time and again must have been fascinated with the exquisite palace that they live in, the beautiful cutleries that they dine in and the classic dresses they wore. Everything was just beautiful and classic, and a thing of the past. But, just in case you want to relive the era you would be enthralled with this exquisite looking bar trolley.
Galleria Beaux Arts, known for its captivating and timeless collection of antique and vintage furnishing, fine arts etc, is behind this beautiful and timeless bar trolley. The trolley is made of silverplated frames, which are "partially pierced", and crystal domes. And it is in the form of a small and beautiful carriage with four wheels for moving it around on the table.
There are two serving trays on both the sides of the trolley. Exquisite leaf form motifs around the hubcaps and beautiful floral carvings adorn the entire trolley bar. The trolley bar looks nothing less than a classic piece of furniture. And for those who love a classical or rococo interior, this portable bar trolley would be a perfect piece to add an elegant touch to your interiors. If that's not all, it can become a centerpiece of any elegant party, especially weddings. Although a great addition to any interior, this beautiful a thing doesn't come cheap.
Via: DigsDigs