.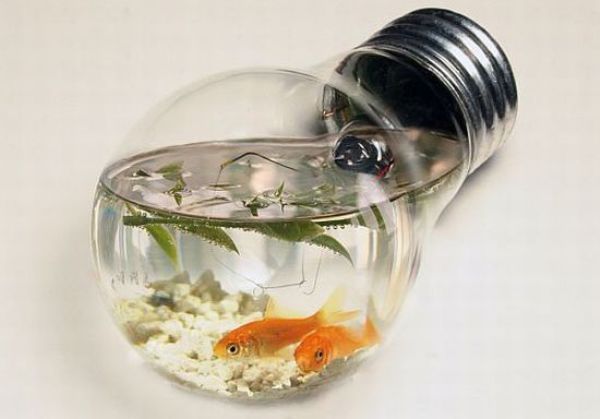 We all have seen the regular boring rectangular fish tanks and aquariums. Neverthless, wouldn't it be interesting to see some improvisations and innovative designs; that make these little aquatic animals deserve the attention they should be getting? Here are some amazing designs of creative fish tanks that will have your sea creatures swimming happily. Apart from that, they also add a new vigor and style to your home.

Toilet Aquarium: The Fish n Flush fish tanks

This innovative toilet tank is a two-in-one solution that functions as a toilet as well as a fish tank! This is a great way to tell your friends about your love for fishes. The design is a well-conceived one as you might think that the fish are living in the toilet tank, whereas they actually live in a separate unit. This creative Fish n Flush can be bought for $399.
Octopus Studios' Silverfish Aquarium fish tanks

The Silverfish Aquarium by the Octopus Studios is a very intricate design of interlinking tunnels made out of transparent PMMA plastic. This fish tank is a very retro-like design and can easily be installed as it is available in a ready-to-install kit that costs a whopping $3400! However, the only drawback would be cleaning out the green algae deposited on the tunnels that run into each other. However, it would be a fun tank for the fish as they have plenty of spaces for swim in!
Macquariums fish tanks
These amazing aquariums are made from the outer structure of Apple Macintosh computers. Built by Andy Ihnatko, the various "Macquarium" that have been built by him are out of the obsolete Macintosh 512K computers and are commercially available as well. Recycling computer parts and making them into useful products is a very 'green' thing to do, apart from that, our old remembrances of the Mac will also stay in the shape of an aquarium
Duplex Aquarium/Cage fish tanks

This awesome fish tank called the Duplex Aquarium/Cage is designed by Constance Guisset and is made by using the thermoform technique in which the bird cage and the fish tank are at the same visual level. This fish tank-cum-cage is an interesting combination wherein you can see the distinct difference between sea-living fish and air-bound birds and then see them merge and possibly interact.
Telephone Booth Aquarium
Designed by Benoit Deseille and Benedetto Bufalino;  the telephone booth aquarium is an awesome design that transforms a regular booth into something mystical and calm. Designed for the Lyon Light Festival, France; the creators have transformed the entire purpose of a telephone booth by adding life to it with the fishes and greenery. The subtle lighting makes this fish tank truly remarkable and surreal!
The Archiquarium

This is a designer fish tank by Karl-Oskar Ankarberg and is crafted out of is made of black and white Coria. These tanks are a fusion between contemporary architecture and sea habitat. The neat rectangular shape of these tanks is characteristic of Scandinavian designs. The Archiquarium was showcased during the Milan Design Week in April this year.
Bathtub Aquarium
Now you can be with your aquatic pets in a modern bath tub that contains an aquarium! Not only would this add more color and liveliness to your bathroom; but would give you a great moment of privacy with your pet fish. Now you can enjoy your bath in oneness with nature with the Bathtub Aquarium.
The Aquarium Sink fish tanks

The Aquarium Sink that is a creation from Opulent Items will keep you company with your sea friends inside the sink. Now you can have the pleasure of viewing your finned friend's colorful home when using the restroom. You can remove the top glass in order to feed the fish or rearrange something inside. There is also a sink light and a powerhead that circulate the water, provide oxygen and also filters the water. However, you would need to plug in this sink d in order to work!
Desk Aquarium
The MILK desk, a chic-looking clutter-free desk. It not only hides the ugly cords and plugs from sight; but also refreshes your senses with an inbuilt fish tank that lies over the table. You can rest your senses as you observe the life inside the fish tank with a dose of nature; providing a much-needed break from the strenuous office tasks.
The Aquatic Condo fish tanks

Designed by Teddy Luong, the Aquatic Condo is a luxurious home for your fish. This modern-looking trendy fish tank is made out of durable white plastic that has a glass bowl within for easy cleaning. The Aquatic Condo has a lot of air holes so that your fish can utilize the space on different floors!
Local River Plant Aquarium
This elegant aquarium called the Local River Plant Aquarium has been built by Mathieu Lehanneur from France. It is capable of breeding freshwater vegetables and fish. Inside this mini-ecosystem; the vegetables take the nitrates and minerals from the water and purify them for the fish – creating a symbiotic relationship between the two. This self-sufficient fish tank might not go down too well with some people; but it is a great way to create a sustainable ecosystem. Moreoever, it also provides a natural living environment to the little aquatic creatures.
Beijing Hotel Fish Tank

Located in the foyer of a hotel in Beijing, this fish tank looks amazing with its conical form that is full of gold fish. However, the drawback is that the fish can only stay alive for sixc days and therefore the fish tank needs to be refreshed at regular intervals.
Spacearium Aquariums
The Spacearium Aquariums are a creation of a Canada-based company called Aquarium ASP. These unique aquariums are sleek and suspend from the ceiling having multiple uses. They act as a room divider, decoration piece or even as a lighting fixture. The Spacearium tanks have the capacity of holding anything between 55-73 gallons of water. They also have an exterior filtration mechanism that is 15 feet away from the aquarium. The thinner the fish tanks the more expensive they are (just like televisions) and are priced between $4900-$8400.
Aqua Table fish tanks

This unique furniture-cum-aquarium would look extremely stylish in your home. The dynamic aquatic habitat and the colorful and illuminated fish tank would be a delight to look at and to use too! The Aqua Table Aquariums are available in various sizes and shapes such as stretched octagon shape, regular octagon, end table and square. So enjoy sipping tea over this mesmerizing Aqua coffee table with your finned friends!
R2-D2 Aquarium
like the popular robotic droid – R2D2 – and the central compartment of the robot is what holds the fish tank. This is a great aquarium for kids that has a capacity of 1 3/4 gallons of water.; and can hold a small family of sea creatures. Apart from the fish tank; the robotic model can also rotate its head with any command. The user needs to say something followed by the characteristic "bleep" from his side. The radar eye of R2D2 is actually a periscope; that enables you to see the activity that is happening inside minutely. The tank also has inbuilt LED lights that shuffle between green, blue and red colors. 
Atlantis: A fish tank in a painting

Imagine placing your fish next to the majestic Greek statues and ruins and other accessories that go with the Greek theme. This fish tank in a painting called the 'Atlantis' gives a perfect 3D image of the lost city of Atlantis under the sea. Such painting fish tanks are available in other themes as well such as 'Crystal Cave', 'Tropical', 'Blue Lagoon' and so on.
Infinity Aquarium
The repetitive nature of this geometrical fish tank is rightfully called the "Infinity" aquarium as it gives the fish a sense of vastness and space. Made out of glass, this aquarium would give your fish a sense of freedom as they travel through unending tunnels of glass and water. A great-looking aquarium – the Infinity aquarium would surely add a lot of sophistication to your living area with this design.
Sofa Aquarium

This innovative Sofa Aquarium is an amazing design for fish lovers. The sofa has an aquarium filled with colorful fish on either sides. This is a fabulous idea that can make your living room look extremely colorful and lively. The kids will simply adore it! The sofa will cost you $12,000, but the awesome concept is worth the money.
i-Pond Portable Aquarium
These unique i-pod-like fish aquariums are called "i-pond aquariums" and are presently on sale in Australia for $60. True to its form, these aquariums have a 2-in-1 function as they contain live fish and also function as a speaker for your mp3 player or iPod as the device has an inbuilt headphone jack and a speaker as well! This portable aquarium-cum-speaker gadget is not quite a proper aquarium as the minimum quantity of water for fish to live in should be 3 gallons, whereas i-Pond contains only 2 1/2 cups.
Summery
Fish lovers can now get a new look for their aquariums to make their living rooms more exciting. With the bizarre options that will guarantee to arouse your interest in these serene water creatures. On the other hand, some of these unusual aquariums could be a delight for your pet fish too! The above mentioned amazing and different fish tanks; are totally different from a commoner's perspective of a fish tank.