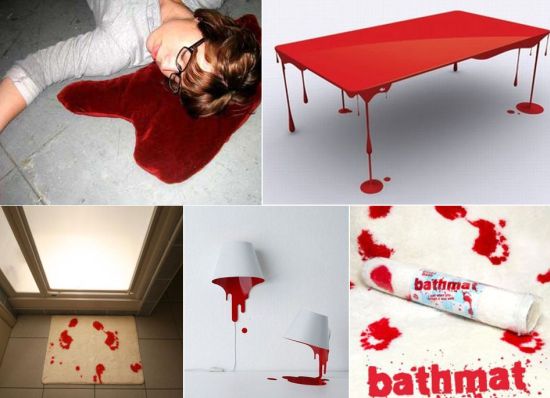 Now, this might look crazy and weird to some of you. Imagine a room where blood is spread everywhere. Sounds scary…right? We aren't talking real blood here, but the blood-themed home furnishings. If you want blood red as a part of your interiors, then you really need to take a look at the blood-themed home furnishings shown below. Hit the jump to see bleeding home décor ideas.
Real Bleeding Bloody Bath Mat
This unbelievable color changing bath mat hides a nasty surprise – it actually turns red when wet! Watch your boyfriend scream like a girl in the shower as he discovers bloody footprints after taking a bath. Dries back white again for another surprise. You won't believe your eyes. Perfect gift for that horror lover in your family.
Kersplat coffee table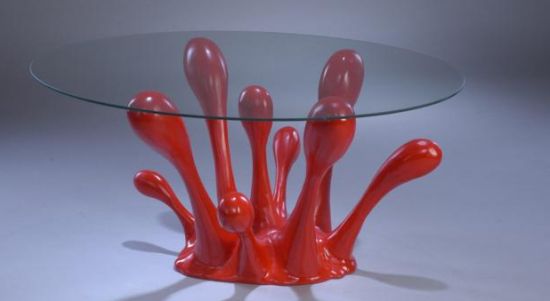 If you are actually obsessed with blood look for your modern apartments then you must surely check out the Kersplat coffee table. The table is made from none other than wood which is shaped into splatter tendrils joined to a base and the piece are finessed further. The table is painted in a high gloss red and topped off by a custom cut piece of glass for the bloody look.
Paint drip blood table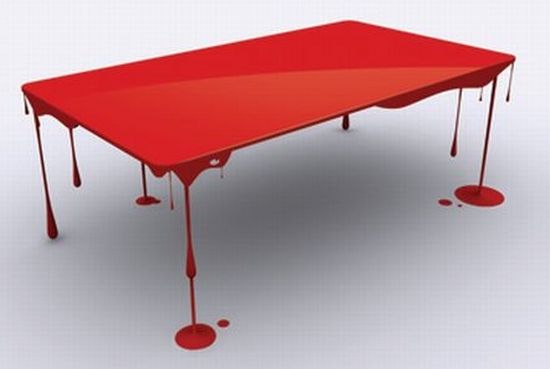 The table is a beautiful artwork which looks like some paint dripping down the table or a table soaked in blood. The blood table is more than just a gruesome experiment in animated gore with layer of intrigue to an already marvelous table design idea. The table stands on legs made in shape of dripping blood which gives it a unique and at the same time creepy appeal.
Bloody serial killer shower curtains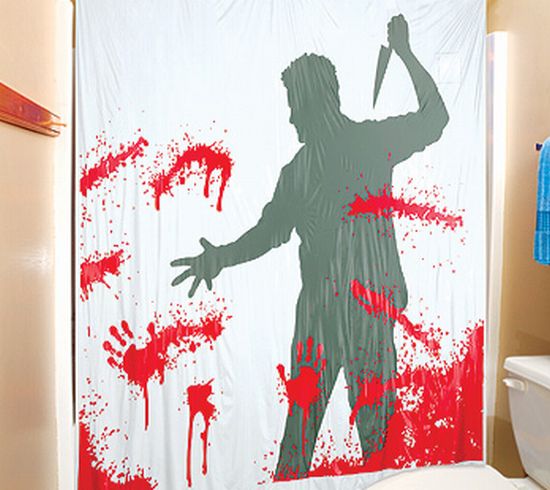 If you are looking for something humorous in your bathrooms then try out theses Shower curtains. I am sure the curtain will certainly remind you of some suspense thriller movie. The curtain figures a knife-wielding maniac and some of the blood splatters which will give your bathroom a depressing and quite of course a different look. In addition, the shower curtain also features a sound and motion-activated speaker that plays the famous Psycho music as well as a clip of a woman screaming. Available for $19.98, the curtain makes an amazing and unusual add ion for your bathrooms.
Blood spill pillow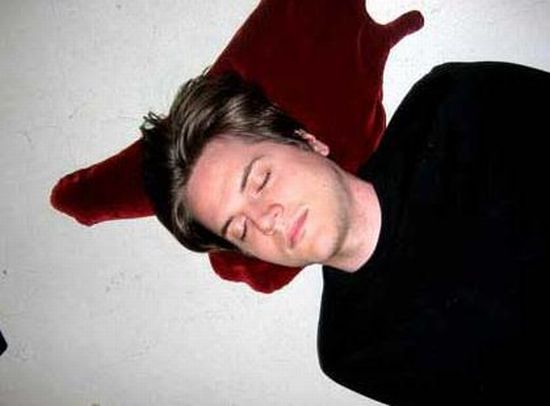 Blood spill pillows is sure to scare you and your friends. So, if wanna play a prank with someone, this pillow from Fromkeetra is sure to keep up horrifying. A blend of humor and horror, the pillow features as if the people pictured have been shot in the head and have massive blood loss. Different in look, the pillow makes a wonder of wellness to rest your head on.
Ball chair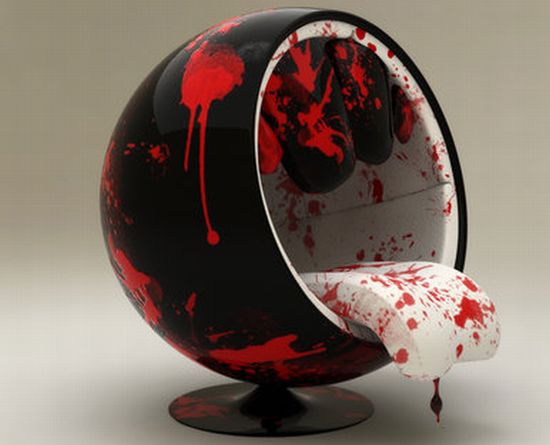 The Ball chair is a perfect blend of style and fear by Djreko. The circular shaped chair is elegant in look, however, the bloody splatters on the chair gives it that scary look which leaves it with a different look. So, you may be in mood to levitate in comfort but the unusual look might leave you bit gloomy.
Eyeball

Here, is a way to leave your visitors scared with the Eyeball. The eyeball is inspired by Van Gogh, and the one-eyed Russian general, Kutuzov, designer Victor Konovalov created these unique intercoms that are definitely eye-catching. The eyeball has a functioning camera and can turn red or green depending on how wild the owner feels that day!
Dexter chair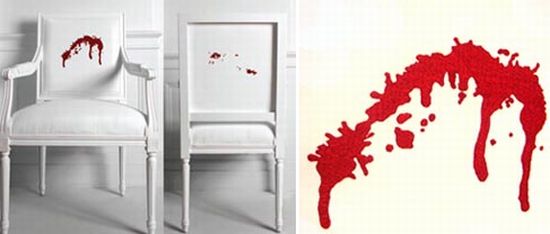 Taking inspiration from a serial killer show, Dexter chair from Amy Lau is a dinning room chair which makes your meal an interesting conversation. Chairs range from $2500 for a side chair to $5000 for an arm chair and is made from white lacquered wood and upholstered in white ultraleather. The front and the back is embedded with the hand-embroidered blood designs by Leah Picker which makes this chair truly remarkable piece of furniture.
Blood bucket lamp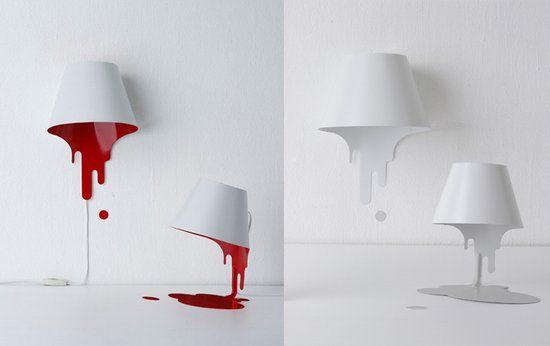 Have you seen a lamp like this before, with blood dripping down the walls? The one-of-its-kind, thelamp features a bucket with the flowing crimson that's in the perpetual state of just almost spilling all over your floor. Scary yet elegant, the lamp lightens the house with its horrifying appeal. Just for $226, make the lamp part of your home or gift it your loved ones.
Blood bath mat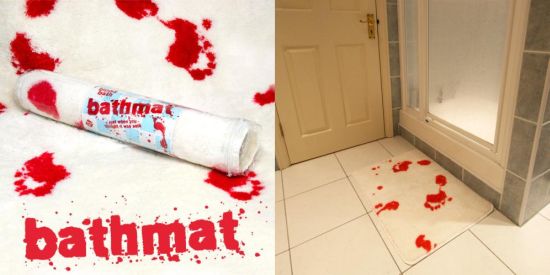 Holy crap, this Blood bath mat will scare you the first time you'll step out of your bathroom. So, you can play trick on your friend or your guest to snag them. The mat adds a different look to your bath space that too at a cost of £14.99. Leave a bloody footprint while you step out of the bathroom and see the shocking response.
Bleeding tiles


The drip hooks will leave a mark of the frightening for a guest in your home. The bleeding tiles are designed like some blood dripping down the walls. The tiles are easy to install and just for $25, the hook adds a cool shade to your living space.
Dexter's bloody coaster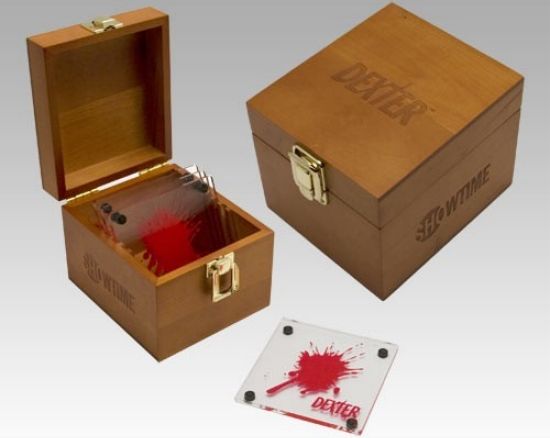 The set of four coasters from Dexter not only carries a different look but also comes in beautifully-crafted wooden box with golden hardware which adds to its beauty. Each coaster is made of a clear acrylic and has rubberized feet. The coasters are imprinted with the logo Dexter in red and the box has Dexter logo carved on top and the Showtime logo carved on two sides.
Bleeding pillar candles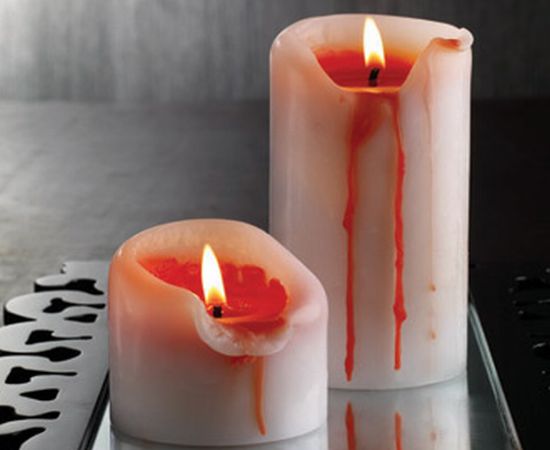 The candles are not the ordinary looking candles but are creepy enough to leave you scared. Bleeding pillar candles actually bleed and ooze red wax "blood" as the candle melts down. Made from two-tone wax, the candles carry a usual look when placed on table until burnt. The two tone wax achieves the creepy effect and bloody effect on burning.
Antonio Murado Salome coffee set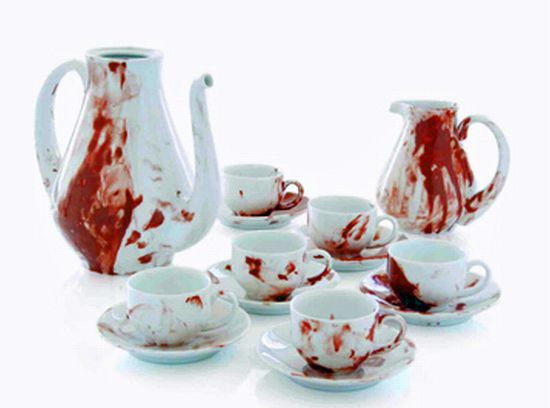 Here, is yet another item for the blood-themed home. The coffee set to give your day a kick start though doesn't seem to be a good idea, but can be a good option at times, especially for the guests. The provocative 14-piece porcelain coffee set was made in Spain exclusivley for the New Museum. The crimson handprints and smears are an almost Baroque reflection on the act of consuming a meal. For $500, the set is elegant and unusual way to enjoy your coffee.
Blood bath shower curtain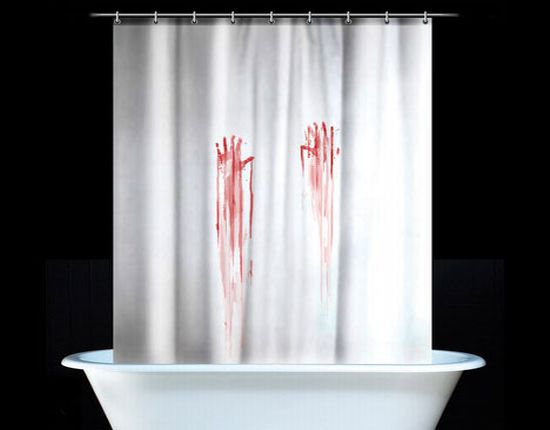 Check out this blood bath shower curtain which will make your guests scream in terror. The curtains will not only spice up your bathroom but also ensure you're wide awake before you leave the house in the morning. The curtain is designed with the blood splattered hand which leaves one terrified.