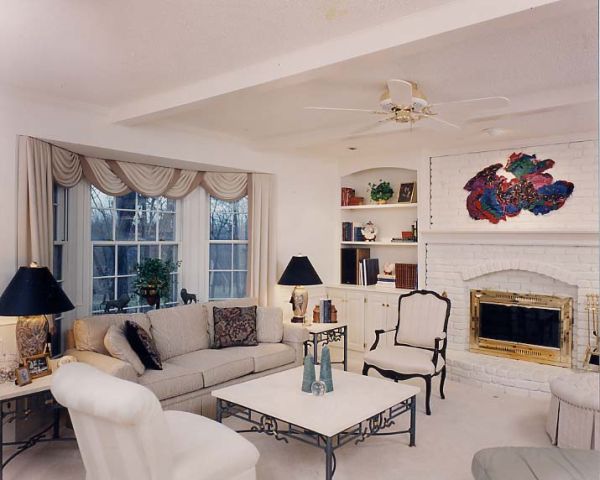 There are many times when we realize that had we done this differently, the outcome would have been so much better. We learn a lot through trial and error; however, when it comes to decorating our home, we would want to avoid making mistakes. Home renovation and decoration requires a lot of time and money, and going wrong in any aspect would not only cost you a lot of money and time, but would also impact the overall look of the house.
The foremost thing to keep into account is to design the house the way you want it, as it should be an extension of your personality and tastes. If you happen to be one of those people who want to decorate their home without hiring an interior designer, then here are 20 tips that you must follow to avoid any major disappointments when decorating your home.
1. Do not let someone thrust their personal choices on you
You must understand that your home is essentially your own and it should be done up the way you want it. Do go ahead and ask for suggestions and help, but keep the decision making for yourself.
2. Never paint the house first
You can select from a wide range of colors and hues – and come up with your own color palette, however, do not paint the house first. It is important to choose the carpets, upholstery and fabric first before painting the walls.
3. Never select paint by only seeing a paint chip
Small chips of paint look great in the store in the fluorescent light, but it does not show how well a wall would look with that color over it. If you have zeroed in on a color, then buy a quart of that color and paint a small portion of cardboard taped to the wall to see how well the color looks in natural light. If you like it, then buy it – otherwise be happy that you didn't paint an entire wall with the wrong color.
4. Never take decisions on colors in the store
Fabric, paint and flooring are huge decisions and you should never make them impulsively. Always ask for samples first, observe them in natural light and try to imagine them in your perspective and then go in for what you consider the best.
5. Do not select mellow colors if bold turns you on
All colored paints cost the same, so if you love vibrant colors, then do indulge in them. You must feel free to express your personality by using the colors that express you as a person.
6. Do not over indulge by making your favorite color the only color in the house
If you have a thing for red, feel free to use it judiciously rather than having all your walls painted with red. Try to use your favorite color with a subtle shade to make it stand out and look elegant, rather than loud.
7. Never underestimate the psychological effects of colors
Try to choose colors in the rooms according to their psychology. Walls that are red in the bedroom do not offer relaxation and peace, whereas blue and green hues exude a more calm and relaxed effect. You can perhaps opt for orange and red walls for the play room that are full of action.
8. Do not forget to include the color undertone
If you have a dark colored wall, you can contrast it with its undertone. A dark and crisp blue can be offset and contrasted beautifully with a much lighter undertone to give a well balanced wall color.
9. Never try to color match everything
If you have a red sofa, do not try to match them with red curtains and a red carpet. Try to mix and match and introduce colors that complement each other, rather than trying to play it safe with the color matching idea which only looks plaid and boring.
10. Do not ignore the central point of attraction of the room
At times a room might have a very interesting focal point and you should try to enhance it rather than leave it aside. Try to arrange your furniture and decoration according to the focal point and enhance it.
11. Do not keep your furniture to the walls
Sofas, chairs and tables should be placed in groups towards the center of the room so that they create more warmth and a feeling of togetherness when the family is sitting together and bonding.
12. Never try to make the room inaccessible with barriers
Do not put a table or a chair right in front of the door as it creates a barrier. Try to lessen the barriers on the entry point of the room for easy access.
13. Never settle for cheap unattractive furniture
Do not select furniture on a whim always try to look for classic and interesting pieces. However, if you do, then you can always change the upholstery and change its finishing in order to make it fit in with the interior decor of the room.
14. Trendy furniture pieces are not classic
Do not try to go overboard with your budget by buying what is currently trendy. Trendy furniture is like a fad that gets over after a while. Spend your money on pieces that are classic and sturdy. Solid wooden furniture is worth the money as it can be given a different polish and upholstery if you are bored with the present one.
15. Never keep furniture that do not match
Certain inherited furniture ends up looking mismatched and if you have some heirloom pieces, then try to give them a different look and get them to fit in with your color scheme.
16. Do not waste your money over expensive and useless furniture
At times over-indulging in an expensive furniture piece will not serve your purpose of decoration. So try to resist from such temptations and always ponder over how useful the buy is or isn't before over spending on useless furniture.
17. Do not hold on to things in a feeling of obligation
If you have inherited some furniture that does not fit in your room, then either change its look or get rid of it. Do not let the feeling of obligation turn your room into a dump. Donating the piece to charity would probably do you and others a lot of good rather than keeping it.
18. Get rid of ugly showpieces
Do not keep decoration pieces that look out of place and evidently ugly. You can have a friend advise you on that, otherwise, try to be rational and throw out the junk that hinders the beauty of your room.
19. Do not overcrowd your home with collectibles
A lot of pieces hold a special place in our lives but not on the walls and tables. So try to keep changing your collectibles and store the rest but do not overcrowd your home!
20. Do not forget the important details
There are a lot of little pieces like lamps, books, decorative plants, pillows and other accessories that can add style to your space – so do not forget them!
Via: Interiordec