One of the best ways to begin or end a hard day is to soak oneself in the comfort of a bathtub. We all know the therapeutic effect of soaking in a bathtub. Moreover, even experts recommend people to soak themselves in a tub because of its natural cure therapies . Just as you choose the furniture and wall paints to match your decor, it is important that you make a good pick of bathtubs too, to suit your taste and decor. We present below 10 of the best bathtubs for the year 2011. It's time for the big dip.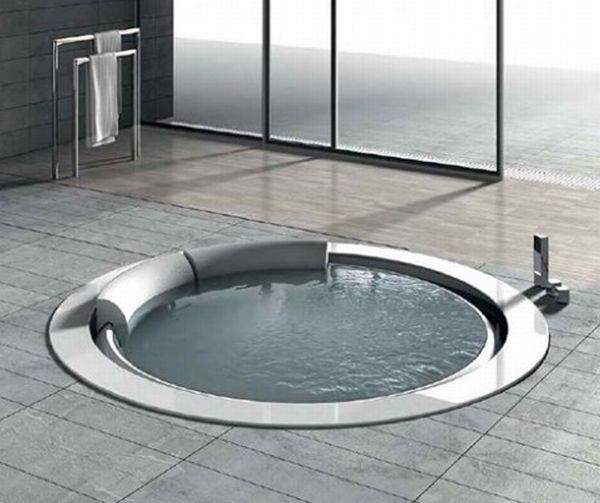 1. Luxury Round Whirlpool Bathtubs by Franco Bertoli for Hafro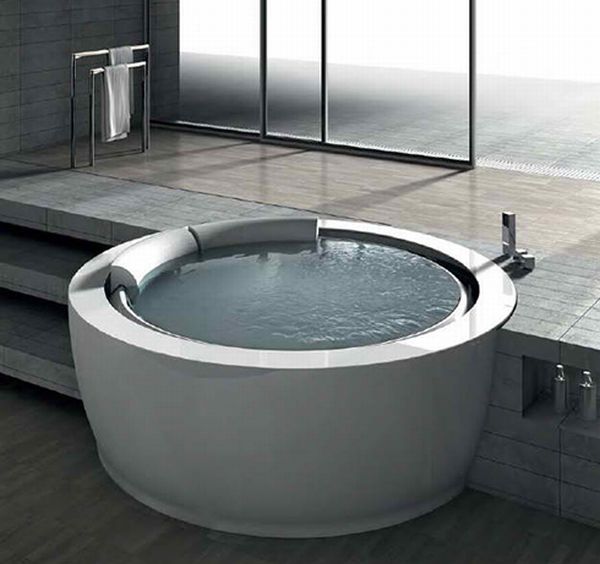 This is a modern and spacious bathtub with ergonomic seating within. It is a gentle and sloping circle with an elegance that adds grace to any bathroom. It offers a calm bathing sensation and the heaters are all electronically controlled. There is also a timer feature in the bathtub. The best feature however is the integrated skimmer and disinfectant in the tub which keeps it clean always. The Airpool technology offers a hydro-massage in the tub for the greatest comfort and relaxation.
2. Gorgeous and Awesome Red Freestanding Bathtubs from Bella Stone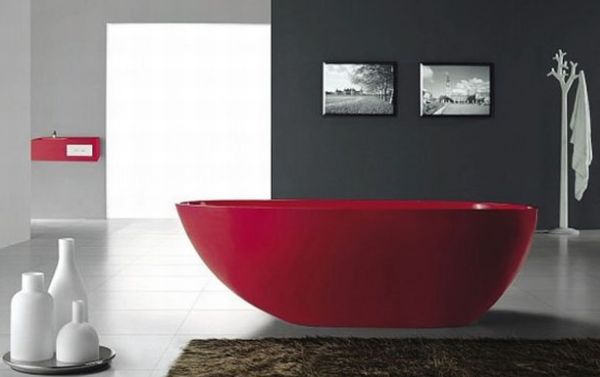 This piece is a real masterclass as an element of bathroom design. It has been developed to become the centerpiece of any bathroom. It goes well in the colored or monochrome settings. Measuring 1700 * 850 * 535 mm in size, this simple and elegant bathtub has been carved out of stone resin. Stone resin has high resistance to heat, scratches and stains. It is also quite light in weight.
3. Crystal Red Diamond Bathtubs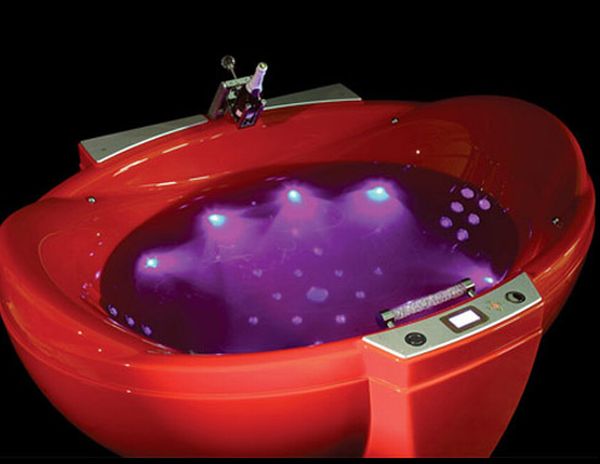 Attached with a golden frame, this bathtub has been touted as the most expensive modern tub. It comes fitted with a water-proof television with remote. A drinks holder along with a host of electronic controls to ensure the perfect water level, water temperature and water flow are also embedded features. In brilliant red, the tub is sure to catch the attention of any viewer. The finish is class and modernistic.
4. Baldi Rock Crystal bathtubs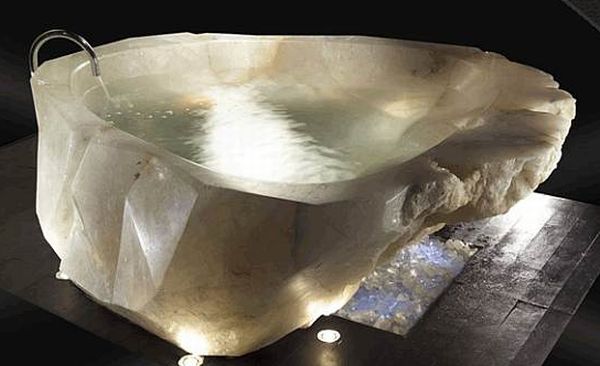 Just as a tub stakes a claim to being the most expensive tub ever, another arrives on the scene to upstage it! Here is a tub that has been carved out of a single rock crystal from the Amazon forests. Measuring over 8 feet in diameter, the tub is said to have sold at a price over $850,000. This will be the ultimate way of enjoying the pleasures of the natural world in the comfortable confines of your luxurious bathroom.
5. Transparent Bathtubs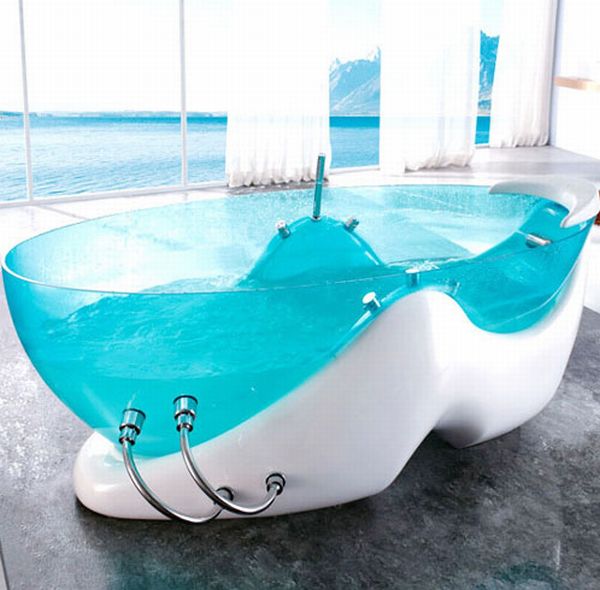 To give you the joy of indulging in a natural habitat, this bathtub has been made transparent in its design. Just a look at the azure blue waters in the tub is such an invitation to dive right in. As you soak up in the warming waters of the tub, you have the option of turning on the water jets for a lovely hydro massage. The transparent design is sure to make you indulge longer in relaxation.
6. Portable Bathtubs From i-Sopod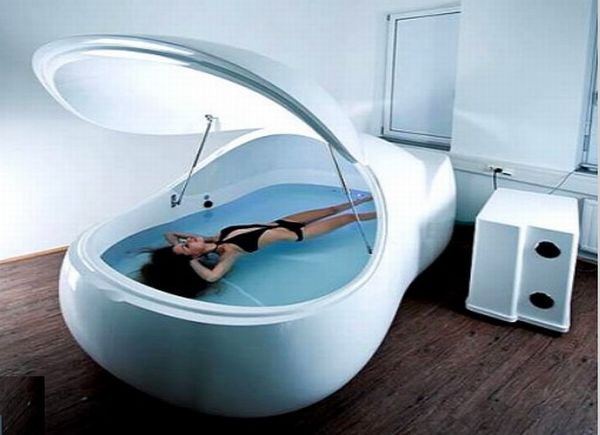 It is one thing to have a luxurious bathtub at home in which you can pamper yourself. But here is a light weight and completely portable bathtub to ensure luxury for you wherever you go. The tub opens like a flap. It has settings for the lighting and music options that help you relax as you soak. The inner cubicle is large and the tub has an in-built, innovative filtration system for the clean up act. The tub itself is available in different color options.
7. Circular Bathtubs from Roca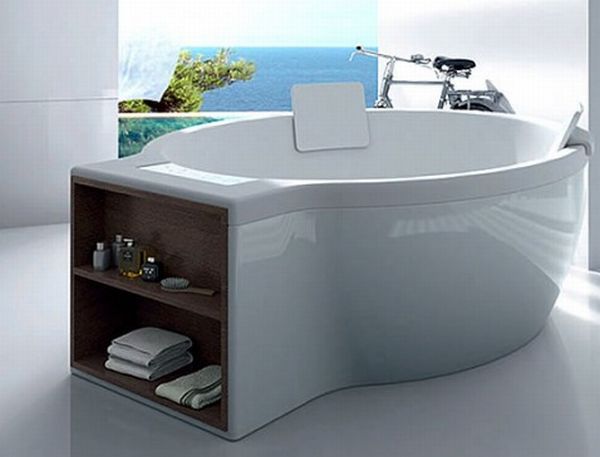 As we have noticed, the latest trends seems to lean towards circular tubs. Such tubs offer the maximum space for the least floor space occupied. Roca's creation of  a smooth flowing, shiny white, circular bathtub; surely calms not only the body with its warm waters; but also the eyes with its elegance. It has a neat and compact shelf built into it to help storage.
8. Corcel N°1 Carbon Fibre Bathtubs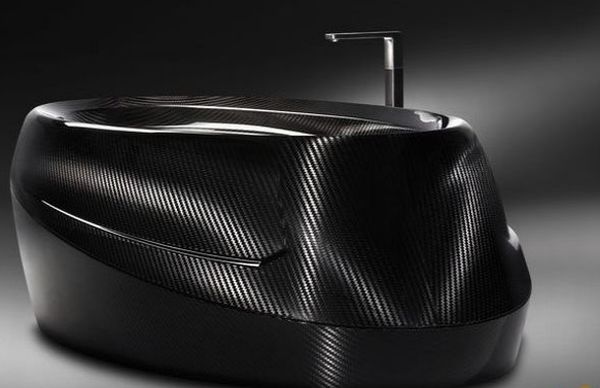 And now, we have carbon fiber being used in the manufacture of bathtubs. With a capacity to hold more than 340 liters of water; this is definitely a giant tub. It has been built in a modern style; and, features ergonomic seating and reclining positions within. The stylish shape and graceful design is what Corcel has always been known to excel in. They have not disappointed here!
9. Mineral Bathtubs by Treos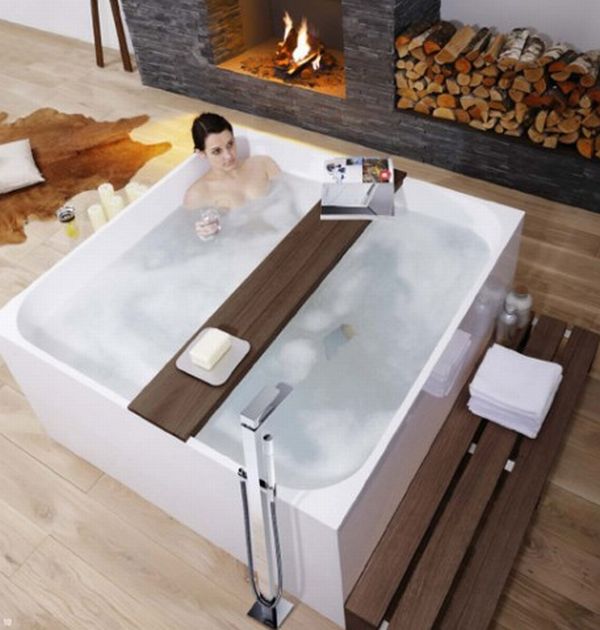 This independent and free-standing tub is unique in its design. The outer design elements feature a sharp look with tight corners and sharp edges. The insides however, are smooth; with smooth rounds and curves to go with the design. Mineral casting is easy to mold and it can be seen from the workmanship of the tub. At the same time, mineral casting is also durable. A sliding tray made of oak wood to hold drinks and glasses and matching oak steps for getting into and getting out of the tubs are extras that come along with the tub.
10. Inflatable Bathtubs by Blofield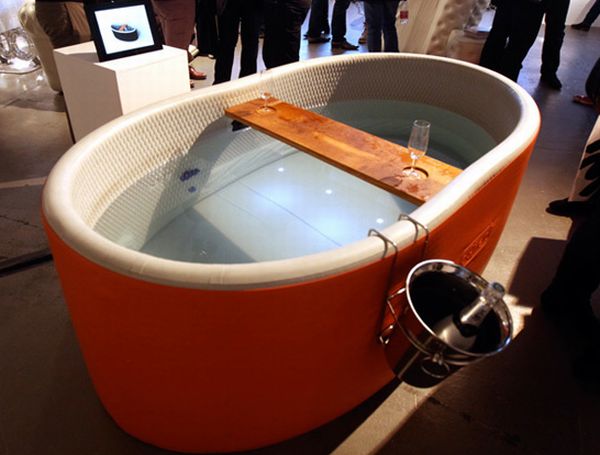 This is portability at its best – a bathtub that you can inflate and set-up whenever necessary . Made along the lines of Dutch design; the bath tub also features a champagne bucket and a wooden rack for placing drink glasses. Thus, you can literally sup and sip while you dip! It is sturdy and durable.; and lovely to look at as well as boost the existing decor.
11. The Ambrosia Bathtub
The Ambrosia bathtub is one amongst the many from the bathtub collection by MAAX. This bathtub truly takes the center-stage in the bathroom as it looks as fine as a piece of art. The craftsmanship behind making this bathtub is commendable as it resonate elegance and grace. The contours and shape of the bathtub are soothing. The Ambrosia looks very elegant and is comes with various therapy options like; heat therapy, air therapy, aromatherapy, chromatherapy and hydrotherapy. The tub comes with an optional feature of a jet massage and an Ozonator Whirlpool System. So pamper your senses in this ultra-modern bathtub!
12. The Navarre Bathtub
The Navarre is a classic bathtub that is very spacious and measures between 72-66 inches in length. This sophisticated bathtub is great for people who are looking for traditional interiors that are lavish and elegant. The bathtub is literally fit for a king and will make you feel like royalty when you use this luxurious bathtub. The various settings in this bathtub will help you to relax and soothen you mentally and physically. This amazing bathtub is from the MAAX Collection and is nothing short of a mini spa in the comfort of your own bathroom!
13. Amethyst bathtubs
Crafted out of the precious stone, Amethyst, this bathtub creation is literally a jewel for your bathroom. This expensive bathtub also has gold-trimmed claw-feet upon which the amethyst bathtub rests. This opulent bathtub would want you to live inside your bathroom to experience the sheer beauty and luxury of the tub – a great buy for the ultra-rich!
14. Generate Light: LTT illuminated bathtub
This illuminated bathtub from Generate is a self-standing piece that is made out of polyethylene. The bathtub will surely "light" up your bathroom with its multicolored options and programmable LED lighting fixture – so you won't have to stick to one color only. The soothing lights would surely add to your relaxation while having a warm dip.
15. Sci Fi Bathtub
This bathtub is literally "out of this world" with its UFO-like shape and special lighting. A creation from Spiritual Mode;  this bathtub is ultra-modern; and, comes wtih two exquisite taps. The water jets that are affixed at the bottom are sure to calm you after a hard day at work. This Sci-fi bathtub looks like it's out of some sci-fi movie. With its spaceship design that has a blue light over it; this tub has the supernatural look that you desire.  This one is a must-have for all the sci-fi enthusiasts!
16. The Shoe bathtub
Specially designed for the fashionista and the shoe lovers, this Shoe bathtub is the creation by the Italian designer Massimiliano Della Monaca, a designer from Italy. This amazing bathtub is adorned with an exquisite mosaic tiling that adds to the beauty of these pump shoes. This bathtub is a classic combination of fashion with furnishing that has produced an elegant piece of art. Iconic fashion diva Audrey Hepburn; is the inspiration behind the Audrey shoe bathtub collection.  You can choose from a wide range of designs and colors like grey with flowers, purple etc.
17. The Amalfi Bathtub
Amalfi bathtubs is from the Victoria & Albert collection and is one such bathtub that can be fitted in with any kind of interiors – whether classic or modern. Its sweeping contours rise at one end that functions as the headrest. This freestanding bathtub is a very comfortable piece.; that is durable as well. It is made from high quality material called 'quarrycast'.; and  it comes in a white glossy finish.
Summery
It is true that a bathtub can literally soak you in pleasure! A lot of designers are coming out with innovative custom made collections of stylish bathtubs; to suit your taste. Some are spacious whereas others are cozy that provide a lot of curves that you can fit into while enjoying a warm dip.