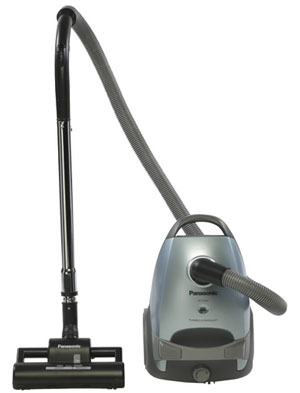 When it comes to the cleanliness of your home, vacuum cleaners play a significant role. They exist in a variety of sizes, shapes and models: Small battery-operated handheld devices, domestic central vacuum cleaners, huge stationary industrial appliances that can handle several hundreds of liters of dust before being emptied. Vacuum cleaners from Panasonic are considered to be extremely durable and effective. They are perfect in keeping the dirt away from your family, ensuring less energy consumption along with high performance. Here we have shortlisted some of the best models of Panasonic vacuum cleaners. Have a look.

1. MC-CG467 Compact HEPA Canister Vacuum Cleaner
BRAND : Panasonic
PRICE : USD 149.99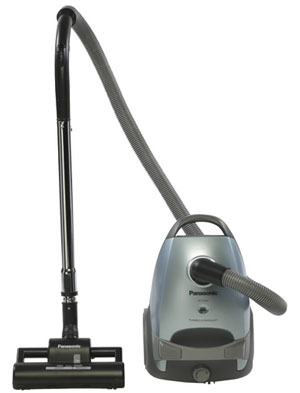 MC-CG467 Compact HEPA Canister Vacuum Cleaner is equipped with a powerful 11 amp motor that enables it to work efficiently on any wooden flooring, short and long-pile carpet. Its 360 degrees swivel hose permits a wide range of cleaning. It is attached with metal telescopic wand, dusting brush and a crevice tool. Apart from these attachments, other highlights include HEPA filtration system, two carrying handles for simple mobility, 17 feet cord with reel, high-efficiency dust bag that collects and protects leakage of dust, and soft wheels to protect wooden floors.
USP
This lightweight canister 3-in-1 multi-surface turbo brush lets you clean all floor surfaces without any change in its nozzle
PROS
It is easily accessible.
It is a light-weighted device.
It carries one-year limited warranty.
2. MCCG691 1300W Cylinder Vacuum Cleaner
BRAND : Panasonic
PRICE : USD 137.72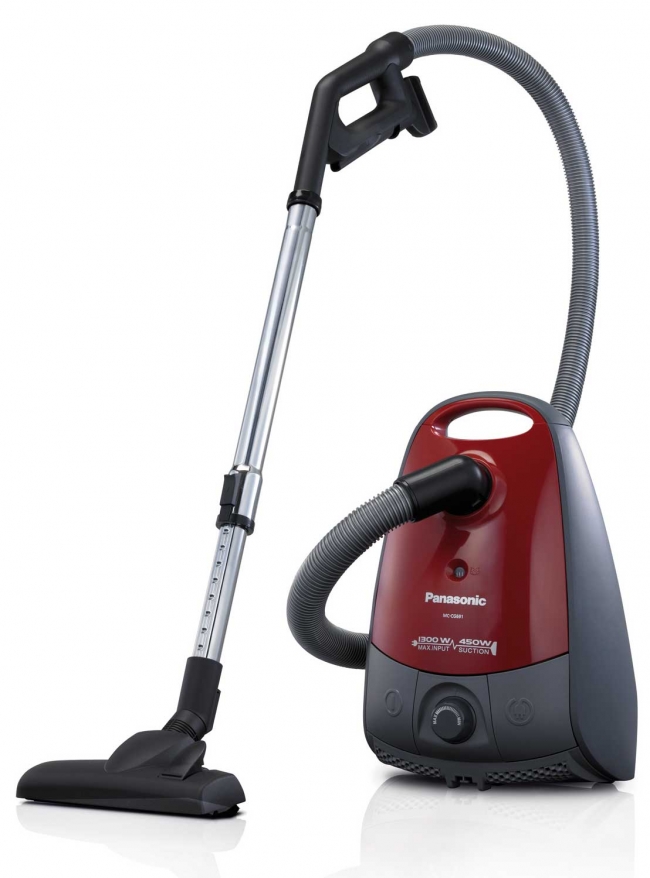 Do you wish to stop the spread of infection and want your home healthier? If yes, then you have zeroed down to the right product for your requirement. This device is highly energy efficient 'bagged' cylinder vacuum cleaner with 1300W motor that can reach suction power of 450W. This product is incorporated with a large three liters of dust capacity, high efficiency HEPA filtration system, two step deluxe nozzle and magic telescopic tubes for easy length adjustment and variable power to adjust to the required power level.
USP
This device is especially engineered to remove almost all airborne partials leaving the air cleaner
PROS
It consumes less power.
It makes cleaning quicker and easier.
3. MC-CL310 Bagless Canister Vacuum Cleaner, Light Blue Finish
BRAND : Panasonic
PRICE : USD 109.42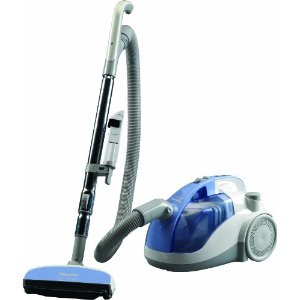 MC-CL310 Bagless canister vacuum cleaner comes for easy cleaning with multi-angle suction nozzle and edge grabber. It contains powerful 11-amp motor system that powers its suction, on/off switch on body, crevice tool and dusting brush, 16-foot power cord with cord reel, HEPA filter system with 360 degree swivel hose 10 inch cleaning path, and soft wheels to protect the floor.
USP
The surprising cleaning power of the vacuum makes it definitely the high point of the product and is affordable
PROS
Very light and can easily be carried throughout the house.
It comes with 1 year limited warranty.
4. MCCG901 Canister Vacuum Cleaner
BRAND : Panasonic
PRICE : USD 279.97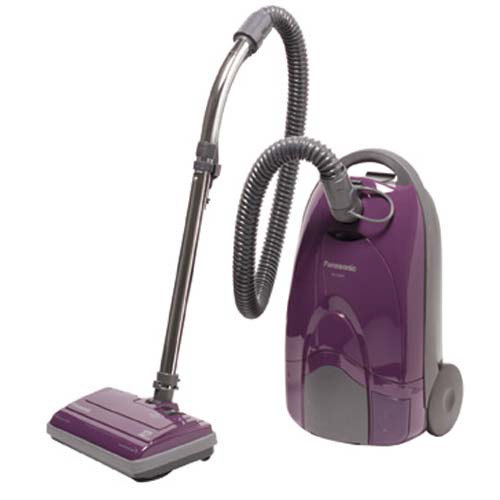 This canister vacuum cleaner is armed with 12-amp motor for thorough top-to-bottom household cleaning, curved handle with 6 feet hose length, motor protection system, 12 inch wide cleaning path, 3 position carpet height adjustment, 20 feet cord length with reel cord and with large capacity 5 liter bag along with replacement accessories like Replacement HEPA and Replacement Belt. The weight of this vacuum is only 14 pounds that makes it easy to handle.
USP
This vacuum cleaner offers dual motor system in addition to the motor in the body with dual edge cleaning
PROS
It is user-friendly.
It is light weighted.
5. MC-CL485 Bagless Straight-Suction Canister Vacuum Cleaner
BRAND : Panasonic
PRICE : USD 109.54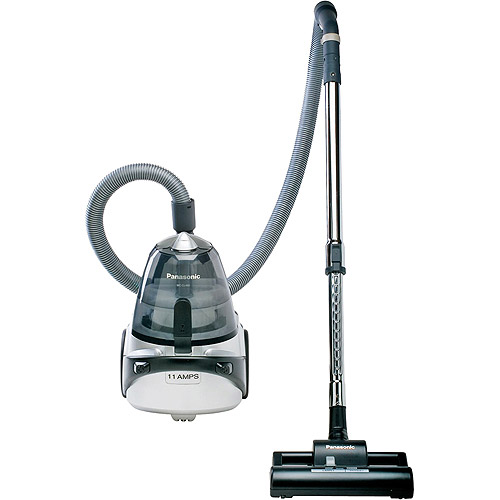 Are you looking for the well-designed powerful vacuum cleaner? If yes, then try this product. This bagless canister vacuum cleaner is light-weighted and compact that makes it easy to handle. An electrostatic filter and 12-inch nozzle provides an efficient cleaning. It is equipped with 11-amp motor system with 17-feet cord length is provided to reach maximum distance with ease and this vacuum cleaner comes along with dirt cup, nozzle storage system, crevice tool and dusting brush that adds more meaning to this vacuum cleaner.
USP
EZ filter cleaning system in this vacuum cleaner spins the filter clean
PROS
It is easy to pull around and sucks up the dirt and dust.
6. MC-CG985 Canister Vacuum Cleaner
BRAND : Panasonic
PRICE : USD 499.97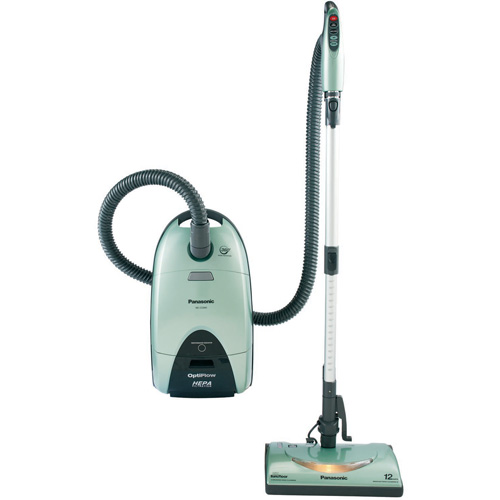 MC-CG985 canister vacuum cleaner contains 12-amp variable speed motor with fingertip controls. This vacuum cleaner has weight of only 14 pounds which can be handled with ease along with 14 inches cleaning path, optiflow bag which helps to maximize the cleaning performance, non slip lifetime belt that requires less maintenance, large capacitative 5 liter bag and HEPA filtration for less dust emissions. Apart from these, it also consists headlight for those dark corners exists around furniture and agitator shut off in case to prevent blockage in belts.
USP
The power nozzle in this vacuum cleaner has a dirt sense that tells you when your carpets are clean
PROS
It has high cleaning performance.
7. MC-UG583 Upright Vacuum Cleaner
BRAND : Panasonic
PRICE : USD 199.99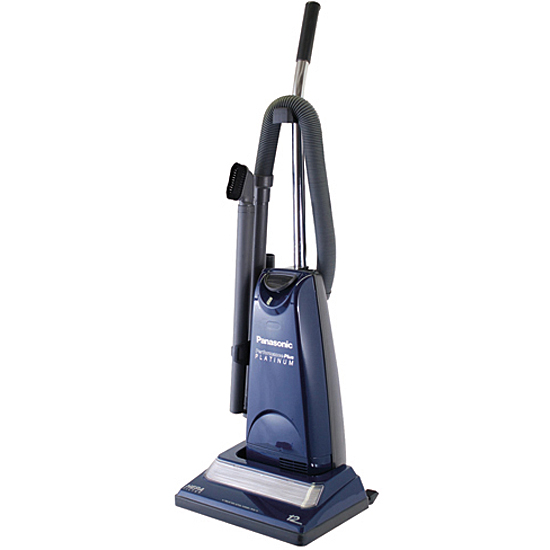 MC-UG583 Upright Vacuum Cleaner is one of the best vacuum cleaners from Panasonic. It features full size canister with HEPA filtration that helps to capture and remove most household dust especially small particles such as allergens, irritants and pollutants. It also contains variable power, touch controls, bare floor switch, 14" nozzle, and 28 feet of cord with 8 feet hose and full tool set on board as well as a compact and full size electric power brush.
USP
Opti-flow technology helps to maintain a consistent volume of airflow throughout the dust bag, even as it becomes full
PROS
It is easy to use.
Good suction power at hose.