Any bathroom can be converted skillfully with the touch of right marble. This is one material which is highly versatile which changes the overall look of the space. Starting from a black and white marble to various styles of colorful marbles. However, there is a number of marble bathroom design ideas available to use in your bathroom and make it look stylish.
Black and white marble design bathroom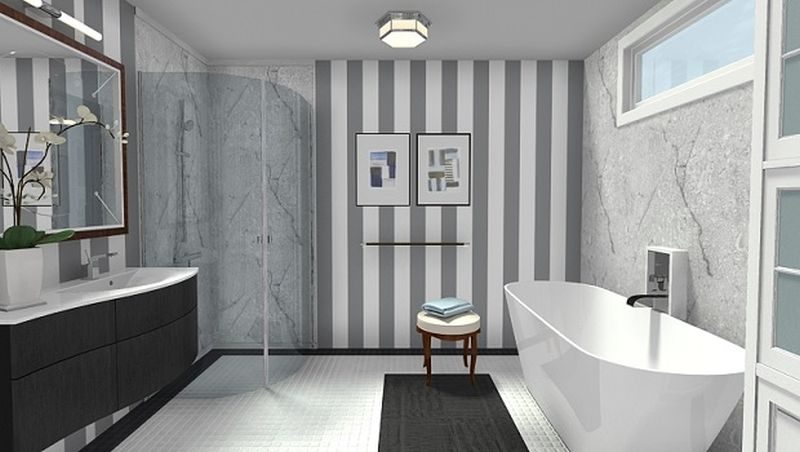 The black and white marble is highly versatile and it comes in different shapes as defined by the choices. Black and white color goes with every design and color theme of the bathroom. You can coordinate both the color marble or also place it opposite to make a contrasting look. Spacious black and white marble come in many shapes. However black and white marble bathroom design needs some wooden details to give that perfect look. It gives a warmer and more inviting look. Adding some shelves and cupboard in these style bathrooms will give a clean design and the view in order with the mixed choice of décor. Always remember functionality is the key and you should make it look comfortable yet stylish.
Budget marble
Thinking of designing a bathroom with marble but stuck with a small budget? Marble subway tiles are the good option to consider. Consider using these tiles in a smaller spot such as a backsplash, installed above the sink or near the countertops. Try using the tiles in the focal points where it gets more attention. It is all done in a limited budget and will give you the look of a proper use of marbles. You can use the bathroom laminate countertops and the backsplash with real marble. Using some fashionable faucets in the bathroom would highlight the look on its own. This way you can put a marble in your bathroom without putting a burden on your pocket.
Classic Corner Shower with Marble Tile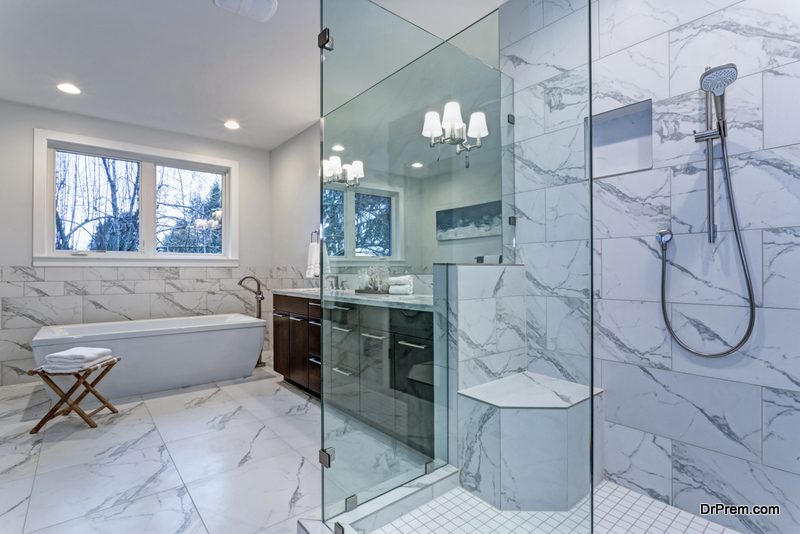 One of the best ways to design ideas using marble for the bathroom is to refresh the dull or you can say classic corner shower. Use marble tiles on the wall starting with the floor. Update your old bathroom by changing the floor, the wall, and the countertops. You can give it an all new green look by using green tiles on the walls and the floor. It makes your bathroom green and lively and gives that fresh feel. One of the newest designs to include in your bathroom accessories is using round marble bathtub against a light colored marble wall and black colored wall around it.  It looks gorgeous and you can make it the best place to have a glass of Champaign to spend the quality time.
Dark Marble Contemporary Bathroom
Are your tastes a little different… do you want to give your bathroom an all-new darker look? Then this marble is for you. The dark- veined marble is just the perfect for you. It is a contemporary minimalistic design that features the beautiful details of this darker type of marble. Keep the tiles to the wall to contrast rather than match.
The dark colored marble can make the place cozy and warm and can also uplift your mood. But do not get mistaken by the darker theme.  The dark color doesn't only mean that you only have to go for black; there are other darker options also which you can use in your bathroom without making it look dull and dark. You can go for chocolate marble tiles combines with wooden furniture which provides a natural earthy background. Some natural woody furniture can enhance the décor. Other than this shade, blue, brown, bronze and maroon color marble can give a nice texture to your bathroom.
Glam Marble Bathroom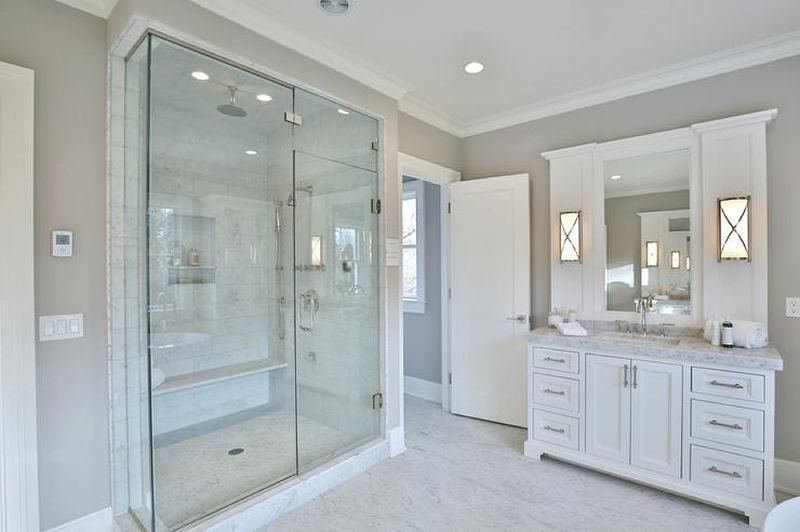 Explore something new and glamorous in your bathroom. Why not use a more quirky design for a glam and retro look. Try something new and exciting effect from a boring natural looking and solid colored marbles. This type of marble comes in diverse color, texture, and pattern. Why stick only with one color, use numbers of different colors to use in your bathroom. Some shiny looking marbles with unusual patterns and structure can create a magic at your space. If you are confused, take the help of the interior designer to give a nice mix and match effect to your bathroom. Just keep in mind to install some nice fixtures and lighting to maintain the bright effect and to give a warmer look.
Right accessories to incorporate with marble
Choosing the right accessories for your bathroom is very important. You have to keep in mind what goes well with your marble and what is the essentials you should have in your bathroom to make it look more glamorous.
First of all, choosing the right mirror is very important, it's not only is essential but also add a beauty effect in your bathroom. There is a world of inspiring design to choose from. Choose the design and color as per the size of the bathroom and color combination.
The other elements are selecting the right equipment to secure your bathroom design, some nice faucets, a shower; a nice stylish bathtub will do the work. If you want, you can make it more stylish with a nice chandelier, a chic stool, and a sketch for a personal yet classic space. The all-over rectangular marble tile doesn't seem boring or overdone.
And lastly, add some nice scent in the bathroom. A soothing, relaxing and fresh aroma can enhance anyone's mood. Some essential oil can be used in the bathroom that can relax your body, mind, and senses and gives you fresh, new, and energetic start every morning.