Kids study table or room should have a bright, open and cheerful feel in order to develop a kick-start study habit in them. Children gets bored easily in one boring and flat environment and this can cause trouble in study or concentration. Why not make their study area interesting and colorful, a place where they want to spend more time and enjoy learning. Check out some cool study table design for the bedroom which are really interesting and you want to make one for your little one too.
1.     Kids built in wall study table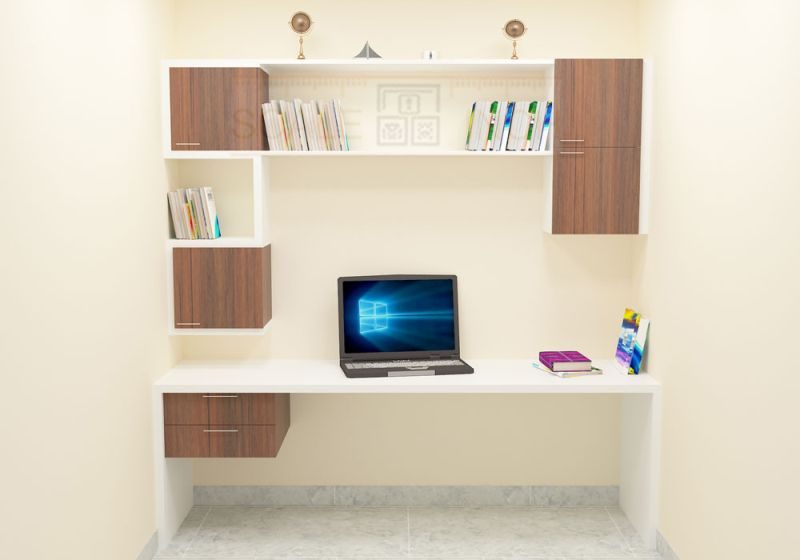 Image Source : scaleinch.com
You can make a really interesting built-in wall study table design ideas for your little one. Making use of the spaces under the wall or below the stairs is transformed into a study table. This can be given a look by a wall mounted desk, file and book cabinets and shelves. In this space, use sleek, wall mounted table which is spacious. The chair should be comfortable enough and also one of the important parts to keep in mind is to have a chair with adjustable height and removable seats so that they can set them according to their need and comfort. You can customize it according to your taste, color, and design. Select a bold wallpaper to design the look, some personalized items of kids like wall art and frames. And also do not forget to put task lighting to make the place bright and happy.
2.     Study table with natural light.
Allowing the natural light to your study area is very important. Nowadays, in compact urban homes, one hardly gets enough window space and natural lighting. You can go for foldable table and chair to be placed near or beside the window. Or where the natural light makes its way. The foldable table can be installed in any place. If you have enough space near the window, install it there and fold it back into the wall when done. It's a great way to make use of the table when required and also fold it back in the wall when you don't need it.
3.     Study table for two kids
If you have 2 tiny tots, sibling squabbles must be a part of daily life. With that little bed, an elongated study table will do the work. Set up an elongated study table along with a separate bed to have fewer conflicts. Create spaces for under the table storage section to stack up school bags, books, and stationery items. Include a lot of organization spaces like shelves, baskets, and containers for an individual to make sure the study space looks tidy and also avoid conflict. Keeping in mind both kids preferences; decorate the spaces with peppy color, wallpapers like alphabets and numbers to give away the perfect look.
Quick tip: – To divide the spaces, set up a small tiny library in the middle, a small bunker or a mini couch to separate the place. This way kids can study and work privately. 
4.     Girly room study area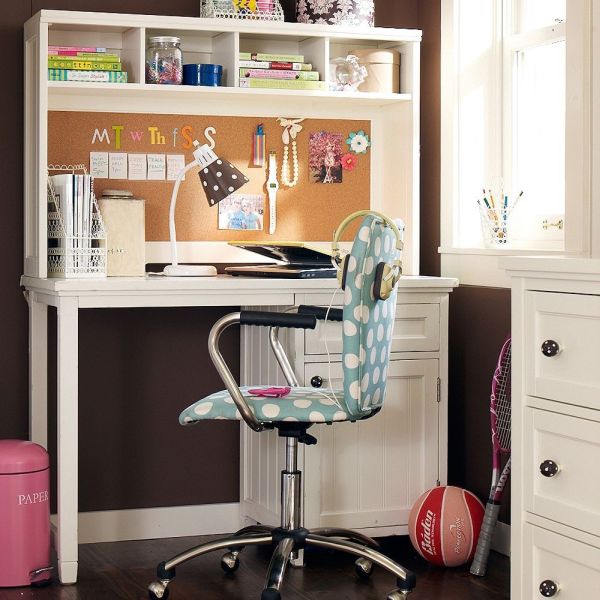 Image Source :  cdn.home-designing.com/
For your little princess, why not think different and give an all-new flavor to her study room. As we know pink and red is their favorite so why not give a study area a pinky look. Why not extend the bunk bed into a cute study table? If you have a small room, you can extend the area and place a chair with pink props all around. Give a chair with pink upholstery and contrast shelves. This one Study table designs for small rooms can look even brighter by installing a glass top cabinet doors. This can also be merged into the cabinets to make the space larger and enhancing the look. You can add pink wooden frames to the cabinet door to make it safe. The pink shelves and cabinets can be teamed with white polka dots to give a cute design in it.
5.     Themed based study areas
Theme based study table design ideas are ideal to give your room a different feel all around. Design your study area according to the choice of your kids. What theme they wanted to give to their study area or what are they most interested it. Theme it and plan according to their choice. You can a green jungle theme, the city light and building themes to add to the idea. One of the cute design ideas for kids study table to add is to personalize the desk with different theme ideas. Bright tone of yellow, lime and mauve work best and provide enough brightness. Again make a lot of space to provide cabinets, drawers to make sufficient thing and avoid cluttering the desk. Go for subtle lighting in the table area to avoid getting strain and to get enough light to study and explore.
6.     Turn the basement into the study room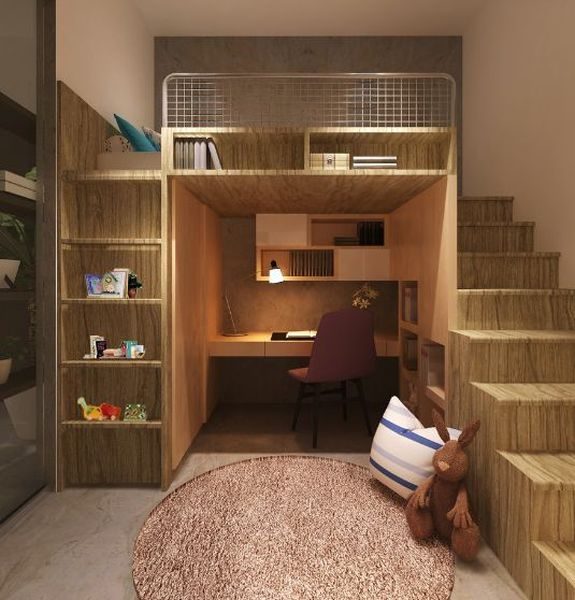 Image Source :  cdn.homedit.com
If you have lesser study area at home, converting the basement into a study room can be a great idea. It makes the perfect distraction-free environment for study for your teens. With the old contemporary furniture pieces, you can utilize so many of them.
Turn an old closet into a cabinet or bookshelf; try the upcycling method to give an old cabinet into new. Color it, paint it or give a wallpapering it also a good idea to consider. Convert an old closet into a fine desk by DIY design and paint, the same way old chair also can be converted into a nice piece by giving it a nice paint and design. Make a place bright by using wall art like graffiti or cartoon characters. This way you can go for a lot more ideas to make a creative study table design ideas for your little kids. Keeping aside the size of the room, you can create an awesome and affordable kids' homework space. The environment will play a great role in making them.
Multi functional table by Danilo Makio Saito
This multifunctional table can be used as either centre table for living room, as a dining table or as a set of desk and bench to study or do other important work. If you are in a habit of studying in your bedroom, you are no longer required to keep two tables there for study and centre. This one can fulfill all your needs of any kind of table in your house.
Just adjoin both the units at low height and it can serve as a centre table for your living room. You can use it as a dining table also. All you require is to raise their height by pressing a button located under them. You will wonder if this unit will work as a set of desk and bench. Raise the height of one table and lower the other one and you will find a space to study or to use the notebook. The features of this table do not end here. This can also serve as a storage space as it comes with a drawer. Surely a sensibly smart thing to own.
Goalani: Bed or Table?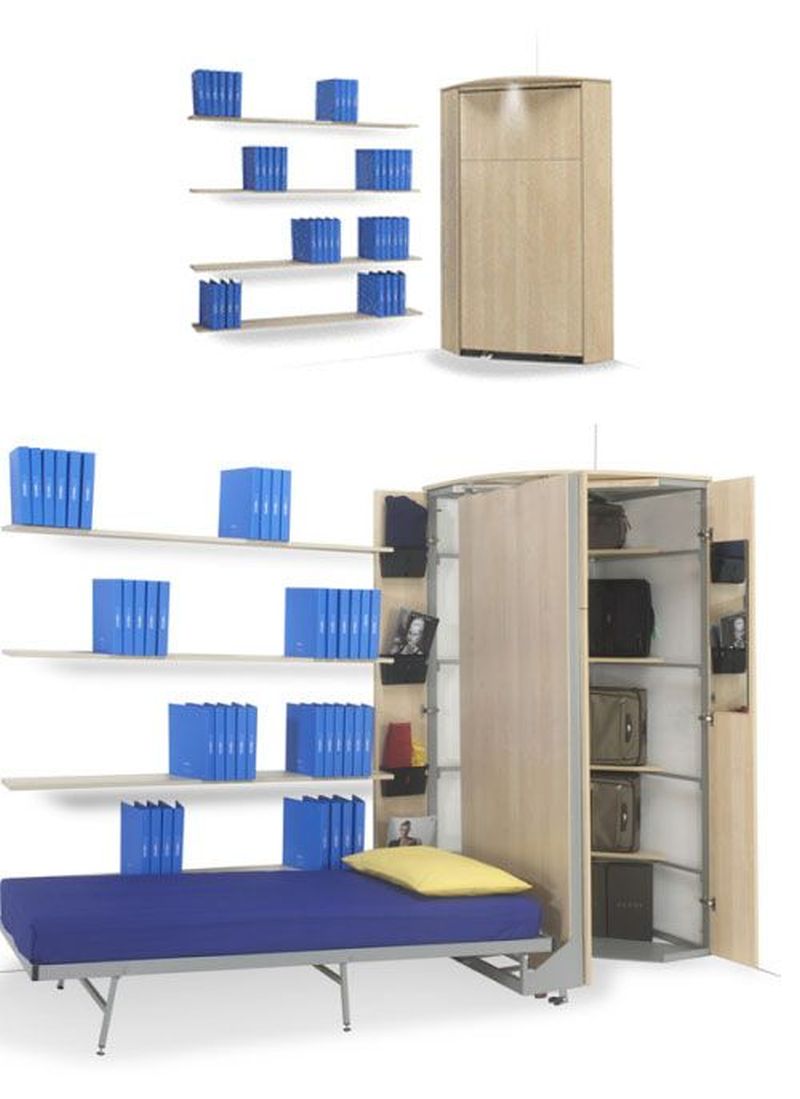 This smart piece of furniture is the dynamic model of the European Murphy Bed, manufactured in Italy, which is just not an ordinary bed but a convertible fixture that serves both as a bed and a table. This smart bed calls attention for its design and utility. It comprises of a metal frame with wooden slat foundation and a comfortable 6″ thick foam mattress. When lowered the bed turns into a huge wall, flaunting its space saving feature, which can later be altered into a study table or rack. Its optional light system has a dual purpose as it serves both for the bed and the table. In case you own a less spacious home, this piece of smart furniture is surely the best buy.