There are many things that take place in a kitchen apart from cooking; and, who does not like a clear and clean kitchen counter. While cooking, the kitchen counter seems to be full of utensils and hamper work. Various things tend to collect on the kitchen counter even the dish drying rack seems to add in that clutter. The rack needs cleaning often, making it even more difficult to maintain the small kitchen space. Hence the time has come when you experiment a little with various ways to utilize as well as organize your kitchen space and come up with great dish rack ideas. Mentioned below are some more great innovative and functional ideas for stylish dish racks for small kitchens:
1. The humble double tier rack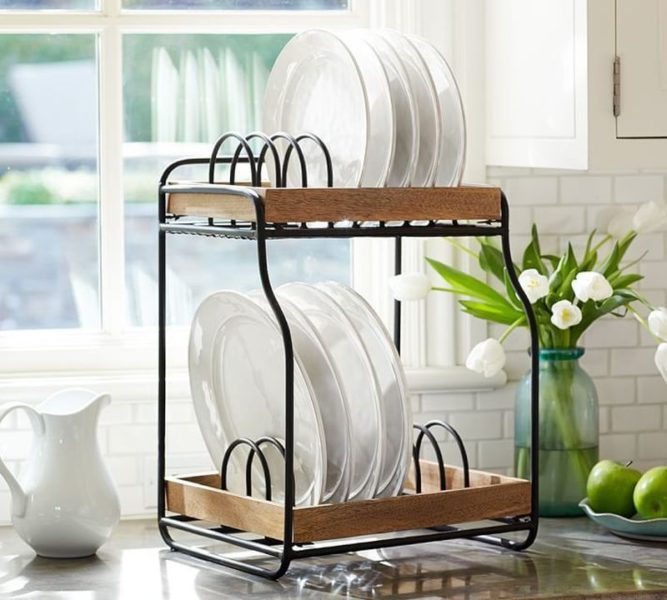 The humble double tier rack is sure to be a favorite to many but that's all about to change when you find out that there are many simple and trendy ways to dry and store you dishes. It has a vibrant color and comes with multi-functional benefits as well. This is easy to clean and maintain and will make a perfect addition to your small kitchen.
2. Arena dish racks for small kitchens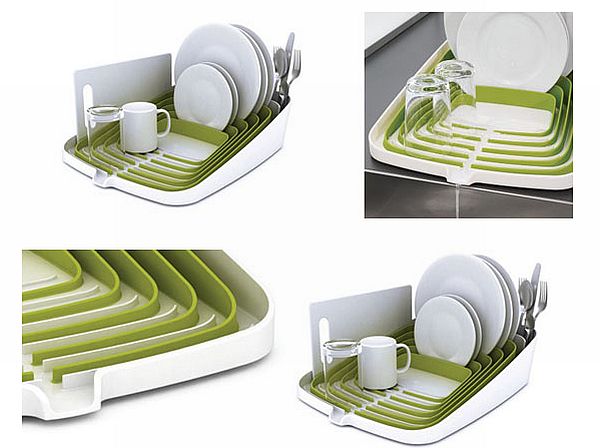 Arena Dish Rack is a playful, unique and at the same time a stylish looking kitchen tool. It is a beautiful and thoughtfully designed rack. Because of its bendable ribs, it offers a stylish arena-like look. The ribs are also responsible to hold your crockery firmly in place. Due to its sloping base that allows water to flow freely in to its integrated spout sanitary is never a problem. The water flows from the racks spout to the sink leaving the dishes and the rack itself dry and clean. With its cute looks and perfectly compact design, the Arena Disk Rack is sure to suite kitchens with restricted space.
3. Collapsible Dish Rack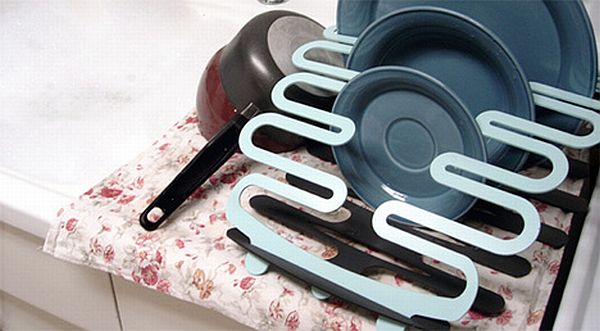 The Collapsible Dish Rack is a must have kitchen utility tool for any small sized kitchen. The collapsible dish rack design is taken out of a single piece of plastic sheet. It is easy and convenient to store. It takes very little storage space and can be stored is drawers or cabinets when not in use. The Splat design features a smooth flat surface which makes it easier to clean as well as manufacture than conventional dish racks.
4. Lily Kolle's Arc dish rack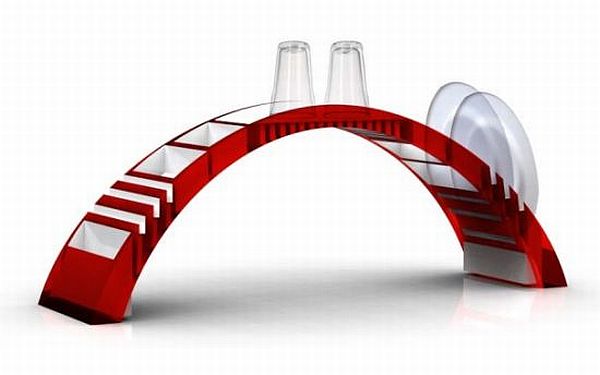 Looks directly derived form a sci-fi movie, the Lily Kolle's Arc is an extremely cool space-saving rack. Your kitchen is sure to love this dish rack. This rack look great in any kitchen as it is attractive as well as saves a lot of counter-space. This is a brilliant product if you want a clean and clutter free kitchen. Its size and design allows you to easily fit it under any standard cabinets. This Arc dish rack adds a modern appeal to any kitchen. It is surely cool and irresistible.
5. Amor de Madre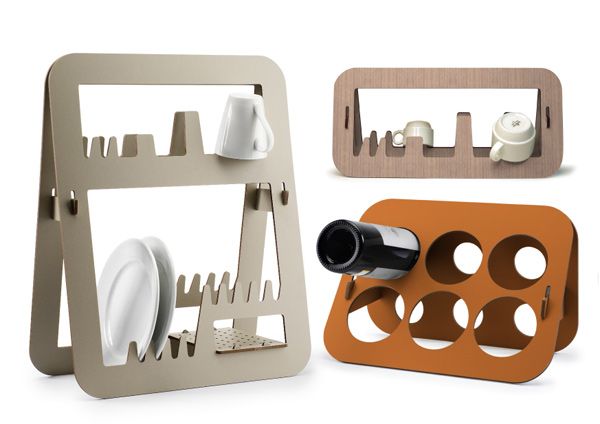 Amor de Madre is a designer piece created by Spanish designer Amor de Madre. The collection named Aurea constitutes of a 3 frame designs, which acts as a container for dishes, mugs, and containers or a drainer. This product is sure to steal your attention yet is descriptive and simple.
6. Folding Bamboo dish racks for small kitchens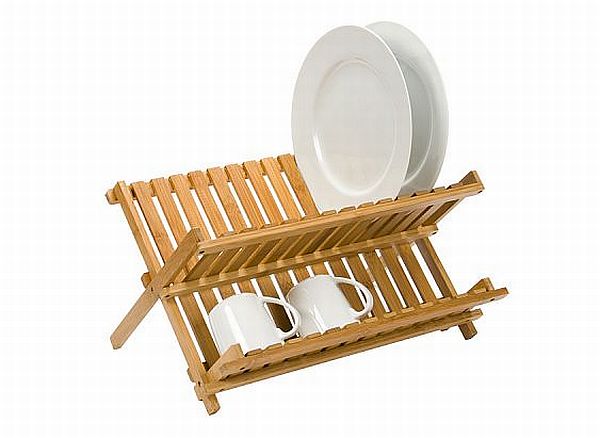 The Folding Bamboo Dish Rack adds functionality and style to any kitchen counter top. This rack holds mugs, plates and glasses and allow the air to circulate and help dry the utensils on it. This rack is made with bamboo and hence is environmentally friendly.
7. Orange Dish Rack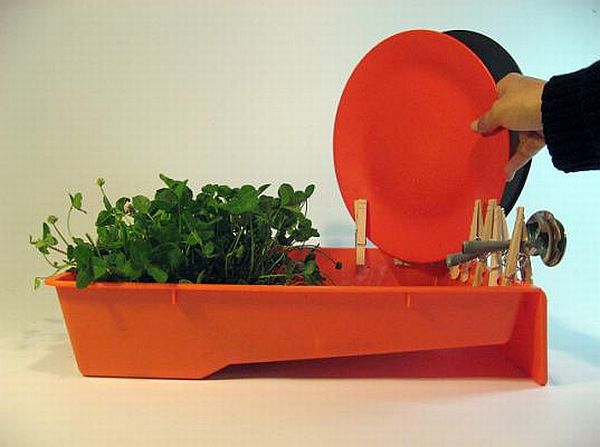 The orange Dish Rack is designed by Nibha Jain and Srikanth Jalasutram's. This rack makes wet dishes to work by using their dripping water to water a mini herb garden. The rack consist a space where clothes pins can be attached to hold flatware and other smaller items. The rack tray has a leaning base which channelizes the dripping water towards a small plant of your choice. This feature makes it an ingenious invention to keep you cooking herbs close and handy.
8. Dish Doctor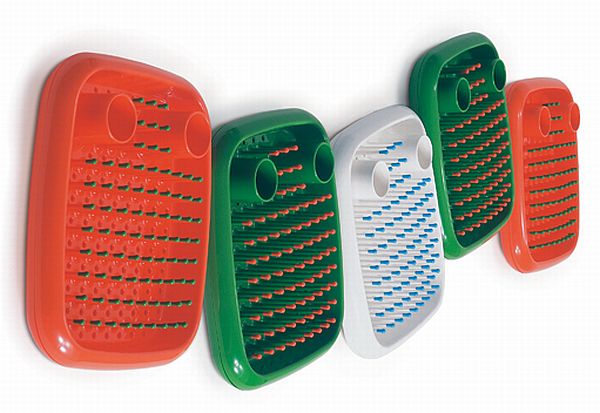 Designed by Mark Newson, this Dish Doctor is surely a must have in the kitchen. You can make a choice between the white, green and blue color of the dish wash with contrast colored caps. Made from polypropylene, the Dish Doctor will hold all dripping water and would not make the floor of table, wet. You can get it in various sizes as well. Make a wise choice and choose the Dish Doctor for holding wet dishes.
9. Tessellated Dish Dryer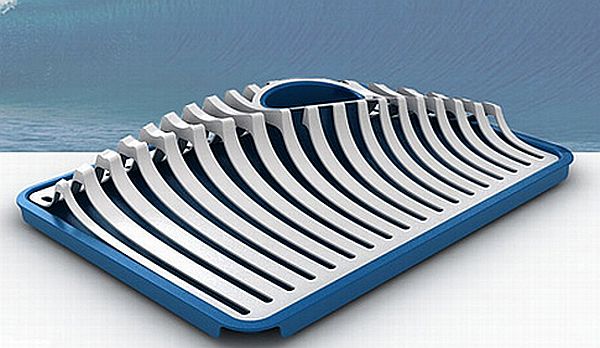 This stunning looking dish rack has earned its place amongst one of the most stylish kitchen utility items. Designer Matias Conti has accomplished a prototype for the P&C Plastic-wares. This stylish rack is both function and aesthetic. Inspired from the ocean's wavy motion, this dish rack is sure to give a style to your kitchen in a chic way.
10. 'High&Dry' architectural dish racks for small kitchens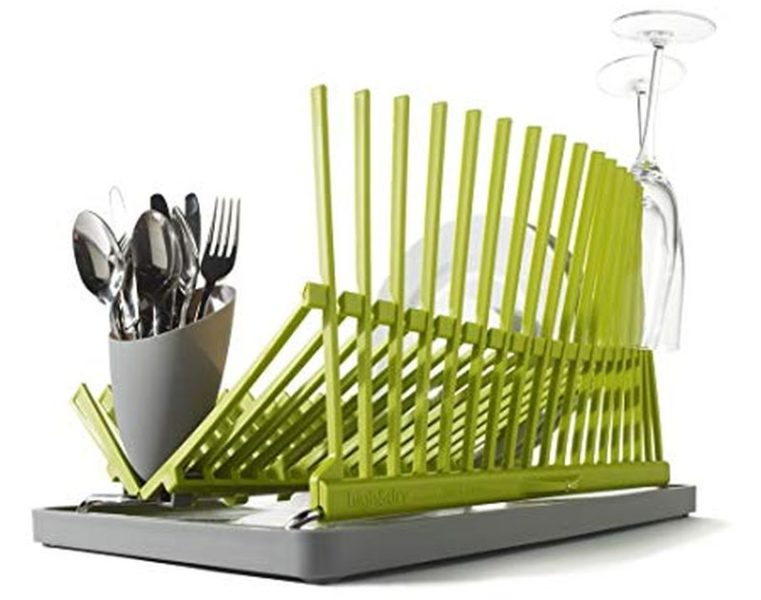 Ingenious minds you know are always at work. Designers around the globe are always taking inspiration from one thing or the other. Let me quote an example. Black + Blum, taking inspiration from the architectural structure has come up with the latest house ware products-High & Dry dish rack. Somewhat sharing qualities with the Quadracci Pavilion, Santiago's 2001 addition to the Milwaukee Art Museum, these good-looking dish racks is unquestionably pleasing to eye. The wave of spires that are able to hold champagne flutes, the drainage tray with flip up spout to hold a range of kitchen set-ups offers a cool way of organizing your dishes. And yes, it's completely recyclable which speaks out for it being an eco-friendly.
11. Compact dish rack-Perfect for small dwellings!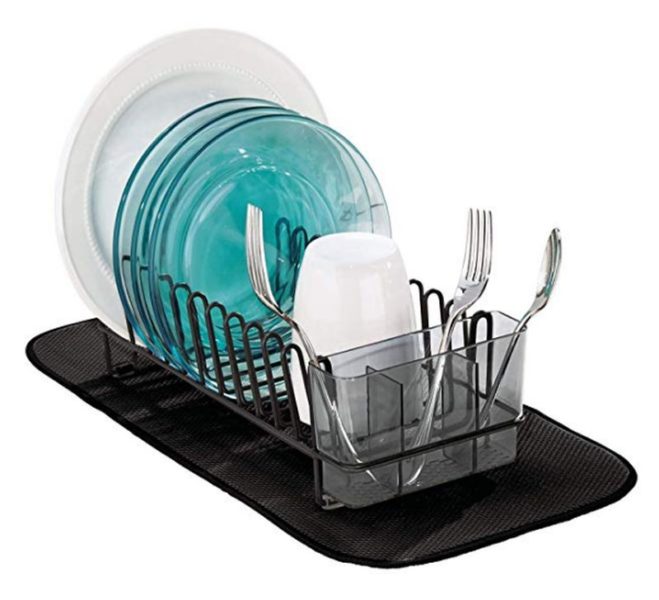 Did you ever think that your kitchen sink could also be designed to save space? This compact dish rack from SimpleHumans could be parked right in the sink to save space or can also be set out on the count What's different? Easy-to-clean plastic dish rack helps hide the clutter of drying dishes. It not only looks smart but is compact too, enough to fit into the smallest of space provided. The design lets the pivoting spout to drain water directly into the sink thereby ensuring cleanliness and no water on the dish rack or the plates.
12. Ran Shapner's Dish Drainer also lets you grow herbs on the side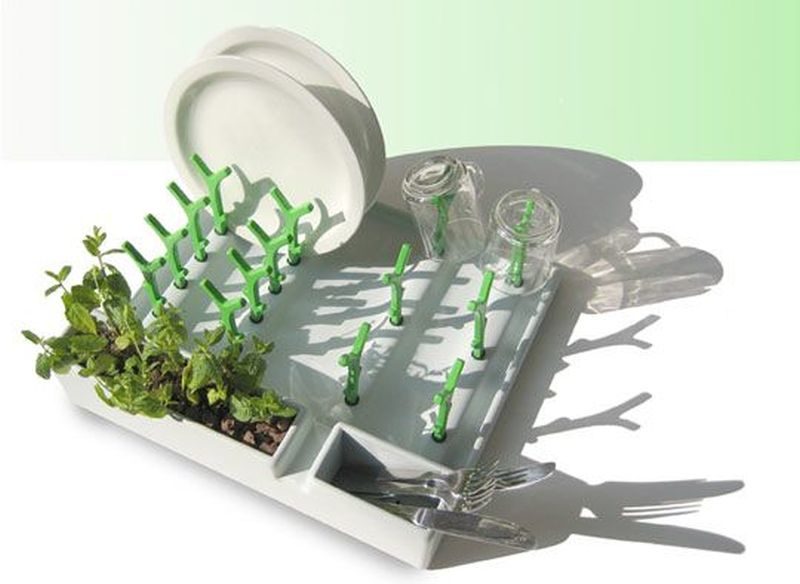 Although dish drainers have been a regular feature of most Indian kitchens for almost as long as I can remember, my friends and relatives abroad always keep on complaining about how they just cannot find one to suit their kitchen designs. That is why I sincerely hope this innovative Dish Drainer concept created by Ran Shapner, a student at Holon Institute of Technology in Israel help their design-challenged souls. The design basically aims at becoming a sturdy spill-proof, rust-proof draining stand for washed dishes, glasses, mugs and silverware before they can be dried with towels and arranged in cabinets or racks. But the twist in the tale certainly comes via the little herb planter on the side that turns this petite design into a lovely little indoor planter which lets you have a steady supply of essential herbs at an arm's distance!