Running out of the décor ideas for your bathroom? Why not give it some nice and unique rustic look to your bathroom. Why not give a natural and rustic look to your bathroom? Wood galvanized metal, rough stone and cast iron; you can make a big impact with just a few elements for your rustic bathroom décor. Let's see some of the ideas to consider.
Convert a Whiskey Barrel into beautiful Sink and storage area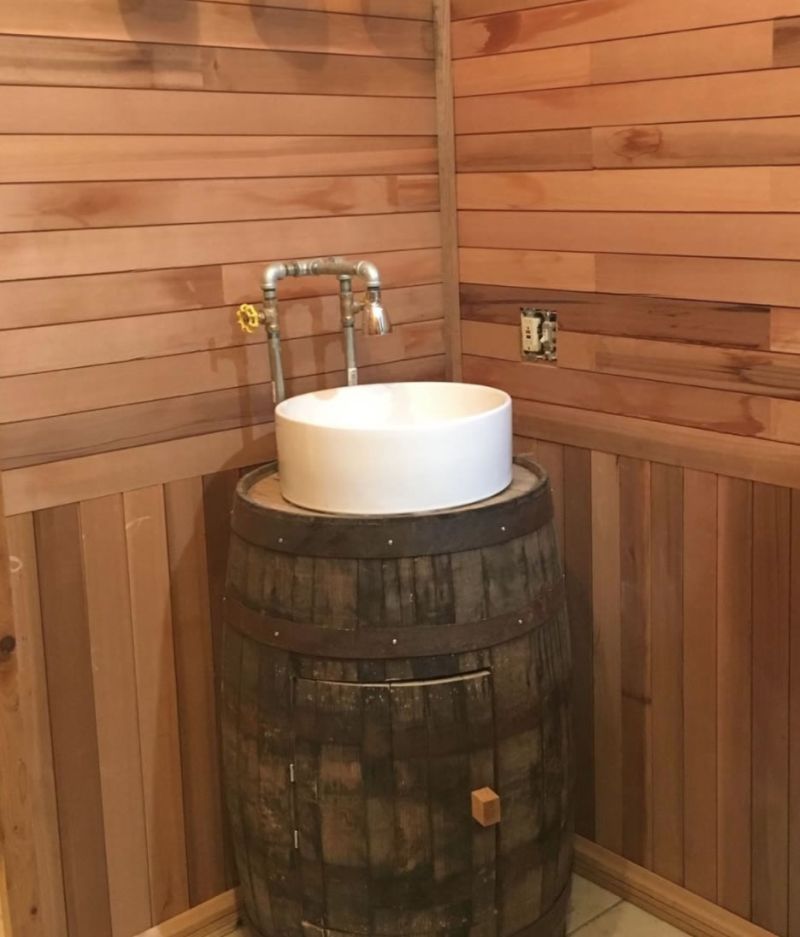 Image Source : cedardirect.com
Adding rusting décor or equipment to your bathroom doesn't mean that you have to buy and search for costly stuff. There are many creative DIYs rustic bathroom design ideas which help you think out of the box and make use of some of the old unused thing. There are some great examples of repurposing things to make it work in your rustic style bathroom.
One of the ways is to utilize a Whiskey barrel to make a nice base for your sink. Yes, whiskey barrel looks nice and gives you the same rustic feel to your bathroom. Make it a nice basin sink with a nice copper basin to compliment the look.
Towel hook from reclaimed hardware
Add a nice towel holder which manages to keep all the stuff simple and stands bright on rustic walls. Wood plank attached with unique towel handle makes the best towel hanger and also gives a nice backdrop to your rustic bathroom. This is the best way to decorate your rustic style bathroom with very few items and simple design and make your place more useful as well as beautiful. 
Slate Mosaic Accent Wall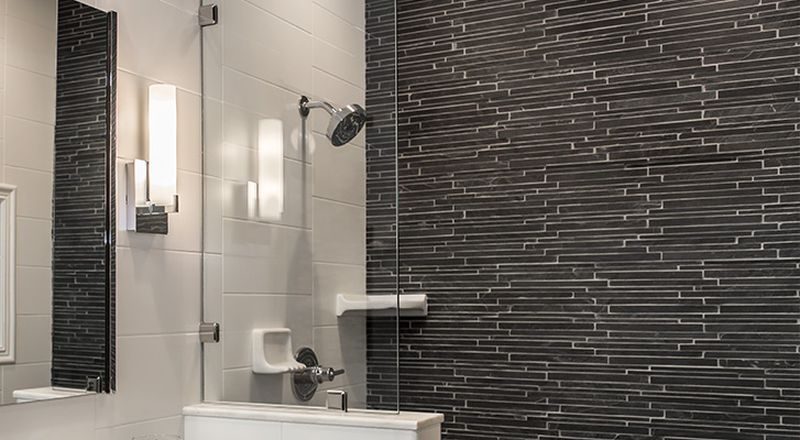 Image Source : tileshop.com
This is the best bathroom renovation ideas 2018 we have come across. Adding a nice rustic style wall countertop in your bathroom can give a feel of luxury and as if you are in a woody ski resort. Style your bathroom walls with rich stone accent walls and wood and stained plank wall work. This wall gives you a perfect rustic feel. If you feel that the rustic walls are taking over your space or it's looking too woody, you can style at one side of the wall which can change the look of your bathroom. Try adding red cherry wood color or rose red walls for a relaxing atmosphere. It provides a whole new look to your bathroom and you would enjoy taking a warm bath in style and comfort.
Open Barn Wood Shelving
Rustic style bathroom is a perfect choice if you want to give your space a whole new look. This idea can give a new dimension to your dull and boring bathroom. If you are adding all the rustic décor stuff to your bathroom, why not add a wood shelve. Open barn wood shelving is the best option to get it on your wall. It gives a nice texture and looks and adds additional accessible storage. You can recycle your old crate wood to build these nice little shelves which are perfect for storage and toiletries.
Rustic Bathroom Décor with Barn Door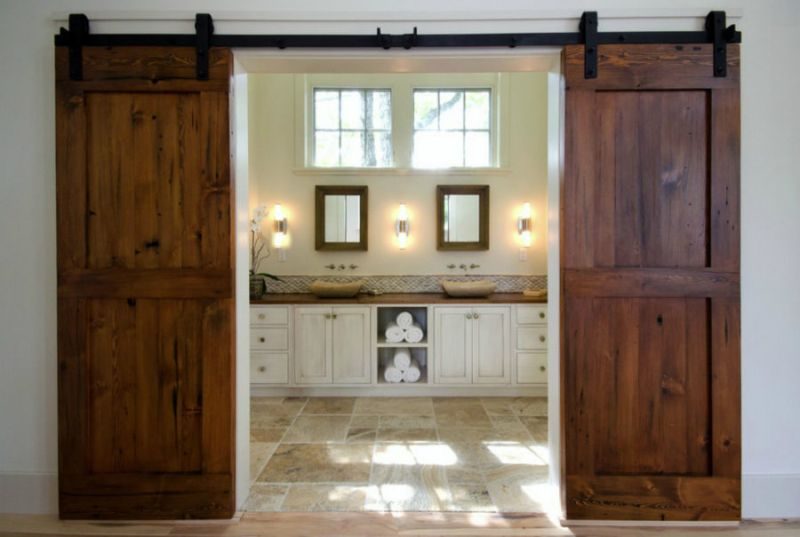 Image Source : cdn.trendir.com
If you are thinking of the rustic ideas, think about giving your space a little brighter look. With all the rustic props included in your bathroom, space looks darker like a prison. To avoid that, paint your wall with warm creamy shades. It compliments with all the dark colors of the plank woods, cabinets, and wooden ceiling.
One of the natural yet natural rustic bathroom décor ideas is to add barn door to your space. A sliding barn door looks unique and gives a new look to your bathroom. Add a fabric panel that can give a whole new dimension to your bathroom. Compliment with a stone sink of your choice with some rustic style fixtures in it. It will give a luxurious feel to your bathroom.
Rustic Mirror with Frame Built Out Of wooden boxes
Create your very own rustic mirror with the help of old wooden boxes available at your storeroom. Yes, you just need some of the parts of boxes. A mirror glass and some glue to hold and frame the mirror. Cut the wooden boxes with the design you want to frame. Then attach the mirror with the wooden frame with glue. Secure the boards together with screws and make some hold to hang the mirror in the walls. Allow it to dry and now add a hanger on the back and your rustic mirror is ready. If you want, you can color it with white paint unevenly to get that perfect rustic feel. 
Mason jars light fixture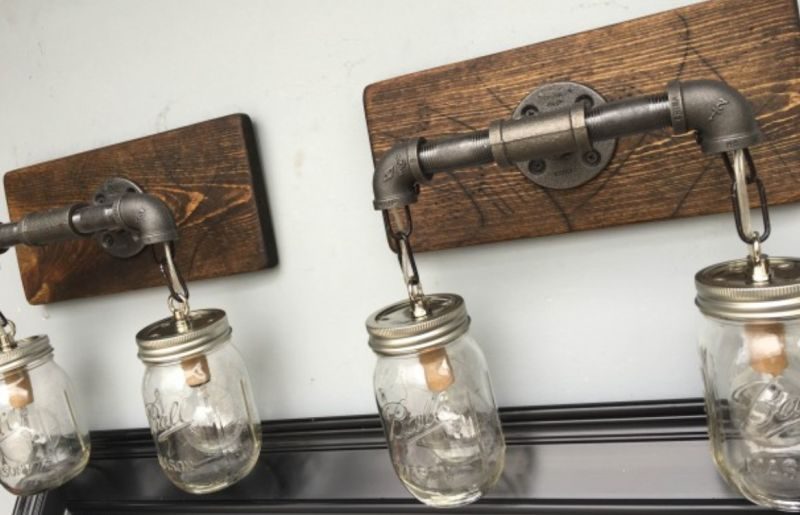 Image Source : aftcra.com
A good lighting is a great way to update any of the spaces at your house. You can go for DIY rustic bathroom design ideas with little stuff available at your home. Mason jars can be made into a nice piece of lighting décor for your bathroom. Mason jar vanity adds a rustic décor into your bathroom. Use a plank according to your wall size; make holes with the help of drilling for wiring. Place some hook to hold the mason jars. Place the mason jars and wire the jars with lighting. This can brighten up your bathroom and gives a perfect rustic bathroom feel.