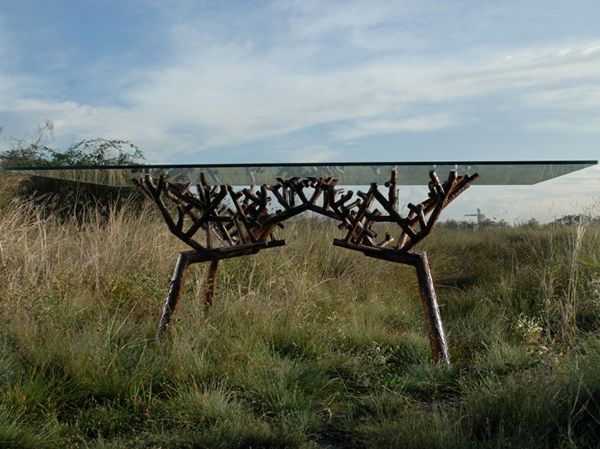 In this modern world, along with the architecture and technology, the interior furniture has taken a great leap, too. Everyone of us would like to have some greenery or at least some part of the nature, surrounding us. So, most people tend to put up a wild garden in their backyards or at least a few indoor plants in their interiors which not only give a nature look, but also gives a soothing effect to their surroundings. Lack of proper care for the plants could make your interiors look worse and a complete void of natural elements in an enclosed chamber could wither them away. Many such reasons avoid you from going green with your surroundings. To overcome such problems, designers have come up with a very innovative idea where you could have all the nature to yourself without being burdened with the maintenance.
Here are few such interior furniture ideas which add that extra edge of nature to your surroundings.
1. Tree coffee table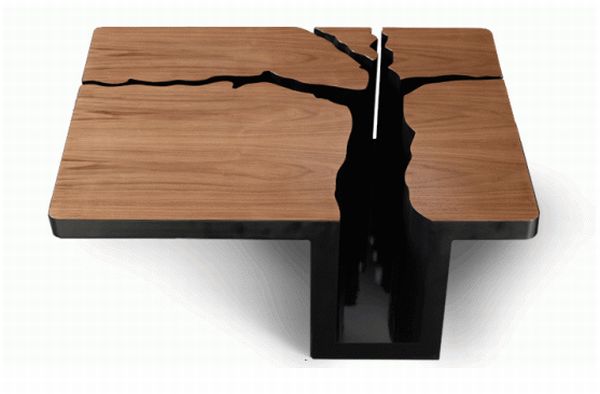 The Tree coffee table is an innovative idea which was designed by Dylan Gold. The table portrays a silhouette of a tree which is probably called as the silhouette of the tree of heaven. This piece of furniture is made out of solid MDF layers which is coated with an automotive lacquer and a clear coat, which makes it heavy and strong withstanding huge amount of pressure applied on it. It is also produced in a whole range of textures and in an array of various colors and styles as per your requirement.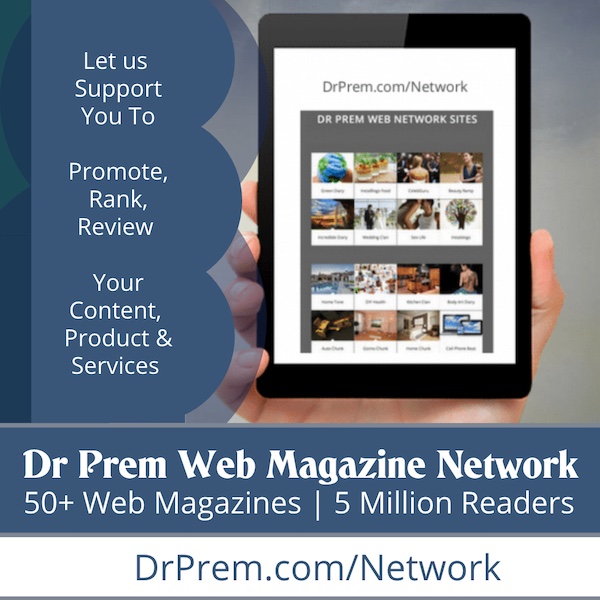 2. White trees unique table furniture from Ilan Dei Studio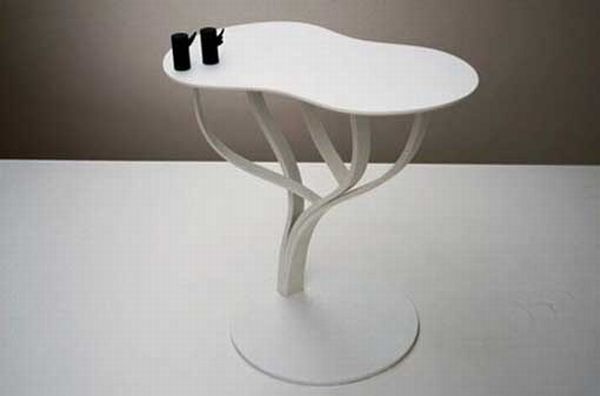 The White trees table from llan Dei Studio is an astonishing piece of furniture which has been made in reference to the trees found in California. This table is made in full white which complements the modern interiors of office and as well as homes. It consists of a circular base supporting a tree-like skeleton with branches which thus support the upper platform of the table which is crafted in the shape of a leaf. This could be your favorite piece of art and could be placed anywhere as it suits almost every surrounding.
3. Wired tree table by Sebastian Errazuriz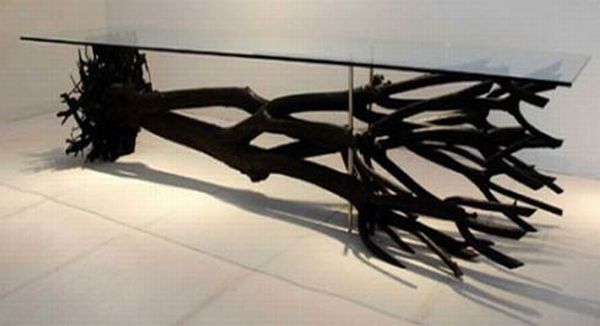 This is an interesting art of furniture designed by Sebastian Errazuriz. The table consists of every part of the tree such as the trunk, branches, roots but fortunately no leaves to block the look of it. This could be a little weird to few but the idea is innovative though. The whole section of the tree is placed horizontally which in-turn supports the large glass surface which acts like a table top.
4. Flavia table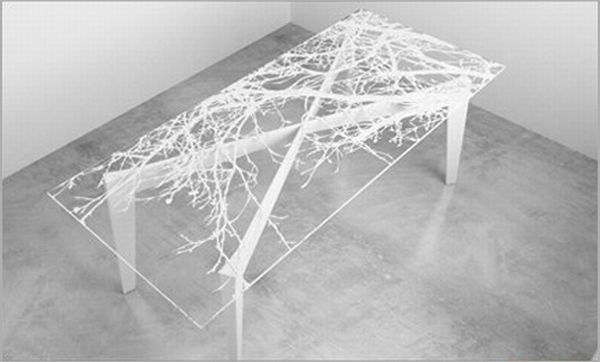 The Flavia table, which is an exquisite furniture of art, was designed by Filippo Bich and Francesco Pansieri. The glass top is sandblasted with a natural texture of winter trees. The most interesting feature about this table is that the glass top is a recycled product and the foot of the table is made out of MDF recycled fibers. Apart from the feel of the natural environment, it also contributes to the Eco-friendly nature.
5. Tree shaped table created from metal by Forrai Metal Design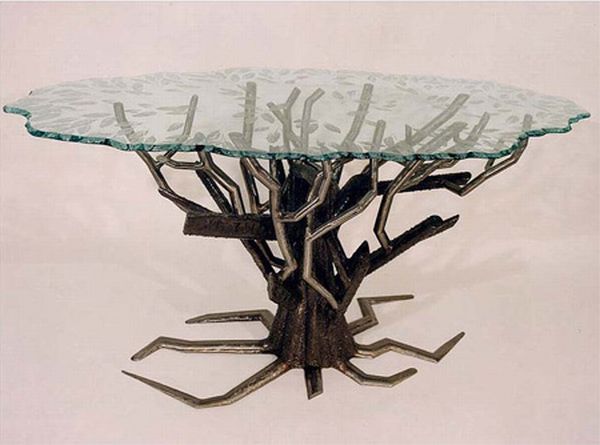 The Tree shaped table by Forrai metal design is a brilliant work of art where the table is shaped in the form of a Tree. It could be said a clustered branch tree where the branches and the trunk are carved out of metal and the base of the tree is shaped in the form of roots. The Root shaped base acts as a support for the entire table and the glass positioning on top is furnished with intricate leafy designs which gives an old tree look situated right in the center of your room.
6. Fractal.MGX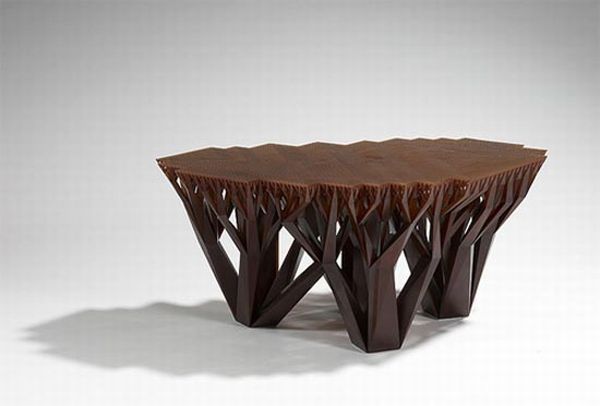 Fractal.MGX is a unique coffee table designed by Gernot Oberfell and Jan Wertel. It is said to be uniquely designed as the furniture is impossible to be produced by any other manufacturing processes. This furniture is completely made out of a single piece without any joints or attachments provided. It is said to be a combination of nature and mathematics as the base of the table starts with proportionate tree trunks and later diverging into branches as they go higher and completely joining into one piece at the top forming the surface of the coffee table. Such Innovative and cool piece of art could be well suited for those who long to have a mini forest in their living rooms.
7. Plumeria table by Vito Selma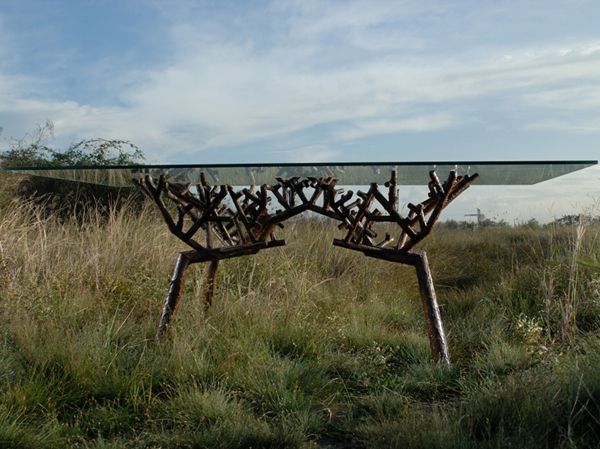 The Plumeria table is another innovative creation by Vito Selma. This is actually a dinner table where the bottom is made out of branched woods neatly decorated into a symmetrical form. This design is actually known to be the designer's childhood memories to produce a table with base made out of tree shaped wood. This is designed and furnished in such a way that this piece of furniture suits every interior.
8. Amazonas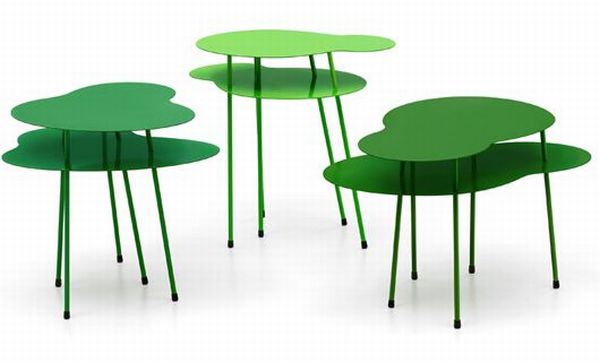 The Amazonas are designed from the Claesson Koivistorune which are a perfect resemblance to the trees of the tropical rain-forest. These create an overlapping effect of trees with their set of nesting table style. To add more a natural look to them, they are produced only in green color which vary in shades of forest green. Simple yet stylish, these tables make you feel a part of nature and adds the natural look to your surroundings.