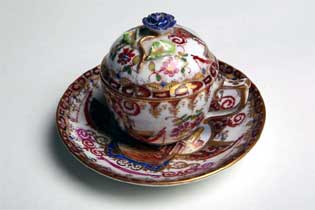 This is a beautiful piece of art for the art-lovers with a taste. This cabinet cup with the cover and saucer will make your cabinet glow in its presence.
Cabinet cups made their first appearance in the 18th century as a result of the practice adopted by porcelain makers to show off their skills by creating pieces of art like this.
The idea continued well through the 19th century and today this art is loved by people who have a taste for handcrafted goodies.
The pretty cabinet cup shown here is totally hand-painted and very decoratively gilded. The finial with a moulded flowerhead commands your attention while the amazing moulding work on the cover is enough to make up your mind to own this beauty.
According to Victoria Crake, a ceramics specialist at Lyon & Turnbull, this beauty of yesteryears has a Meissen crossed-sword mark and, though she says that this mark was frequently copied by other makers, this appears genuine.
The price of this porcelain delight is anywhere between £200 to £300.