Flooring is one of the most important aspects of a room. Whether you are constructing a new floor or remodelling it, flooring has a huge impact on a room, and makes it come alive. Your flooring choice depends on the style, budget, use and look you want for the room.
You should explore all good options you have for your living room, bedroom, kitchen, bathroom etc, from hardwood to penny floors. After all, good flooring is there to last for years.
Keeping this in mind, we have compiled a list of some ideal flooring options to go with:
Hardwood floor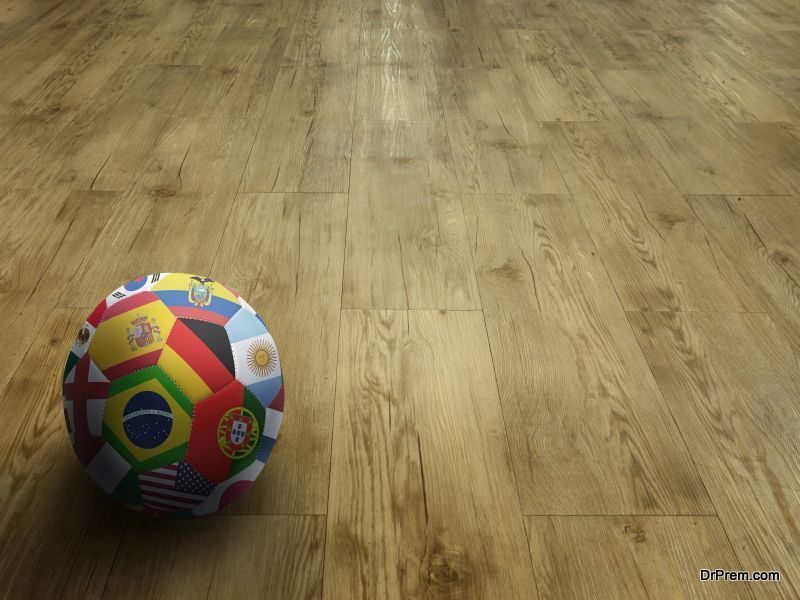 Hardwood floors look very sophisticated and elegant. They are easily maintained, last a long time, and have very good resale value. They have to be vacuumed only, and real hardwood floors need some refinishing from time to time, in areas where they are constantly used. They are an expensive option, but the price is well worth it.
Sometimes, when remodelling an old home, you might be fortunate enough to find pristine hardwood floor underneath the carpet, which only requires to be sanded, sealed and stained. You can choose a stain color to match your decor, and with just some polish, your room would look new and fresh.
Wood and Block Paving
Block paving and stone flooring with wooden inlay work looks amazing. It is a great way of combining wood and stone, if your budget does not stretch to cover an entire wood or entire stone floor. Done properly, it can give a charming antique look to your floor.
Inside out floors
These floors create an illusion of your floor space being bigger than it is. The interior floor can be continued outside into the patio or garden space, with the same or similar, less expensive material, but of the same color. Wood and concrete work well in this concept.
Tile floors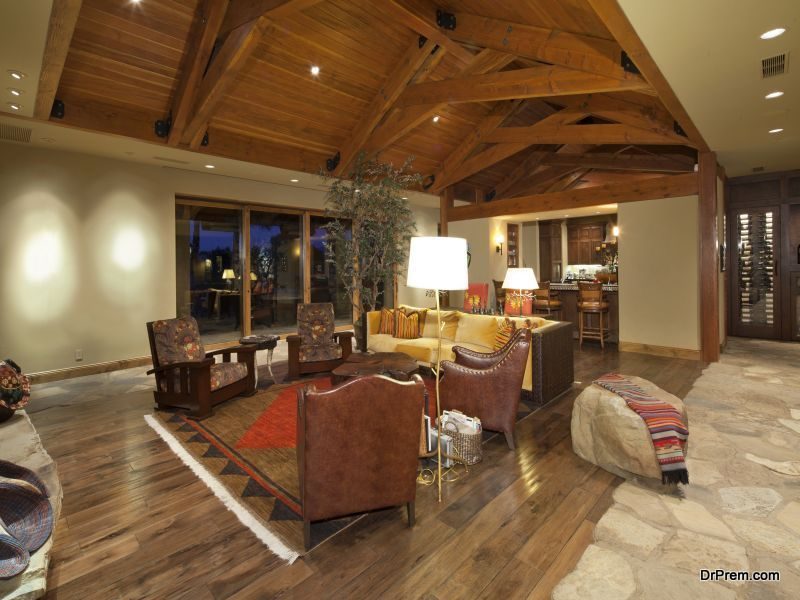 There is a huge variety of tiles, of various price ranges. Ceramic glazed tiles are extremely durable and scratch resistant. You can also choose from porcelain, marble, travertine, granite and slate tiles. Tiles are best for bathrooms and kitchens, as they are water resistant. But tiles are cold, they echo, and can crack, which could be hard to repair.
Laminate
Laminate floors are a pocket friendly option. They are scratch proof, which makes them ideal for rooms which have high traffic, such as kids' rooms or dining rooms. Laminates are spoiled by standing water, so you should mop up immediately if water is spilled, as they cannot be refinished. Choose a Laminate flooring product from a reputed company, and your laminate floor can look as gorgeous as real hardwood / tile floor.
Carpet and carpet tile floors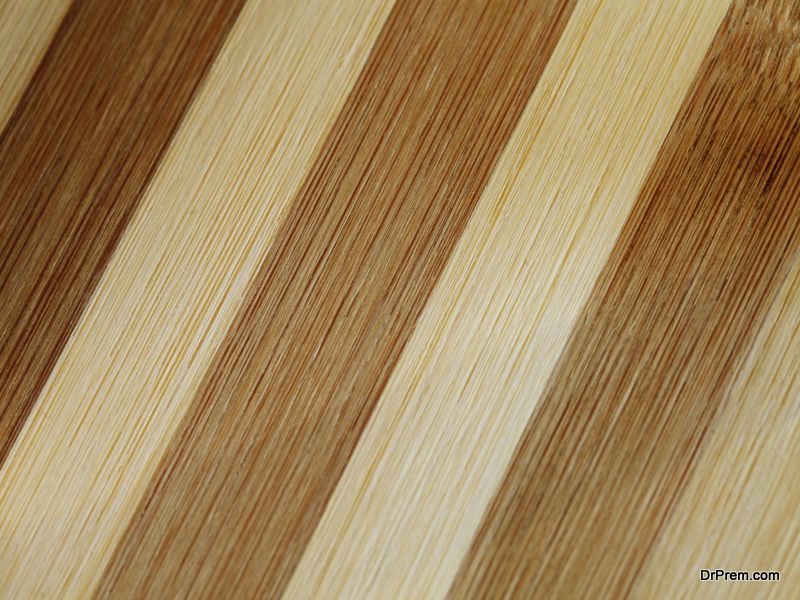 Carpet floors are warm and cozy. Carpets are available in a huge variety of styles and materials. They dampen sound, so if you're looking for a quiet floor, carpet or carpet tile floor is a good choice. If you or any family member suffer from dust allergy, it's best to avoid carpets.
Stone
Marble and granite floors are high end flooring solutions. They're beautiful, durable and easily maintained. They're costly, but the result is a smooth and elegant floor. Stone floors are best for warm climates.
Faux Bois
Faux Bois helps create wooden or wood grain pattern in different media, such as concrete. You get the texture and rich look of wood, and the durability of concrete. That's the reason, maybe, you would have witnessed a penchant among modern homeowners toward this particular flooring material. Aside from providing you with a feel of style and class, Faux Bois is durable enough to make your flooring stand out and stay fresh for several years to come.
Vinyl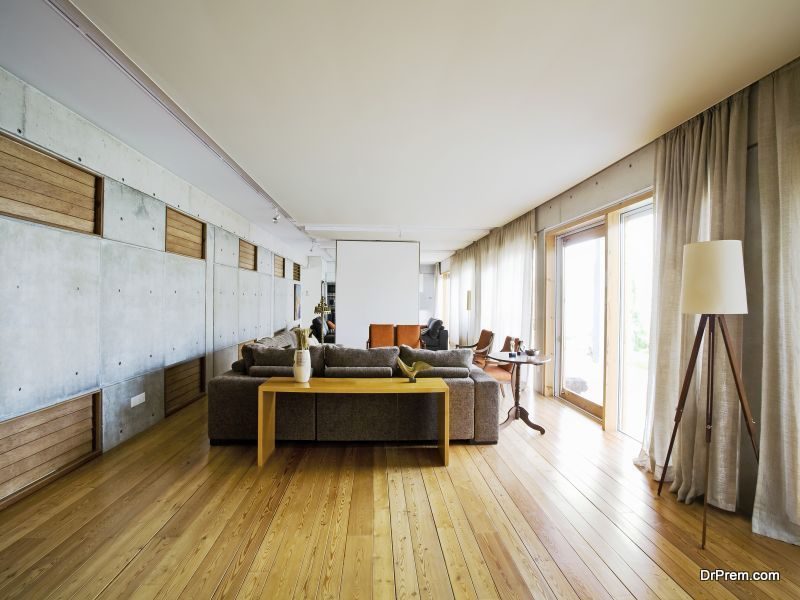 Affordable, easily maintained, stain and water resistant vinyl flooring is a low budget flooring option. Out of many living room flooring ideas, vinyl flooring becomes a great option, as it creates a striking base for any design style, from rustic to contemporary. Sans a speck of doubt, Vinyl flooring is one of the most regular flooring materials used today and even decades ago, it was one of the most appreciated flooring options. Actually, room flooring categorically means Vinyl flooring for most of us.
Concrete
Concrete floors are cost effective and look good after they are painted, scored, polished or stained. Concrete flooring can withstand anything, and is in vogue now due to the minimalistic and industrial chic design styles.
Cork
Good insulation, softness, sound absorbing, antimicrobial, mold resistant, eco friendly and warmth – these are the strong points of cork floors, which is quite a lot, actually! Cork is considered the best flooring material for bedrooms.
While choosing your flooring, consider your choice from the insulation point of view too. You can transform the look of your room with the right flooring, from drab to stylish, using the best option according to your taste and budget.
Article Submitted By Community Writer