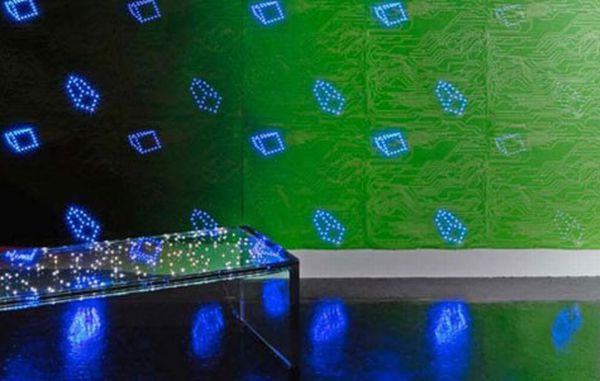 Designer/Manufacturer: Ingo Maurer
Overview
Wall decoration plays an important role in making your home look beautiful, and if it comes studded with LED, we are pretty sure eyes are bound to get fixed. German designer Ingo Maurer and manufacturer Paper Architects have developed a LED Wallpaper that integrates LED lights in its design. The product was awarded the 'Interior Innovation Award 2012'.
What's unique?
This LED Wallpaper is actually a wall sized electronic circuit board printed on paper. You can strategically place these LEDs anywhere on the circuit, which means it comes with great flexibility in pattern and style. A simple coating adheres to the wall surface and is plugged into the mains.
The designers have an electronic circuit printed on a paper of color green or white. The connections are distributed to LED devices (less than three millimeters in diameter) throughout.
High Points
The LEDs require very small infrastructure of little bulk.
The technology used is economical.
This LED wallpaper will definitely be loved by an eco conscious as the technology is environmentally astute.
A perfect solution to decorate your home during parties, events and festivals.