There's nothing so pleasant as sitting in your garden and enjoying your favorite cuppa. A shaded area is even better, as you can spend more time outside. It can even be an informal sitting area where you can entertain friends and family. Or sit and watch your kids and pets play outside in your garden. A pergola is a structure which will allow you to enjoy shade in your garden. It can be a covered walkway with a sitting area, or just a sitting area, be a support for climbing plants and creepers and add a gorgeous appeal to your outdoors. Check out these beautiful pergola designs which will help you get an idea about your own pergola:
Difference between pergola and pavilion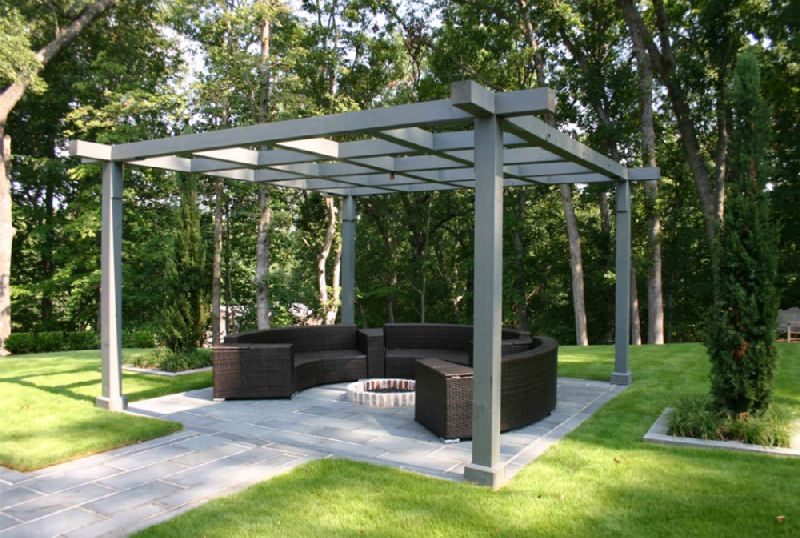 Pergolas and pavilions are very similar but not the same at all. Pergolas have open roofs and exposed posts whereas a pavilion has a closed roof like houses have, but neither of them has walls. Usually, pavilions are bigger than pergolas and are more of a functional space, but pergolas have more charming architectural details. But you can design either of them according to your needs.
Latticework pergola
A pergola which has exquisite latticework offers an amazing garden feature. You can make use of the latticework, wood posts and beams to create this most popular type of pergolas. The height of the pergola can be 8 ft and 10 ft in length. Redwood is a good choice of wood for this kind of pergola, as it would bring out the beauty of the latticework. Enjoy sitting under the shade of this beautiful pergola with family and friends.
Pergola with extra shade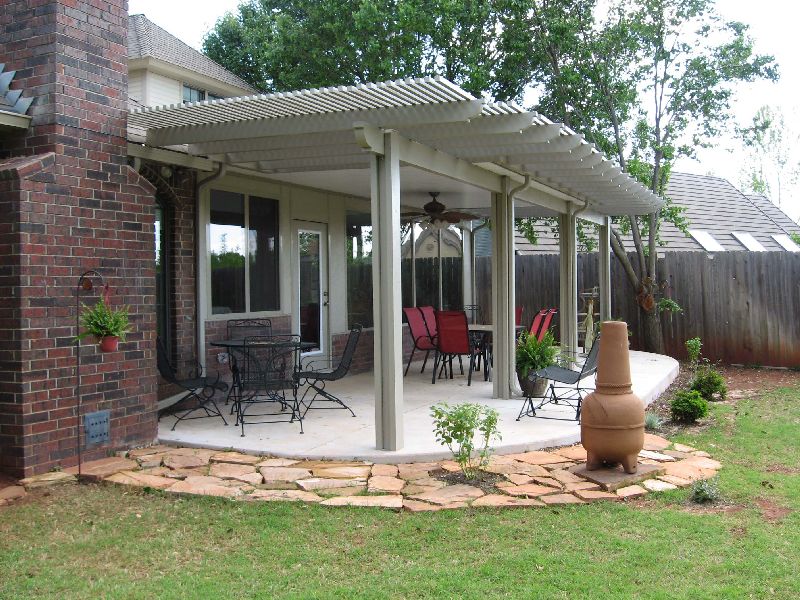 Your pergola will look even more charming with creeping vines or flowering creepers, and add more shade too. Many people attach retractable canopies on the top of the pergola to add more shade.
Walkway pergola
A pergola over a walkway or the path in your backyard is charming and adds a decorative detail which makes your garden look elegant and beautiful. You can add a seating area to the walkway pergola, enough to seat you and one more person.
Columned pergola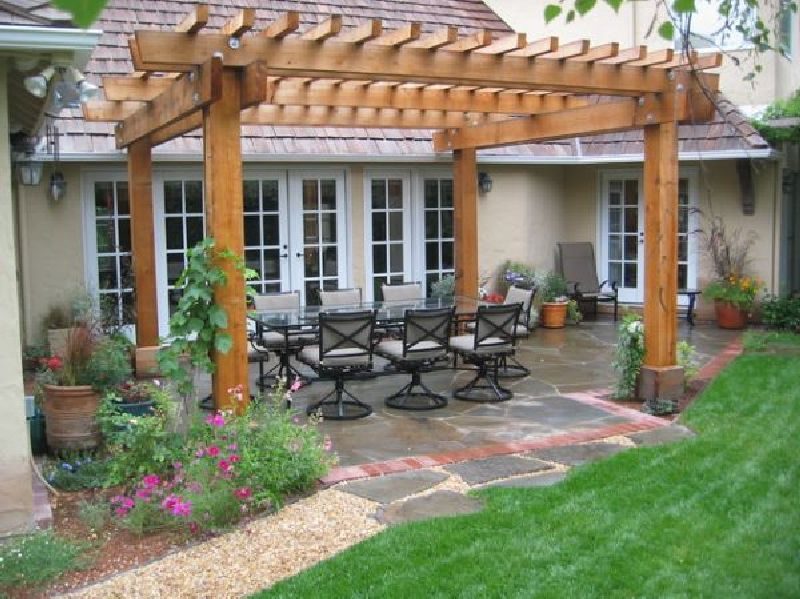 Columned pergolas look best in a traditional or Tuscan home design. The columns enhance the beauty of the pergola and your outdoors. Roman style or Corinthian columns look elegant and graceful and cover the top with trellise or wooden beams. The artistic columns create a very strong visual impact.
Light up your pergola
With some landscape lighting or just by stringing decorative holiday lights, you can make your pergola look enchanting in the night time. Small in-built lights can be added to your pergola too. A chandelier would make the space elegant and stunning.
Arched pergola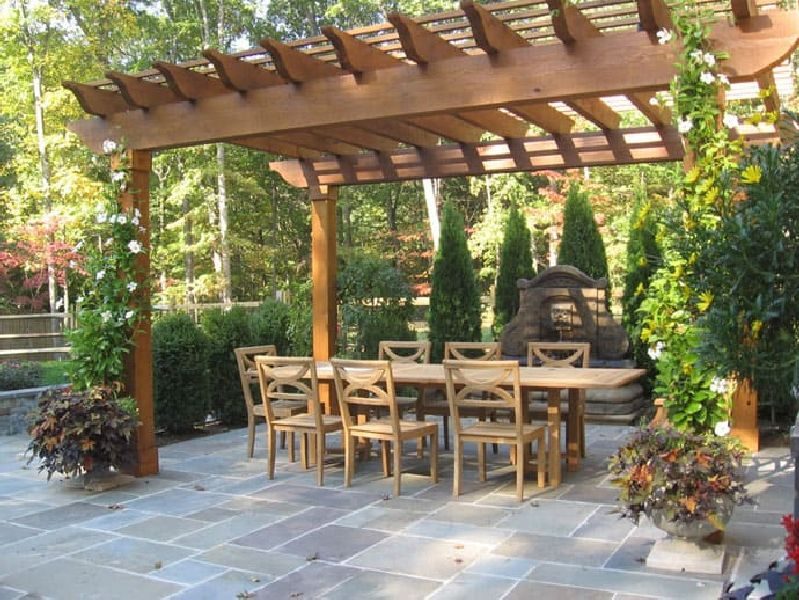 An arched pergola is a wonderful way to enhance the outdoor space. Arched pergolas are much airier due to the dome type curve on the roof. Iron, redwood or steel can be used to build the arched roof. Arched pergolas create a rustic vibe and you can add to the rustic look with a rustic style furniture. This pergola design allows for beautiful lighting features on the inner part of the arches. 
Octagonal pergola
The octagonal shape is beautiful too, especially when there is beautiful wood carving along the pergola's perimeter. Add some pretty outdoor furniture to make it look even more attractive.
Japanese style pergola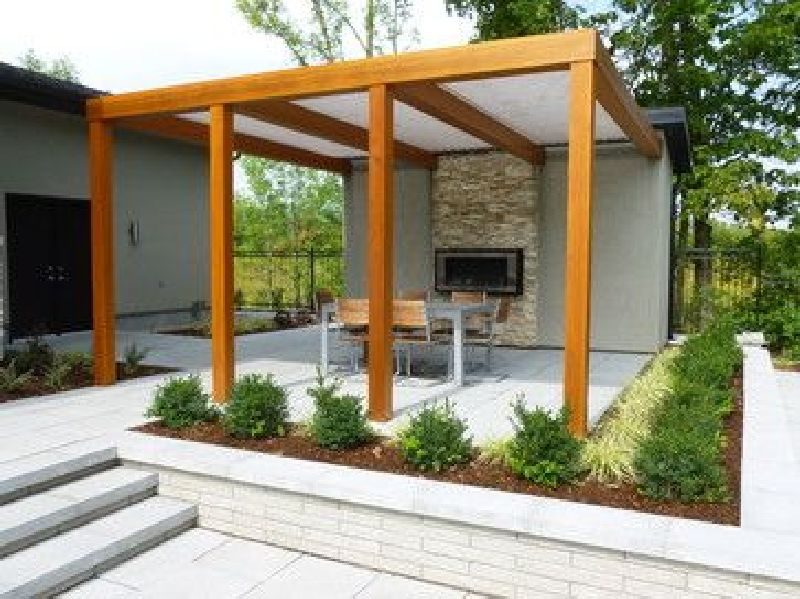 A Japanese style pergola will add a bit of oriental style to your garden. Redwood or cedar are the best choices for this design. Painting it red would make it a stunning centerpiece of your outdoor area. Adding flowers and bonsai plants would emphasize the Japanese design. Some architects build Japanese style pergolas as a transition point between the flower garden and lawn.
Metal pergola
Metal pergolas look gorgeous too. Cast iron and copper metal can be used to construct pergolas in various shapes and designs. Copper brown or a pergola with a blue patina look gorgeous. You can paint the metal too, to make it last longer.
Pergolas are open structures but you can add curtains for some privacy (when you want to take a nap). Adding flowers etc can add to the beauty of your pergola. Choose a style which complements the style of your home and blends with the rest of your landscape design.