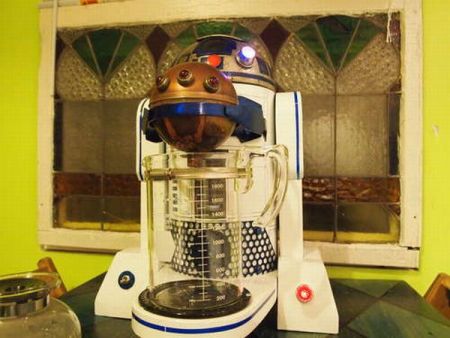 If you are an avid Star Wars fan whose favorite robotic character from the epic space opera film series happens to be R2-D2, what could be better than having R2-D2 inspired décor items right at home? Many firms, designers and DIYers from across the world have created unusual and interesting home décor items inspired by the famous R2-D2 droid. There are many ways homeowners, who are big fans of Star Wars, can adorn their space the geeky way. After the jump are some of the most amazing R2-D2 inspired home décor things for the Star Wars fans.
R2-D2 Coffee Maker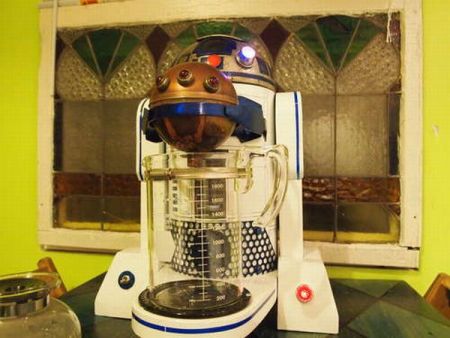 For the true Star Wars fans, nothing could be better than to enjoy a hot cup of coffee brewed from the R2-D2 Roast Edition coffee maker. This functional unit is not only attractive, but also quite easy to use. You would just have to pour water in the head of this little robot and you'll get coffee dripping through the filter or orb basket in a few seconds. If that is not just enough to impress, the DIYers can also make their own version of R2-D2 Roast Edition coffee maker.
R2-D2 Aquarium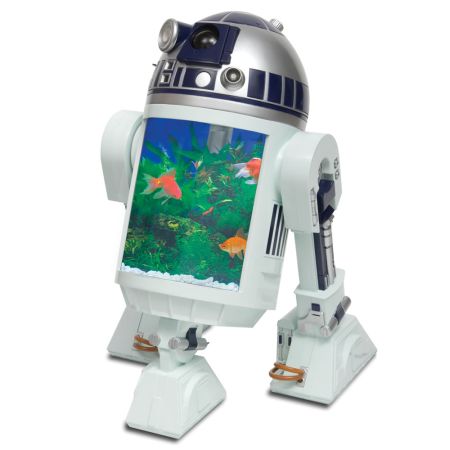 The stunning aquarium pictured here has been inspired by the famous R2-D2 astromech droid from the Star Wars universe. This charming little R2D2 carries 1 3/4-gallon aquarium tank in his central compartment. This space is enough for holding freshwater family of goldfish, gouramis or tetras. He utters 'bleep' sound on any of your voice command and rotates his dome shaped head. One can also view the intimate aquatic life through the periscope housed in his radar eyes. In addition, it also includes randomly altering red, blue and green LED lights.
R2-D2 Garbage Can Too Nice for Trash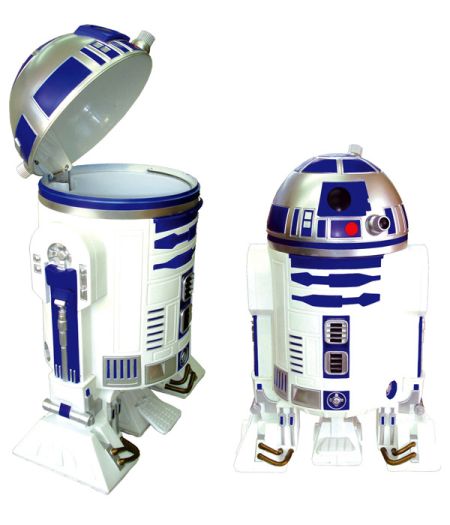 Without projecting out any lights or moving the body parts or showing any other special effect, the Star Wars fans will undoubtedly adore this R2-D2 garbage can. This cute little fellow is serving out as an "executive waste technician" and managing your disposals. All you need to do is to step on the central little foot on the front to open the R2's head and dump your trash. The R2D2 trash can would definitely make you think twice if you can reuse the waste before you throw it away.
R2-D2 Area Rug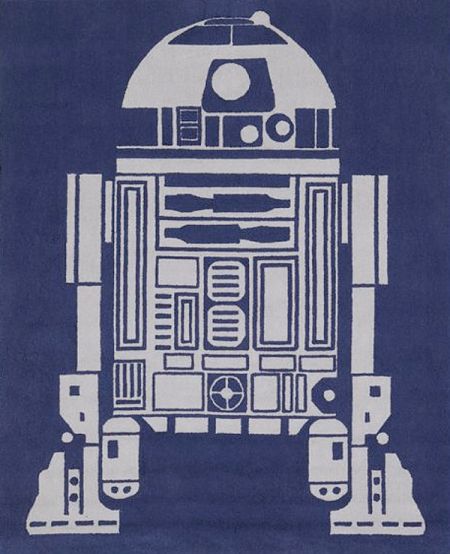 This R2-D2 area rug will express your ultimate love for R2-D2 robot while decorating your house. The R2-D2 area rugs feature a huge R2 image that is very imposing or impressive, surpassing the ordinary size. You would feel great to walk over this luxurious rug with your bare feet. Hand tufted in blue and grey wool, the area rug is available in the sizes 3′x5′ ($129 USD), 5′x7′ ($299) or 8′x10′ ($599). You may choose the best fit for your room.
Star Wars Inspired R2-D2 Lamp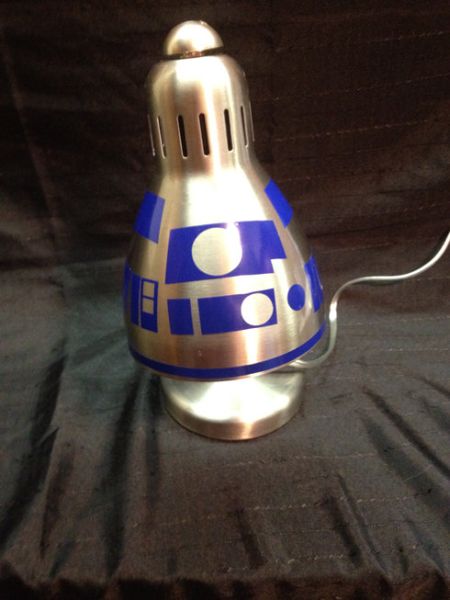 This metallic R2D2 lamp will be a great addition to the living room of a Star Wars fan. You can even decorate your office or any other space inside your house. This delicate lamp has ink blue shade with random crisscross patterns over the silver background redeeming an excellent beauty that is not mixed with extraneous elements. The simple design of this R2D2 lamp gives the soft glow to serve as just a perfect reading lamp reminding of your favorite Star Wars series.
Homestar R2-D2 Home Planetarium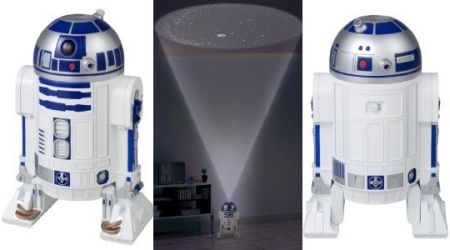 The R2D2 Home Planetarium is an unusual and interesting addition to the Homestar range of Sega Toys' line of astral projectors. The home projector is in sophisticated size of R2D2 figurine from the popular Sci-Fi movie 'Star Wars'. The 8-inches tall unit projects out a constellation consisting of as many as 10,000 starts including the Dead Star. The same sort of projection system is made to be used in the R2-D2 Home Planetarium that is used in commercial planetariums. The head of this cute robot project out the constellation on to your ceiling. You just need to power the system with some ordinary batteries and press on the white LED button to see these umpteen beautiful stars.
Star Wars R2-D2 Folding Armchair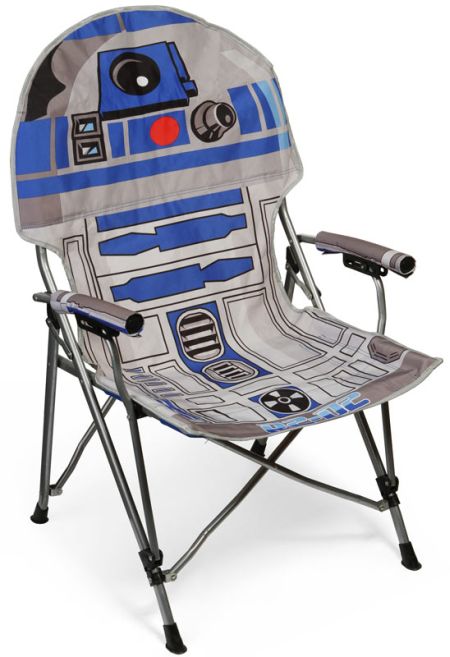 Need something cool to relax? Check out this R2-D2 folding chair, which is sure to interest any Star Wars aficionado. Since its foldable and also has a very light weight, it can therefore be carried along with you to any place you go like picnics, camping etc. this awesome chair is made up of nylon and can be used indoors as well. It also features a nylon shoulder bag for carrying and storage purpose. The Star Wars R2-D2 Folding Armchair chair features the picture of the famous droid.
R2-D2 laundry basket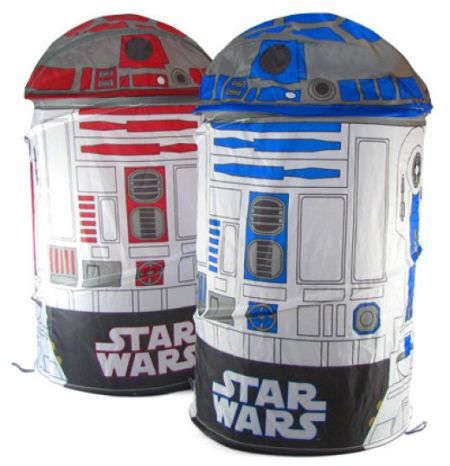 The very first step of doing our laundry is nothing but storing our dirty clothes. This R2-D2 laundry basket does this job perfectly for us. The R2-D2 laundry basket is available in red and blue color measuring 26″ inches high and 14″ in diameter. Each consists of interior spring metal support, so that the basket can easily collapse while not in use.
Star Wars R2-D2 Ice Cube Trays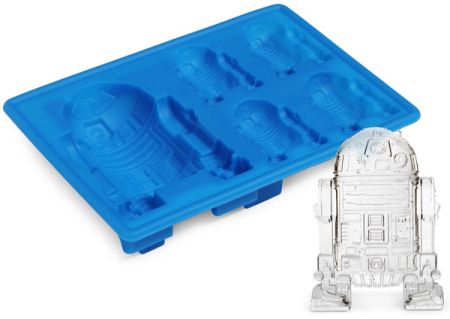 For a sci-fi geek, Star Wars is amongst the favorite of all movies. This popular movie was a blockbuster in theaters decades ago, but the merchandise is still a hit on the shelves. This R2-D2 ice tray is one of them. The ice tray consists of a large sized R2 mold along with for tiny ones. Now you'll be able to frost the droid and crush him down to make your drink cooler. You can also shape up your Jell-O or chocolates in these silicon rubber R2-D2 ice trays.
R2-D2 Water Bottle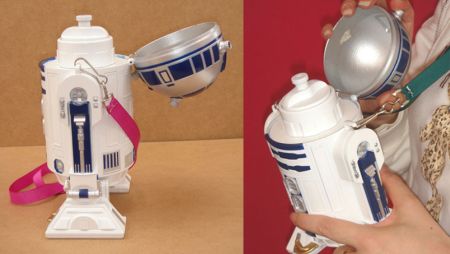 Who would not like to sip water from the R2-D2 water bottle? A Star Wars fan would just love to be thirsty and quaff water or any other of his favorite drink from this droid water bottle. The cute plastic figurine of R2D2 carries 375ml liquid inside. This water bottle can be easily carried with you with help of a shoulder strap. To use this plastic bottle you are required to tilt R2-D2′s head back to gulp your most admired beverage.
R2-D2 Smoker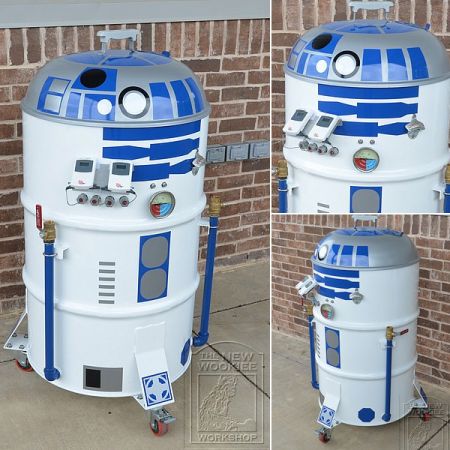 Any Star Wars fan who happens to be a foodie would definitely love to cook on the R2-D2 Smoker. Philip Wise, who happens to be a big fan of Star Wars, has been creative enough to make out this R2-D2 BBQ smoker by using an old 55-gallon drum. He shaped the BBQ like his favorite R2-D2 droid from the Star Wars universe.
R2-D2 Heineken Robot Sculpture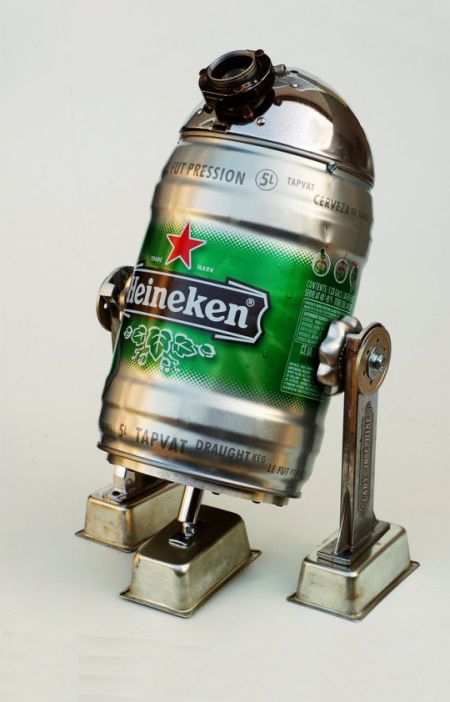 R2-D2 is undoubtedly the most adorable droid loved by every Star Wars fan. This charming little thing has been recreated in a number of unique ways. Lockwasher, again a Star Wars fan, has created this fantastic R2-D2 sculpture by using trash beer cans. Christened as "BeertooD2", this sculpture has been made using 4.7 liter Heineken keg. Moreover, he has also used old-fashioned shoe polisher legs and the tiny feet made from bread loaf pans. This awesome sculpture of R2D2 droid was finished with a chrome tractor headlight dome.
DIY R2D2 Lamp from $10 IKEA lamp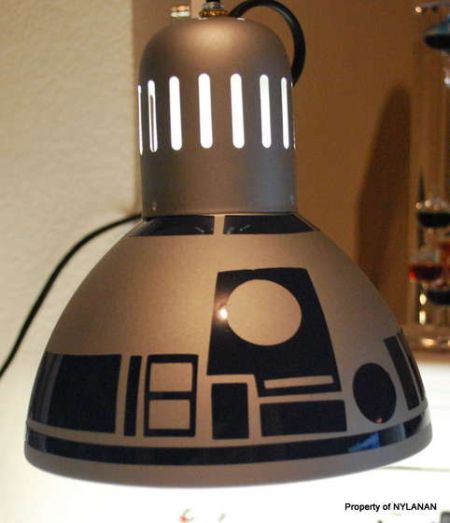 Here is a cool desk accessory for the R2-D2 fans. This gorgeous R2-D2 lamp has been created by Instructables user Nylanan by using a $10 IKEA lamp. Interested DIYers can make one on their own by following a few simple steps. All you need to do is to find a lamp that resembles R2, stickers and scissors and you are good to go.
R2-D2 custom star wars decal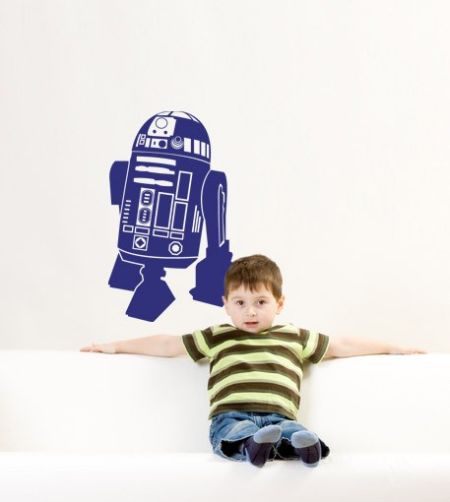 These pretty stickers from the house of DecoMod Walls can be applied to any flat surface that is smooth and clean. You can adhere these amazing R2-D2 custom star wars decals on the walls, windows, cars, mirror, cupboards and other places of your liking. These stickers are made of high quality vinyl that is self- adhesive and waterproof. All matte finish designs are made to last for a long duration. You can choose from various colors and sizes.
R2-D2 Glycerin Bath Soap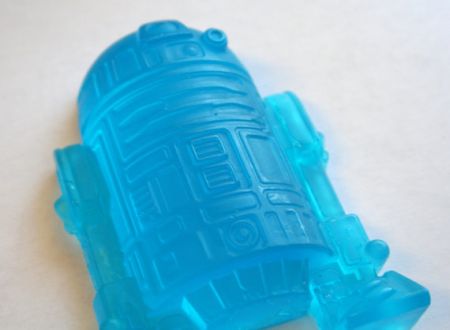 For those who want some R2-D2 fun inside their bathrooms, here is the R2-D2 Glycerin Bath Soap.The R2-D2 Glycerin Bath Soap is available at Etsy in blue color only, but is available in various fragrances like rose, coconut, black raspberry, vanilla, mango, pink grapefruit and melon. The soap measures around 3 1/2 inches tall, 2 1/2 inches wide and 1 inch thick.
R2-D2 Projection Alarm Clock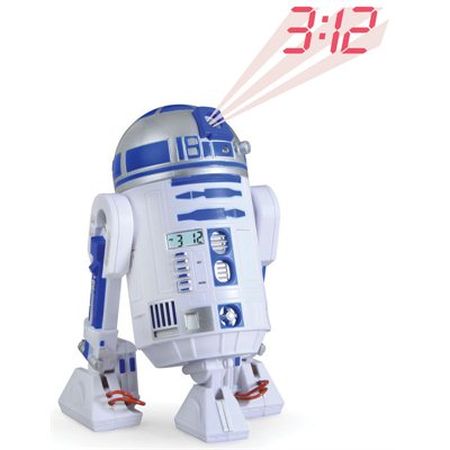 The R2-D2 Projection Alarm Clock is a perfect wake up call for a Star Wars fan. As for the alarm tune, one hears the unique whistles and sounds of the R2-D2. When the alarm is turned off, the time is projected onto the wall or ceiling of the room from its dome shaped head. The droid also chimes the hourly time as well as the date along with displaying them on the LCD on R2-D2's armored exterior. You can adjust the angle of projection by adjusting the moveable legs of the droid. The entire system works on two AAA batteries.