Incandescent tubes or florescent tubes have been an integral part of industrial interiors for what now seems like ages. Many people equate them with drab office style lighting though they have been seen as predecessors to the accent light and running lights that have been adapted into modern interiors as a part of ambient sets. However, the boring old tube lighting has received a fashionable new makeover thanks to a fabulous designer duo from the design studio Emandes. Specialist lighting designers Sebastian Szlabs and Malgorzata Ratajczak used the form of the classic incandescent lighting tube to create that they have dubbed the Atomic Lighting Tubes.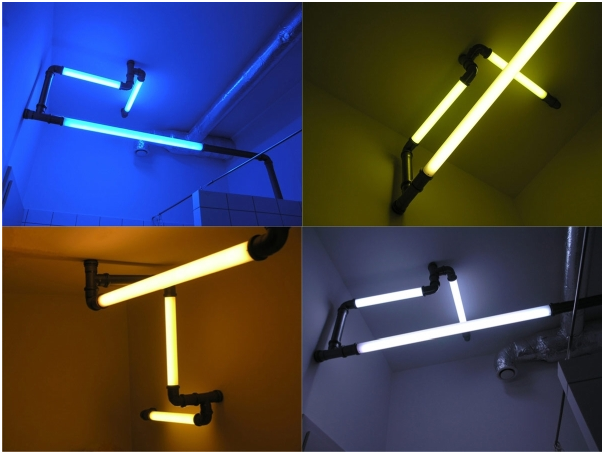 The project comprises of a number of chromed or painted PVC fittings that could easily be bent and joined in a number of interesting shapes. Even though the new tube lighting looks exactly like the ones used in offices, they differ in the way they produce and distribute light. With colorful exteriors, these lights can be customized to create a particular ambience going from the vermillion yellowness of the sun at daybreak to the techno-inspired neon glow reminiscent of rave parties.
Thanks to their industrial design theme, the lighting project can become especially useful in contemporary interiors can be embedded in various decors that focus on minimalist light elements. The system allows users to create an unlimited number of layouts that can be positioned near the ceiling of a roof, along the walls and stairwells, in corners and even along the floors for a dramatic effect. The lighting system also eliminates one of the more annoying problems with traditional light fixtures- that if cables and wires. Since the light can be installed right on the dry wall or along a socket, it flows more organically within the décor as well.