Vintage inspired industrial crank tables are becoming a mainstay in many contemporary homes today owing to their eclectic blend of industrial old world charm and modernistic functionality. These tables can offer an instant vintage charm to a home with great care and expert craftsmanship going into each design.
Custom tailoring is also available to make these tables fit seamlessly with the rest of the home's décor. So if you are on the lookout for a vintage-inspired industrial crank table for your home, take a look at a few designs here.
Bronx Crank Table
This vintage industrial crank table follows a meticulous design and is made of extra heavy duty gauge steel. The table employs over 200 bolts and rivets that have gone into crafting its elegant and yet, sturdy design. The other features of the table that make it extremely hardcore to the look are two 5 ton screw mechanisms as well as 2 crank wheels measuring 12 inches each that are used to increase the height of the tabletop to 42 inches bar height from 30 inches dining height.
Hure Crank Table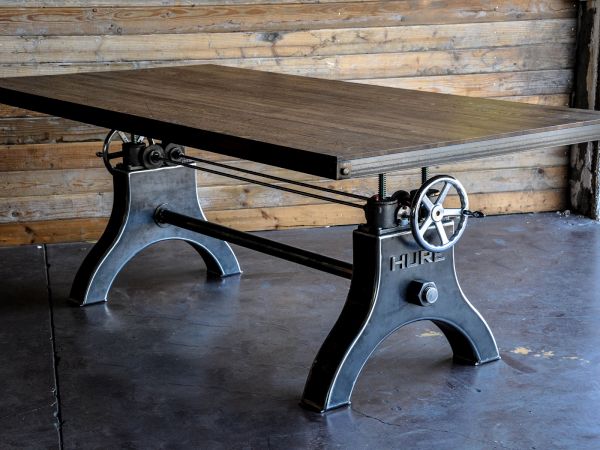 The Hure Crank Table features a rather innovative design along with a beautiful base. The table top is made of reclaimed boxcar oak and offers a rustic vibe to the table's industrial style. The table uses a total of 4 crank mechanisms weighing 3 tons each, to increase the height of the table from a dining height of 30 inches to a bar height of 42 inches.
IndustriaLux Crank Table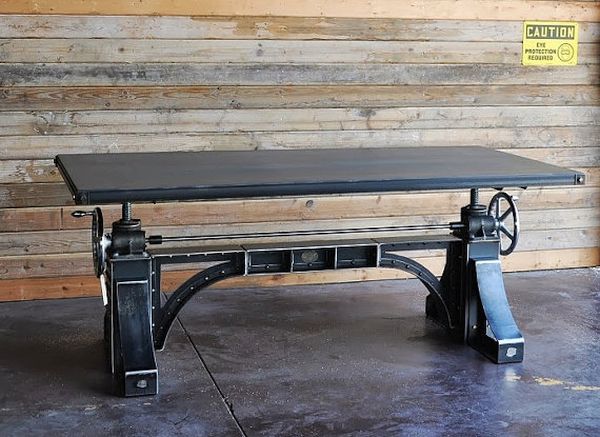 The IndustriaLux Crank Table is another vintage inspired industrial table that follows a more elegant look suitable for contemporary homes. The elegance is rendered by intricate brass detailing with a custom choice of wood or steel tabletop. It comes with an 8 inch crank wheel that allows for height adjustment from 30 inches to 42 inches. The wide array of high gloss colors also allows you to play with different colors and details until you zero in on the design that best fits your home's interiors.
42 Desk
If you are on the lookout for an industrial crank table that features a more feminine design, the 42 Desk is just right for you. The hand crafted industrial desk rocks the industrial look to perfection while lending in an aura of femininity that is hard to miss. Perfect for those all girls' hangouts!
Crank Table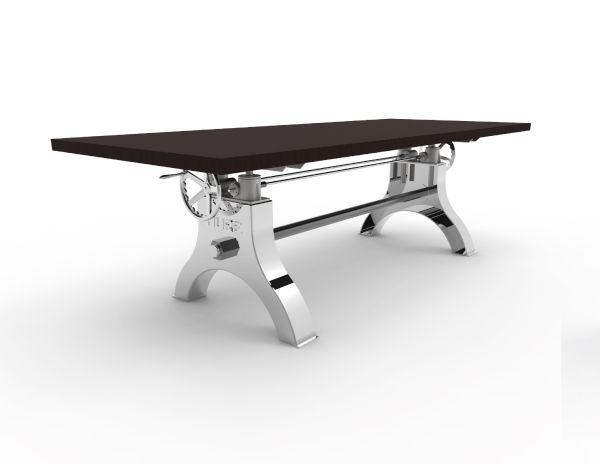 The simplistic Crank Table goes by its name and offers you a simple but rugged looking industrial crank table that will fit your home's interiors perfectly. The metal base is accentuated by either a solid hardwood or heavy gauge plate steel tabletop. A 10 inch crank wheel made of cast iron can easily adjust the height of the tabletop from 28 inches to 38 inches. The choice of opting for a red or brass colored crank handle offers vibrancy to the otherwise stern look of the table.
Vintage Industrial Cast Iron Adjustable Table Base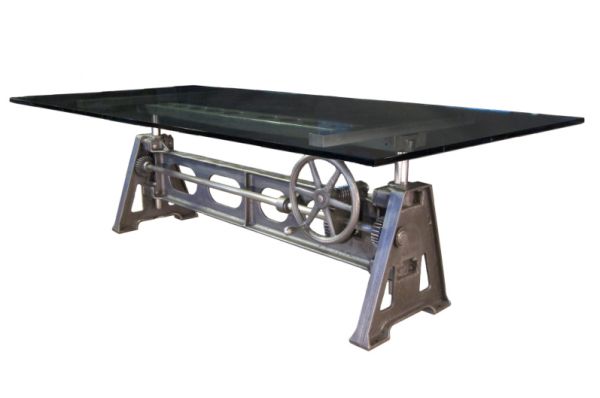 This industrial crank table comes with an interesting feature, a glass tabletop set atop an adjustable table base made of cast iron. The glass top offers an excellent views of the bolts, rivets and wheel mechanisms that go into making the table as you see it from outside. A cast iron crank wheel helps increase the height of the table from 18 inches to 32 inches.
Architects Crank Table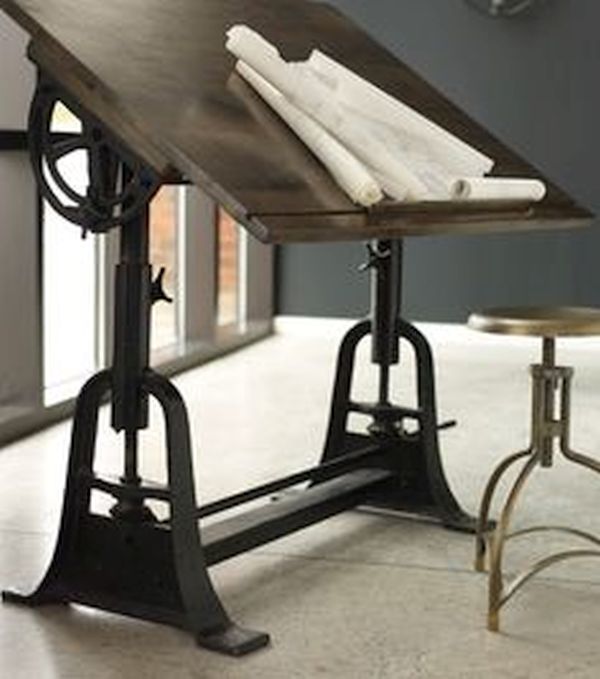 This industrial crank table has a unique tilting feature. The top of the table can be tilted to an angle, making the tabletop a perfect surface for drawing. The cherry table top also comes with a pop up paper feature and a metal trim to hold the work in place while the table is tilting. Locking casters at the bottom of the table also hold it in place during work.
Industrial crank tables offer a vintage look to any home décor. They are handcrafted and offer a rugged, yet elegant look to the interiors. They are also available in many designs to suit any kind of home décor with ease.