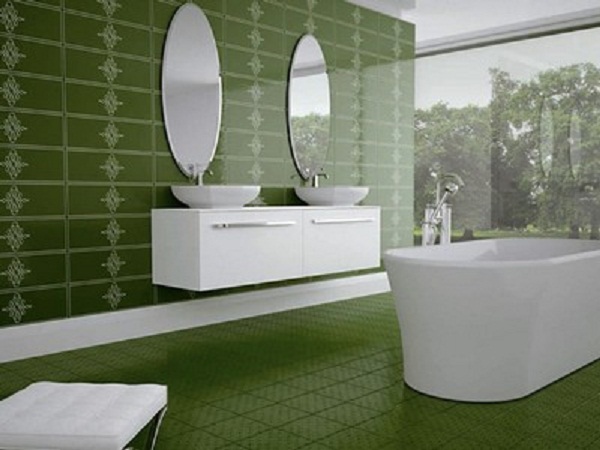 Tiles are an integral part of contemporary homes for high maintenance and usage areas like kitchens and bathrooms. Right pick for the bathroom tiles can certainly add a new dimension and character to the most private space in the house- bathroom. Tiles not only help to set the mood of the decor, but also glam up the entire look of the bathroom. There is variety of tiles available in the market, but finding the right one will certainly demand some efforts. Here are some of bathroom tile design ideas for you to make up your mind, before you head to the store.
Glass Tile in the Bathroom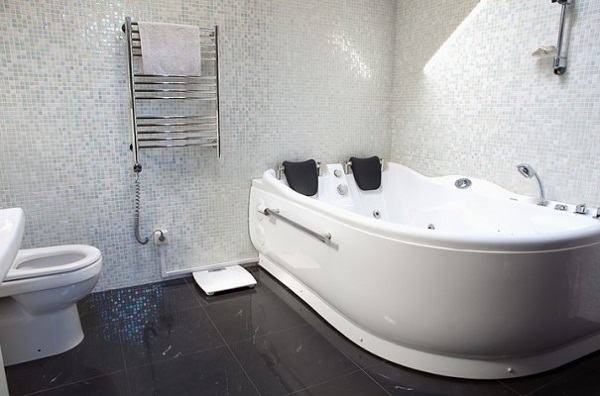 Glass tiles are simply marvellous and right choice for the high usage and high maintenance area such as, bathroom. Glass tiles can transform your bathroom from ordinary to a glamorous space representing your lifestyle. Glass tiles not only have great aesthetics but are also easy to clean and maintain, as the tiles will not fade or crack and the color of the tiles will not peel off. Glass tiles are also durable and resistant to extreme temperature. The glass tiles are available in various stunning designs and textures right from clear to transparent to opaque to give your bathroom the decor of your preference.
Rococo DeLuxe: Travertine and Fancy Borders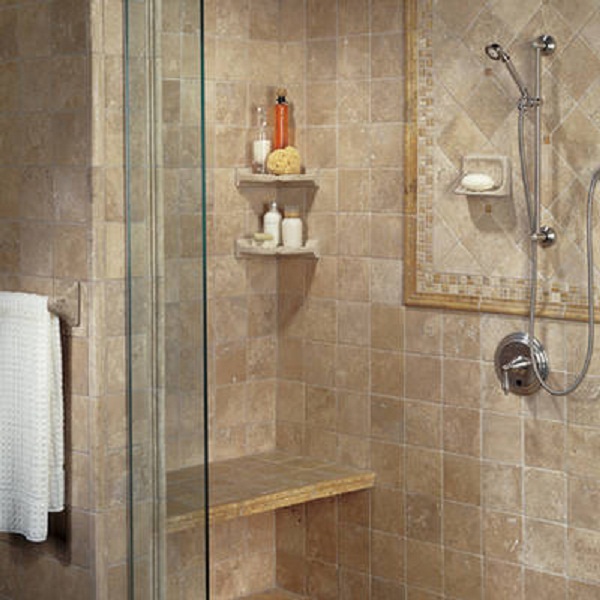 Give your bathroom a complete makeover by adding the beauty and warmth of stone with Rococo deluxe travertine tiles by American Olean. The travertine tiles with basket weave borders are simply elegant and posh to look at, while scoring high on the durability aspect as well. The Rococo Deluxe travertine tile bathroom design will surely add a new and fresh lease of life to the regular mundane bathroom in your house.
White Mosaic Tile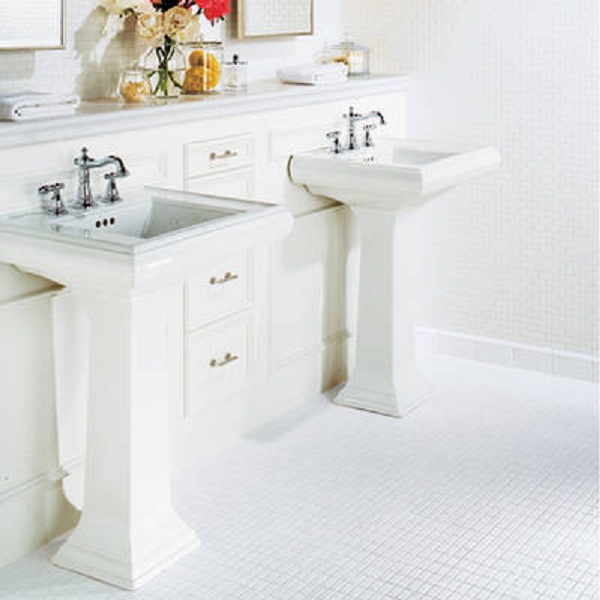 Although, the white mosaic tile by American Olean is high on maintenance as you can easily spot dirt and stain on white, the clean and easy crisp design is heart warming. Extremely easy to install, the white mosaic tiles are suitable for do-it-yourself projects, as the mosaic tiles are cluster of several tiles on a single backing. The white mosaic tile will create a soothing and relaxing ambiance in your bathroom, while adding up to the entire decor aesthetically.
Ceramic Bathroom Tiles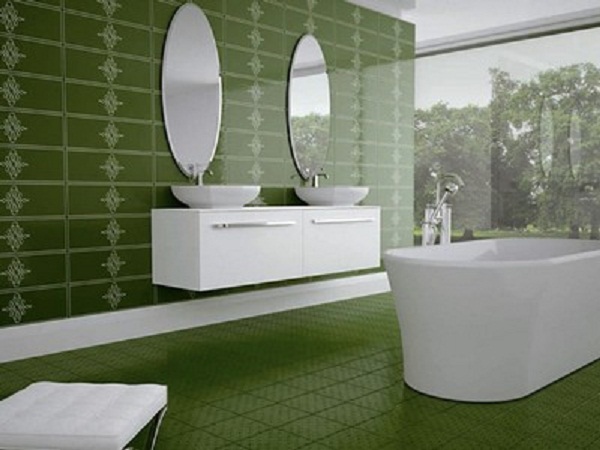 Ceramic tiles are the most popular and recommended type of bathroom tiles by the experts and interior decorators. Ceramic tiles are not only available in wide range of colors, designs and textures, but are also durable and easy to maintain. Ceramic tiles are also larger and thicker than other types of bathroom tiles. Ceramic tiles are handmade and are dried either in the sun or in a small brick kiln. However, for a large number of ceramic tiles manufacturing, dry pressing or dust pressing techniques are also used. Ceramic tiles can also be custom-made in shapes and sizes as per your requirement to add up to the interiors of the house.
Bold Checkerboard Bathroom Tile Design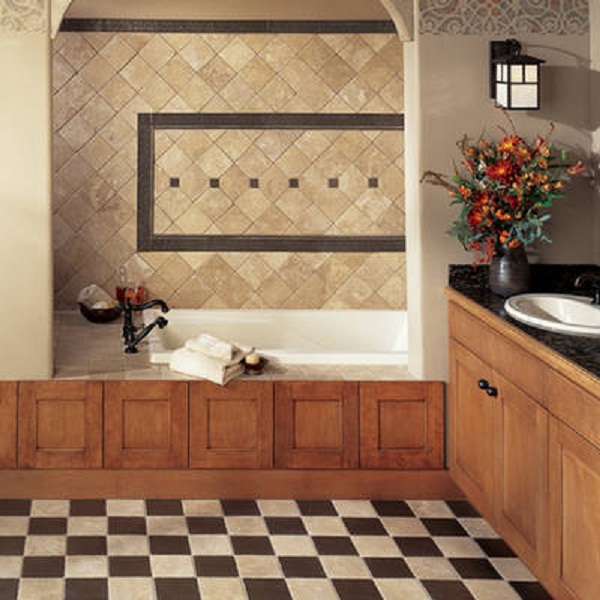 Give your house a bold element by adding the checkerboard tiles to your bathroom. The intrepid and stylish, checkerboard bathroom tiles by American Olean will certainly give a new and interesting dimension to the entire home decor. Distinct and striking checkerboard bathroom tiles will also help you make a statement with your discrete sense of designing and decoration.
Quick Bathroom Tile Elegance from Eleganza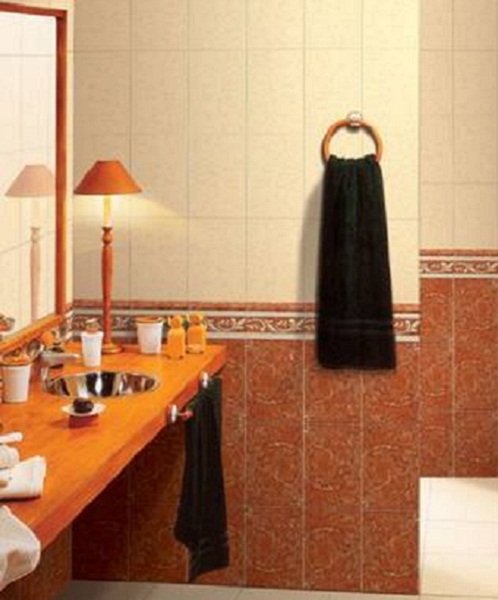 Glam up the entire look of your bathroom with the bold and elegant red field pattern tiles by California-based distributor Eleganza. This beautiful bathroom tile idea is stacked three courses high to set up the stunning design and then the courses are then topped by listello -a showy border. Listello is then topped by the rectangular beige tiles to give your bathroom an edgy yet stylish decor.
Eco Wall Tile Designs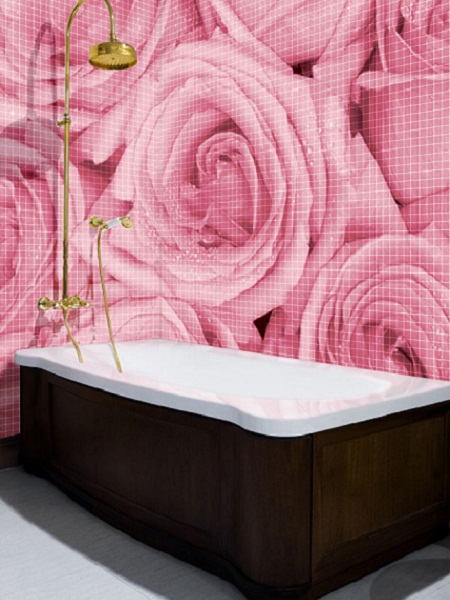 The eco wall tile design ideas are gradually becoming popular and are recommended by experts as well. Extremely beautiful and elegant, the eco wall tiles ensure health living with easy to clean features, whereas the natural material makes it a green option for interior decoration of your house. Available in plenty of sting designs and shapes, the eco wall tiles have themes inspired by nature to add a dash of green living into your lifestyle
Contemporary Bathroom Tile Design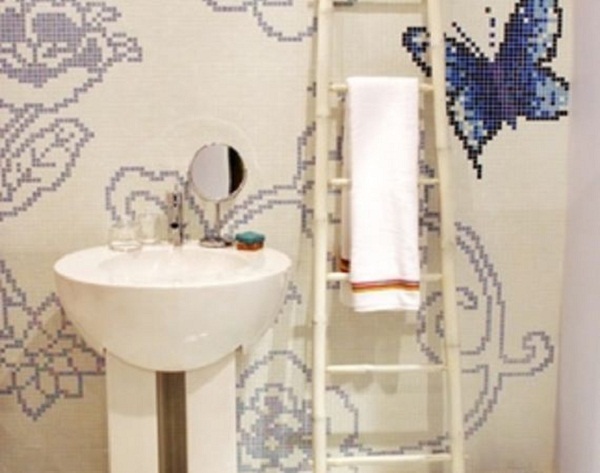 The contemporary tile design ideas have much more than just the traditional and dreary square tiles. The contemporary tile, primarily in glass or porcelain has wide range of shapes and designs to transform your bathroom to an urban lifestyle statement. Stix, the thin and extremely long rectangular shaped tiles are the perfect pick for modern contemporary bathrooms. You can mount the stix vertically to create the illusion of height in the low ceilinged bathroom. The circle tiles, bubble tiles and penny tiles are also popular choices for the contemporary bathrooms.
Bathroom Tile Ideas from Spain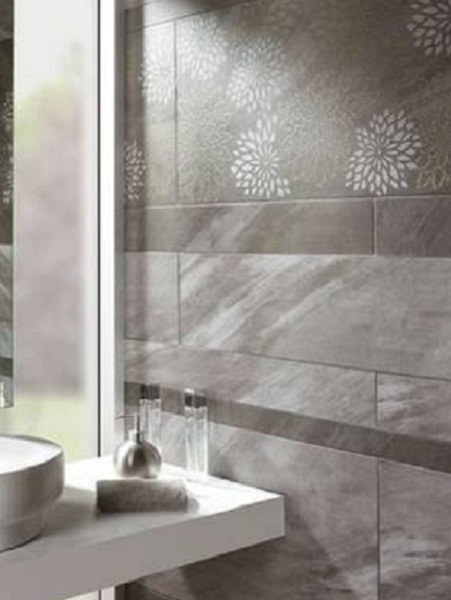 Extremely beautiful and plush, the bathroom tile design by Hispano Azul-an Italian tile manufacturer will transform your bathroom to be a stylish space in the modern home. The floral themed centre band of the tiles design is simply breathtaking, whereas the light soothing hue is perfect to set a relaxing mood to de-stress the weary urban mind and soul. A perfect addition to your bathroom; the floral tiles by Hispano Azul are simply class apart from rest of its tiles brethren.
Octagonal Bathroom Tile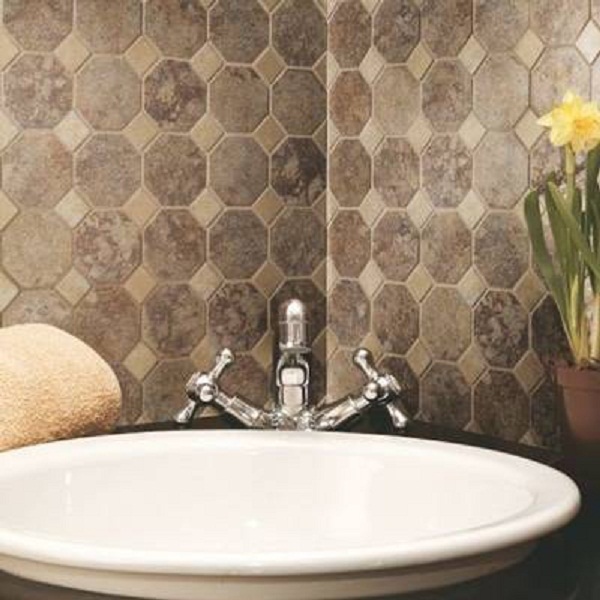 Octagonal tile sheet by Andretti is a unique yet pleasant design for a bathroom adding to elegance and subtle sophistication of the modern contemporary urban home. The tiles with great aesthetics have generous spacing between the tiles that allows wide grout lines and the soft subdued shade of the tiles lends a soothing ambiance to relax your mind and body. With a striking vintage element and charm to it, the Octagonal tile sheet by Andretti will surely help you uphold the posh appeal into your urban lifestyle.