Easter is a special holiday, especially for kids. You probably remember decorating your home with your mother. Celebrating Easter is also celebrating the advent of spring, with its beautiful and fresh colors. Easter decorations for the home can be as elaborate as you want or as simple as you choose, depending on the décor of your home. Or if you're planning an event for Easter, inviting friends and family, you can decorate with pretty little nests and eggs to spread the message of Easter. Here are a few tips to decorate your home for Easter and earn the admiration of all your guests:
Tips for Easter decorations for the home 
Easter garland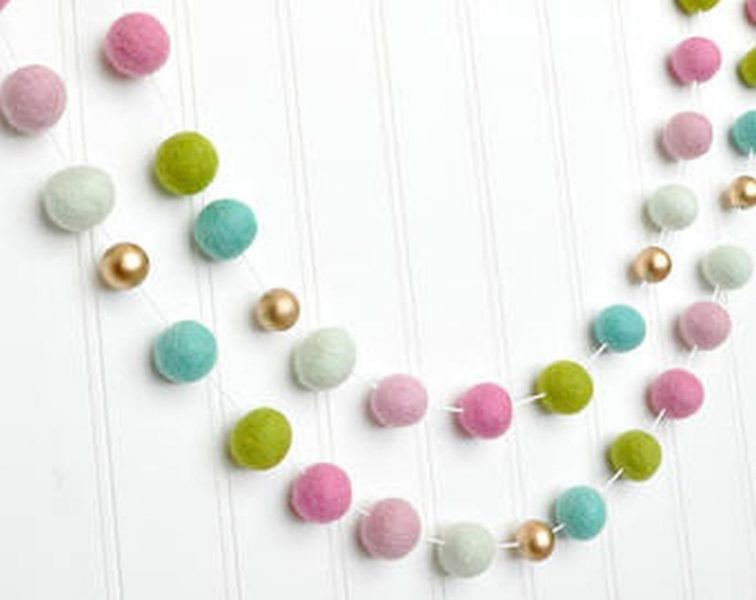 Image Source : img1.etsystatic.com
A decorative garland made from different colored Easter eggs looks wonderful. You can hang it over your mantelpiece and add a little Easter touch to your home.
Add candied eggs to your dining or center table
Easter decorations for the home look great when you can use your imagination to create wonderful decorations. You can use mini chocolate eggs and place them in tiny bowls on your dining table or center table. Or arrange them strategically around your home so that people can pick them up as they move around the house. Add some flowers to your décor – such as tulips, which are bright and cheerful. They last for at least a week, so you can have a pretty home with little to zero expenditure.
Faux Easter egg collection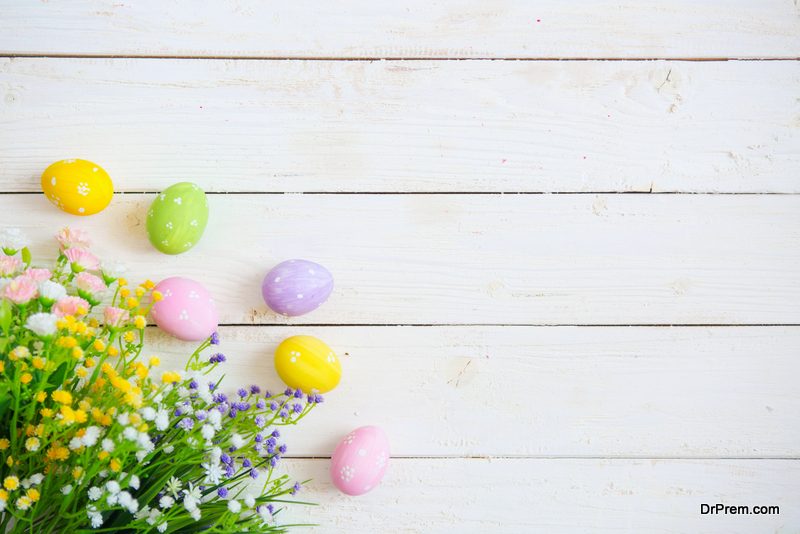 When decorating your home for Easter, you can use any beautiful platter to place a few faux eggs. You can create a pretty scene with the faux egg platter, some fresh flower vases, and some other knick-knacks. This little tableau would definitely draw attention to your decoration skills. Plus, it's the perfect excuse to pick up that beautiful platter you had your eyes on!
Whimsical Easter decoration
Add a touch of whimsy to your décor, with some figural accessories and serving pieces. Bring out your silver pepper and saltshaker, which can be heirlooms. You can decorate with some ultra modern stylish accessories in metal or ceramic, and have a rather chic décor. DIY ideas Easter home décor can be unusual but still be in tandem with Easter.
Mason jar egg nest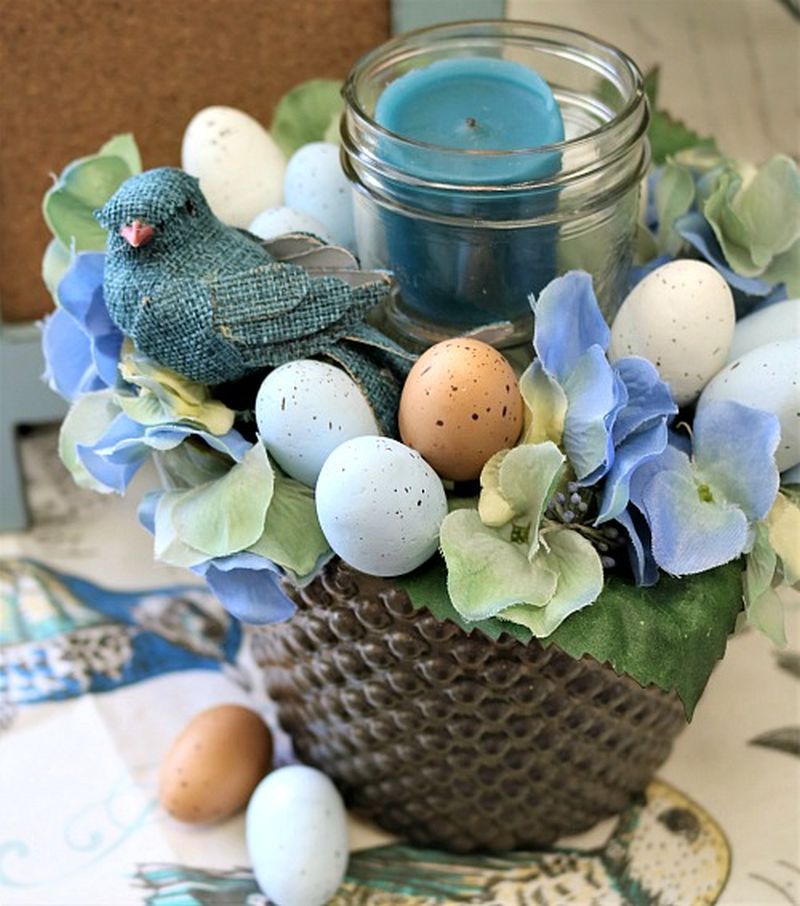 Image Source : acultivatednest.com
DIY ideas Easter home décor can be as simple as transforming mason jars into lovely nests for Easter eggs. Just put some grass and twigs inside the jar, which can be real or artificial. Put in some quail eggs or mini faux colorful Easter eggs to create a wonderful mason jar nest. 
Use Easter eggs as Placeholders
Easter decorations for the home can be quite fun. You can use faux eggs as placeholders, which would be perfect for the Easter-themed lunch or dinner. Make your own Easter egg placeholders that match with the main color theme you have chosen. Your guests would be fascinated with the novel idea!
Make some Easter-themed candles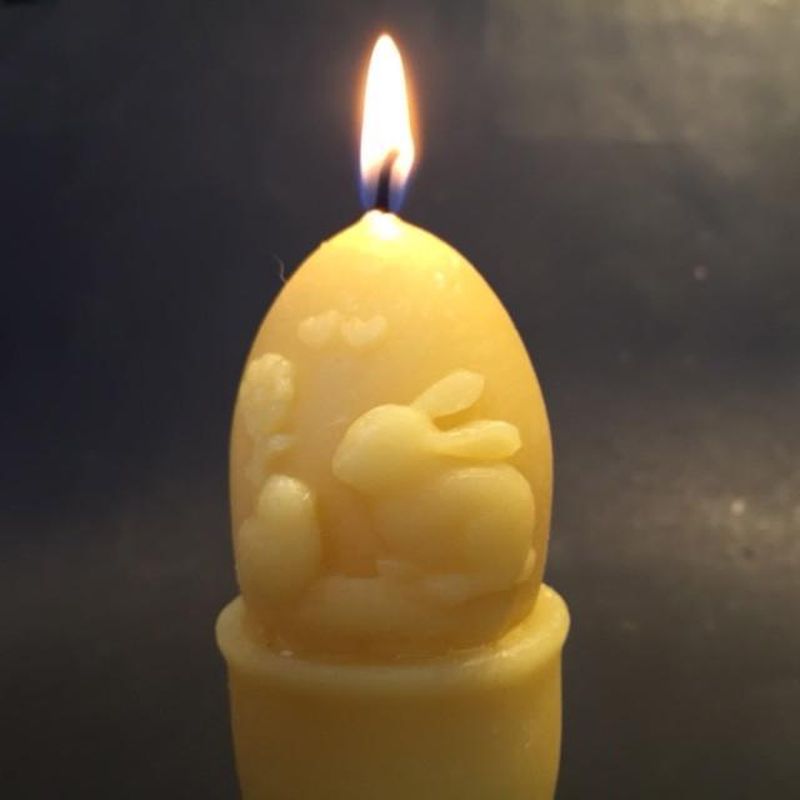 Image Source : cdn.shopify.com
It's very easy to make Easter egg candles out of real eggs. Take the number of eggs you want to make candles from, and crack them open. Then, keep the egg white and yolk aside to cook anything you want later. When they are completely dry, take the 2/3rd eggshell and place in your white egg holders.
Take a candle wick, add some glue to the base of the wick (made of metal) and place it inside the egg. Once the wick is secure, heat the candle wax and pour it into the egg. When the wax is dry, your candle is dry. Your unique candle is ready for use.
Use gold accents
Gold is fashionable at any time of the year – spring included. Golden Easter accessories like a Golden Rabbit, coupled with silver cutlery will make your Easter brunch table elegant and graceful. 
Lay your table with luxurious fabrics
Image Source : essentialhome.eu
Though an Easter meal is typically simple, you can make it a little sophisticated by using some colorful, luxurious fabrics. Use an elegant runner or linen placemats, and arrange some homegrown flowers to create interesting Easter decorations for the home. You could arrange some wheat grass in small trays with some pretty quail eggs. Add beautiful blossoms and carrots to make it attractive.
Bird's nests along with slender twigs and green leaves will look great on Easter. Easter time is a great excuse to decorate your home in a way that you bring the freshness of spring inside your home, like a breath of fresh air.