Staircase can be a beautiful aesthetic element in your home and office. Your interiors can be transformed with a well-designed staircase, which reflects your style. You can either have staircases which are made of unique materials, or use materials like metal with eye-catching designs which will give a timeless look to your home.
Read on to find out how a simple staircase can become the focal point of your space:
Spiral or helical staircase design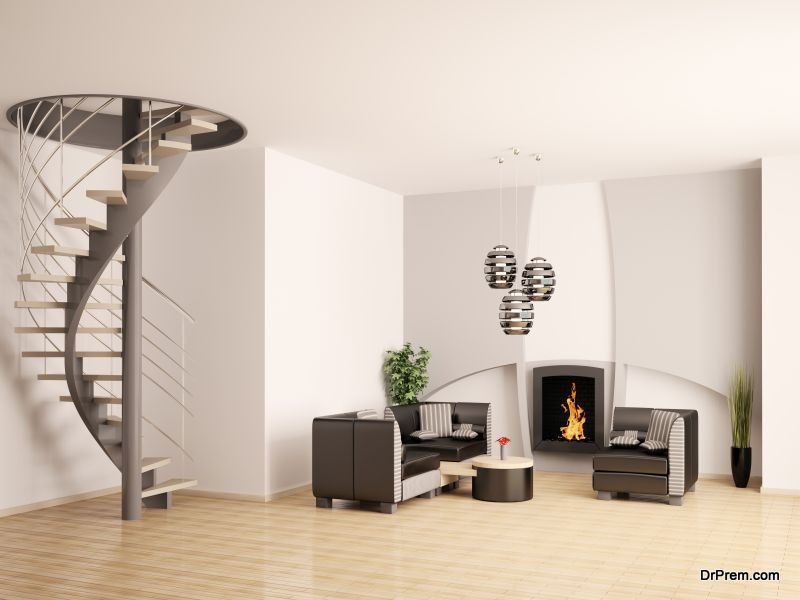 Architects prefer spiral staircase designs as they create spatial columns which have dynamic forms. People often confuse spiral stairs with helical stairs, but there is a difference between them. Spiral stairs have a central point, around which they revolve, but helical stairs do not have any central point, rather they go around at a fixed distance from one focal point. Traditionally spiral staircases were the norm, as you must have seen in castles and towers. Nowadays there are many designs made from metal and a combination of materials like steel, glass and timber. The glass allows light to pass through and brighten your interiors.
Spiral Staircases with LED handrails 
One of the latest developments is LED lighting for spiral, straight and helical handrails on balustrades and staircases. It involves an LED lighting unit of low voltage and flexible extrusion which is fitted inside a handrail made of stainless steel.
Kit spiral stairs 
This is a popular choice for people who are interested in stairs which are affordable. Kit stairs can be pre-made and can be bought in diameters ranging to 1600 mm. These stairs are not made for heavy traffic and are used for domestic purposes as secondary staircases. They are designed in keeping with modern staircase trends and the steps are usually made of beech and steel spindles on the perimeter. Kit stairs can be assembled easily and instructions are provided in video or written form.
Bespoke metal spiral stairs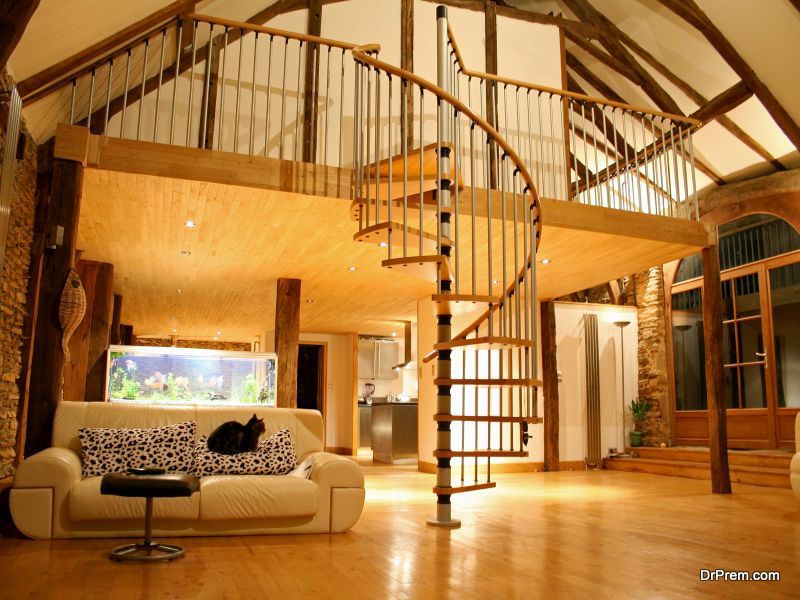 Bespoke stairs are custom made stairs made out of materials chosen by you, and specifications according to the building, residence or commercial. Metal staircases for residence or commercial buildings are often bespoke or custom made spiral stairs as every building has unique specifications.
Metal spiral staircases 
Metal staircases for residence and commercial buildings can be made out of steel and a combination of materials with steel. Designing and building metal staircases requires craftsmanship and precision to meet the specifications of your residence or commercial property. The designs can be modern or traditional and a wide range of metal treads are used to make the staircases suitable for both outdoor and indoor uses.  Staircases for commercial use have to be stronger and durable for greater use. Steel staircases can be used for fire escapes and external stairs because of the durability factor.
Domestic metal staircases are made according to the width and height desired by the home owner. Balustrades are made of horizontal rails or vertical spindles, glass filled panels and the tread used is usually timber. Take a look at some treads you could choose from: 
Walnut tread 
Walnut wood is a deep rich chocolate color which when used as tread can be a staircase that will add style to your home. Walnut is increasingly becoming popular with people who want to match their stairs with walnut flooring. The walnut used as tread is mostly matt varnished, 'raw' or oiled. Walnut tread can be treated onsite when left raw.
Glass tread 
Glass treads are a fashionable staircase option, as it looks quite stunning. You can choose the balustrade of your choice to match your taste. Glass panels emphasises a transparent feel which also lets light in, illuminating your home. Glass tread spiral staircases are another style of staircase that will add style to your home.
Acrylic tread
Like glass tread, acrylic treads are completely transparent, usually have a thickness of 30-50mm, and can be either tinted or clear. Balustrades can be of your choice. 
Beech and oak treads are also always in fashion as they look elegant. Spiral staircases are beautiful and can be an important aesthetic in your decor.
Article Submitted By Community Writer