Your dog loves swimming, but there are very few pools will be happy to let your dog swim along with you. It's also not possible for you to take your beloved dog swimming in the extra hot days always to cool down in dog friendly pools.  There are a number of pools which you can buy to give your pet some splashing time whenever you want.  Buy the one which is in your budget, and sturdy enough to last a few summers. Check out these best swimming pools for dogs:
 Best swimming pools for dogs
A little information before we get on to the pools – how many types are there and can you buy swimming pools for dogs  on a budget?
Inflatable pools
Inflatable pools are the favorite kind of dog pool of most people. These pools are portable which means they can be carried around everywhere you go. So your pet pooch does not have to stare wistfully at you when you go swimming, but has a place to paddle in too. Even the largest models can be folded up easily and compactly, and weigh almost nothing when they are deflated.
The walls are soft and nice so the chance of your dog getting injured while exiting and entering the pool is very low. Though the materials of these pools are strong, it can be punctured as dogs do tend to scratch them. It's a no-brainer, but it's worth mentioning that you would have to have a pump to inflate for these types of swimming pools for dogs.
Rigid pools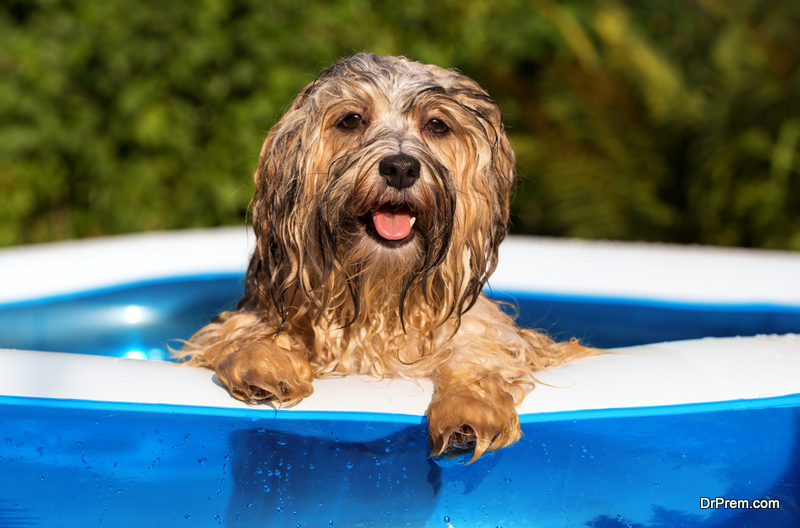 Rigid pools are the most durable out of the three types of pools as they are made from strong plastic which can withstand the ruff and tuff treatment of your dogs. Depending on the size of your dog and more, consider whether you have enough space to store as you can reduce the size. Maybe you can put in the garage and put things in it when you're not using it, if your dog is one of those that can finish off regular toys in a couple of minutes. Some pools have drains so that the water can be drained out easily. The pools are on the heavy side so may not be suited for elderly dog owners.
Folding pools
The third type of swimming pools for dogs for 2019 are the folding pools which can be folded and are portable. You can store them quite easily as the pools are made from flexible panels. When the pool is filled, the water pushes the flexible wall out and allows the pool to keep the shape. Folding pools have one advantage over inflatable pools – you need not spend time or energy to set up the pool.
FrontPet Foldable Large Dog Swimming Pool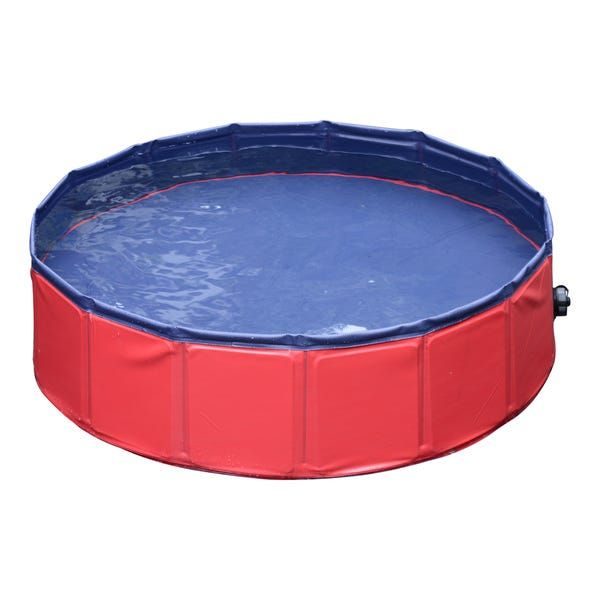 This is one of the swimming pools for dogs if you're on a budget. It is quite affordable and built so sturdy that it will last for a long time. The larger size will ensure that it fits your large dog and of course the smaller ones as well. If you have more than one dog, especially a bigger breed and a few smaller breeds, then you should buy the larger sized pool. But be careful not to fill it up completely for the smaller breeds, as they might drown. The pool has a drain to empty it out or to refresh it with water. The pool is not meant for excitable dogs and also if you have to drag or carry it out a fair distance, because the bottom is not made for that.
Yaheetech Foldable Pet Bath Pool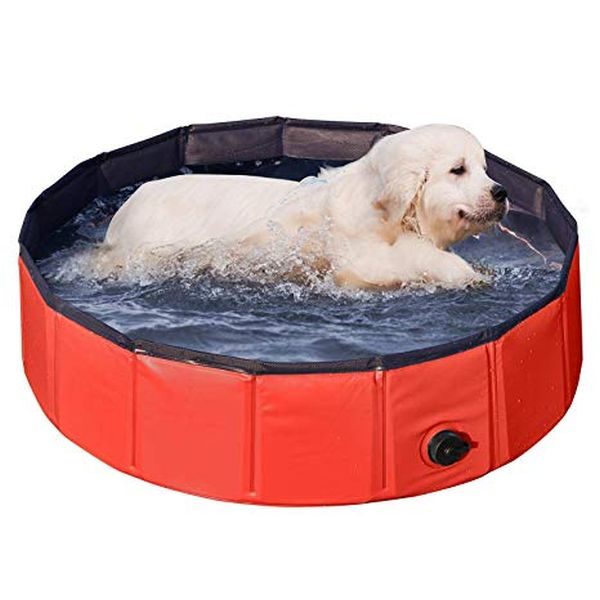 Yaheetech pool is one of the best swimming pools for dogs in 2019, as it can withstand the toughest handling by dogs. It has thick MDF plates inside and high-quality PVC outside. The reinforced edges prevent leakage of water and the feature we liked best is the anti-skid option added to the bottom of the pool. The pool will not jump around here and there – even if your dog jumps in it, as the anti-skid material will prevent it from slipping,
This pool is definitely something you should consider because of its additional features such as cold resistant which makes it resist the cold frosts. Ultraviolet coating on the outside as well as drainage hole make it even more attractive. However it is a new pool on the scene, but till now customer reports have been positive.
Alvantor Indoor Dog Pool
This pool is great for apartment dwelling dog parents. If you were one of them, you need feel bad that your dog will not be able to enjoy some water fun. The Alvantor is a smaller pool covered with a ripstop fabric. Even dogs which like to get their teeth into dogs will not be able to tear the material. It does not have a drainage hole so that is no chance of the water leaking and covering your home. Alvantor can be considered as one of best and most affordable swimming pools for dogs. When it's not in use as a pool, it can be used an indoor ball pit. The steel spring frame allows for easy storage but you should exercise a little caution while opening it. Other than that, this is a great indoor dog pool.
Jasonwell Foldable Dog Pool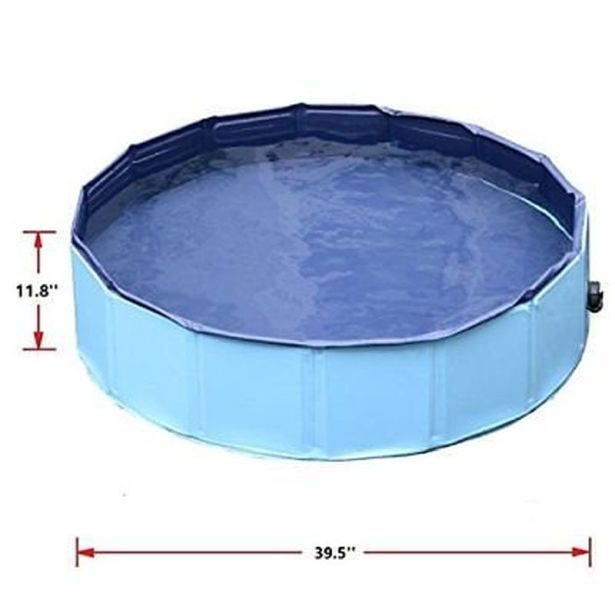 Jasonwell Foldable Dog pool has been designed to be portable, functional and durable. The panels on the side provide great rigidity so that the pool is stable yet soft to touch. It's one of the best selling swimming pools for dogs and most affordable. There are holes for bottom and side drainage. It can be folded flat and weighs only about 15 pounds, making it incredibly easy to store and carry. Many owners have liked the pool for its durability and resilience, as it does not get punctured easily by the claws of the dogs.
Delifur Foldable PVC Dog Swimming Pool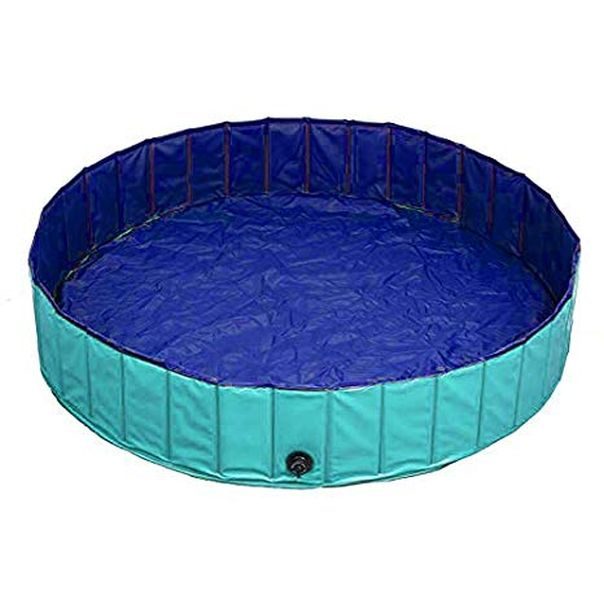 Made out of fiberboard and PVC, it has been the at the top end of the list for best swimming pools for dogs. The well-sealed corners last for years and all you have to do is fill it with water. There is a big range of sizes in which it is available, from small to extra-large. It makes sense to buy the XL size pool if you have a number of dogs, though you will have to be at hand to stop any confrontations between your dogs.
A few pointers to note when your dog is in the pool:
Let your dog relieve himself before getting in the pool to avoid accidents, or else you will have to change the water all over again.
If your dog is swimming in water deeper than their shoulder height, then do keep a close eye or else, especially small dogs might go down in the water.
Sometimes even the friendliest dogs might quarrel in the water due to the excitement, and if they play rough and tumble also, puppies may hurt themselves.
All swimming pools for dogs should be cleaned thoroughly after every use and then allowed to dry in the sun. This will destroy any fungi and bacteria which might accumulate in your pool.