Trying to make a small apartment look uber stylish is often a challenge even for the most seasoned decorator. However, by simply using black and white colors strategically and combing the color scheme with pieces of modern furniture one can easily convert even the smallest living space into a modernist and comfy oasis. A perfect example of this notion is this charming apartment located in Linnaeus, Sweden.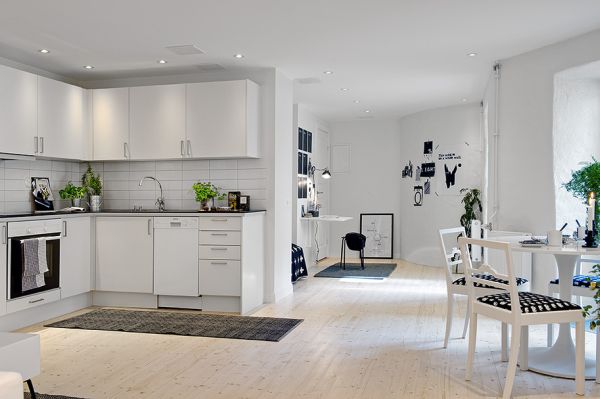 The turn of the century flat is spread out over just 48 square feet and comes with a white interior with clever black accents. The petite apartment features two balconies, a large walk-in closet, a modern tiled bathroom, a reasonable living room and a stunning white kitchen. The time tested combination of black and white has been used throughout the apartment. All the walls in the apartment are finished in white and the floors too are given a light tint.
To achieve a simple modern looks, the apartment has been given recessed spotlights. At the heart of the home lies a bright living area which is fronted by a rustic entrance door. The hallway leading in to the living room features dark great matte finish tiles that contrast with the white walls perfectly. The walk-in closet is located at the end of the hallway and features plenty of shelves and drawers for optimizing storage.
The apartment is built around an open floor plan with a media unit forming the primary focal point in the room. Rice floors complement the white walls and the space is lightly furnished with a simple armchair and a sofa. The spacious kitchen too features plenty of workspaces and storage spaces and has a light grey floor that work well with the black detailing on the white cabinets.
Via: Home Edit