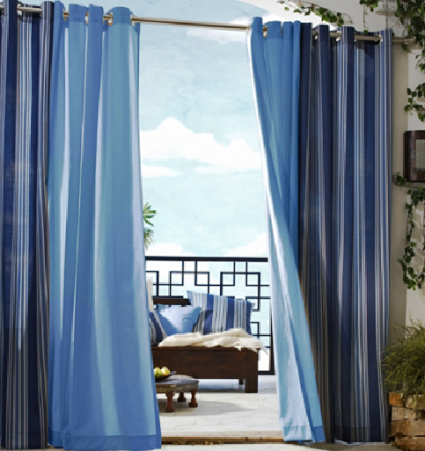 Curtains give a radiant and filling touch to a room. They not only add to the beauty of the room, but also block unwanted sunlight. Blue colored curtains create soothing ambiance resembling the calm of the eternal blue sky. Blue curtains provide a charm to any room irrespective of the fact whether it's living, kids' or your drawing room. Whether you are looking to enhance your existing decor or going for a complete room makeover, blue curtains are an excellent choice. Shortlisted below are some of the most stylish for you to choose from.

1. Outdoor Decor Gazebo outdoor stripe grommet top curtain panel in blue
BRAND : Outdoor Decor
PRICE : USD 48.04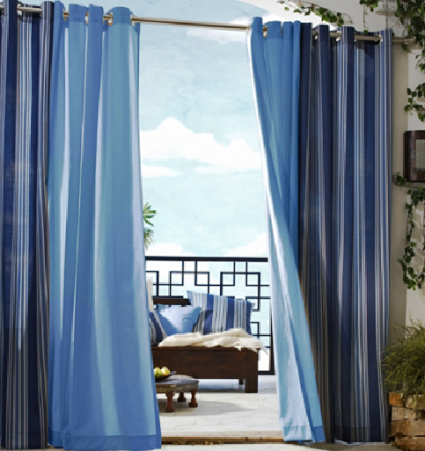 These curtains are stain, mildew and moisture resistant so can be hanged outside too, making your outdoor look beautiful matching perfectly with the sky. The gorgeous Gazebo is made from 100% spun polyester. Its features include bold rust free stainless steel-plated grommets. This fabric has water repellent finish and is dew proof. It is also 800 hours UV tested against fading.
USP
It has amazing blend of several shades of blue, which creates a subtle color gradient from distance, while contrast from close.
PROS
It comes in three colors: orange, green and blue
2. Pair of micro suede aqua blue window curtains/drapes
BRAND : Fine Home
PRICE : USD 40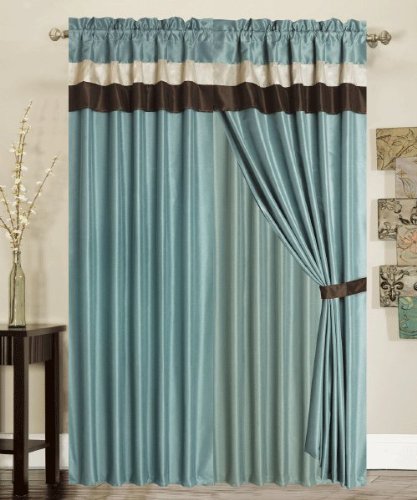 This fine home curtain has a silky finish and is a simple accessory which when hanged, decorates the room beautifully. It has a strip of chocolate color at the top, which makes a great combination. It has a full length lining. The chocolate color strip in silky finish is always great to look at. Its each panel has back linen, which comes behind and valance is sewn on top. So, for this, only one curtain rod is needed to setup the curtain as the other comes attached behind it.
USP
It has a silky finish with a smooth texture and is easy to install as it needs only 1 rod.
PROS
This curtain set comes in multiple colors of burgundy, sage green, brown, coffee, aqua blue, gray, black and purple
3. Navy blue velvet curtain/drapes/panels
BRAND : Indian Selections
PRICE : USD 41.19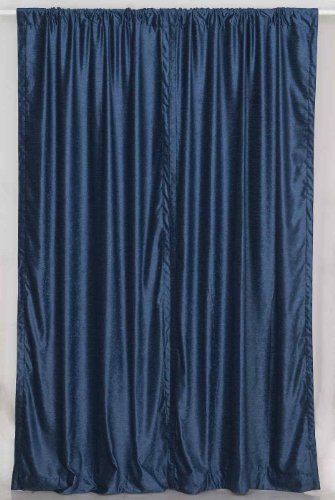 These curtains are luxuriously soft to touch and are rich, decorative and smartly styled. Along with stylish looks, it gives warmth and elegance to a room. These velvet curtains are heavy and perfect for keeping the light out and the heat in. These curtains have a soft, deep pile touch which feels furry when you brush hands over it. Velvet curtains are ideal for bedrooms as they keep the room completely dark even at daytime creating a perfect environment for a comfortable sleep.
USP
These rich luxurious blue velvet curtains give warmth and elegance to your room.
PROS
It is made of polyester filament velvet.
4. Three layer modern blue black flock satin curtain set
BRAND : Grand Linen
PRICE : USD 27.95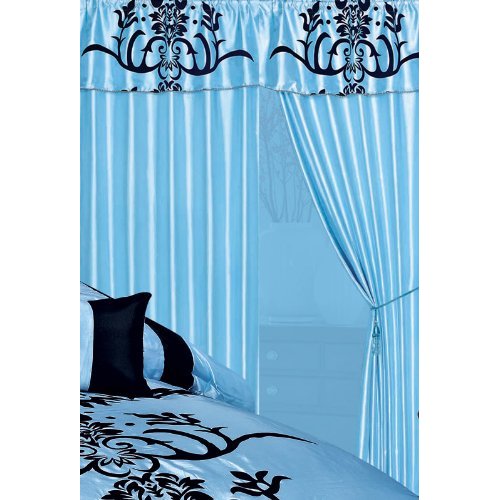 With its dazzling blue and black color combination, it gives a rich look to the room. This curtain has attached valances over it, which make it more decorative. These curtains are designed to make your room look fashionable in the most convenient and inexpensive way. These curtains are a tremendous blend of bold and vibrant colors. They can transform a room from bleak to bright, giving a dazzling appearance. These curtains will let you decorate your home with style. Now you can turn your room into a haven with these beautiful curtains.
USP
Its color gives a touch of class along with providing warmth and creating a calm relaxed atmosphere for your room
PROS
It comes with attached valances which gives it a rich look.
These are durable and beautiful.
5. Weathermate solid insulated color grommet top curtain pair in blue: 72″ H x 80″ W
BRAND : Thermalogic
PRICE : USD 49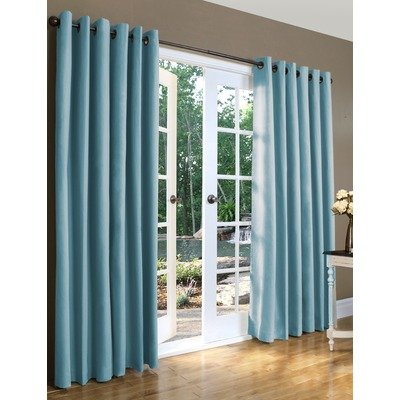 The Thermalogic curtains decorate your room beautifully with its sky blue color. Its more plated texture gives a wavy look. These are long in length, which give an adorable finish and also take care of your privacy. These solid colored curtains have a thermal insulate backing to guard your rooms against cold drift in winter and to repel summer heat.
USP
These curtains decorate your room beautifully with its medium turquoise color giving a wavy appearance.
PROS
It matches with any of your furniture color.
6. Eclipse suede thermaback blackout panel
BRAND : Eclipse
PRICE : USD 20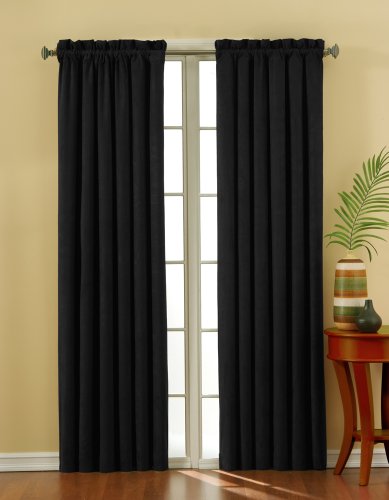 It's sophisticated design allows you to decorate your windows with great style. Eclipse's ultra-fashionable blackout panels have been laboratory tested to block out over 99% of outside light and it also reduces unwanted noise for a better night sleep. The innovative design of these curtains also make them energy efficient as they help to conserve heat and keep unwanted cold air out without compromising with your style. Eclipse curtains give you the versatility and style, which you need to decorate any room. Hang them in your living room for better TV viewing, in the nursery or in the kid's room to keep out unwanted noise and light.
USP
The dark blue curtains do their purpose of blocking sunlight and sound, which is the feature to be looked out for.
PROS
It is 100% polyester.
It is energy efficient.
7. Choppy blue 84″ drapes
BRAND : Pem America
PRICE : USD 66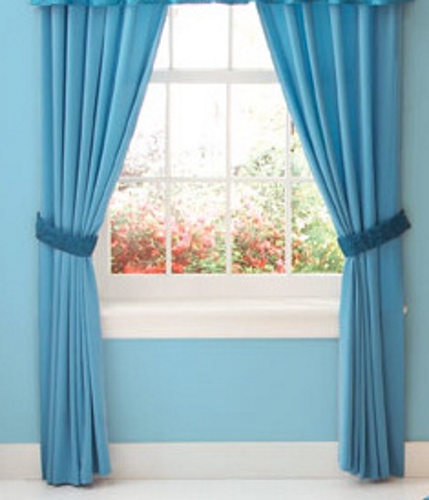 These aqua blue color curtains are an ideal choice for your room as they can be matched with any of your furniture giving an ocean like appearance. Its matching tiebacks have a softening feel and when rolled around the curtains give an exquisite look. The tiebacks compliment with the curtains in a refined manner making your visitors glance over them every time they are at your place.
USP
This curtain will give an aqua touch, a deep blue ocean feeling when put on your wall.
PROS
It fits to any standard window.
8. Lush Decor 84 inch prima curtain panel pair (blue/chocolate)
BRAND : Lush Décor
PRICE : USD 37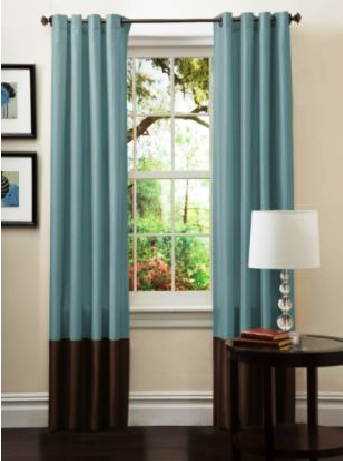 These curtains are perfect for your home as they come in a classy simple design, which looks beautiful when hanged in the room. Its silky texture slides easily onto your curtain rod. The chocolate color in the bottom of the curtain matches so well with your furniture that it helps in creating a beautiful ambiance around itself. It has a full lining, which provides you isolation and gives privacy when required as it comes in long length. Its combination with chocolate color gives it an extravagant look.
USP
These classy drapes with combination of blue and chocolate color reflects simplicity and elegance at its best.
PROS
It has a durable fabric which promises lasting quality.
9. Splendor ocean blue curtain panel: 56″x 84″
BRAND : Splendor
PRICE : USD 13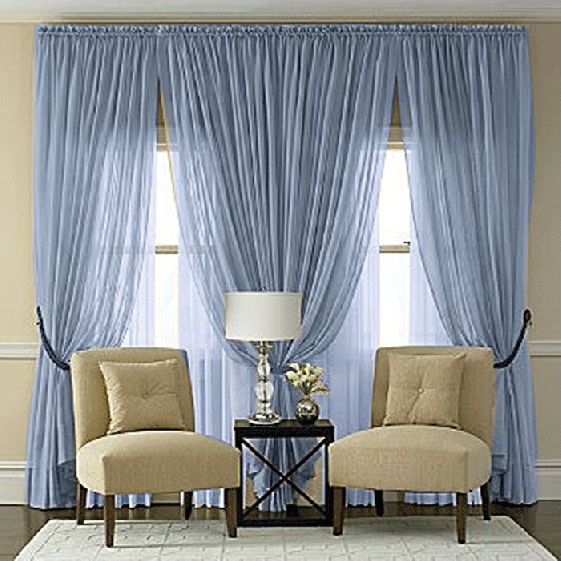 These curtains have a transparent touch and its thin lining in ocean color gives a sea like appearance. When dim sunlight comes through it they give a splendid look as if the sky is reflecting all its colors. These curtains come in a tightly twisted texture, which is a sheer wrinkle-resistant fabric, simple to use and stylish to look.
USP
The wrinkle resistant fabric is easy to maintain and stylish in looks.
PROS
Its ocean blue color gives a sea like appearance
10. City Scene branches shower curtain in blue
BRAND : City Scene
PRICE : USD 30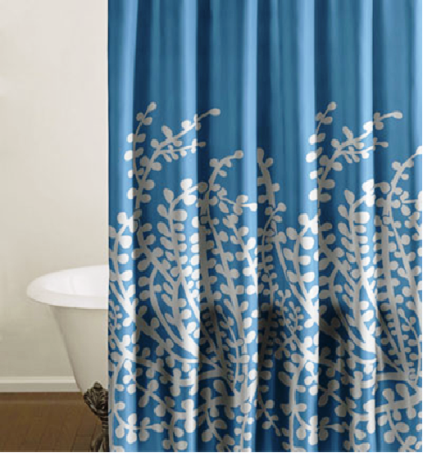 The curtain is of bright French blue color, which features a white branch pattern on its bottom half. The shower curtain also features buttonhole closures for easy hanging and removal for laundering. These French blue curtains combine the look of aged, faded and elegance, which can be made into use for any room. The modern white branches reach up from the base of the curtain and spread across the sophisticated blue background to create a harmonious blend of elegance and taste. Every time you step in bathroom, its smoothy feel gives a great touch.
USP
The design of branches on this curtain surrounds you in the serenity of a pale blue sky that creates a light, airy centerpiece for your bathroom.
PROS
These blue curtains combine the look of aged, faded and elegance.
It has a very smooth touch.