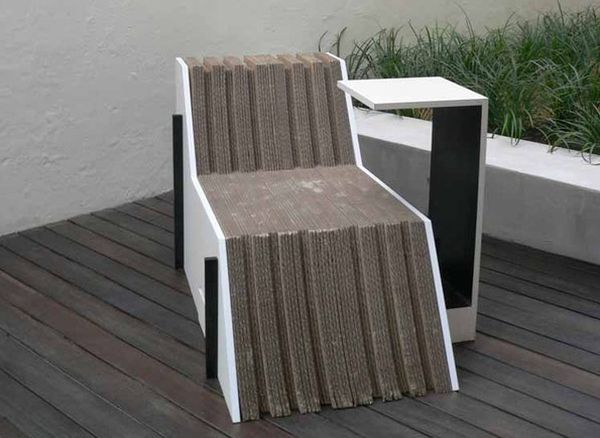 For those who appreciate creativity and like to check out new furniture designs, here is a unique creation that is developed out of strong and sustainable plywood, and cardboard that is usually thrown away at your house. This is the beautiful Giusto Lounge Chair designed by Wynne Yang, which is really musical in nature and is suitable for any such residential setting that requires to reflect cheerfulness. The designer has aimed at creating a unique chair that even a common man can think of creating, while remaining environmentally friendly and by using such common recyclable materials that can easily be found at home.
There were several initial design stages that Wynne went through, before finalizing this final multipurpose chair design that received its inspiration from the construction and functionality of a piano. As a piano reflects rhythm and repetition, multifunctionality, modernism, and consistency in colors and pattern, the same is followed while creating the Giusto Lounge Chair. Also, the chair reflect a piano's simplicity by getting made of simple materials, like ropes, cardboard and rags. Its creation procedure is simple too and involves nailing, gluing, tying, etc. Additionally, the Giusto Lounge Chair is classic while also being modern – exactly as a piano's key placement and hitting style is.
Wynne has designed this chair to be very elegant and comfortable. The user will feel quite relaxed, while simply resting on it, or even while reading and working on its attached table. If the chair needs to be used only for relaxation, the user may easily detach the table from the structure and take rest in an ergonomic manner. But, when it is the time to work while relaxing in the living room, the table can be inserted and fitted into the chair. Thus, it is a multiuse furniture item to additionally stylize the place it is kept in.
Via: Behance