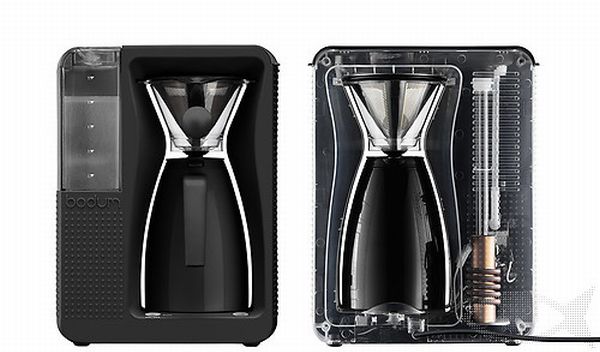 Overview
No caffeine aficionado can do without a coffee maker. This all-new coffee machine, which packs in many more useful features, will surely delight all coffee addicts out there. In this machine, the customary way of brewing coffee manually has been automated. The machine is very easy to use and allows you to brew a mug to perfection even in wee hours of the morning when you are feeling rather dozy.
How it works
Tip all the ingredients into the coffee maker and a spiral 1450 watt device heats up the water inside. The temperature of water does not come down even when it is passing through the appliance due to the borosilicate glass tubing system fitted in. The shower head dispenses water evenly over the coffee. The brewed coffee is then collected into the vacuum-sealed thermo jug that has a double-wall stainless steel casing on the inside. This jug seals in the aroma of the coffee and also helps to maintain its temperature, even for long hours. The Bodum locking-lid system and the closed spout do not let any heat escape outside. So, there is no need to reheat the coffee even if it gets cold, just press the spout and pour out the coffee whenever you want to slug it down.
What's unique?
The appliance is a delight to look at. Due to the transparent back of the device, one can watch the coffee brewing inside the machine. The single wash of color that has been daubed on the entire appliance makes it look damn neat. The machine is available in four different colors: black, off white, lime green and red.
The coffee maker has been designed very thoughtfully. The silicone showerhead greatly minimizes the chalk deposits, thus, letting the water stream easily on the coffee grounds. The hassle of using and replacing paper filters is done away by installing a stainless steel filter plated with titanium. Also, the essential oils will not be soaked by the paper thereby producing a richer tasting coffee. The tank is removable, which facilitates immensely while you are handling the coffee maker. Firstly, water can be filled directly in the tank by placing it under a tap. Also, it is much easier to clean or rinse the tank.
Via: dexigner