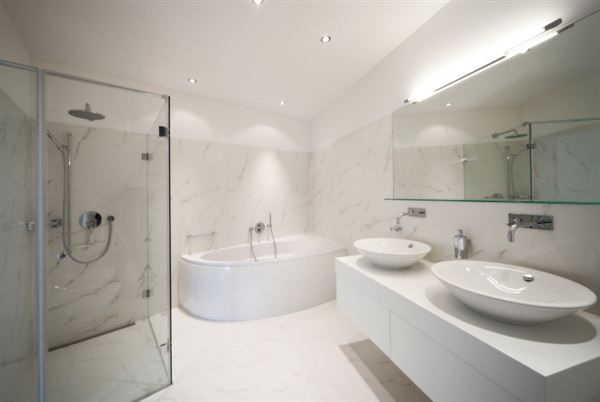 If you drool looking at the luxurious bathrooms of the fortunate beings, we have a surprise for you! You can make your bathroom your abode of rejuvenation with the makeover of a plush one without spending much fortune on it. We have come up with a few handy tips of decorating your bathroom on budget. Scroll down and learn how to give your bathroom your much coveted look without burning a hole in your pocket!
Replace your bathroom fabrics
The first thing to go about it is to replace your towels and bath sheets. Curtail off those distressed looking ones with that of few fluffy and cozy looking new ones. Select bright colors for your towels, soaking fabrics and sheets that give an instant feeling of freshness in your bathroom. Now when you hang your towels and bathroom fabrics from the hanging rack, your bathroom will never look gloomy and dull as it used to be.
Capitalize on the old bathroom flooring
We are sure your bathroom flooring has become worn out and rugged with years of use. But, we will never ask you to re-floor your bathroom as that will give a blow to your pocket. So, you can do something that makes this distressed look the USP of your bathroom! Change your smaller accessories with new ones that bear the effect of your bathroom flooring. Say for example, if your bathroom is a marbled one, get hold of tiny essentials like soap dish, mirror frame and shelves in textures that resemble the marble look. This will create an overall visual symmetry, rendering an elegant look of the yesteryear to your bathroom. While people spend huge sums to achieve this look, you will be lucky to get it much easier and in the most economical way.
Bath clothing for that elegant feel
If we ask you what is that special thing you love in a luxury bath of a five star hotel we are sure all of you will agree that walking out of the loo in a bathrobe is the prime one. So, why not incorporate the same feel in your private bathroom too? That way, you will experience the plush spa feeling while at your home! So, getting hold of a few new bathrobes will not cost you a might for sure. Buy one for each of your family members who share the bathroom and hang them nicely on a dry corner of your bathroom. will be highly impressed with this all new spa at home experience.
Shower sauna
Although you are on budget, spending a few bucks on your shower attachments will not cost you a fortune. Moreover, those will be your lifetime investment too. So, a pressurized shower head will be an attractive addition to your old bathroom, giving it a makeover of your personal shower sauna! They are available in a wide range of varieties, such as steam showers, pulsating massager, rain bar, tile shower, water- purifiers, etc. You need to get hold of the one that suits your pocket. The chrome plated shiny look of these shower attachments will be a glam element of your bathroom for sure.
Render an aromatic feel
A luxury bathroom never smells stinky. On the contrary, your mind and soul gets refreshed with the aromatic effect as you step inside such posh bathrooms. Take an idea from it and splash your bathroom with aroma. There is hardly anything that you need to purchase in order to create that aromatic ambiance. A bottle of your old perfume will compensate a pricey room freshener. Additionally, you need to buy some deodorizing cakes, aromatic flush attachments and a bottle of disinfectant, which are available at quite cheap rates. Put them in their respective positions and spray the perfume every time you step out of the bathroom after using it. If you are a bit more indulgent in case of fragrance, get a small packet of pot-pouri stuffs. Hang them in the vicinity of your bathroom so that they add to the aesthetic appeal, render visual freshness and make the air even more perfumed.
Work on the bathroom display
You might have come across thematic statuettes in luxury bathrooms. Unfortunately, buying them and installing in your bathroom will be a costly affair. We have an economical suggestion with us. Instead of spending extra bucks on the storage counters and shelves, along with additional, expensive bathroom showpieces, spend on one and get the benefit of two. Get hold of a storage compartment that has an aesthetic appeal and complements perfectly well with your bathroom interiors. Organize all your bathroom necessities, such as shampoo bottles, lotions, combs, talc cases, etc. inside that and put it in a strategic position where it acts as a bonus optical curiosity too.
Create a slice of greenery
Make your bathroom an eco friendly hub, without spending much on it. Talk to your local nursery and get hold of some cheap and hardy plants that are resilient, easy to maintain and adaptive to the typical climate of your bathroom. Install them on your window sill, put a few on the sink counter, hang them from the window frame and think of even other places where watering them once in a while will be easy. They will give your bathroom a 'green' revamp by generating a feeling of freshness and being a bonus on the aesthetic appeal of your bathroom too.
Light up the bathroom
Create an ambiance of warmth and comfort in your bathroom by installing wise lighting. Replace the old ones that had high intensity bulbs and tubes with new ones that are of different light intensity. This way you can switch on the one which you need and put off the others that are not in use. Consequently, you will be happy to see that your electricity bill is also getting decreased!
Now, that you have an in-depth idea of revamping your bathroom within your affordability, you can very well pursue your aspirations and get surprised with the outcome!