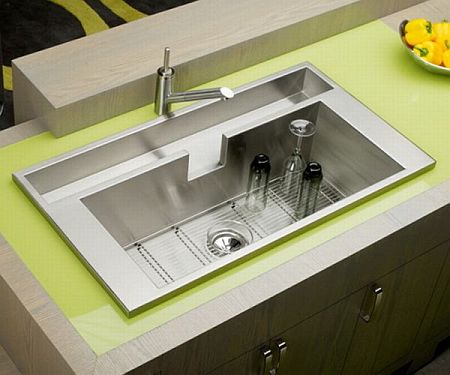 The kitchen countertop is just incomplete without any sink or washbowl attached to it. The importance of sink in kitchen is known by everyone as it holds the very responsibility of cleanliness in the kitchen and its items. Kitchen sinks have traditionally emerged into a stylish and smart tool of your kitchen. And all these development in range of sinks have been brought by the well known manufacturers of kitchen products. Elkay is one such name in the field of developing high class, durable and unmatchable sinks and other kitchen and bath items. Elkay was established in the year 1920 with a vision to supply innovative and top quality sinks to their customers. Starting their renowned company as sink manufacturers, Elkay went on to further development and started on with other new products such as faucets, water coolers, drinking fountain, etc and became the no.1 supplier in USA. We have enlisted here, some of the cutting edge designs from Elkay for your lovely kitchen. Take a look.
Avado Sink by Elkay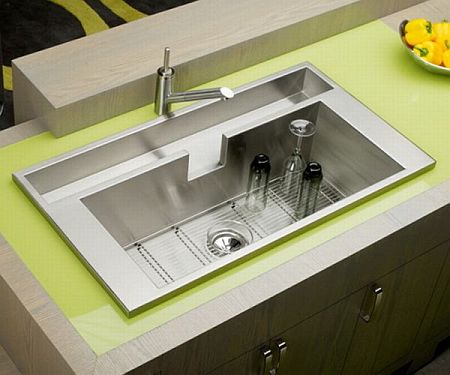 Elkay's Avado range of kitchen sinks is simply amazing and much more useful in a way. This sink is sure to space up your kitchen countertop and will help re-arrange your work systematically. The Avado sinks consists of trays, drying racks and storage space making its design effective and appreciative. Elkay has designed numerous small holes for draining purpose. Thus keeping all dirt layered at the top that eliminates the block up tensions. The sink comes in different parts so you will have to attach the drying racks and trays when the need arises.
Cascade sink design from Elkay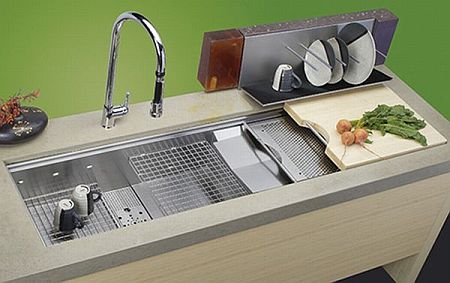 The Cascade kitchen sink is just another intellectual offering from Elkay. This smart sink can be treated as a boon for the small spaced kitchen adding the advantage of modern design. This contemporary sink is best known as a food preparation sink. The sink holds all the necessary tools needed in the kitchen while preparing your daily food and that to at an ease. It is fully made of stainless steel and is designed in a form of one single rectangular bowl sink. It is also studded with some built-in prep tools that are needed at optional cases such as cutting boards, bottom grids and colanders. All this is summed up in a layered form giving the kitchen a more stylish and convenient look.
Elkay Mystic Wave sink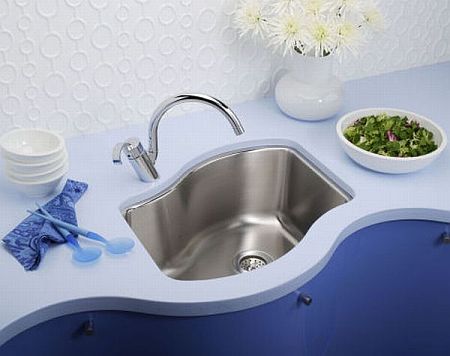 The Elkay Mystic wave sink will let you fall in love with its soothing design. Yes, this time Elkay went further in its innovation by getting inspired from ocean waves for their new mystic sink. The soothing blue color and basin that is manufactured with 18 gauge stainless steel makes the sink much more durable. It is designed with satin finish and built with 10 inch depth; this sink can be best complimented with organic countertop which showcases curvy design thus adding life to your modular kitchen.
Elkay ELUHFS2816 Gourmet Undermount Single Bowl Stainless Steel Kitchen Sink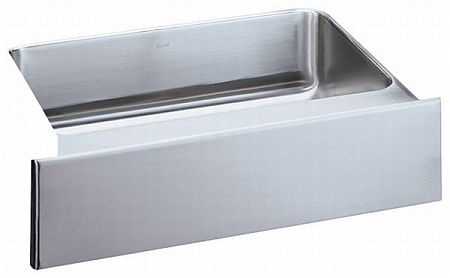 The Gourmet undermount single bowl sink from Elkay is made up of highest quality 18 gauge stainless steel. It is manufactured seamlessly with nickel bearing stainless steel. The exposed surface of the sink is hand blended with lustrous satin finish. Moreover the underside of the sink is protected with sound guard undercoating. The cabinet has a minimum size of 36" and has a drain opening of 3 ½". It also has a front apron that is welded integrally. The height of apron is 8 inches and the overall measurement of sink is 33″ L x 16″ W. Further, it comes with installation hardware and doesn't comply of basket strainer.
Elkay EGUH281610R Gourmet Deep Single Bowl Sink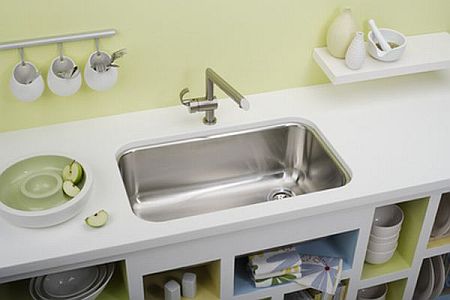 The Gourmet deep single bowl sink is another durable offering from Elkay. This sink needs undermount installation and is made up of 18 gauge highest quality of stainless steel. The under mounted cabinet has a size of 36 inches. The single bowl has 10" of depth with dimensions as 28" L x 15-3/4" W x 10" D. Unlike the previous gourmet product of Elkay, this sink too has satin finish and the underside of the bowl is coated with heavy duty sound guard. This prevents condensation and also helps in dampening the sound. Here the drain is situated at the back side in right corner and has a size of 3 ½". The sink can be affixed to any kind of solid surface countertop on to its underside.
New Elkay Drake Raindrops sink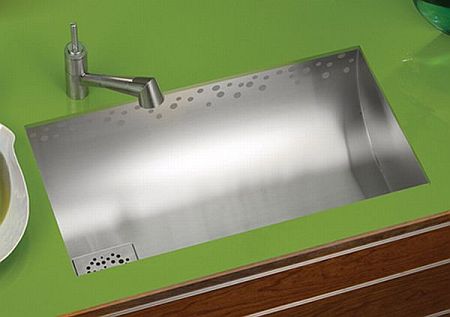 The new Elkay Drake raindrops undermount sink is a stylish outcome from the New York based designer Jamie Drake. This refreshing look adds a character in the kitchen decor. This elegantly stylish sink features a single basin that has soft curves and is fully crafted with stainless steel. The sink also showcases the rain drop dots that are uniquely designed onto the basin. It is modernly carved with all glam and usability attached to it. It is fully protected with heavy-duty sound guard undercoating which helps in eliminating the sound and prevention from condensation.
Elkay ELGU3322BK Gourmet Undermount Double Bowl Kitchen Sink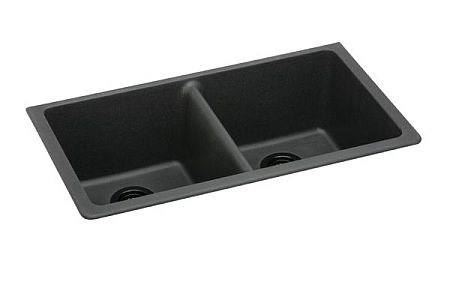 Talking about the Gourmet Double bowl sink, the latest up-gradation from Elkay and has been carved from the E-Granite material. Elkay's E-Granite is made from 85% of natural quartz and acrylic resin. This material is non porous, hard, naturally sound proofed and is resistant to heat, scratches, staining and chips. The color of the sink is throughout solid with UV resistant technology. This prevents the sink from color fading problems. It is suitable for undermount installation with two bowls having depth of 9 ½". The bowl measures 33″ L x 18-1/2″ W in all and has 3 ½" as its drain opening. It comprises of cabinet having size of 36" and can be availed in different colors such as black, bisque, mocha and white.