If you have ever been on a long road trip, you must have felt the need to have a good device to heat your food and chill your beverages. If you like to have your food served hot and your beverages served cold, then you must have a car fridge. There are many fridges available in the market that specialize in heating/cooling food items and beverages. Ten of the best car fridges are listed here just for you.

1. Koolatron Kargo Kooler Mini Travel Refrigerator
BRAND : Koolatron
PRICE : USD 119.95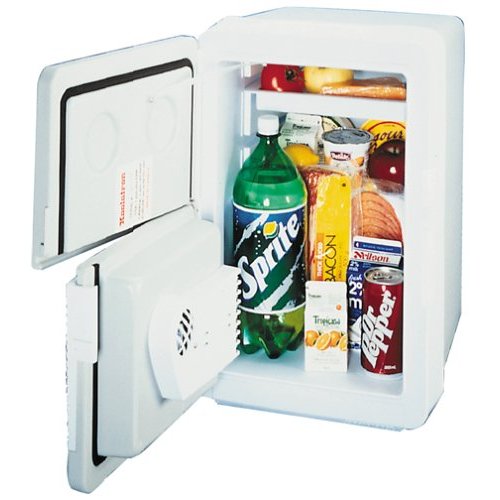 Koolatron Kargo Kooler Mini Travel fridge is specially designed to be portable and accompany you even on wheels. You can simply plug in the fridge into the cigarette lighter in your car and be rest assured that your food will remain cool and intact for long period of time. The fridge does not need ice to keep it stay cool and its runs on the electricity generated by the running engine of your car. The Koolatron offers amazing versatility. With an amazingly unique design and portability, the fridge is extremely convenient for use in cars and it looks like a miniature fridge with compartmentalized interiors. There are two dividers in the fridge, enabling you to use it in various positions that is, like shelves or a partition.
Technical Specification
The fridge measures 19.8″ x 16.8″ x 13.9″ and weighs a light 15 pounds, the weight of the package at the time of delivery is 20 pounds. The fridge is compact and very energy efficient and can easily operate on your car's cigarette lighter kit. It comes with 12-volt cooling system. It is efficient enough to keep internal temperature 40 degrees less than external temperature. It doesn't occupy much of your space and is good things to carry in your car. It holds up to 42 12-ounce soft-drink cans and weighs 14 pounds when empty.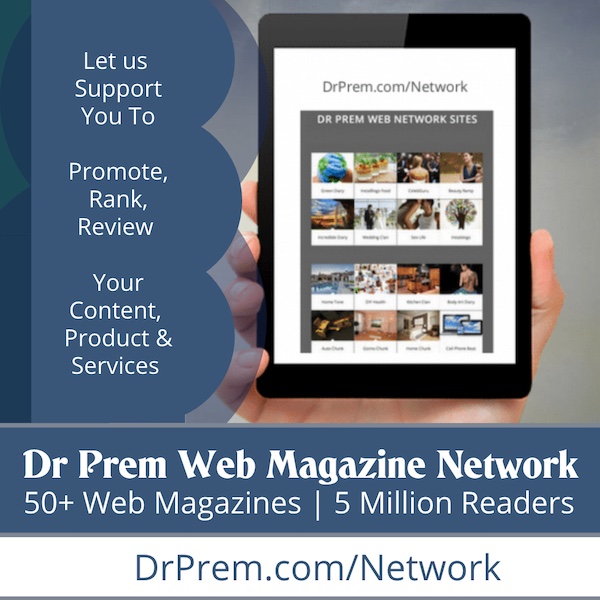 USP
It is compact, handy, offers excellent cooling and can be very easily carried inside the limited space of a car.
PROS
Split-level cooler keeps food cold when driving
Cooling system plugs into car's 12-volt cigarette lighter
Stands vertically or horizontally for use as a fridge or chest
2. Buffalo Sabres Refrigerator – Portable Fridge
BRAND : Buffalo Sabres
PRICE : USD 188.84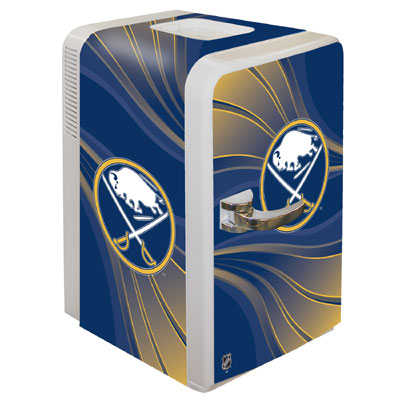 The Buffalo Sabres Portable Fridge is the ultimate car refrigerator! Light weight and capable of holding up to 24 cans, this multi-purpose (warms or cools) portable fridge works really well in your car, adding a stylish appeal to the interiors by virtue of its classic good looks.
Technical Specification
Dimensions of this fridge are 11″W x 14″D x 17″H, and it weighs a mere 15lbs. The Analog temperature control allows the fridge to be warmed to 149 degrees and cooled to 41 degrees. The full wrap color graphics are the same material and applied with the same process used to wrap NASCAR race cars.
USP
This stylish fridge can get your food heated and your beverages chilled in no time, and lets you enjoy your ride.
PROS
Convenient carrying handle
Wire shelf holds up to 24 cans
Plugs into a vehicles DC outlet or an AC wall outlet
3. Koolatron P-75 Kool Kaddy – 12 Volt Cooler
BRAND : Koolatron
PRICE : USD 179.95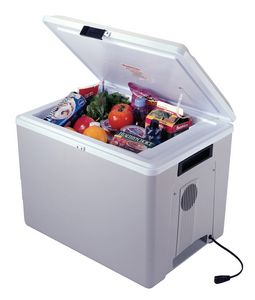 This stylish fridge is perfect for your car. It is compact stylish and runs on the cigarette lighter attachment in your car. It is very energy efficient and would serve you well when you hit the road for a long trip.
Technical Specification
It weighs 6.5kg and runs on 12V DC. It features a divider shelf and can be used both horizontally and vertically. This incredible cooler uses state-of-the art thermoelectric cooling technology. It features a long life brushless motor and internal air circulation for even temperature distribution.
USP
The P-75 Kool Kaddy has a large capacity, which is ideal for long road trips in your car.
PROS
Brushless motor and quiet fan for even air circulation
Cools to 40°F below ambient temperature
No ice required
State-of-the-art thermoelectric cooling system
4. Wagan EL2577 7 Liter Personal Fridge and Warmer
BRAND : Wagan
PRICE : USD 34.99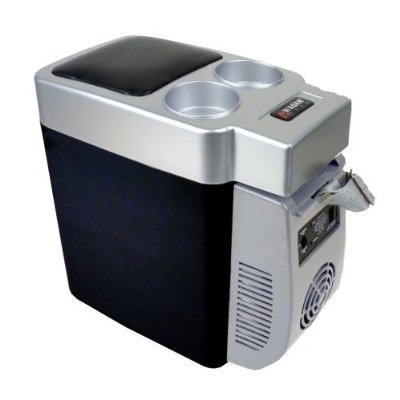 This portable fridge/warmer saves time and money on the road by keeping snacks and drinks accessible to you just the way you want, at any time. It's powered by DC current and the warming and cooling functions let you enjoy a cold beverage with your warm meal.
Technical Specification
It weighs just 6.4 pounds, and runs on 12V DC current. It has a total capacity of 7 liters and can hold up to 9cans. Its total output is 48Watts.
USP
It is stylish and compact, and would serve you a great travel companion that gets you hot food, and cold drinks.
PROS
Padded Armrest and Carrying Strap
Power: 12V DC, 48 watts, 4 amps
Cooling capacity: 35-40 degrees F below room temperature
Holds 9 cans / 7 liter.
5. Koolatron KWC-4 Coca-Cola Personal 6-Can Mini Fridge
BRAND : Koolatron
PRICE : USD 49.53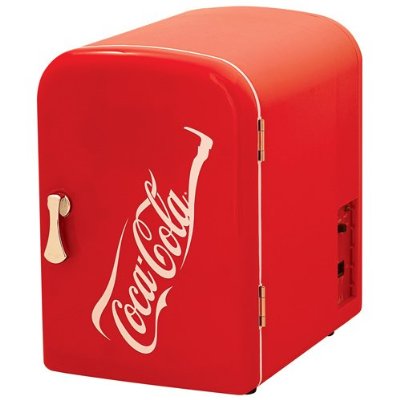 Koolatron coca cola fridge is a collector's favorite. It is not just great for for your car but also offices, dorms, kitchen, living room, anywhere you may like to carry it. Koolatron coca cola fridge cools up to 40-degrees below the ambient temperature. Koolatron coca cola fridge has 4-liter capacity, holds 6 (12-ounce) cans. It features a stylish self-locking recessed door handle to keep the items from spilling out, even on a bumpy ride on the road.
Technical Specification
Its dimensions are 11″ x 8″ x 11″ and it weighs a mere 5.5 pounds. Its outer casing is painted in red color and bears the logo of the Coca Cola company. It can hold 6 cans and is perfect to have chilled beverages while on the road. It operates on a 12V current provided by the Cigarette Lighter.
USP
It is stylish and very useful for those who love to have their drinks really chilled, even when on road.
PROS
Vibrant red exterior with white Coca-Cola trademark
4-Liter mini fridge holds up to 612-ounce cans of soda
Cools up to 40-degrees below ambient temperature
Self-locking recessed door handle
6. Trolley Car Fridge
PRICE : USD 50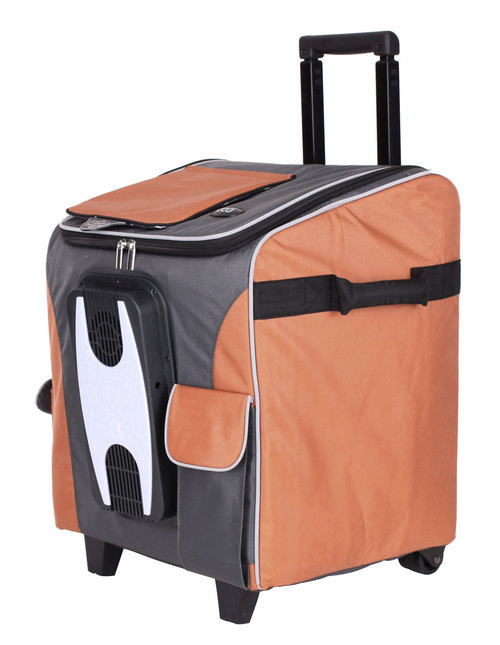 You get this product available at excellent quality range of Trolley Car Fridge, which is made of high quality nylon fabric with ultimate fashionable appearance. It can keep cool and fresh of food and beverage during car travel. After using, you can fold it and store it wherever you want.
Technical Specification
Voltage required for this fridge is DC 12V and it has a power output of 51.4W and a capacity of 36L. The net weight of this fridge is just 3.875kg. the outer covering of nylon fabric is extremely sturdy and has a real long life.
USP
This stylish car fridge can be mistaken as another of your trolley bags. It is very convenient to use and very energy efficient.
PROS
The fashionable design than the hard mini fridge
No fluorine with compression type mini fridge, no pollution with semi conduction cooling technologies
It can be folded after using and occupies little space.
7. Portable Car Fridge
PRICE : USD 80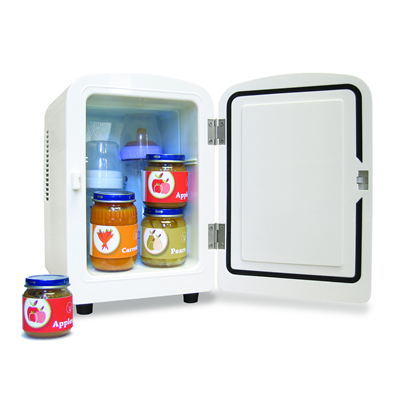 This product is best to use when planning to have a long road trip. This fridge is known for its excellent performance of offering protection to the food items for a long term. It is compact and would fit easily in the space of your car and run on the current provided by the car cigarette lighter.
Technical Specification
Capacity of this fridge is 11 L / 12 x 350mm cans and its weight is just 1.605 kg
It also has the approval of CE & RoHS. The outer casing is made from the High Quality Nylon Shell. It comes with Maydooer AC/DC Thermoelectric Portable Auto Cooler Bag .
USP
This fridge is very compact and enough to take care of you on the way to your destination and is overall a great asset to have.
PROS
Light and portable design for easy transportation.
Max. 18 degree below ambient temperature.
Operates in both 12 V DC for car use and AC for home use.
8. MOTHERS PORTABLE CAR FRIDGE SERIES
BRAND : Mothers'
PRICE : USD 56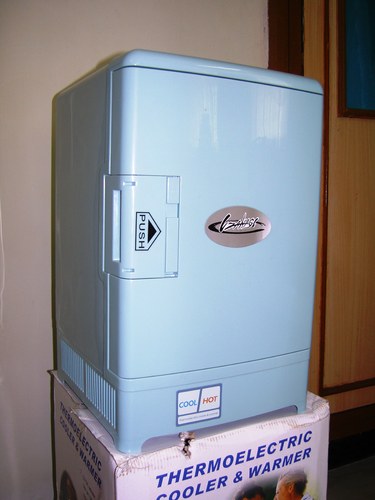 This fridge is known for it cooler/warmer features. It comes in variety of colors. The product can keep things cool for long hours. It is light in weight. There can be chances of things to get damaged if you use it more than the specified time of 10 hours. It is very compact, but has some space constraints. It can be easily fitted in your car to serve you as a very portable and compact fridge that can both cool or heat your food when required.
Technical Specification
It can operate for up to 10 hours at a stretch and is very compact. The 2 compartments allow you to store food in an organized fashion and it runs on 12 V DC.
USP
This product is efficient enough to keep your things protected and fresh for long time. It is completely safe to use. You can use it during camping, or traveling long distance journey.
PROS
The product is light in weight and comes with a solid long term warranty on compressor.
It is convenient to carry during travelling and runs on the cigarette lighter of your car.
It can keep things cooler and warmer for long time
9. Large Capacity Hot/Cold Refrigerator mini fridge
PRICE : USD 129.22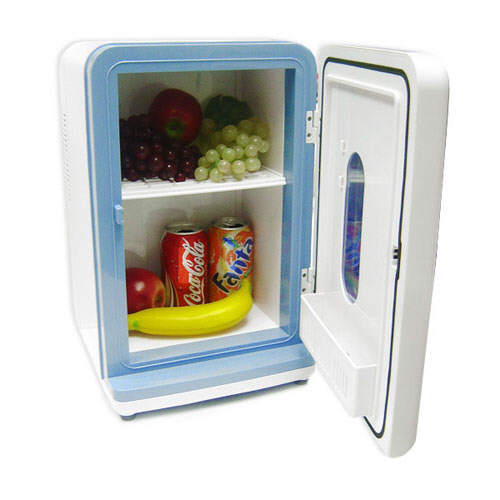 This stylish portable 12.5 liter cooler/warmer will keep your food and beverages cool when you want or heat them up when you choose to. This fridge is incredibly lightweight and can easily be carried on person. With AC & DC transformers it can be used both indoors and outdoors and is an excellent choice for your car in case you travel a lot. The 6.5 ft. detachable power cord plugs into most 12 Volt cigarette lighters in cars or boats, or into standard indoor outlets.
Technical Specification
This mini car fridge measures 16.5″H x 10.5″W x 11.5″D while the internal dimensions are 13.5″H x 8.5″W x 6″D. This Cooler/warmer car fridge can be used for up to 10 hours continuously and is UL approved. It comes with an AC/DC cord that fits well in the car cigarette lighter. The unit cools to 20°C below ambient temperature, and warms to +65°C by a set-point thermostat. It's ideal for picnics, the office, camping trips, and travel in the car, student dorms or on fishing trips. It holds 15 standard soda cans or three 750ml bottles of wine plus some food.
USP
The fact that it can be consistently used for up to 10 hours at a stretch, makes it an ideal companion for your road trips.
PROS
The product is light in weight and very compact
It is cost effective which can keep things cooler or warmer up to 10 hours.
It is efficient enough to keep your food cool
10. Portable Food Cooler & Warmer
BRAND : Wagan
PRICE : USD 99.95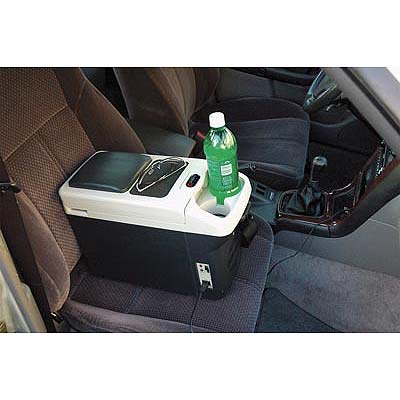 The Wagan Thermo-Electric Fridge/Warmer uses 12V DC power to keep drinks and sandwiches nice and cold, or flip the switch and its portable warmer heats the interior to 140°F. Using space age technology and superior foam insulation, this portable cooling/heating box meets a multitude of travel needs.
Technical Specification
Its total capacity is 10.5 liters or 2.77 gallons or 15 x 12-ounce cans. Dimensions of this fridge are 17″ L x 8″ W x 12.5″ H and it weighs just 9 lbs. The Input power is 5 amps, and it runs on DC 12V. Its power consumption is 55W while the brushless motor lasts up to 30,000 hrs.The Cooling Capacity is 32° F and the Heating Capacity is 140°F
USP
This car fridge is very compact and light weight. It is your perfect travel companion and would allow you to have loads of fun while going on a long road trip..
PROS
Hot/Cold/Off switch
Cooling Capacity is 32° F and the Heating Capacity is 140°F
Fits between mini-van seats, in passenger or back seat.
LED red/green showing hot/cold