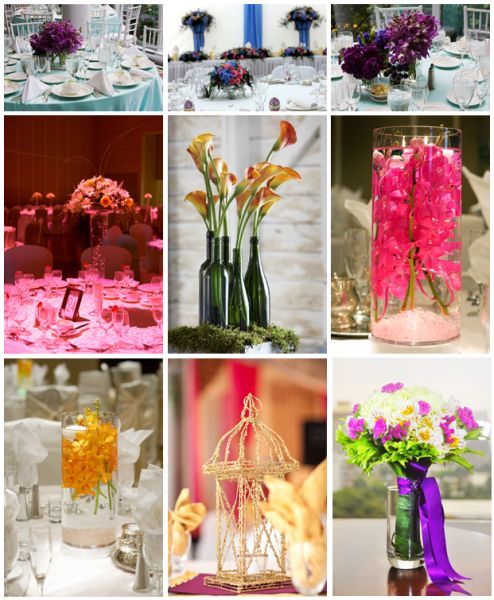 Centerpieces add a touch of perfection to the mood of an occasion. Be it a wedding or a social get together or a casual friend's ensemble, we opine that centerpieces are as integral as any other furniture in your living area. It is really interesting to note how a small detailing can give your interior a dramatic lift and take it to the next level. Centerpieces also bring a slice of the climatic attribute to your home décor, thereby setting harmony with the theme and ambiance you want to put up. Here, we are with a handful of breathtaking centerpieces that will make your living area look heavenly. Scroll through them and get your hot pick for your next social gathering.
Flowers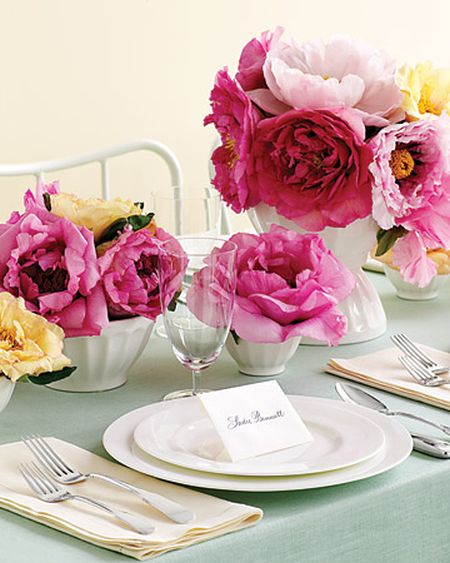 Whatever may be the occasion and wherever you may live, the best thing that sets the perfect ambiance in your room is flower. It is said that you can say a lot with flowers in places where your verbal capacity might struggle to depict a particular thing! Floral arrangements can be customized according to your tastes and preferences. So, while a single rose can depict your love, a bunch of bright yellow sunflowers will symbolize your sunny mood in an early spring get together. You can place flowers in showy vases, embellish them with ribbons and trimmings and make an assorted bunch too, to suit the ambiance of your room perfectly.
Coastal gems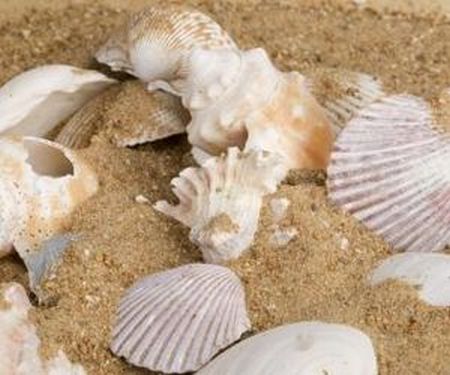 If your get together is beside a beach or your condo is along a sea shore, then your home must also tune in to this coastal frequency. It is undeniable that nothing can complement an authentic coastal ambiance better than the natural coastal gems such as corals, shells and ample of white sand. But coastal centerpiece is not the restricted property of the sea side population only. You can also bring home a slice of the ocean by setting up this coastal centerpiece.
Candles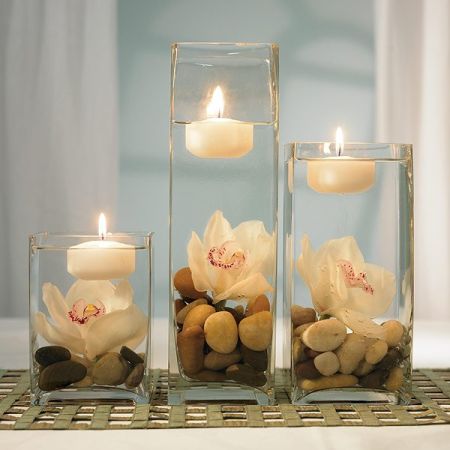 Nothing can replace candles and their soft flickering flames when a romantic spell needs to be created in a home. Candles are available in a great range of assortments, ranging from various colors, shapes and sizes. Perfumed candles are also available to influence your olfactory senses and conjure up with visual impact to get mesmerized with the theme of your home décor. Candle stands to support these wide varieties of candles are also available in abundance that justify the theme and mood of every occasion to the minute precision.
Manzanita branches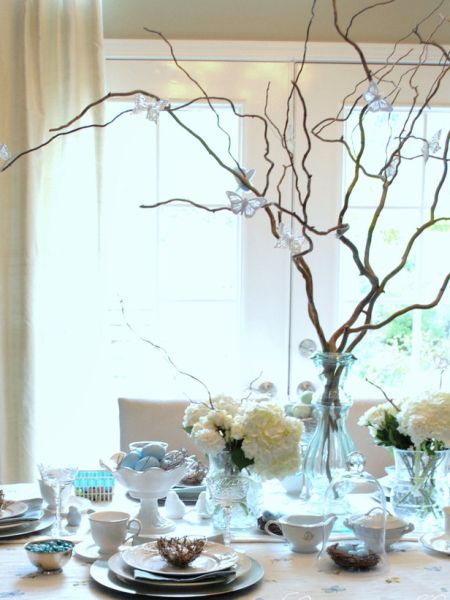 For those who like to be a bit different from the masses, Manzanita branches work great a centerpiece for homes as well as every other occasion. The woody, undulating and leafless boughs of Manzanita cast the spell of early spring when the harsh fingers of chilly winters have departed for the year and the plants are waiting eagerly to get filled with green leaves and blossoms again. These lean branches look classy and can be piled together and inserted into a transparent vase so the overall appeal is kept intact.
Decorative table wrap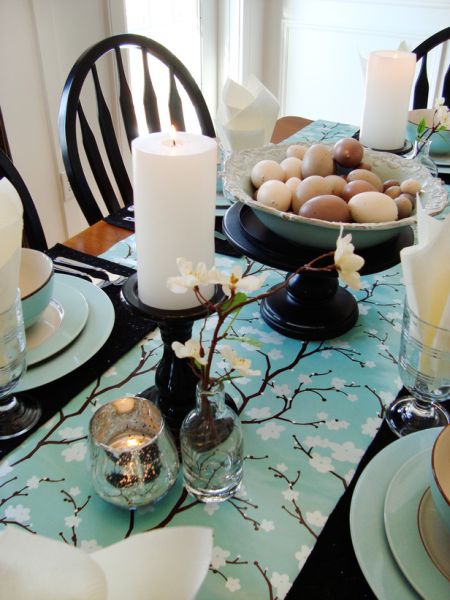 We are sure you have never thought before that table wrap could also serve as beautiful centerpieces. Have a look at this one and you will certainly be charmed with the festive autumn spell it has cast. This table wrap has been specially designed in order to welcome autumn. Right from the selection of background colors to the decals in it, an ordinary table has gotten a makeover never imagined before. The amalgamation of neutral showpieces and embellishments with it, such as white giant candles, dark colored fruit container, pale colored flowers and silver candle stand, bring out its beauty further.
Blooming perennials and lime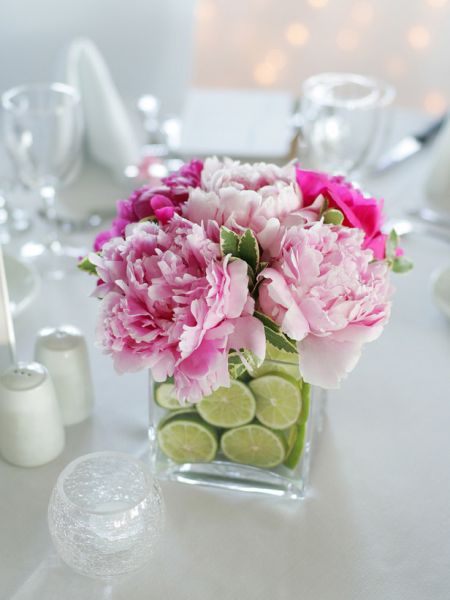 Centerpieces that add color as well as bring a spell of freshness are also great options for home. Such a centerpiece will act as a refreshment booster for your tired soul after the stressful and laborious day. Thus centerpiece, comprising of blooming perennials and slices of tangy, sour limes will lift your senses instantly. This centerpiece is best as summer décor for the color and feeling it depicts. The pastel pink shade of the flowers brings a sense of coldness and serenity to the eyes while lime dispels lethargy instantly.
Beautiful collectibles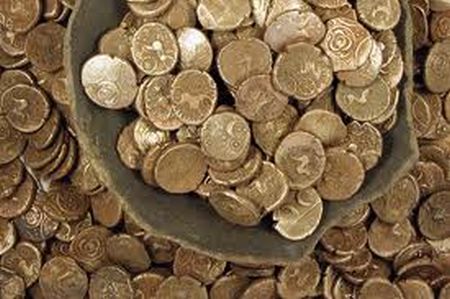 You are a passionate collector and have a hobby of assimilating collectibles, we suggest that they can be your numero uno centerpiece for your home. What is the most extraordinary part of this collectible inspired centerpiece is that it is an exclusive one and will give your living area the most personal touch. You can assimilate and put all your collectibles together in a crystal vase, bowl or a platter. Now, display them on a corner table at the warmest nook of your house or on your compact coffee table. You will get appreciations for your artistic mind.
Showpieces in natural backdrop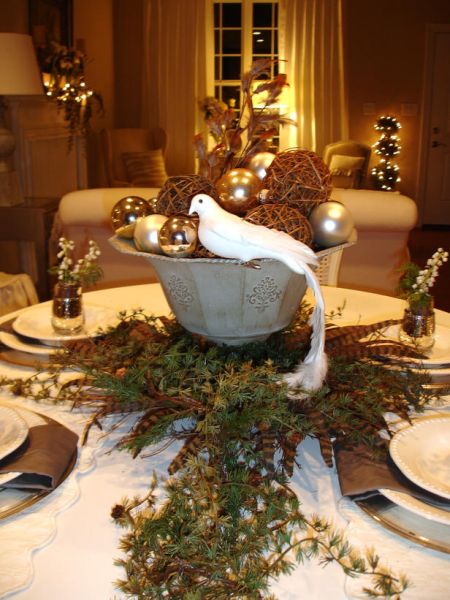 Living in an urban world, the concrete jungles and increasing pollution might have made you bored. So, bringing in some nature inspired showpieces will break this monotony. We have brought here a beautiful bird of fair weather that stands for the happy times in your life. The teaming up of fresh and sun dried foliage at the base cast a spell of natural ecosystem. The crazy cocktail of rustic hay spheres and chrome plated shiny balls that adorn the bird's perching base add glamor to this artistic and life-full showpiece.
Box wood clippings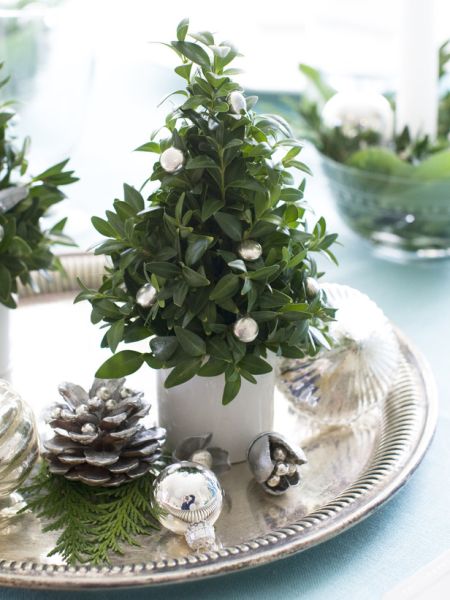 If you are a lover of nature but wish to find out a different way other than fresh flowers to portray your eco mindedness, boxwood clippings can ideally serve your purpose. The fresh and lush foliage of this plant will bring in a patch of greenery in your interiors too. You can install the same over the table top, on your dining table or at a corner of your home. It will also impart freshness for the eyes. You need to fill the container with oasis foam prior to installation of the clippings so they remain erect, firm and fresh for a longer span.
There are ranges of centerpieces that can give your home an eye catching makeover. Some of them are commonly available while others reflect your mind. So, choose the one that you identify best with.