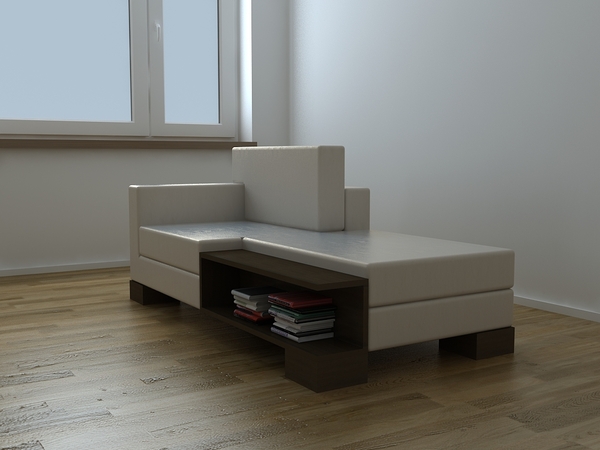 Designer/Manufacturer
Overview
Imagine a chaise longue that gives you full comfort while relaxing and can be converted into an armchair while enjoying your favorite sitcom. Designer Tsvetan Stoykov's concept, chaise longue reflects all these and many other features. Inspired from 18th century 'Méridienne style' classic resting furniture, this dual purpose furniture can be a focal point for any interior. It offers enough space to relax as well as to put coffee or other drinks. A person of any height can easily relax on it as it comes with enough leg space. It is provided with front undercover storage space, which prevents you from accidently pushing anything on the ground.
What's unique
This concept furniture can be used as a chaise longue for taking a nap as well as an armchair while reading or watching TV.
High points
For complete comfort, this furniture comes with a big, single armrest. It is big enough for a tall person, with enough leg space. It boasts of its easy to reach front storage space that is far enough to prevent you from accidently push something from it on the ground. You can combine it with many modern sofas and armchairs because of its clean lines and shape.
Green Credentials:
1. Ecofriendly or recyclable materials can be used for its base.
2. Cushion can be made with non-synthetic fills.
3. For upholstery, natural fiber can be used.