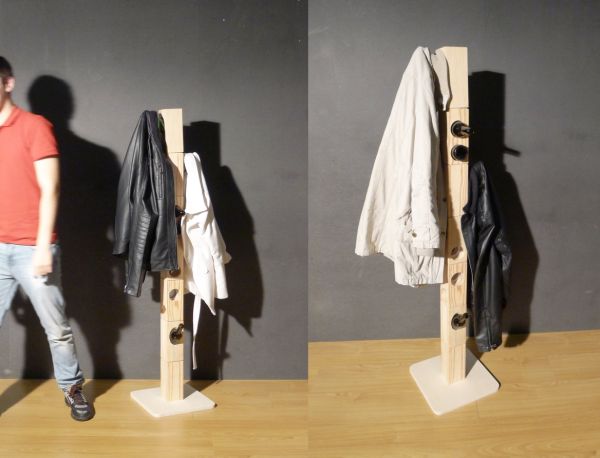 Designer: Daniela Cruz , Porto, Portugal
There are so many things that are thrown carelessly when they are not of any further use, like wine bottles. However, this junk can be given a new life by putting some creativity thinking and art in to use. Coat Rack created by Daniela Cruz is a fantastic example of this creativity and recycling Art. This product shows people how it is possible to create something from what seems useless. As estimated by the designer, the cost of the Coat rack is €250/ $331(approx).
What's Unique?
This piece is made from pine wood and thus falls in the category of natural products. Within each hole, which is parallel to the ground, there is a sponge which acts as a brake for the bottles from falling. Wooden blocks of cuboid shape are arranged vertically to give a look of standing tree where wine bottles look like the branches of a tree.
High points
COAT-RACK's main feature is the reuse of an object as abundant as a wine bottle which is generally thrown away but can be used again.
The COAT-RACK measures 1.50 meters. The base is 35 x 35 x 1 cm and each of the other parts are 9 x 9 x 21.3 cm, which means the rack is very compact and less space is needed to keep it inside the home.
This is a fantastic fusion of art and recycling of the useless materials like wine bottles.