Spectral Audio Mobel Gmbh is one of the most successful furniture specialists that has its base in Swabia, Germany. The company was founded by three brothers who manufacture products like television stands, speaker stands, cleaning spray and other general purpose stands. The founders are not only inventors by passion, but also mechanical engineers by education. Their company exports sophisticated TV stands and racks to more than 40 countries across the globe. The founders' motto is to make things as simple as possible, which is definitely a success principle that they learned from their dad.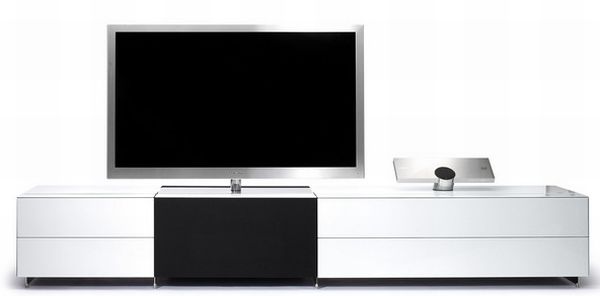 The designer/ manufacturer: Spectral Audio Mobel Gmbh
The product:
Cocoon is a hi-fi television stand which is exclusively designed for flat screen TV sets. This stand is very compact and versatile, thus allows the user to install it with ease. The product features a simple solution for connecting the Apple's products like iPhone, iPod or iPad easily to the television system, and provides an enhanced multimedia experience. This product clearly portrays the manufacturer's motto to keep everything simple for the users. Definitely, it is amazing to realize that the design of a stand could rejuvenate us with simplicity and fun, by utilizing our own entertainment system to the fulsome.
Key features:
The highlight of Cocoon is the presence of a small docking station that allows us to connect the external devices like Apple iPhone, iPad or iPod to the television with just a simple plug-in method. The wires and cables from the accessories like speakers, sub-woofers, sound projectors, etc., could be placed completely inside, which literally means that they will be out of sight. This feature not only makes the entertainment system look attractive, but also keeps us unworried about the wires' safety. Cocoon features two rows of rack for placing various multimedia devices like sub-woofers, center speakers, set-up box, etc. A transparent glass door safeguards them from dust and dirt. A universal remote allows you to control all the devices with the help of radio waves, but only after setting the remote to suit them successfully.
What's different?
The docking system in Cocoon is especially designed for Apple products. The device could be just plugged in to the slot, which immediately links it to the TV and the audio system. Its simplicity and versatility could never be compared to other products from similar manufacturers. Unlike the competing products, Spectral's Cocoon has advanced features with simple to use facility. One could not find even a single complicated mechanism in this product. That's an amazing feature which is very unique about Cocoon.
Should I buy it?
Of course, you should buy this product, if you would like to add comfort and luxury together, to your home entertainment system. You can also relish online streaming videos, pictures and listen to music in your big screen at the comfort of your couch. Cocoon is also available in two other different formats as well.
Price and availability
Cocoon is quoted for a price of about £4299.00; however, there is no word on delivery yet. As the manufacturer exports its products to more than 40 countries, you may check the availability of this product in your current location by checking the manufacturer's website.
Via: Aving