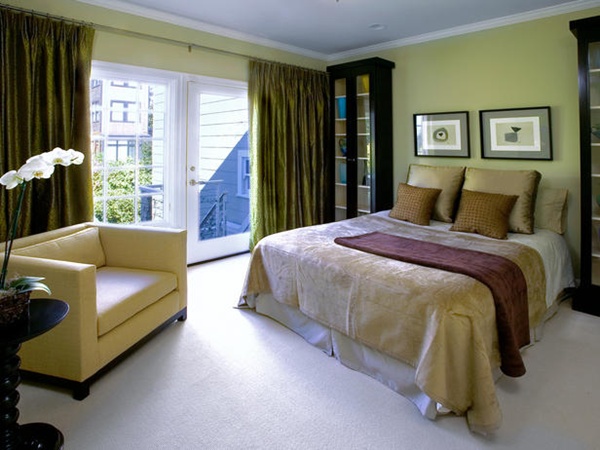 Bedroom is that place in your home where you feel relaxed and want to unwind yourself. The environment of bedroom should always be soothing and peaceful. Lots of care should be taken while choosing colors for bedroom walls. Unsuitable colors can cause many troubles like loss of sleep, bad relationships or destruction of beauty of the entire house. The decoration of bedroom reflects your personality, so it is very important to take decisions according to your personal choice. There are numerous painting ideas that can adorn your bedroom, but you have to choose the best idea that suits you and your house. Let's find out what should you do for getting the right colors for your bedroom.
Look around for inspiration
Do not get confused before choosing the right paint for your bedroom. Be very clear about the look you want for your room. If you are not very sure about the color combinations, look around at other items of the room. You can choose a color that can go well with the color of your curtains, furniture, cushions and other accessories of the room. This is the simplest way to decide the best paint color.
Try the paint sample first
It is useless to paint the whole wall and then repent if you do not like it. Stores provide you with paint chips. You can bring these home and then take your own time to decide which color suits the best. These days, you also get home painting software, where you can upload the picture of your room and then try different colors to see which goes well with your room. Once you have made a rough choice of colors, get small paint sample bottles. Paint a small part of the room to decide the color. Always remember, the actual paint on the wall will look darker when compared to the same paint on the chip, so decide the shades very carefully.
Take care of the size
The size of the room should be kept in mind while deciding about the paint. Darker colors make the area look smaller but give a cozy feeling, whereas lighter colors make the room appear bigger and airy. So, if you have a small room, it is better to choose lighter shades that can reflect light better and make the room look larger.
The color of the ceiling is also a very important aspect. Most people color the ceilings in the shades of white. You can also use other shades like yellow, peach or cream. Basically, it is good if you color your ceiling in a lighter shade because it makes your room look bigger. But, if you have a very large master bedroom, you can also go for a darker ceiling.
Different colors for different moods
You can also decide the color according to the kind of environment you want to create in your bedroom. Different colors are responsible for different types of moods. Colors are a great way of transforming mood, so be very careful and decide your favorite mood in your bedroom.
a. Green is an environmental color. All the shades of green have a soothing effect. It is the color of our earth. You can use it in your bedroom in combination with blue to create a peaceful atmosphere.
b. Blue is an ideal color for every bedroom. You can use different shades of blue to create a cool environment. It is the color of water and has a calming effect. It is also known to induce sleep.
c. Lavender also has an effect similar to blue. It helps you to relax. If you use lavender in combination with a little golden color, you will create a magnificent space for yourself.
d. Pink is another great choice for bedrooms. It is a warm color and different shades of pink look great on any wall.
e. Red, yellow and orange are vibrant colors. They signify energy. If you want to be energetic, paint your wall with these colors. They keep you fresh always.
Effect of light
Always take care about the lighting in the room. See if your room has natural light or does it need artificial lighting. Colors do not appear the same in different types of lighting, therefore, before deciding the perfect shade, see what lighting you have in your bedroom.
Add colors with accent pieces
If you do not want to experiment much with the colors on the wall, a good idea is to paint all the walls of your bedroom with a single light color of your choice. Now, you can decorate your room with the items that are darker in shade, but of the same color family as that of the wall paint. This will add colors to your room and make it look bold and beautiful. It is also easier for you to replace the items in the room, in case you want a change in the color or the whole look.
New neutral colors
Neutral colors do not always mean white or off-white. The new colors that are earthy and are considered completely neutral are the shades of brown, green, gray or even black. Sand colors are also being used for bedrooms. A combination of brown and green is an ultimate favorite of this season. It looks great and adds elegance to the space. If you have a large bedroom, try using chocolate brown color which looks royal. Olive green has a very soothing effect but looks bold and adds a lot of color to your room.
Feng Shui colors
If you are a great fan of Feng Shui and want its effect in your life, you can try different Feng Shui colors in your bedroom.
a. The favorite Feng Shui color is pink. All shades of pink are known to build relationships. It is a color that indicates love, romance and happiness. A couple's bedroom can be colored pink.
b. Light blue and green colors represent life. These are the colors of nature, and according to Feng Shui they are considered good for bedrooms.
c. If you consider Feng Shui, chocolate brown is not a good color for bedrooms, as it gives a bad and gloomy feeling.
d. Do not add too much of red color to your room as it creates lots of restlessness in your life.
e. Shades of yellow are lively. They are bright and give lots of energy. It is a good color and represents the color of sunlight. Add it to your bedroom to bring the joy of good health.
The ideas are numerous but the choice is yours. Select the best color that can fit your style, your pocket and also the look of your house. Make your own decisions and do not use the color just because it looks great on the wall of your friend's bedroom. If you follow the rules given above, it will be a lot easier for you to select the best color for your bedroom.