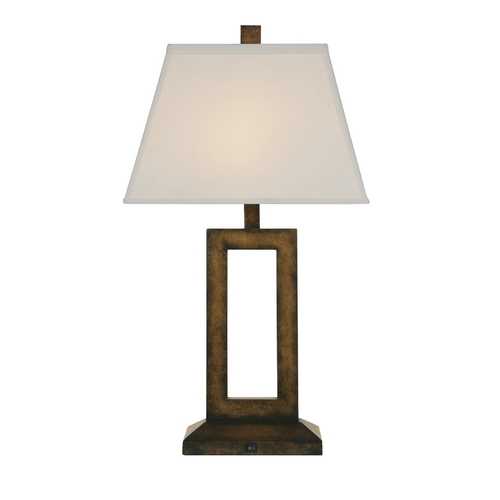 With time human beings have refined their tastes and liking as well. Some developed the habit of reading & writing while others drifted towards science. Technology was yet to touch the tide of development few decades ago, so it was literally not possible to enjoy the benefits of reading or writing after sun set. But, with the arrival of table lamps, the whole scenario witnessed a dramatic change. With modern era making fast inroads, these kerosene lamps were replaced by electric lamps. We have shortlisted some of the best designs which fits in most of the parameters to be classified as contemporary. Moreover, correct and accurate semblance of style, substance, quality has rendered these lamps worth attention. Let's have a look at these.

1. Contemporary Table Lamp with Rectangular Cutout
PRICE : USD 69.95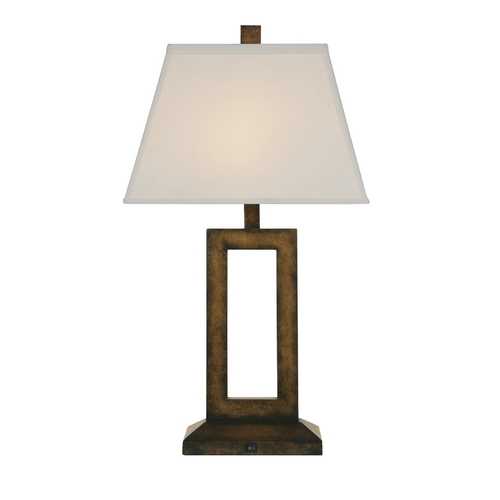 This alluring contemporary table lamp with rectangular cutout comes in dark bronze with medium bronze accent colors. It looks all packed to fit in to both transitional as well as contemporary set up. To add more, it has an on & off push through switch to make the operation simpler and easier for you. This lamp can be placed on the genre of mix & match which essentially does not include a shade, but at the same time, it's available with the option of choosing a shade to match the base of lamp according to your choice.
USP
The pleasing dark bronze frame multiplies its beauty & provides a simplistic look.
PROS
The lamps are available in attractive rectangular shape.
Dark bronze color makes the lamp appear exotic.
2. Metallic Chrome Table Lamp by Coaster
PRICE : USD 94.99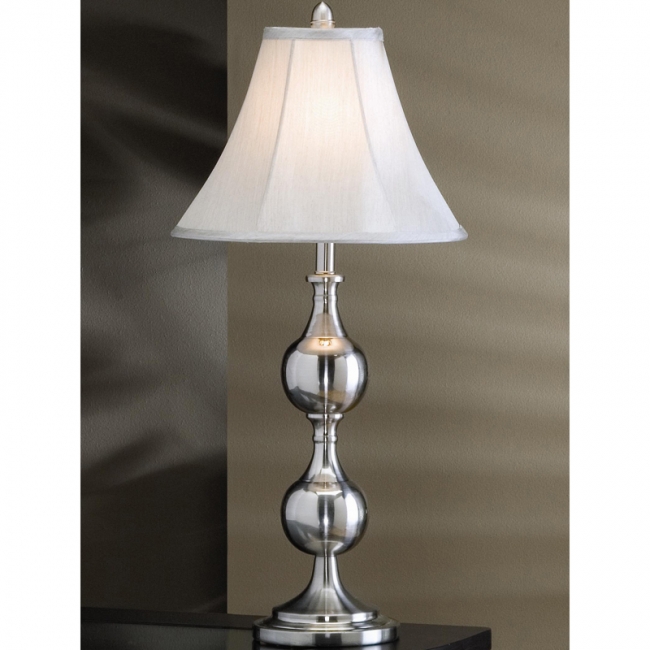 Are you looking forward to boost the decors of your house by putting in minimal efforts? If yes, then this metallic chrome finished table lamp is definitely going to be one of the best option available for you. It sports a stacked ball accent around a round base, which provides it a rugged and super stylish, perfectly complimenting the white fabric shade. Just give a little space to this stylish lamp, be it your study desk or living, a change in the interiors will be delivered for sure via its absorbing appearance.
USP
Chrome finish provides this lamp one of the most appealing luster apart from its durable material.
PROS
Polished chrome finished look provides a touch of elegance because of its stylish design.
3. Saxton 1-light Crystal Chrome Table Lamp
PRICE : USD 102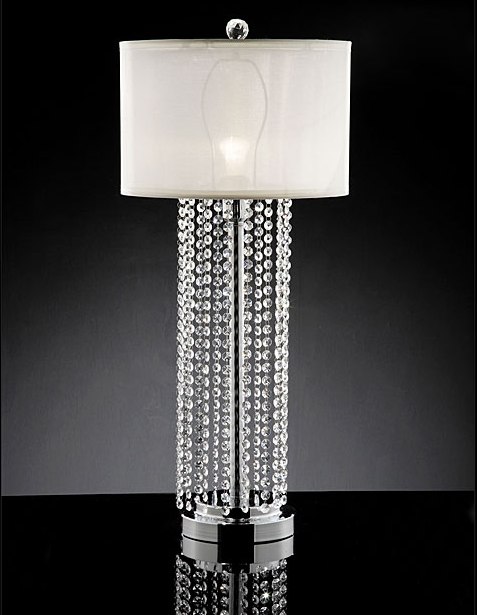 Superb is the word for this Saxton 1 light Crystal Chrome Table Lamp. The down rushing series of synthetic crystal beads undoubtedly steals the entire show convincingly. Again, the scintillating chrome base lights up this feature packed Saxton table lamp. The solitary one light fixture is decorated with a dome shaped cream faux cream shade which undoubtedly adds much to this beautiful product.
USP
The shining synthetic crystal beads touching the bright chrome base makes this lamp an object of beauty.
PROS
Synthetic crystal beads adds to its beauty.
Bright & clear illumination steals the entire show convincingly.
4. Sanchez Table Lamp in Black Nickel and Black Finish
PRICE : USD 109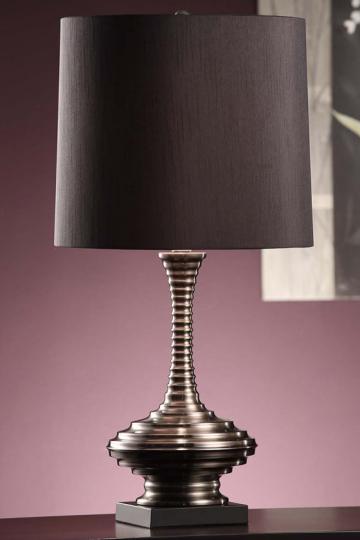 If decorating and beautifying interiors of your house is one amongst several hobbies, then this table lamp is sure to find a place in your list. One of the freshest designs to offer, Sanchez table lamp appears distinctively chic & appealing. Right from the metals used in designing, to the unconventional black fabric hardback shade, this lighting should come off as one of the near perfect choice for your home. Pick it up; it's definitely worth the purchase.
USP
The exquisite black fabric shade places it in the league of one of the most polished contemporary table lamps.
PROS
Dark black fabric makes it look elegant.
This is one among fewer unconventional table lamp designs.
5. Tulsa 22″ Black Table Lamp
PRICE : USD 119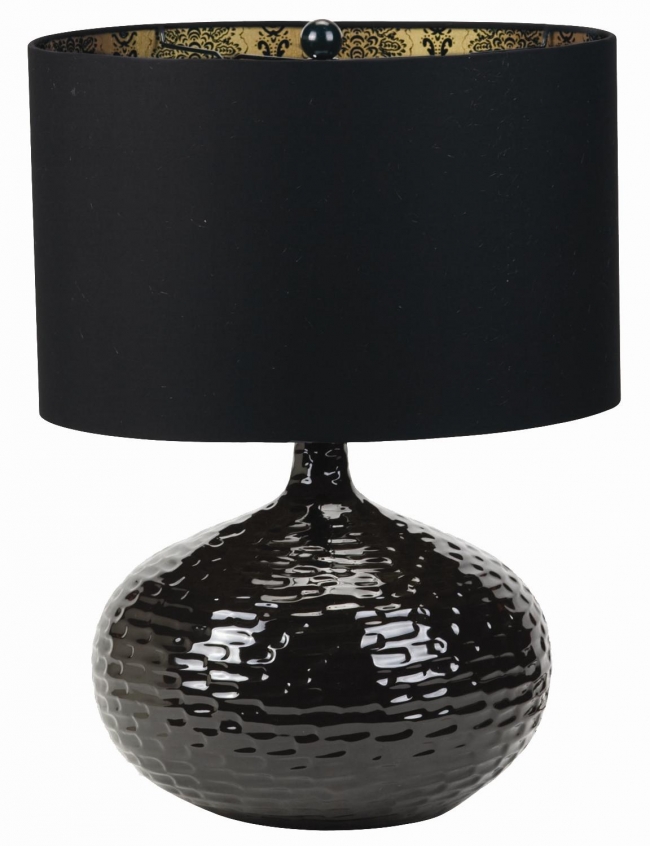 The Coaster Black Ceramic Table lamp truly justifies the word exclusive. It's one of its kind, standing taller than other lamps of this genre. The distinct shape & intricate details have been taken due care of, which further boosts its beauty. Featuring a shade which sports dual tone designs – black on outside & black and gold designs inside, is one of the most unique & distinct of its kind. Enough highlighted & decorated, this lamp will lighten up any space, it would occupy.
USP
The immensely bright & deep dark shade holds enough sheen to mesmerize anyone at a mere glance.
PROS
A genuine eye catching design, which scores high on style
6. Equinox Walnut and Oak Contemporary Table Lamp
PRICE : USD 234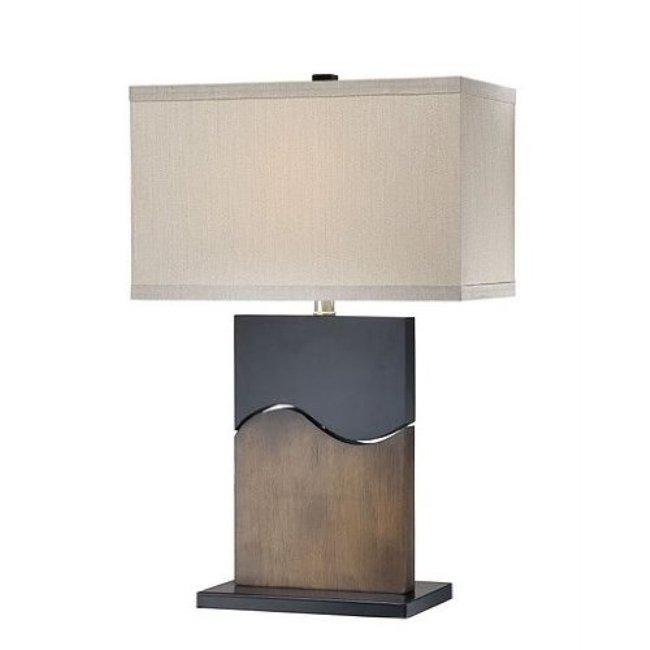 Simplicity, style, statement…each of these elements fuse together to produce this majestic table lamp. Starring an opulent cream silk shade, this dual toned rectangular lamp appears in walnut & oak color. Further, a metallic black plate provides the picture perfect finishing touch to this trendy table lamp.
USP
The dual toned color feature with a curve intersecting through makes it amongst one of the most exciting designs.
PROS
The design is most unique & alluring.
7. Paolo Forged Iron Table Lamp in Rustic Black
PRICE : USD 269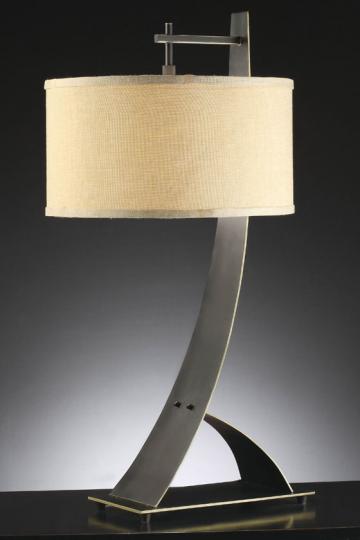 Arguably one of the most urbane designs ever to be seen, Paolo Forged Iron Lamp copes in befittingly to some of the most attractive and polished contemporary stuffs. This table lamp will definitely provide your décor an accomplished touch, look & feel. The lighting flashes brilliant details which includes a rich rustic black finish and a natural wheat linen fabric shade. Created with utmost care to cater to your aesthetic tastes, bring it home today & make your interiors earn yet another brownie point.
USP
Rustic black metallic finish adds life & wheat linen fabric shade lends a classic country side look.
PROS
Its distinct design and classical old age look adds to the charm.
8. Global Reflections Marble Contemporary Table Lamp
PRICE : USD 299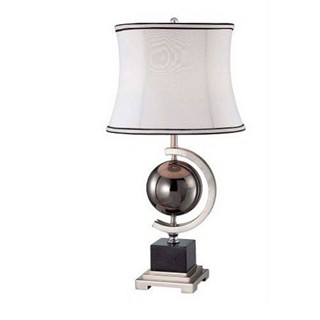 This lamp can add sheen to your home or office with much style, grace & poise. This contemporary table lamp from Global Reflections is a sure shot stuff to let out ample light while working & still standing firm as a true decorative piece. This lamp marks a black marble globe combined with a satin nickel finish to further augment its own unique style quite comprehensively.
USP
Black marble globe studded design makes it an attention grabbing object.
PROS
Black marble design is definitely worth attention.
9. T6941 Edward Alden Polished Nickel Classic Contemporary Table Lamp
PRICE : USD 399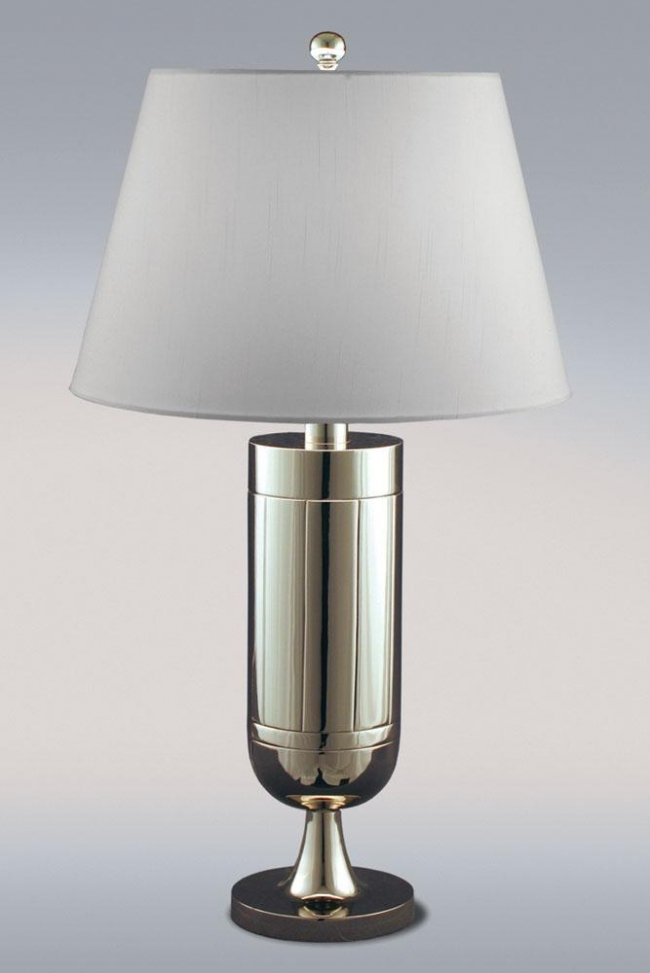 If you have an eye for super sophisticated market urbane stuffs, then you are going to love this sleek piece of beauty. It comes with polished nickel finish and a cream rolled edge hardback shade. This carefully designed lamp displays an urban sophistication that promises to fascinate you with its beautiful stuff. The rich & glossy metallic finish definitely is worth grabbing some aesthetic attention.
USP
Cream rolled edge hardback shade & polished, clean metallic finish makes it a product worth occupying some space at your home.
PROS
The stand & lamp, both scores heavily in style.
10. 27-2720 Hubbardton Forge Large Contemporary Formae Table Lamp
PRICE : USD 743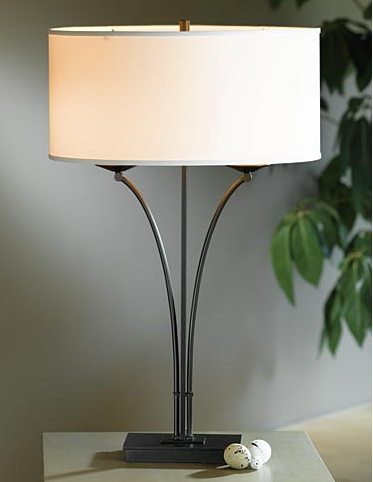 From the stable of contemporary table lamp, comes yet another attractive and big sized lamp. Hubbardton Forge has effortlessly blended the traditional looks with transitional, making it a simple yet elegant and classical look at the same time, by elevating the support rims. The triple support rim gives it a simplistic yet, unconventional look, producing a refined combination. This table lamp arguably stands as one of the most beautiful product, which can be indeed classified as timeless and will definitely complement the interiors of your house.
USP
Minimal designs combined with superior quality metals make it one of the most appealing designs of its genre.
PROS
Simplistic design, devoid of anything too flashy.