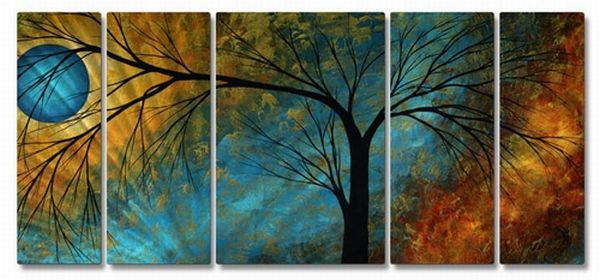 Contemporary wall art has been characterized by its refusal to adopt a common style, unlike other art styles. It knows no boundaries and uses a rigid style to create some of the best art pieces in the world. The unconventional and unusual artworks receive high praise and demand because of their divergent aesthetic excellence. Contemporary wall art can upgrade the artistic value of your home instantly. Your room will certainly gain a charming and magnetic appeal if you put a contemporary wall art on display.
Andy Warhol 'Ten Marilyns, 1967' Art Block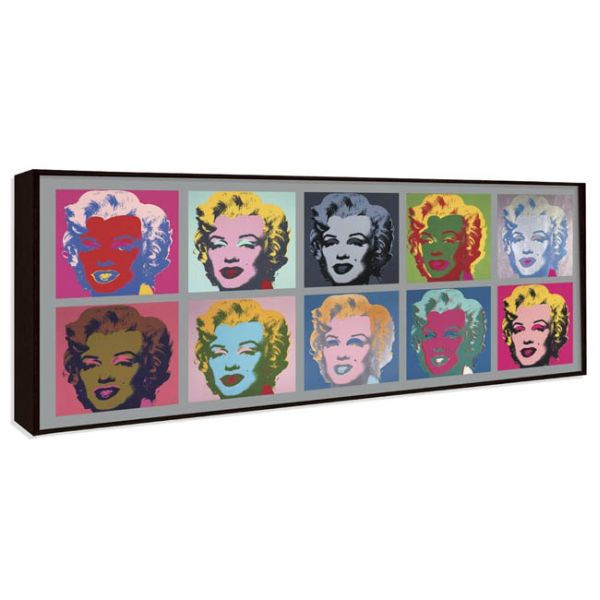 Price: $107.99
This classic Marilyn Monroe's image, which is duplicated and colored ten times, offers a highly striking contemporary look. Hang it in your living room to sprinkle a bit of color and dimension. This art block is in landscape format and its dimensions are 22.5 inches high x 53.5 inches wide.
What's unique: The beautiful images of Marilyn Monroe, which has been duplicated and captured ten times make it more intriguing and fascinating.
Click here to purchase
Swirling Metal Ribbon Abstract Wall Art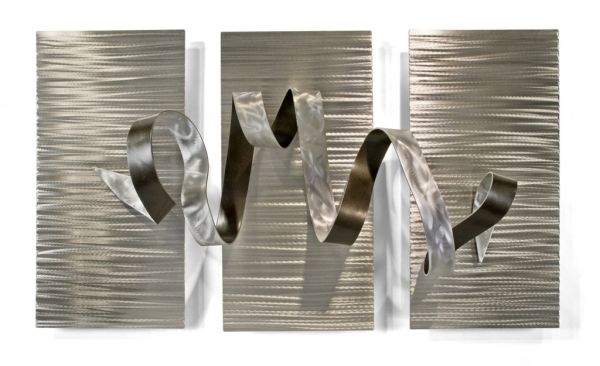 Price: $349.97
Deck up your living room with this unusual and unique contemporary wall art. It beautifully showcases swirling metal ribbon, which apparently depicts a heavenly scene. It features smooth rolling waves that goes across the aircraft aluminum panels of this wall art. This piece of art offers a very unique and interesting look to your home along with sophistication and grace.
What's unique: This two sided ribbon wall art offers an absolutely edgy feel to a contemporary interior.
Click here to purchase
Ren-Wil What Was Once There by Charlene Lynch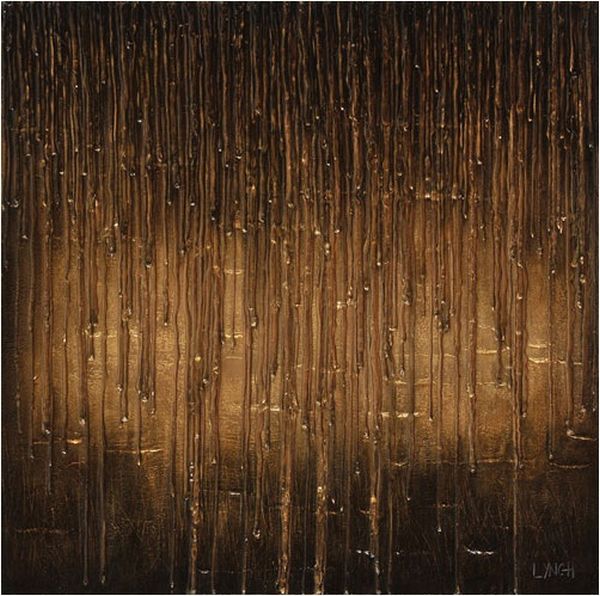 Price: $425.95
Enhance the beauty of your room with this abstract piece of art in absolute contemporary style. Created by artist Charlene Lynch, this spectacular piece is painted on a 1.5" deep gallery wrapped canvas. The brilliant use of deep bronze and gold hues, which has been teamed up with striking texture and high gloss delivers a magnificent piece of dramatic art.
What's unique: The glossy and textured piece of art drenched in bronze and gold colors offer it drama and uniqueness.
Chains of Regalia Iron Wall Sculpture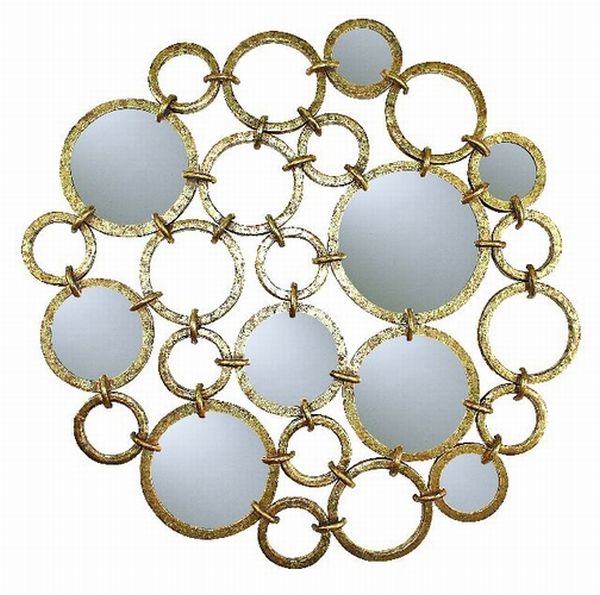 Price: $469.95
This contemporary metal wall art is absolutely beautiful and stunning. It displays more than a dozen golden circles, which have been entwined with one another to offer a simple yet glamorous look. In addition, it also features mirrored sections that reflect light within your space to create an absolute phenomenal look. Hang this head-turner wall art in your room and see people going green with envy.
What's unique: This piece has been completely hand-constructed and hand-finished by skilled craftsmen.
Maxwell Dickson Orange Moon Canvas Wall Art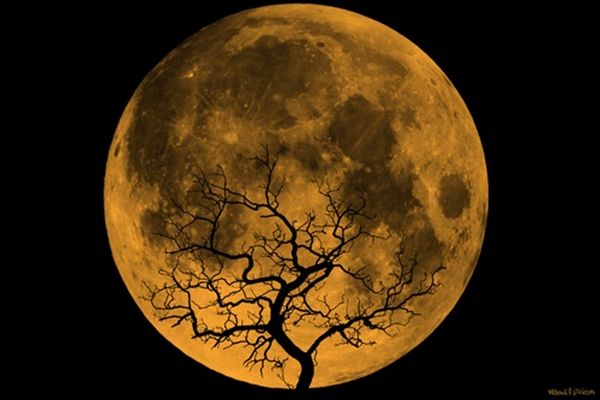 Price: $133.19
Celebrate the sheer beauty and grace of an Orange moon depicted beautifully in this magnificent piece of art work. It is gallery-wrapped canvas art in a contemporary style, suitable for any home setting. This breathtaking piece is created by Maxwell Dickson. The dimensions of this art work are 23" x 24".
What's unique: The graceful depiction of a moon in shades of orange makes it an ultimate piece.
Reds (8) Ceramic wall art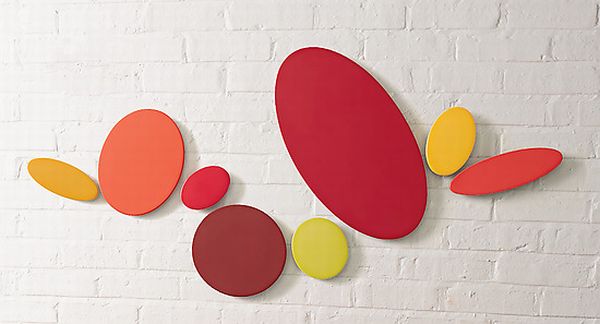 Price: $ 900
Very unique and scintillating, this contemporary style ceramic wall art will upgrade the entire look and décor of your home. It has been created based on the certain phases of moon. All the pieces of this art has been hand cut and represent the very large (celestial bodies) and the minute (atoms and molecules), which propose both order and chaos.
What's unique: this beautiful piece of wall art shows various shades of red, thus justifying its title 'Reds'.
Wondrous Woods 5-Panel Trees Metal Wall Art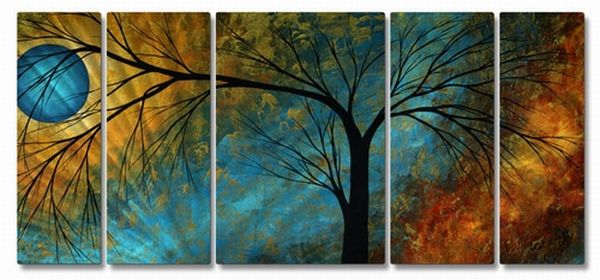 Price: $389.97
The ethereal beauty of a blue moon will brighten your entire room, which will instantly enhance the artistic value of your home. This piece of wall art, titled as 'Wondrous Woods' features a surreal scene of moonlight whose radiance travels down to a huge tree. It uses brilliant strokes and shades of rich gold, blue and fiery orange.
What's unique: The dazzling amalgamation of blue moon, huge tree and a forest defines the beauty and grace of this fantastic wall art.
Water Technique Buddha Painting

Price: $56.99
Upgrade the spiritual and artistic value of your room with this beautiful contemporary painting. This noteworthy painting on canvas has been painted with a water technique, which plays an essential role in providing it character and dimension. It features the composed stylized face of Buddha.
What's unique: This marvelous painting has been created using water technique used with part acrylic painting and part hair brushed.
Cityscape on the Lake Contemporary Wall Hanging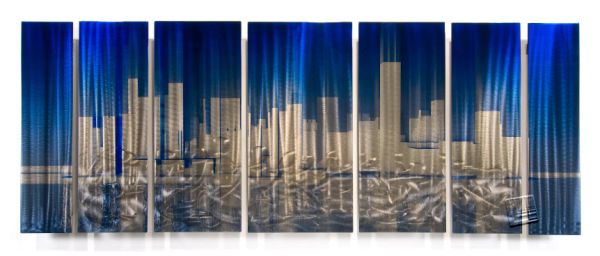 Price: $437.95
Bring in the majestic view of skyscrapers and city life in your room with this stunning contemporary wall hanging. Every skyscraper displayed in this art work has been reflected back out from the water below in mirror image. It consists of 7 separate panels, which holds the aura and charm to enliven any room.
What's unique: The entire scene has been painted on steel plates in tones of vibrant blue with silver buildings lining the foreground.
Hear our voices ceramic wall art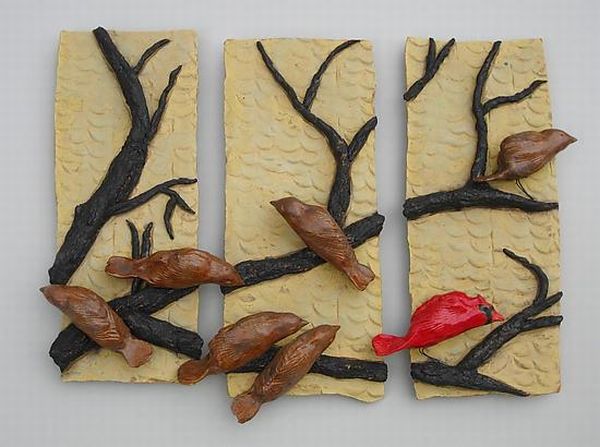 Price: Available on request
This striking artwork showcases three ceramic panels with three dimensional factors. Artist Amy Meya used slabs of clay to create this exquisite wall art. Furthermore, three dimensional hand sculpted birds and branches have been attached to it to generate a graceful composition.
What's unique: The three dimensional look and simplicity of this artwork makes it very unique and beautiful.