Bookshelves are an integral part of almost every household. Sometimes owing to the lack of choice and even lack of resources, people fail to find attractive yet useful bookshelves for their homes. To save you from any such situation, we have brought a list of awesome bookshelves that you can carve out of waste materials lying in your store. Have a look: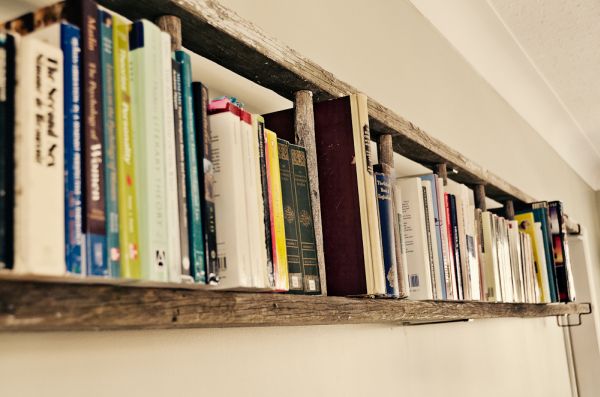 An Old Ladder Bookshelf
You might consider an old ladder lying in the store to be useless, and probably you would think it better to discard it altogether. However, this particular tip is going to be a thought changing one for you. You can turn that old ladder into a very classy bookshelf. Just paint it in the color you like and add some wood to the steps so that its width increases and it could hold more books. Place it against a wall and store books.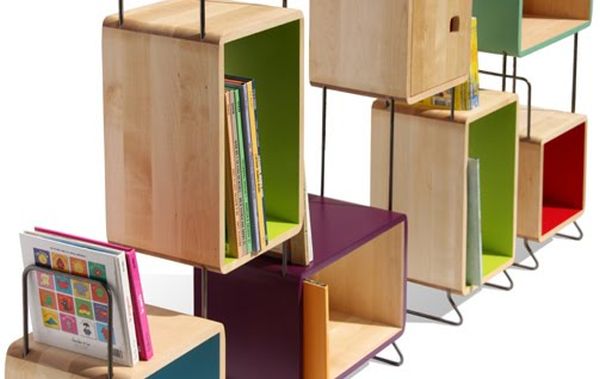 Wooden Boxes Bookshelf
Rather than discarding those wooden boxes, you can turn them into quite useful and pretty bookshelves. You need to paint the outer surface of the box and for the inner surface; you could paste some funky cloth or papers that will give an added beauty appeal to your DIY bookshelf. You can hang the boxes on the wall with the help of a screw.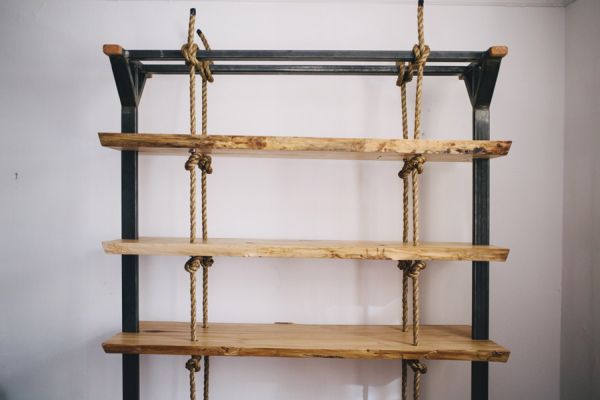 Rope Bookshelf
To make this bookshelf, you need a rope and some wooden planks. First, drill two holes on either side of wooden planks, the hole should be of the size of the rope. Now pass the rope through all the holes, starting from the plank that will come on top and then going down to the plank at the bottom. Tie a knot in the rope at the end. You can hang this lovely bookshelf on a wall and allow it beautify your room.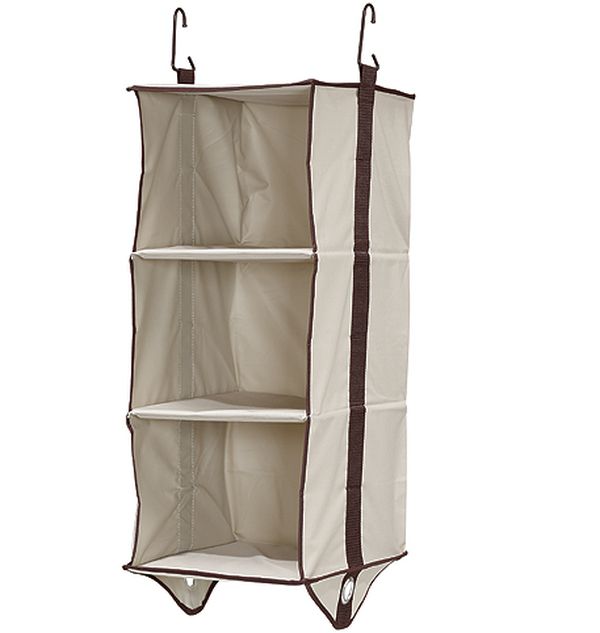 Hanging Fabric Shelves
For this amazing bookshelf, you need two curtain rods, two double curtain rod brackets and a cute looking fabric of your choice. Take the fabric and put two curtain rods, one on each end. Now fold the fabric with rods and hang it on the double curtain rod bracket that you screw on the wall. Depending on the length and material of the fabric you choose, you can store the mount of books accordingly.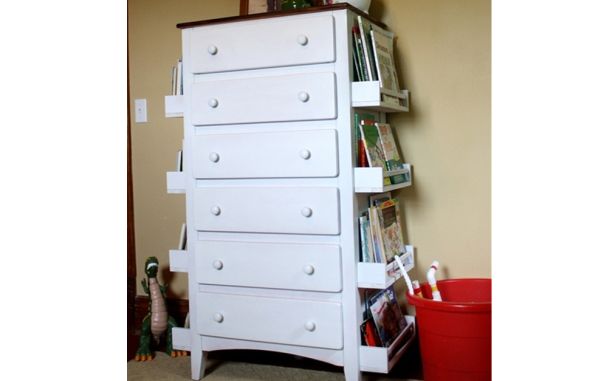 Dresser Book Racks
You can multiply the utility of a dresser or any storage table at your home. All you need to do is to nail some racks on either sides of a dresser. It depends upon you to choose the number and size of racks you want your dresser to have on sides, which you can use to store books. This form of bookshelf is extremely space efficient.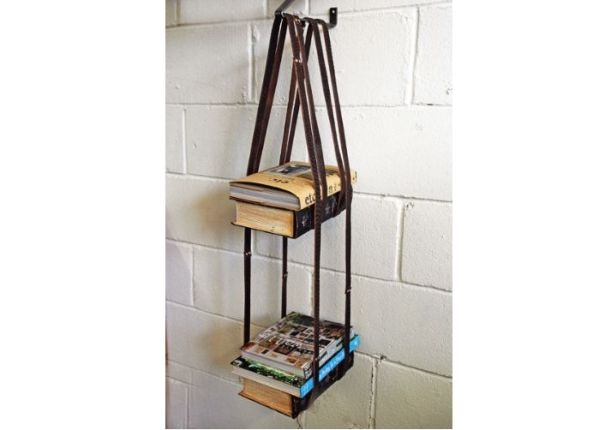 Leather Harness Hanging Bookshelf
This is such an attention-grabbing piece of art. It is a very light structure that gracefully works as a bookshelf. For making this bookshelf on your own, you need leather straps and a metal plate that will serve as a base for holding books. You can decide the size of this bookshelf according to your requirement.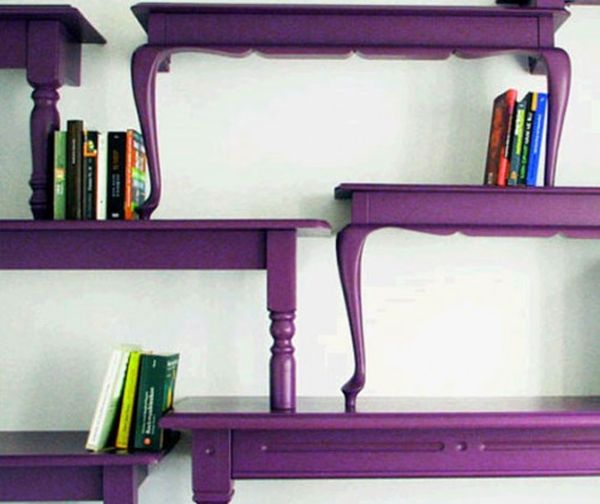 Stacked Antique Benches Bookshelf
You remember the benches in classroom where you used to sit as small kids? Those same old benches you could use to make astonishing bookshelves in your home. You require two to four old benches and stools, which you can first paint in color you like. Now choose a wall against which you will place those old benches one over the other. You can also place stools over benches and they automatically turn into good book shelves. This is one idea that requires minimal efforts.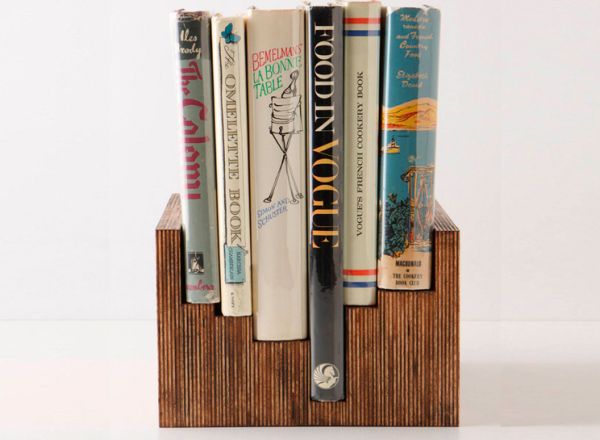 Stained Plywood Book Display
Those plywood pieces lying useless in the store can turn into a very modern and extremely useful book and magazine holder. All you need to do is some woodwork. Take the plywood pieces and cut them in different sizes like 1-inch, 2-inch, 3-inch, till the size and number of books you want to stack in one bookshelf. Sand the plywood pieces and arrange them in a line starting from the smallest to the largest. Now glue it together with strong wood glue, and after about 24hours stain it. Finally, the fantastic looking and useful bookshelf is ready to use.
Summary:
These easy, smart bookshelves are any day better than the expensive bookshelves you get from market. So, bring out your creativity and make these DIY bookshelves for yourself.