Working from home can be particularly rewarding; but setting up shop on ordinary desk and chair can make anyone feel unprofessional and raggedy. However, you can always pick a cool home office desk; and rejuvenate your home office easily. You can surely make your home office the focal point of your house. Here are a few cool and creative home office desks for you
1. Goggle home office desks by Danny Venlet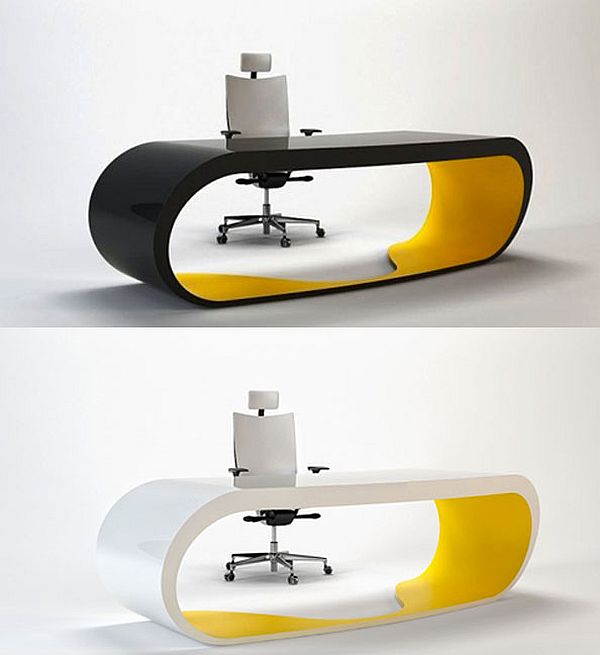 If you don't mind spending a little extra on your home office desk; or are you on the lookout for a stylish desk to be the centerpiece of your home office? Then, this the glossy and sculptural Google home office desk is one of the creative home office desks you can consider. It is created by Danny Venlet for Babini; and will be a good investment for you.
2. Glass Home office desk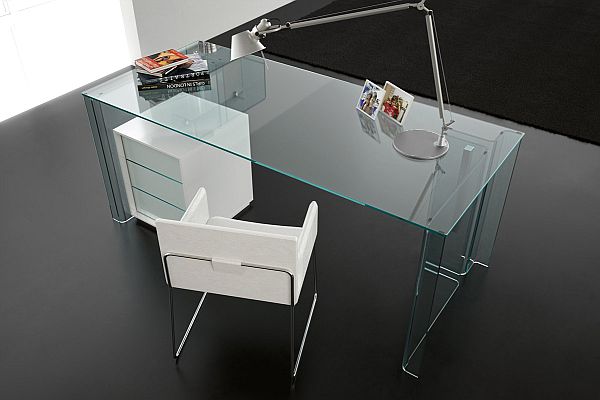 Colorless furniture is super in at the moment. If you too want that gorgeous look; you can try using a glass or acrylic desk to create your home office desk. Just remember to use an opaque cabinet for sensitive documents.
3. BlueLounge StudioDesk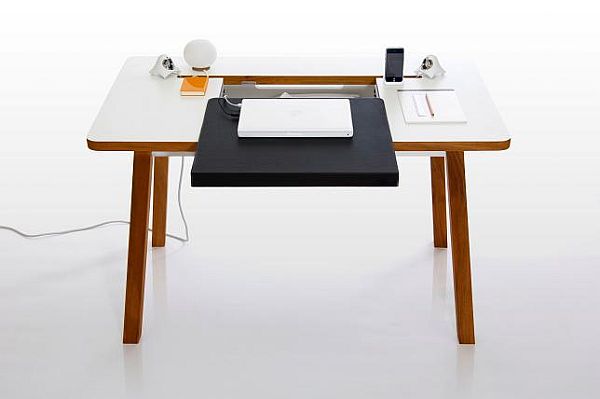 If space saving and clutter hiding is what you are looking for in your next home office desk; then, you must try out the BlueLounge StudioDesk. The desk comes with a removable faux leather mat that keeps the storage compartment
hidden but within easy reach.
4. Flatmate Secretary by Michael Hilgers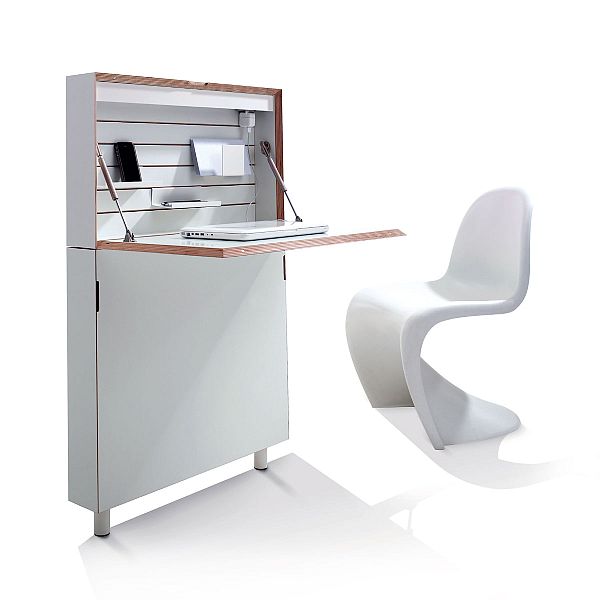 For home offices that are set up in small spaces; home office desk solutions like the Flatmate Secretary by Michael Hilgers are good options. The home office desk comes with an integrated shelving system that provides ample storage for files, etc.
5. Space saving home office desk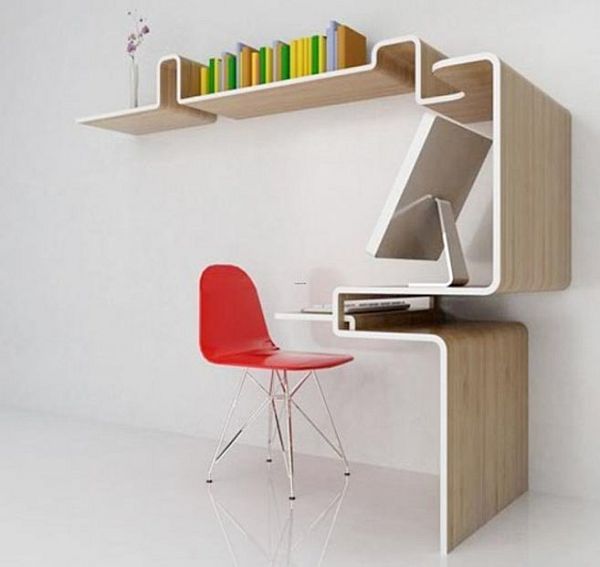 Created for Blå Station by Stefan Borselius;this multifunctional home office desk is minimalist yet modern and accessible. It not only keeps your home office looking neat and but stylish as well.
6. Steelcase Walkstation by Details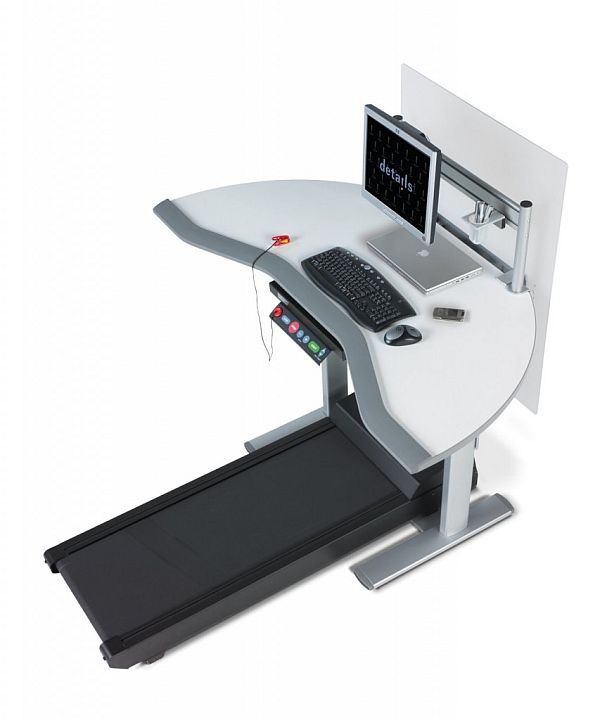 If you don't get time for a workout because you work from home; the Steelcase Walkstation by Details could be an ideal alternative to your regular home office desk. The workstation comes with an integrated treadmill; so you can get a workout while finishing office work.
7. Aviator Wing Desk by Restoration Hardware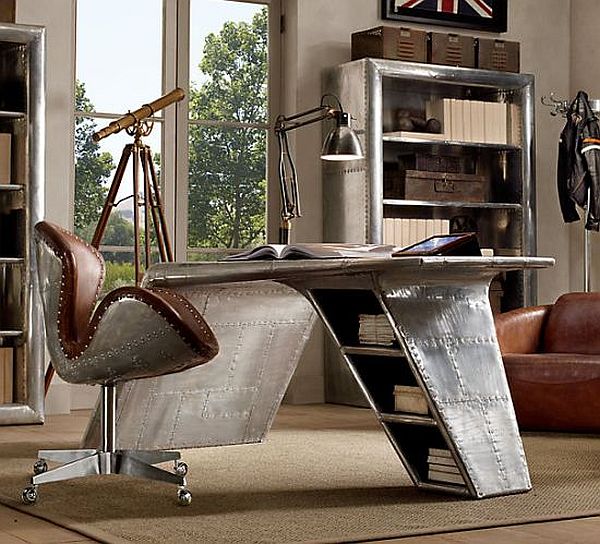 Aviation buffs would love the Aviator Wing Desk by Restoration Hardware. It may be a bit expensive; but at least it makes you look uber stylish with its visage.
Looking for some more cool ideas of creative home office desks?
The concept of workstation has completely changed over the past few years. Multi-functional mobile desks with attractive features have taken place. These are specifically designed for official or domestic purposes and are designed in a way that a user will feel more comfortable to work at. The concept of old workstation, available in the ancient time, made up of plywood with plane drawers and little space to put the stuff is no more liked by either a gizmo-lover or movie buffs. Here, you will find a variety of workstations that will suit to your needs, and you will have a good reason to choose your home or office desk. Here are a few more suggestions on some creative home office desks
Cool and creative home office desks
1. Novanta Workstation
A desk made for utilitarian efficiency that isn't ugly, go figure! The Novanta workstation is more beautiful, even it's a bit chunky. The concept of this table is not 'Out of Sight, Out of Mind' but it is designed as a perfect space-saving work desk. Novanta is designed following the requirement of Macs. The structure of this workstation is made up of the MDF, aluminum and perforated metal scream. Its sexy look allows used to keep their PC without disturbing the neighbors.
2. Arcade Pod Workstation
Designed by Honfay Lui, 'Arcade Pod Workstation' or 'The Incubator' is a fusion of Live, Work and Play. The pod incubator allows its users to rotate sideways to from different configurations. The rotating arms hide the entangled wiry mess and support the computer screen as well. This is an Animated Workstation that is meant for architects and is designed to look like a pilot place. The students of Design Institutions design it in a way that it will impress the students, weird generation and also solve industrial purposes.
3. Ci Desk mobile workstation
The CI desk mobile workstation, also known as creative industrial design studio' is Vienna based dreadfully chic. It comes with a variety of shelves, tabouret drawers and fold out desk. It can freely move around as its small cart mounted on three wheels allows it for free sliding everywhere. This desk is perfect for technological purposes. The desktop slides provided in the workstation allow its users to sit below it or else when used with a lap top, the desktop features a horizontal slide out mouse pad. The materials used to shape the design of this desk are mental and bent plywood.
4. Duplex workspace desk
The Duplex Workspace Desk, designed by Sophie Kirkpatrick has the perfect solution for your plights and privacy. This is desk provided with a hood; so that you can pull it up when you want to shut out the world and concentrate on the task as hand. You can also pull it down when you are ready to mingle. The concept of duplex is one off prototype. This object can be used as public internet points too.
5. Sony fusion coffee table 
Zyane Tan, a Singapore based designer was the man who had conceptualized the model of Sony fusion coffee table crafted in matte black aluminum with a sleek chrome lining. This sony fusion table is equipped with arched chrome legs and can be converted into a workstation just by pushing a button. The workstation has a separate space for touch sensitive keyboard and adjustable screen. The top section of the table automatically splits in half and LED outlined keyboard, screen and DVD drive can easily be seen on the side of the table.
6. Chaise Lounger Desk
Brazilian designer Roberta Ramme created the Wave Chaise;  that is being marked as a way to keep teenagers in their room. Considering all of its functions, there is no denying the fact that it will meet its goals. The over sized chaise comes with a built-in TV, DVD player, audio system, computer desk and storage for CDs and DVDs. Essentially it's a media cabinet you can sit in. The concept of multi functional Wave Chaise lounge is inspired by the values and personality of a gadget loving teenager. It provides global hi-tech culture of facilities where access to technology is easy and cheap.
7. Corner V1 Computer Desk
The vision one computer desk can be referred as an ultimate home entertainment computer desk. h provides ergonomic comfort, artful design and outstanding features. The V1 desk is dynamically designed in that way that it will not be hyperbole to name it the best computer desk system on earth. Needless to say the v1 workstation is a revolutionary new product. It is designed to significantly enhance anyone's music, gaming, home theatre and working experience.
You can use this multipurpose desk as the desk as a; computer gaming chair, flight simulator, cad workstation, video editing workstation, personal movie theater, surround sound music environment and more. The different part of v1 aside from the seat is hand machined and welded to perfection. This desk is one of the elite class workstations in comparison to the conventional desks.  The additional features includes 2.1 speaker support,  and a sub-woofer. Besides, that there is a flat screen monitor;that you can adjust as per your needs. For the user's ease, there is a wall mount bracket with 3 adjustable height options.