Created by Blu Water Studio, this Penang, Malaysia based open air concept home won the Show Unit award for the Residential category at the Malaysian Interior Design Awards in 2011. The concept is designed to combine the luxuriousness of resort-style interiors within the ambience of a cozy and comfortable home. The interiors depict an extraordinary elegance thanks to the use of sculpturally united space. The overall design character of the interior uses the traditional style of furniture in a totally modern way to create an elegant and soothing setting.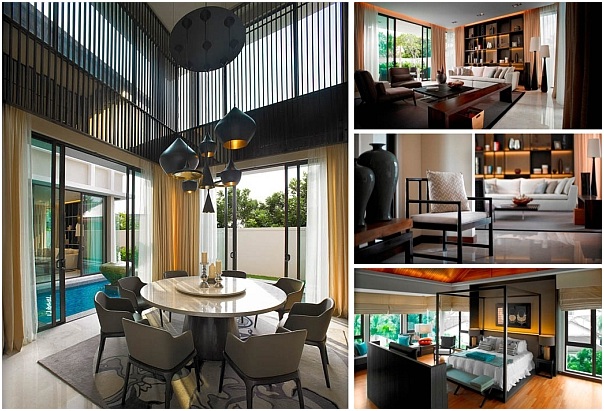 The use of large windows and glass walls allow the natural elements surrounding the home to participate within the schematics of the interiors. The sleek and clean lines of the modern, casual wooden furniture used in the living room is contrasted with the warm textures and hues used on the ceilings, walls and textiles. A deep sense of serenity is inspired by the extensive use of locally-sourced indigenous hardwood that is used to create vertical screens separating the living areas and used on wall panels to cozy up the space.
To impart a resort style feel, a double volume high-sloped ceiling is used in the master bedroom which is contrasted with the four-poster bed underneath it. The headboard is crowned with traditional artifacts. Landscaped gardens enrich the private sitting area and give it a laid-back character of the textural detailing used throughout the interiors.
Via: Freshome