Summer can only be enjoyed when outside. And who is to stop your little kids from running out in the sun and having some fun. Physical exertion can work wonders for your kids' overall growth. This is why experts recommend outdoor activities very strongly for growing kids. This summer, we have some ideas that can help you create a mini-paradise of fun for your kid right behind your house. Your backyard can be converted into a little magical place full of fun, here is how.
Go artistic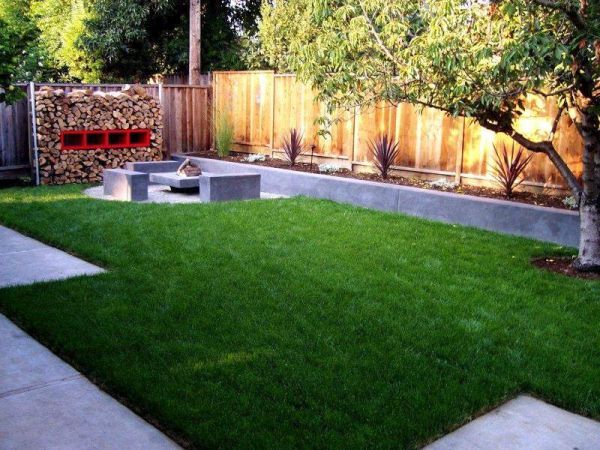 This weekend why don't you hop on the fun train with your little one and spend some quality time with your child? Your backyard can be a perfect location to set up your personal art camp. Just get old jars full of paint, multi-sized brushes, and set up butcher sheets. Enjoy watching your child's imagination run wild as you both indulge in a fun activity of painting. Encourage unique ways of painting like finger-painting, hand-painting or face print. Be supportive of all the mad ideas that pop in your little angel's brain and have a blast.
Vegetable Patch and herb gardening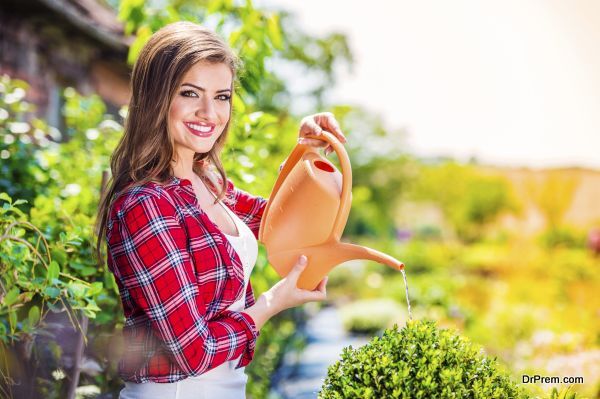 This valuable art of planting and caring for plants can develop both mental as well as emotional skills in a child. Get your child a new best friend in the form of a plant. You can also designate a whole area of your backyard to your kid as their own vegetable patch. This is a great way that children can spend time outdoors, with their parents and also learn the valuable lesson of gardening and growing their own food.
Camping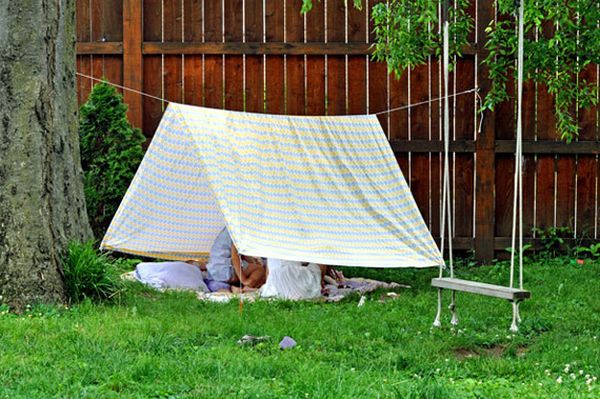 If your schedule does not allow you frequent vacations, a camping trip is a great way to spend time. And when you are too tired or tied up with work, you can create a great camping experience for your little one, right there in your backyard. You do not have to use tents, you can just build tents out of bed sheets, by tying them around trees. Remember to have air mattresses and sleeping bags for everyone. Pick a clear night to spend some awesome time with your kid under the starry skies.
Swings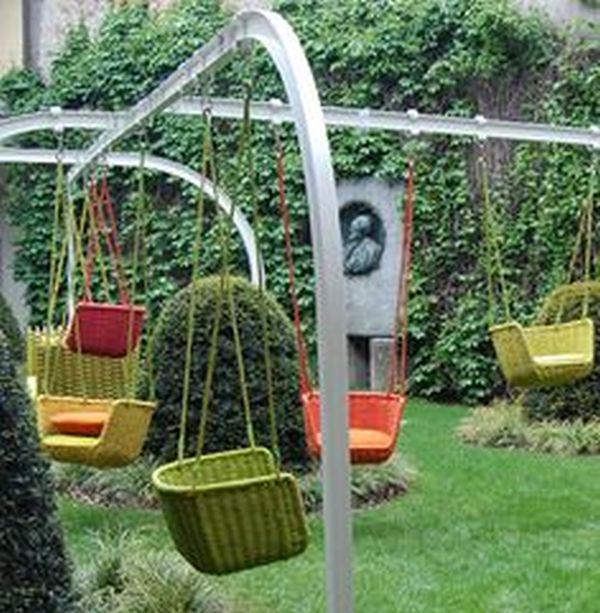 There is perhaps no love greater than a swing for a child. If your backyard is spacious enough for a swing, why not surprise your kid with one. Choose an appropriate area where the ground is not too stony and clear the area of unwanted bushes to make sure your child is safe. For a swing you will need a 2.5-meter clearance both front and back, so select wisely.
When you pick the right spot, you can install a swing by choosing a style. You can opt for a tire swing or a comfortable chair swing. To build this you need an old chair, cut off its legs and paint it bright to make it attractive. Install the swings with sturdy ropes. Make sure you test the safety before you let your kids on it.
Clubhouse or a treehouse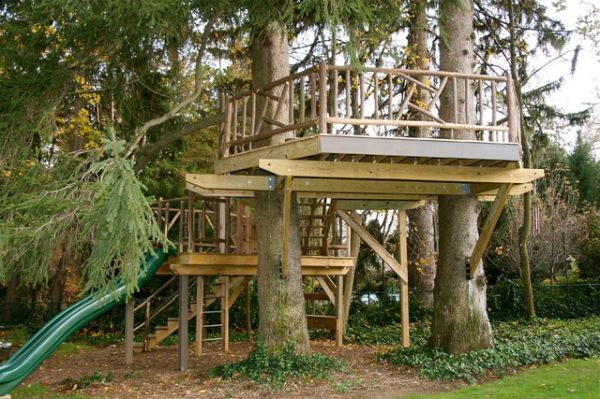 Creating a treehouse or a clubhouse is a great DIY project where you can involve your little one too. You can build a treehouse and hand over small responsibilities like passing over tools. The exciting part starts when you start painting this treehouse.
Get your child to join you in painting the treehouse with you. To make a backyard clubhouse for your child and his friends to hang around, you do not need to spend a fortune. You can just take some mattresses, sheets, pillows and blankets for a perfect backyard decoration .
When your backyard is just sitting there, waiting for you and your child to experience the endless possibilities that it can serve then why go out for weekends. Create a perfect place for fun in your backyard for your children, and have fun building it with your kids.