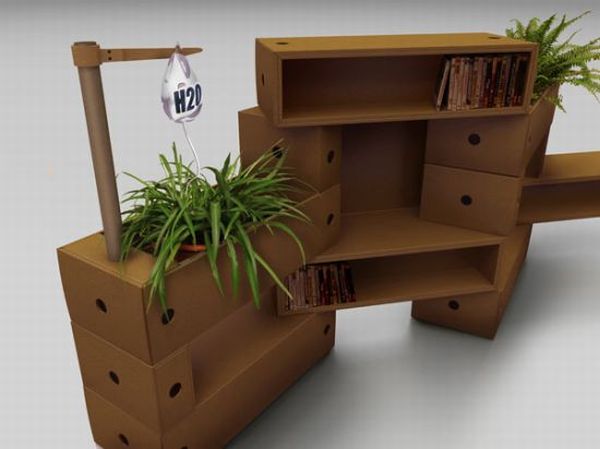 Taking a cue from the environmentalist in adopting ways and means to save our mother earth from insane mass destruction of her resources to make available products that offer comfort, convenience or sheer pleasure, designers world over are now foraying into eco friendly fields and developing furniture that use recycled or biodegradable materials.
A step in this direction is the use of the naive recycled cardboard to make the following bookcase that are sure to take one's breath away with their awe inspiring design and strength:
1. Mobina bookcase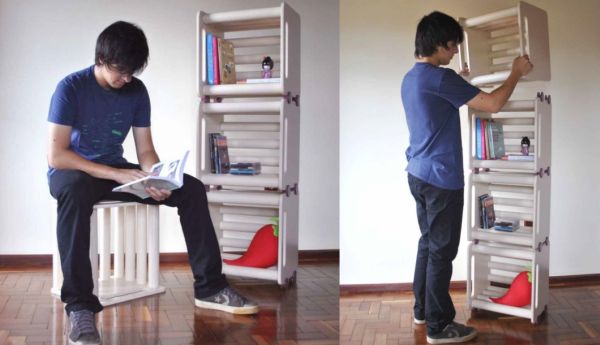 A convenient and alluring bookcase made from industrial cardboard roles is affixing them onto a frame and shaping them into chic book racks. These unique bookcases are light weight, portable, and green since they are made from recycled cardboard which would otherwise lay in the garbage bins or landfills. Once assembled these shelves are further lacquer painted which make it impossible to guess the basic ingredient of the shelve. Beautiful chairs made to complement the bookracks offer an added serene appeal.
2. Modular shelving system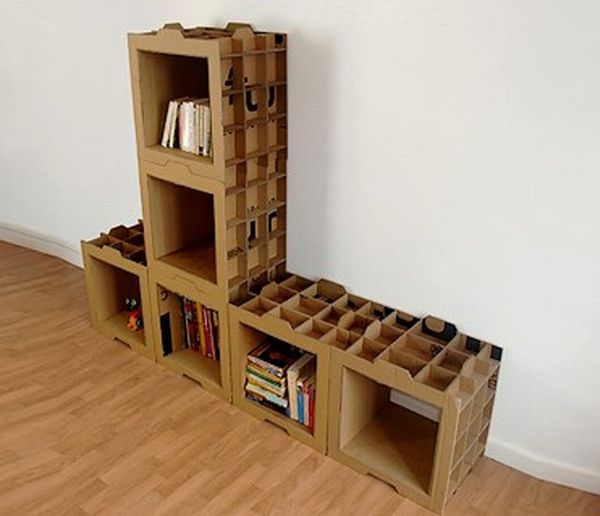 An exotic piece of art conceived and designed by Danny Gilles, this book case is made from sustainable cardboard boxes which can be easily assembled into desired shape according to the storage space required. Each individual module is made of five interlocking cardboard pieces that offer strength and stability to the structure. The shelf can be custom made and has the potential to be stuffed with books or artifacts.
3. Cardboard furniture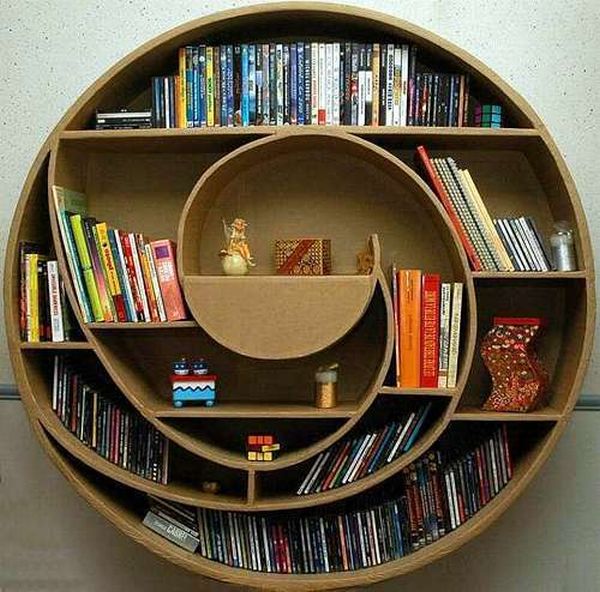 A fresh new product straight from London's most reputed Gilles Miller Studio is a bookshelf that doubles up as a sculpture adorning ones' living room or office space. This fascinating book case in a circular shape not only looks splendid but is also sturdy and green due to the use of recycled cardboard. Indeed this breathtaking shelf available in varied designs and colors is bound to have many takers.
4. Creative action for forest bookcase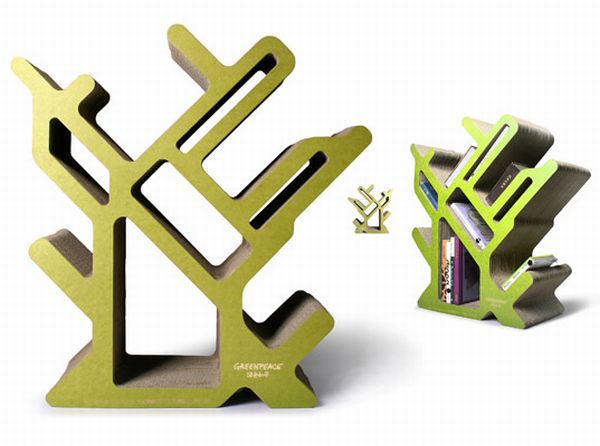 Developed for Greenpeace, China which encourages book publishers to use recycled forest friendly papers, designer Jamy Yang conceived and modeled this "green bookshelf" from recycled cardboard. This unique bookcase in the shape of a tree symbolizes reuse of environmental friendly materials not only to make the bookshelf but also conveys the message of using recycled papers to curb the indiscriminate felling of the forest cover.
5. Log book shelf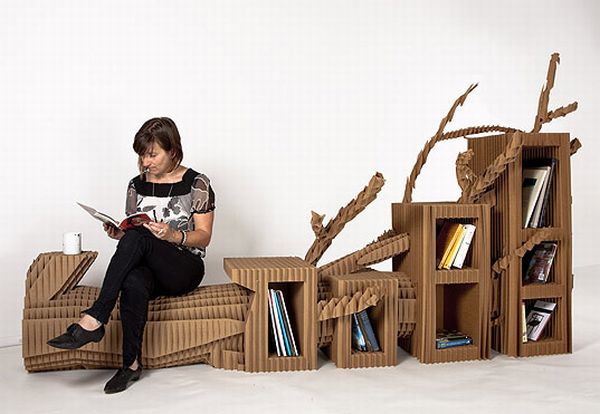 Designed by the Australian architect Toby Horrocks, this "earthy bookcase" infuses modern living space with forest cover. A combination of the flat bottom sitting space which resembles a fallen tree or a log of wood and a book shelf that reminds one of the cityscapes, this "out of the box" concept glues together nature and modern lifestyle. Interestingly, the recycled cardboard used to make the book rack is digitally cut and fixed without the use of additives.
6. Mattoni modular furniture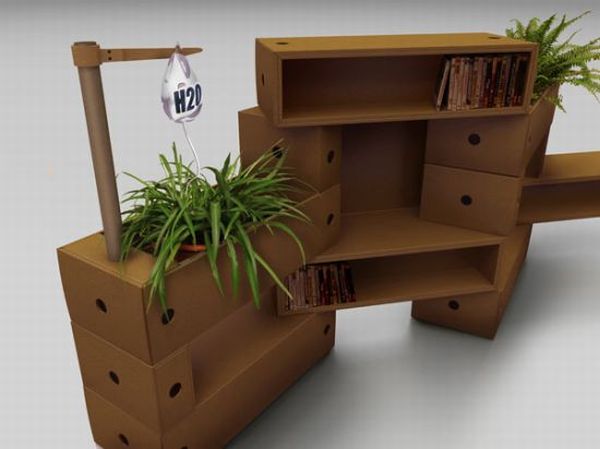 Mattoni furniture unit developed by Giorgio Caporaso offers the end user a wide range of options to choose from. These modular units made especially from recycled cardboard can also me made from recycled wood or other biodegradable materials. These overwhelming furniture pieces not only act as book shelves but when need be, depending on the space available, can double up as furniture to enhance the beauty of one's living or office space. Symbolically "bringing the green into one's living space" these pieces of furniture come with corners that double up as flower pots to hold indoor plants thus getting one close to nature in the comfort of one's home.
7. The Barnyard method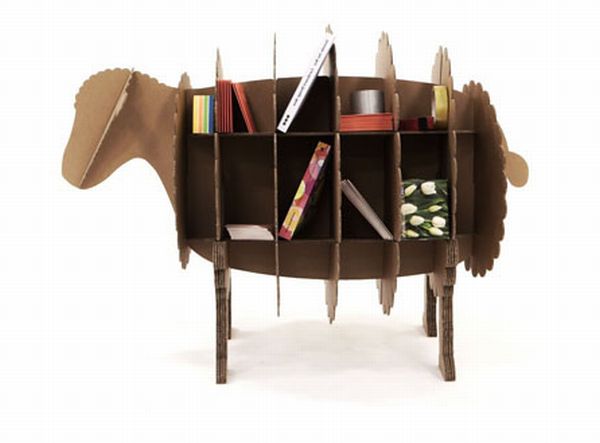 A unique infusion of rural and the contemporary modern urban lifestyle is this eco friendly bookshelf made in the shape of farm animals. Crafted from recycled cardboard or KRAFT, these bookshelves can be easily fabricated in shapes of field animals like ram and thus let one stay rooted to one's rural lifestyle. Available in a choice of two colors white and brown this piece of art is indeed like bringing the farm to the comfort of one's living room or office space.
8. Cardboard bookshelf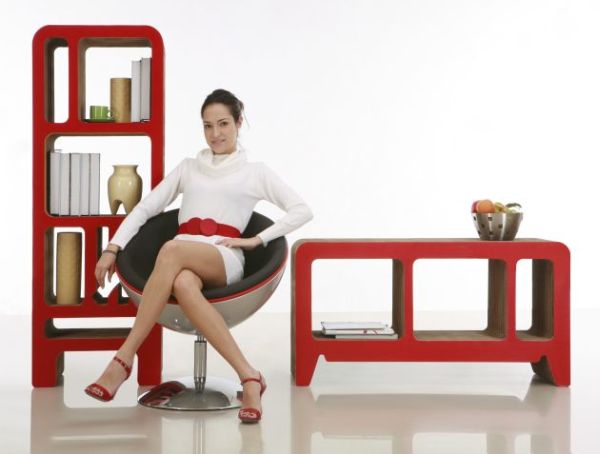 Specially created for the online retailer Fashion4Home by the German designer Reinhard Dienes, this cardboard bookshelf not only looks stylish with vibrant colors such red, orange, yellow and greens but is eco friendly too since it is made from recycled cardboard. A side table is also available with the ensemble to compliment the bookcase. With its stunning shapes and cuts this ultra modern piece of furniture is aptly a "neighbors envy and owners pride". Delicately designed with delightful use of colors and textures this is a book case that is hard to resist.