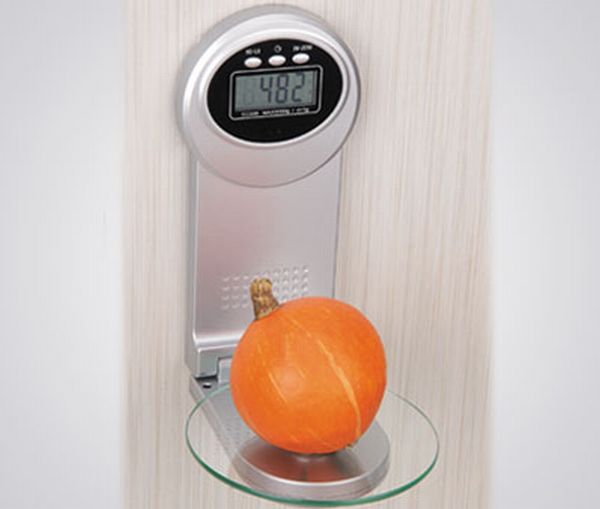 Machines and technological advancements have made our lives simpler as they assist us be dividing our load of work and multiplying our skills. Same is the case when we think of modern day kitchen appliances that reduce our efforts in multitudes, making our work less time-consuming as well as fun-filled at the same time.
Cooking is chemistry first and creativity second. For that perfect taste and blend, you need the precise measurements of ingredients, mixed with the magic of your hands to create the finest aroma and taste to satisfy your taste buds to par excellence.This is possible only when you have all those facilities which are inevitable for fitting into a modern kitchen requirements, including zero-adjustment imperial and metric weights. Lets consider some of the most stylish weighing devices for a smart kitchen.
1. Water Scale weighing device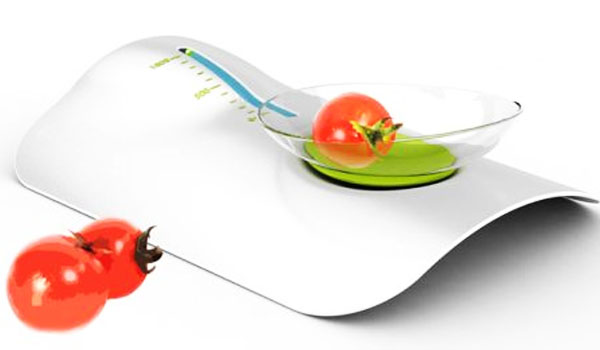 Muzaffer Kocer and Ayca Gure, taking the Theory of Archimedes into consideration which justifies that anything substituted to displace the same quantity of water equivalent to its weight can float in water, created the Water Scale. This measuring device is Eco-friendly as it runs without consuming energy or causing pollution and can weigh any object, within 1,000 grams, placed on its scale plate. Termed as a green device, this instrument can be of great help for regular household chores, as its main priority is energy conservation.
2. Spoon Scale
Most convenient to measure smaller quantities of ingredients with precise and perfection, this spoon scale comes with 2 different sizes of spoons that can be easily detached, for easy wash-ability and also for being used conventionally as a teaspoon or a tablespoon. It can weigh up to 300 grams in 0.1 g and 10 1/2 oz in 1/200 oz increments, making it easily switchable between gramme and ounce. The LCD screen helps easy and clear display of readings. This instrument is highly compact, non-bulky and easy to store, measuring 9″x2″x1″ in size and approximately 90 gm in weight, including batteries.
3. Rocking Kitchen Scale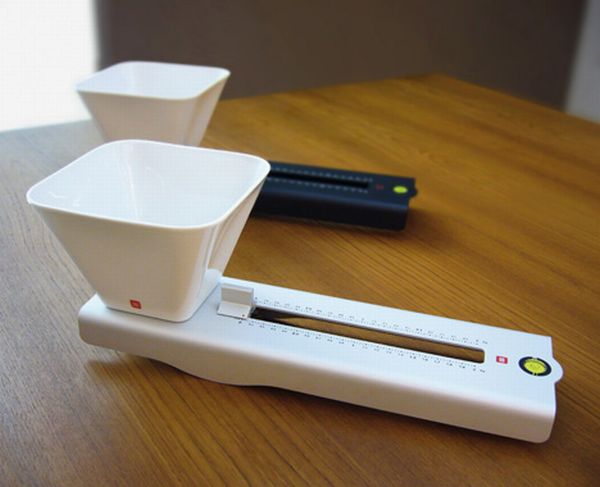 Designed and conceptualized by Hannes Mayer and inspired by the classical method of balancing, you can now get your desired weight of the ingredient by first setting the scales on the balance and then pouring the ingredient into the porcelain bowl, placed at the other end. When the scales balance each other, the opted result is achieved, following the method in which a spirit level works, i.e. an air bubble depicts the achievement of the desired result.
4. Kitchen Weight Scale by OXO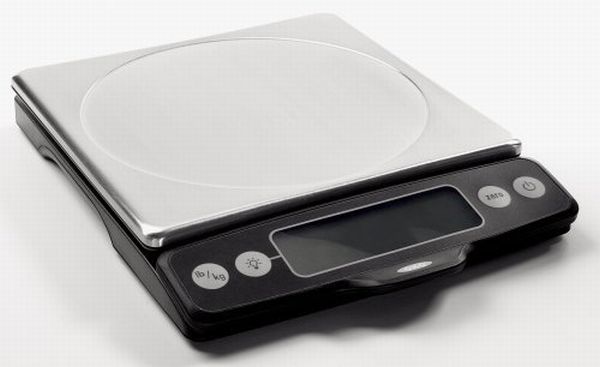 I
The most user-friendly food scale with pull-out display facilities, this one can measure all categories of weigh items directly on the platform, or by using a plate or a bowl to keep the ingredients in it. It not only provides accurate weight readings while cooking or baking, but its pull-out display method even prevents large bowls and utensils from over-shadowing while confirming diet accuracy with perfect weight portions. The option of a back-light makes reading the display contents easy and the weight indicator indicates the left-over capacity on the scale before reaching the maximum point. This instrument measures in 1/8 ounce imperial and 1 gram metric increments.Though none of its parts is dish-washable, however, its stainless steel platform provides easy cleaning options. The total scale capacity is 11 pounds, including four AAA batteries.
5. Kitchen scale with i-Pod Dock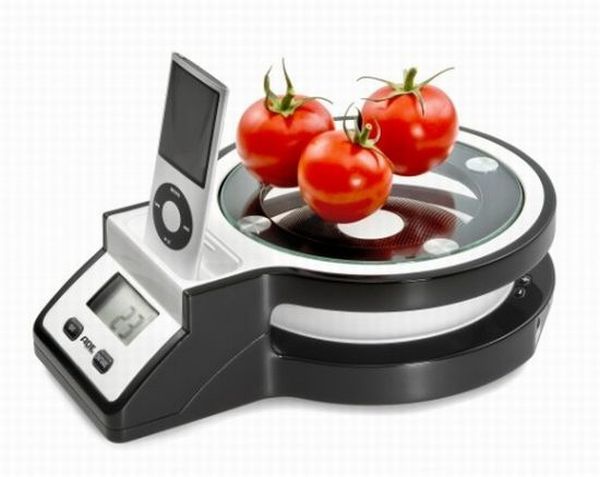 For a precision-kitchen workhorse, this kitchen scale, with an in-built i-Pod, is a must, which conceals two disparate gadgets into one single box, making this gadget absolutely compact and less space-occupying. The dock is placed right in front, which can enable you to touch screens and click wheels even with greasy fingers, while the speaker is placed under the glass weighing platform. The ingredients can be measured in 1 gm (0.04 ounce) increments up to 5 kg. The dock is covered with a tightly-fitted cover to prevent it from spills and mess. This priceless product has been priced at 100$.
6. Folding Kitchen Wall scale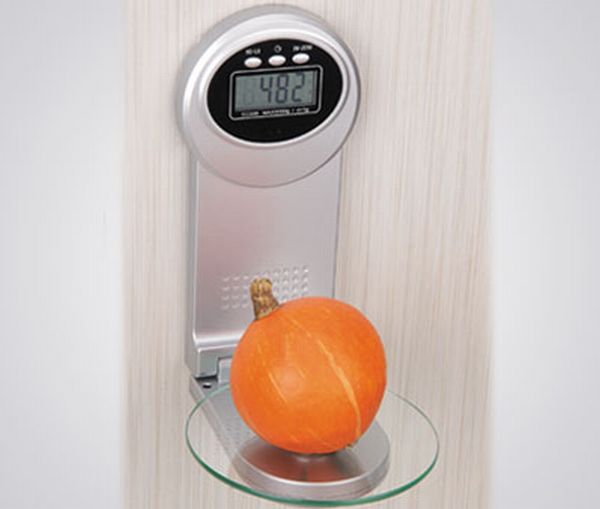 A perfect combination for both cooks and dieters, this 3-in-1 scale does the work of a clock, a thermometer and a timer in your kitchen. Absolutely handy and space-saving, it provides easy measurement of food portions and recipe ingredients for a healthy and balanced diet. It comes with a foldable tempered glass platform and a strain gauge sensor to help you consume just the right quantity of food required for a healthy living, keeping you absolutely fit and fine.
Modern day kitchen appliances make your cooking sessions absolutely hasslefree, making it a loving and enjoyable experience.