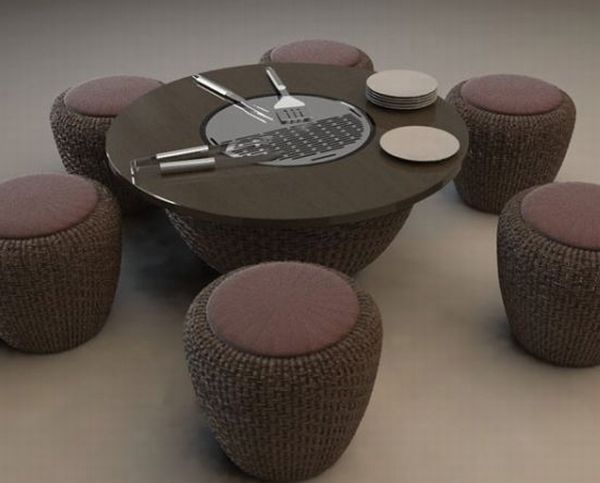 Spending time with your family members has becomes so difficult these days because of the busy lifestyle. Our lifestyle has changed greatly because of the change in our living environment. Nowadays people don't have time to spend with their family. The only time which a family spends together is on the dining table. The designers have spent a lot of time to design such gadgets that are not only purposeful but also unite the family together so that they could spent some quality time together. Here is a list of seven dining tables with built-in cook top. Have a look.
1. Sharing dining table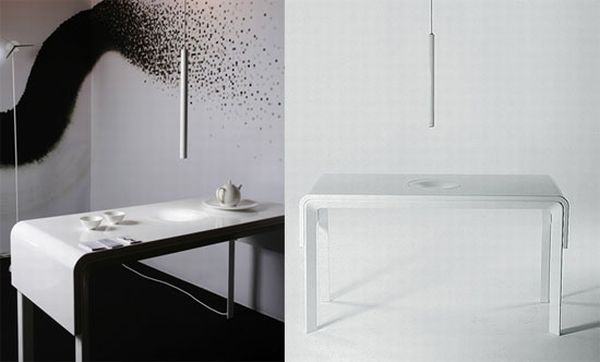 This table has been designed by Joongho Choi and has merged the Eastern culture with the Western culture. This cook top combines the features of Korean folded low table and the western dining table. This table is quiet light in weight and is very stylish. This dining table has an induction cook top to boil or heat tea and other food stuff and has plastic finish. After the heating part is over you can also cover the induction cook top with flowers or vases. A piece of art can also be placed on the induction cook top.
2. Induction cooking system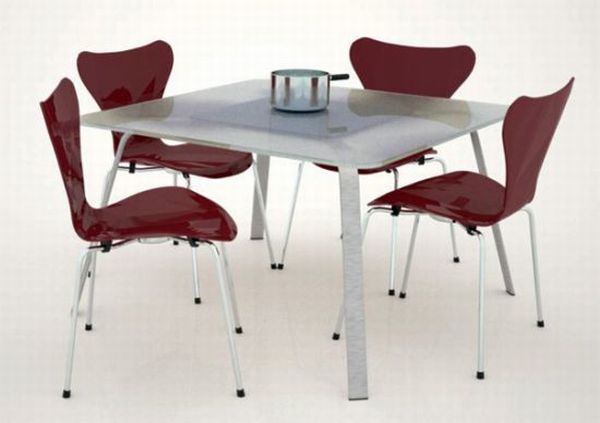 A concept has been developed by LDI Aramis Herrera which allows you to cook on your own dining table. You can now spend enough time with your family even while you are cooking your food. You can also serve your food on the cook top only. The cook top has a ceramic glass on top and underneath it is tempered glass. The plastic cover covers the coil base which is then connected to the power plug that is integrated in the leg.
3. TepanGrill table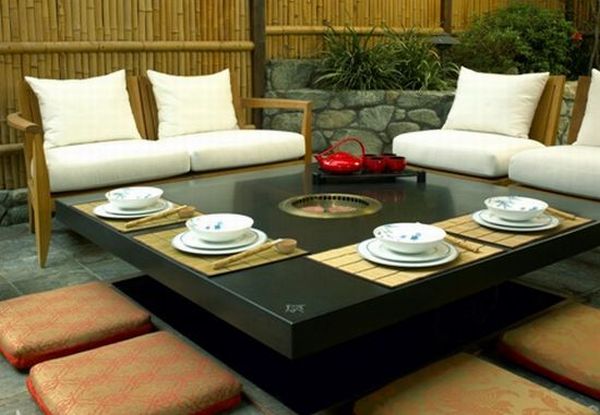 The first thing that comes to your mind when you think about an outdoor party is barbecue. This unique table is customized for your needs. The table has been designed by Troy Adams and is built in stainless steel. This is an outdoor table with built in cook top that adds a grace to your outdoors. The most important feature of this cook top is that the table has down draft ventilator to eliminate smoke and grease and cooking odors. So, the cooking in this cook to is quiet simple yet stylish and classy.
4. Flexible space cooking table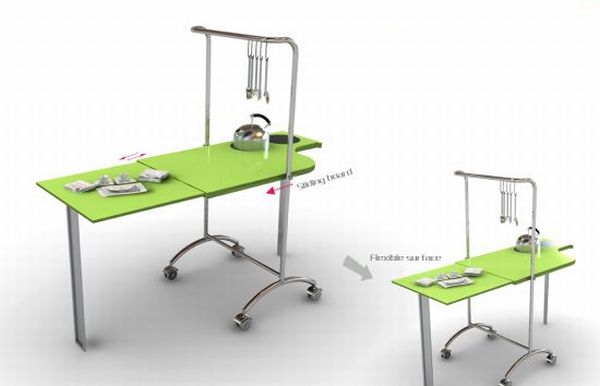 This table has been specially designed for small kitchens. Designed by Chinese designers Yirong Yang and Zhangyu, this is a cook table that allows you to cook and serve on the same place. This is quiet compact in size and is very stylish and good to look at. You can rotate the board to the horizontal position and this table is all set for cooking your stuff. This table has an electromagnetic stove and also has an area for cutting and dining. When the table is not in use, you can rotate it to the vertical side and it hangs comfortably.
5. Coox cooking table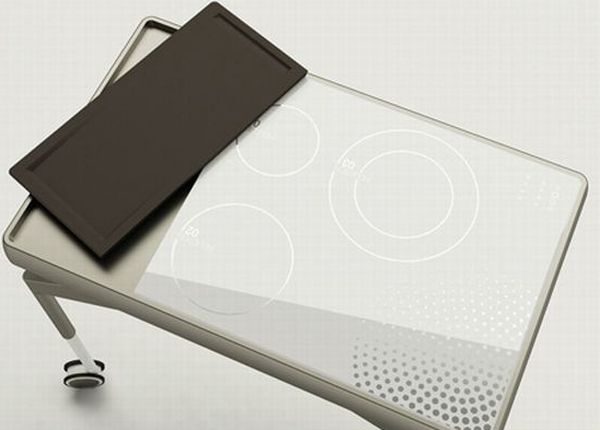 This cook top has been designed by French designer Antoine Lebrun. This is a single work station where you can cook your food and also use it as dining place. You can cook your food anywhere you feel like in your flat. This cook top has broken all the traditions and is very flexible. This cook top has been designed for youngsters who are diverse and complex. This table can also be adjusted according to your height and can be used as an extension of dinner table.
6. Balbalin cooking table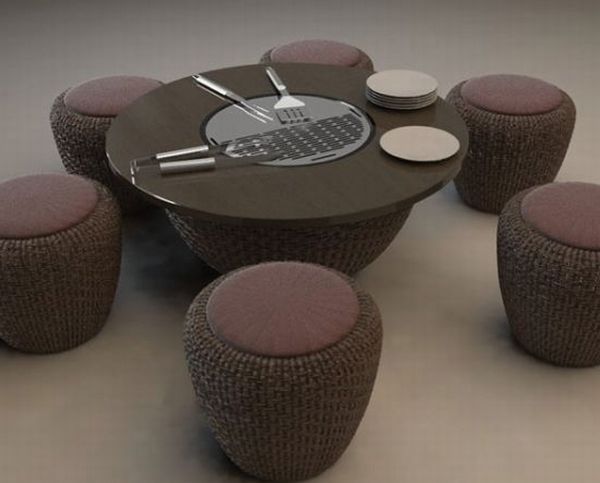 This table has been designed by Nicholas Paul Newton. This table is an outdoor cooking top that allows you to cook and dine on it. This is a perfect barbecue station as well. This table has been designed with the age old concept of ground oven cooking but has integrated newer barbecue techniques in it. It is a piece of furniture that allows you to cook and socialize together. Its round shape is very purposeful as it allows the guests and hosts to sit together while doing the cooking part along. It is a perfect outdoor dining experience.
7. Teppanyaki grill table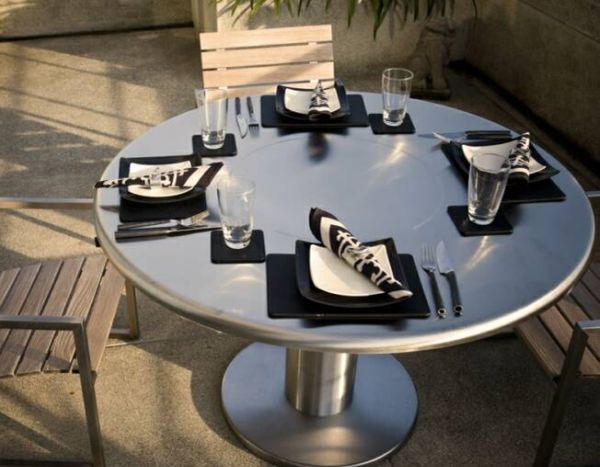 With this table you can cook your food where ever you feel like, but there should be an electrical outlet to provide the power. The table is very comfortable and you can cook your food in the center portion which is slightly curvaceous. The center part gets heated up form cooking purposes leaving the outer part cold so that you can dine on it. The center part gets heated up to a temperature of about 430 F and can be easily cleaned. You can easily cook your food in the shallow cooking pit without even burning your hands. It is available in three sizes.