We need everything that is required in the laundry room from washing bar to washing machine. This may also include kits for minor sewing repairs, shoe care, stain removal, and clothing storage. We often set them on the lowest shelves, so that we can have easy excess. This makes the room crammed and ends up with lot of problems. Do you want to change your cramped laundry room and need innovative ideas to make over your laundry room? Following ideas will help you to arrange the room and help to maximize the space in the laundry room. Moreover, this will help you to decorate your laundry room.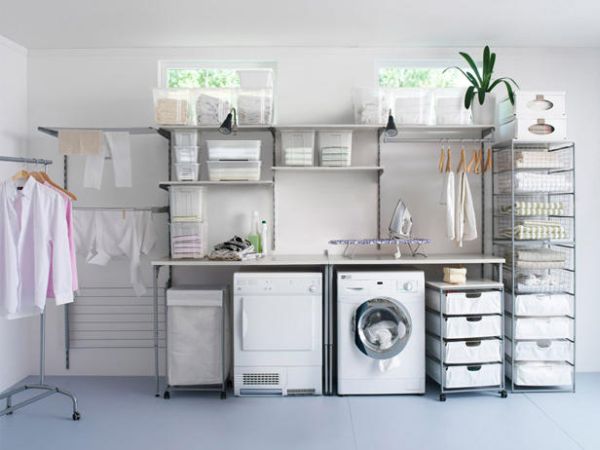 The open shelves
Used in ancient times, the open shelves are the traditional way to keep the laundry materials at a particular place. That time baskets were used to keep all the material, which is easily available at that time. Today, we can opt for that method of arranging the laundry room. We can keep the baskets on the machine and can keep dirty clothes directly in the tub of the machine. This is mess free idea that will maximize the storage in the laundry room. Additionally, you can keep the baskets on these open shelves according to their usage. These open shelves can be fixed on the walls of the room and this will hold heavy basket on it.
Shelves inside the cabinets
In order to make the room more presentable and pretty you go for shelves. You have seen many shelves in the laundry rooms to keep the essential washing material but you can replace it by cabinets. They are easily accessible and you can move them from one place to another. This can be made of polished wood and will go perfectly with the colors of the room's walls and washing machine. This will give a systematic look to the room and protect from the hustle and bustle in the room.
Storage hooks
It is the easiest way to store dirty clothes. You can place them in a small area by fixing them with the help of nails. Storage hooks are beneficial to keep clothes wrinkle – free and very helpful to keep clothes away from moisture in monsoon. You can hang clothes on the hooks with an ease behind the door and keep your laundry room clean and manageable.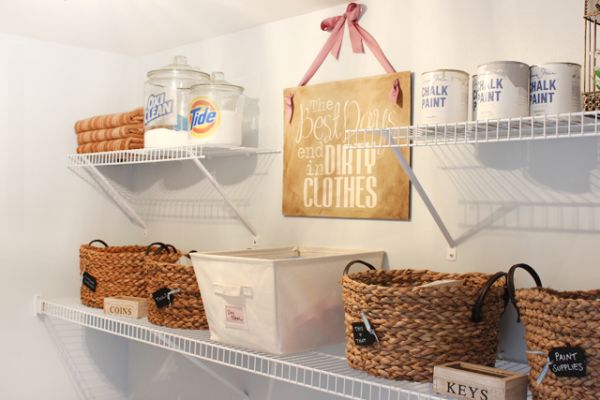 Letter shelves
This is a cute method to store bars, box of detergent, and other cleaning stuff. You can make an alphabet or a word shaped shelf. This will look trendy and will help you to keep washing stuff in a systematic way. Moreover, you can use this unique method of storage in other parts of the house. This would be beneficial to keep the books, toys, antiques, CD collection, paintings, and flowerpots outside the house.
Corners
This type of shelf is a great solution to keep things in the room, as it can be builds on the corners of the room. This will add a trendy look to the room. A properly designed and managed laundry room can offer multiple benefits to people as it can help in maximizing the storage and space in the room.
Custom built-in cabinets, washer, utility sink, and dryer can make things easier for your household tasks. You can store sports gears, school supplies, cleaning supplies, shoes, jackets, and it will function as a grooming center for your family pets. The laundry room can function as a multi-purpose room and remodeling of this space can be a great investment for you and your family.
Summary
Your laundry can serve you with many benefits, so it is very important to arrange the room in a systematic way. These ideas will help you to arrange the room in a perfect way in order to maximize the storage.