Pallets are an inexpensive way to make furniture for your home. These wooden strips thatare thrown away by most stores and can be reclaimed to make unique DIY furniture, or if you are not adept at DIY, you can hire a good carpenter to execute your designs.
Coffee tables, side tables, benches, chairs, entertainment center, shoe racks, spice racks, minibars – all can be made out of pallets. Pallet furniture looks great both outdoors and indoors. There are many indoor pallet furniture designs available online.
Why pallets furniture?
Pallets are great for DIY projects because they're cheap, sometimes free, so you need not worry about the cost of material. You do need to be careful about a few things, however, when you're selecting and working with pallets. You must be careful to select the right pallets, so that you don't bring hazards inside your home. The best pallets are retrieved from the dry goods sector. Use only those pallets which have a logo mentioning their history.
Pallets are chosen for creative DIY projectsbecause of their ease of use, and the material can be had dirt cheap. Also, because they are environment friendly, as they are upcycled. They can last long and are very useful to construct functional items, which any amateur can try his hand at. Some designers have also come up with some stunning designs using these humble pallets.
Best pallets furniture for your living room 
Pallet chair by Pierre Vedel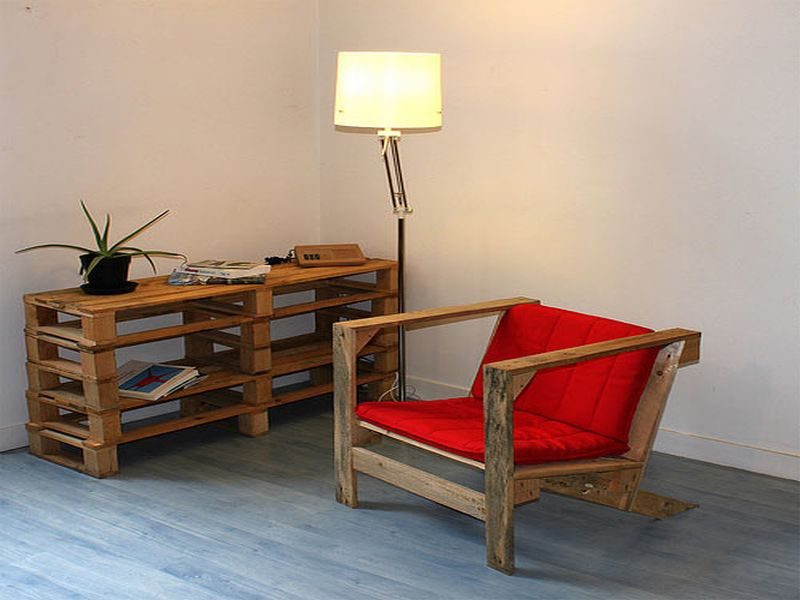 This Pallet Chair is truly an ingenious design. Vedel's design uses pallets imaginatively to transform them into a piece of furniture which looks arty, but functional, and keeps you guessing about the material. It's clearly wood, but you'd never guess that he constructed the chair from just one pallet. Bright colored cushions from IKEA completes the look, and this chair can be used in the living room, to give it character and charm.
Chevron design pallet table and bench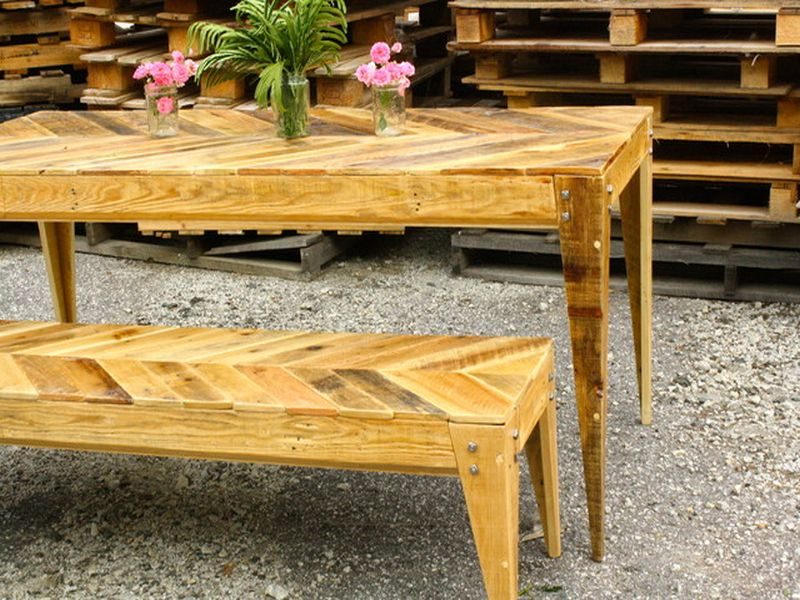 The Chevron pallet table and bench were made from recycled pallets. The pallet table and bench look as if they have received a new lease of life. Both are stained in warm colors with earthy tones, and has wear marks and nail holes that are retained in order to give the furniture its unique character.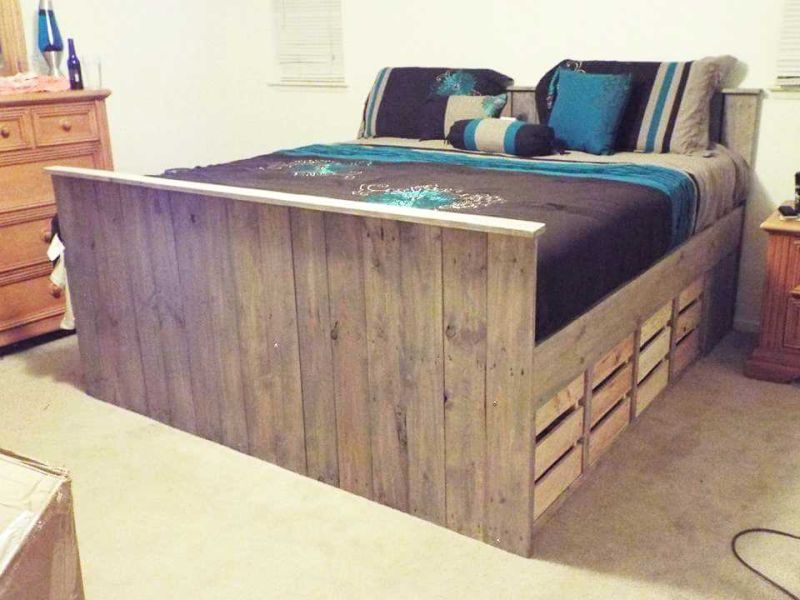 After you clean the pallets thoroughly and do some "unsealing and sealing" of the wood and give your pallets a good finish, you can use them to make handy but beautiful accessories. As pallets have nice texture and interesting patterns, you can highlight this to make charcuterie boards / wooden platters, wine glasses and chopping boards, to name a few and stain them or paint them in natural tones.
Industrial Style Wooden Pallets Furniture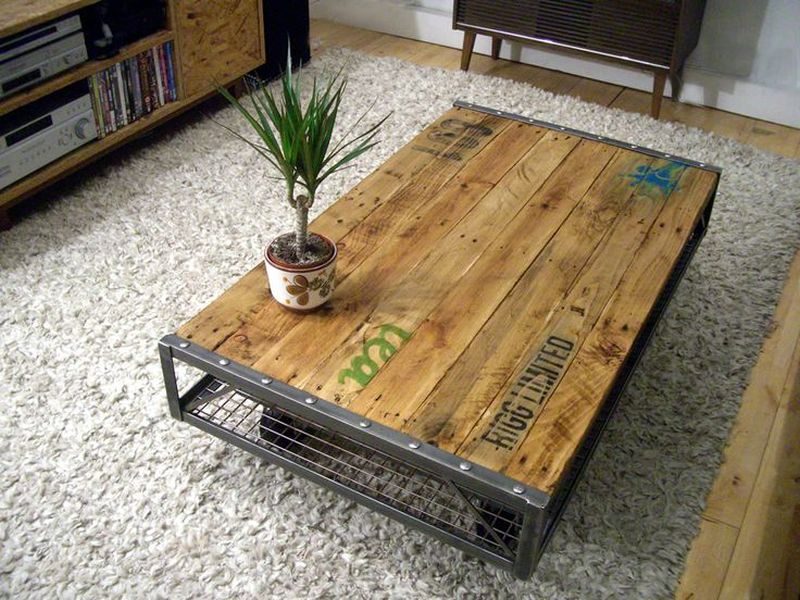 Pallets lend themselves well to industrial style theme of interior design. Industrial style designs are a far cry from ornate, floral designs – the designs are austere and simple, yet trendy and sophisticated. You can use your imagination and fill your living room with pallet furniture pieces, using the industrial wooden style.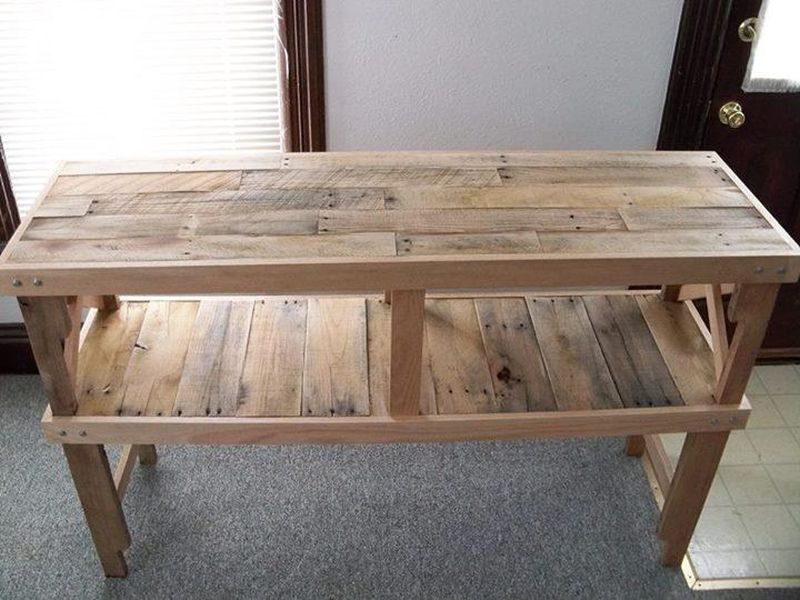 The pallet buffet / sofa table is perfect to add some country style to your living room décor. The tables retain the dents and discoloration, scuffs and cracks as they are made from pallets which have travelled the country and maybe the world!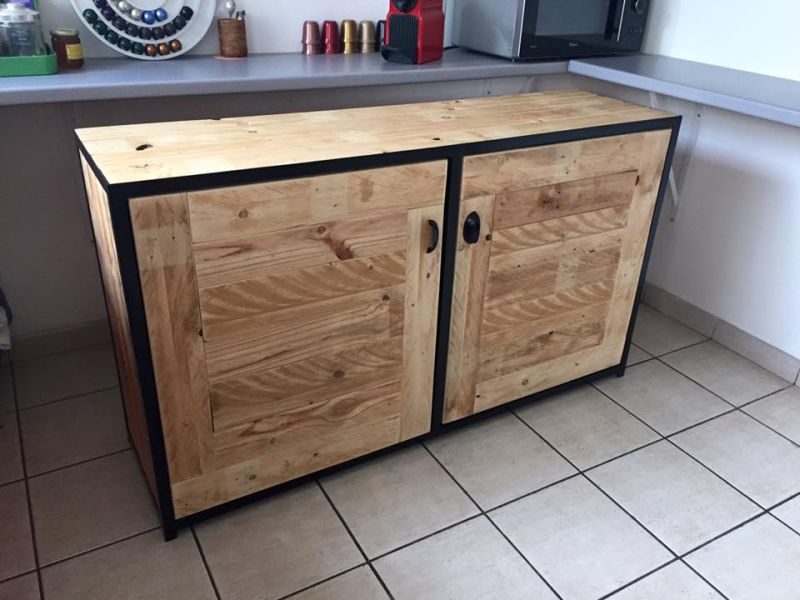 The wooden sideboard is handcrafted and made to order. The finish which is available in distressed blue and natural wood, can be easily assembled easily at home.
Desks and Tables from Studio Levant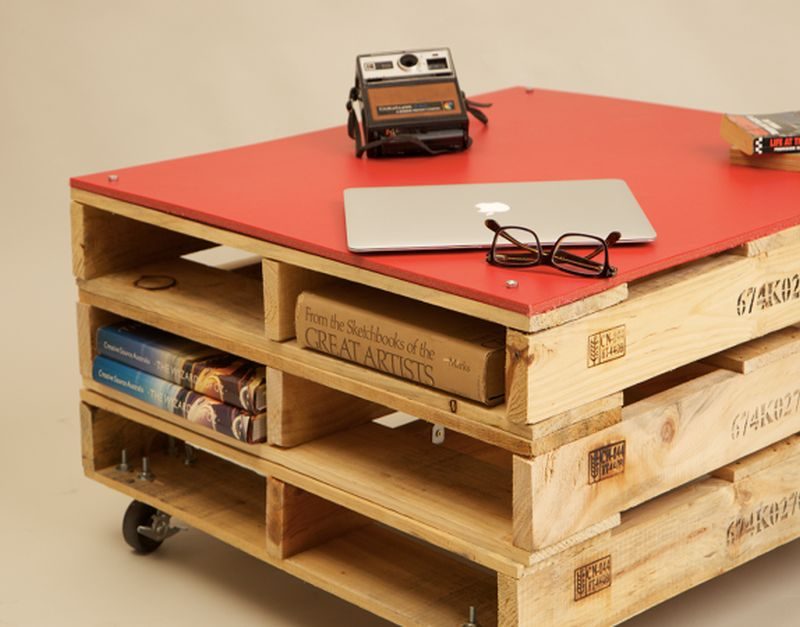 Studio Levant has designed desks and tables made from pallets. They have used the details of the pallets and painted them in bold colors. Each piece thus has its own character. Studio Levant uses pallets which are free from cadmium, arsenic and copper, and are derived from sustainable forests. The caster wheels fixed on the furniture enables them to be moved around comfortably.
Pallet furniture has been used successfully as outdoor furniture. But these designs show that they can be designed to fit in with any theme of interior décor as well.