An indispensible addition to most homes, almost everyone uses desks for reading, writing or working on computer. Moreover, if you have kids at home, they you definitely need one for their homework assignments. Desks are available in many design styles so pick one that gels with the getup of your house. Apart from the design, you must also pay attention to the built. Moving around the desk and working on it for long hours should be easy. If you are on the lookout for one, then take a look at few nifty designs compiled below.
Contemporary Creative Original Wooden Desk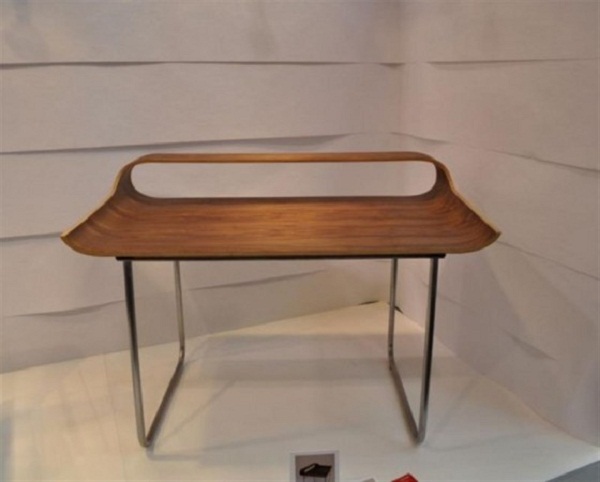 This minimalistic piece is for hi end and sleek homes. It is also a good choice for compact homes. The creation comes from Ontario College of Art & Design. The desk has polished finishing and a warm exterior. Due to its metallic legs, the desk will not look out of place in new age homes. The ravishing design was exhibited at the Interior Design Show of 2011 at Toronto.
What's unique
Notice how the edges of the desk are not clean cut straight. They have been rounded a bit. This prevents you from getting injured if you brush against or knock into the piece.
Creative Stunning Solid Wood Desk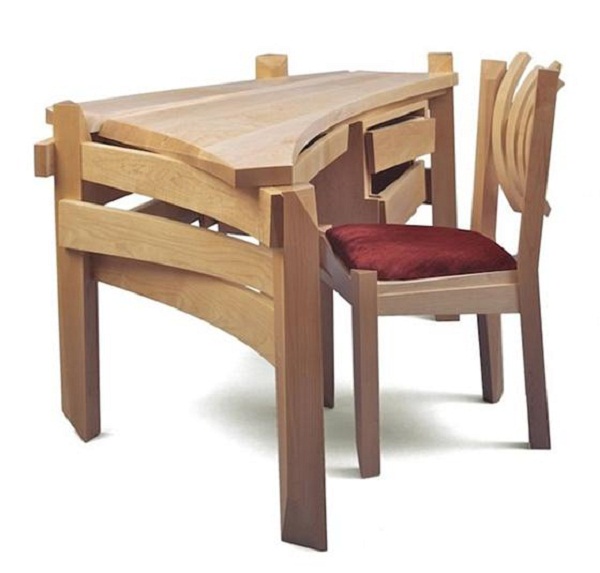 The plain looking woody piece has a laid back appeal. This is a creation from the New York based designer Nicole Yetkai. The cutting edge look is quite stunning as the designer has swapped straight lines with curvilinear outlines. Moving around this ergonomically built desk will be a lot easier now.
What's unique
The drawers are really neat. They pull out in every direction. You won't have to get up from your seat if you need any gear placed inside the drawer as they do not yank into you. They open out away from you.
Wooden Secretary desk, Design by the Creative Group by M. & D. Riva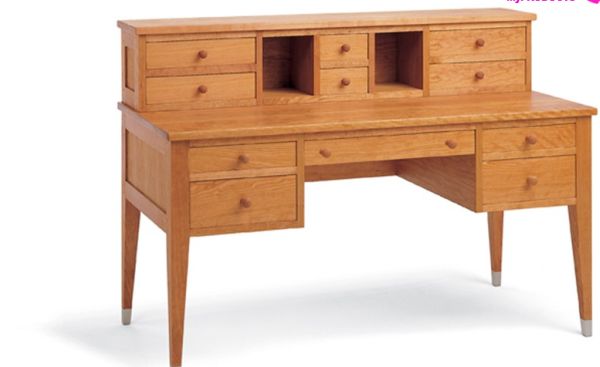 This desk with an old time look has plenty of storage space. The brainchild of Creative Group by M. & D. Riva, the piece is styled like the American Shaker furniture. It will go in classic homes done up with fine pieces. It is so easy to reach out and open the drawers slotted strategically at the frontage.
What's unique
The unit is quite sturdy and is made out of solid wood. The finishing is shiny and smooth due to the multiplex veneer. The drawers won't slacken on use owing to their dovetail joints.
Beka Wooden Art Table Desk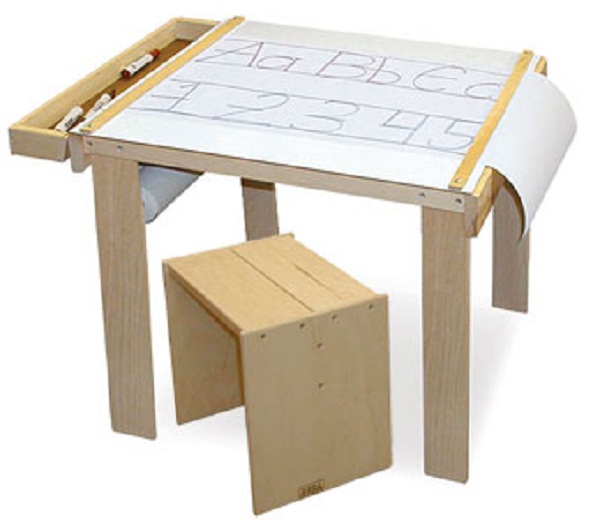 Price
$118.74
This is a great pick for kids. The layout is very practical and all requisite provisions for children have been included in here. The white marker board measures 24 inches on each side. One can erase writings and drawings created on it and then use it again. The piece also fits in two paper cutters and storage trays that come in two different finishes of red plastic and earthy wood.
What's unique
The simple and boxy design will easily fit into a compact room. The stool is made from Baltic Birch and Maple wood.
Stylish Smart and Excellent Hand-Crafted Wooden Desk with Shelf Storage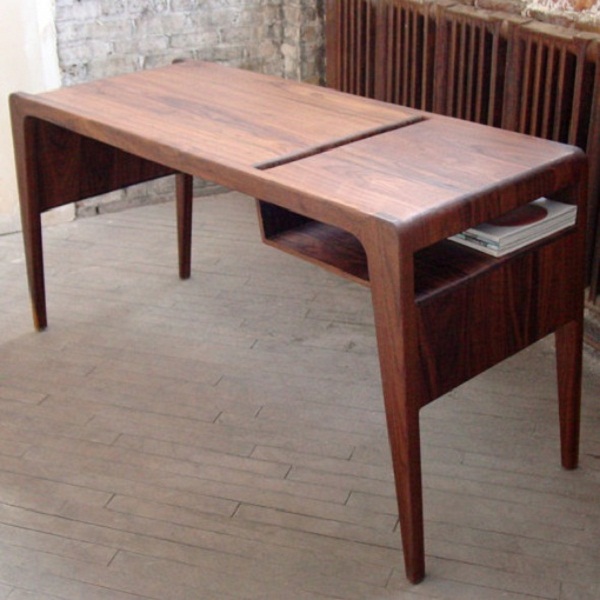 Heiss Desk by Ali Sandifer Studio has been put together for YLiving. The desk designed for computers has an ergonomic design. It is reversible and hence can be used by a lefty and also a right handed person. The desk is quite spacious and accommodates storage space also for your paraphernalia. It has a natural finish as the sap woods and knots have been retained. It is available in three varieties; Rift White Oak Walnut and Ash.
What's unique
Sleek and easygoing, this desk is a true embodiment of the craft that was used to construct it. Sustainable methods have been used to manufacture the piece. Only natural oils and water based veneers were used in the finishing.
Elegant Stunning and Innovative Desk Design with Smart Sliding Top Panel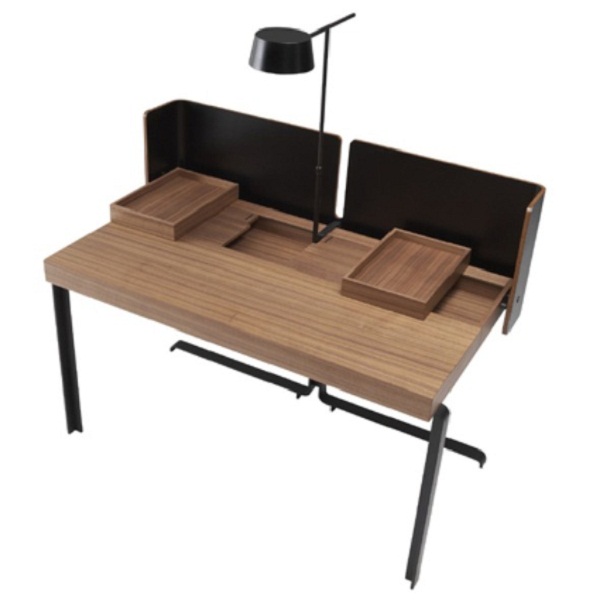 The swish looking piece is really functional. The storage spaces provided are quite unconventional as there are no drawers. The storage chests can slide around. A black directional desk lamp has been affixed in the middle. The wiring stays out of sight thanks to the sliding covers.
What's unique
The sleek piece has a natural walnut veneer. The unit has a black lacquered steel base. Its feminine appeal and delicate design will be liked by fussy gals.
Contemporary Desk With Creative Displays by In the wood design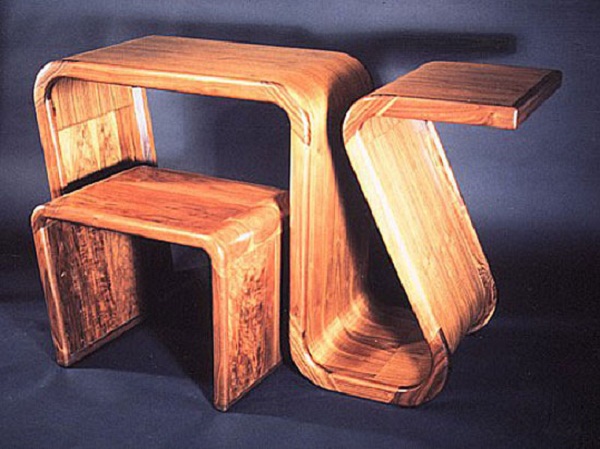 This desk is about 30 inches tall and 60 inches wide. The work space on top is commodious. You can place files and books in the section that loops right next to the desk. In fact, you can easily extend your hand and reach out for your supplies even while you are working at the desk.
What's unique
You definitely do not come across a snaky outline like this often. It looks quite queer and sends out a creepy vibe.
Writing desk furniture by Kaijustudios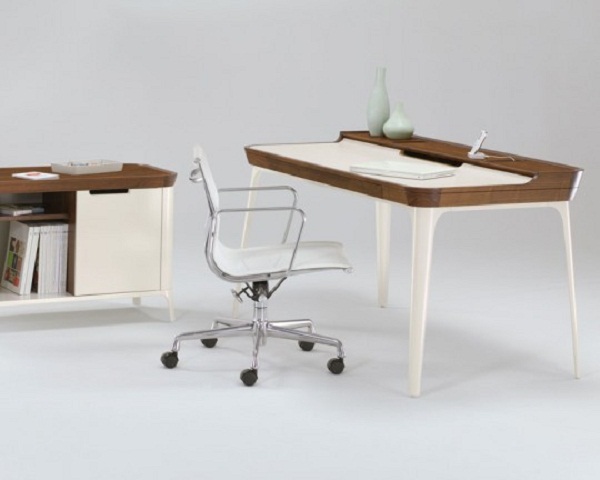 The compact piece in white and brown will easily blend with the interiors of any home. The glossy top half is lacquered while the legs are made from solid wood. There is storage space right underneath the work surface.
What's unique
This simple, slim and elegant desk is a good choice for gals. The muted shades give it a soft and surreal appeal.
C shaped Wooden Desk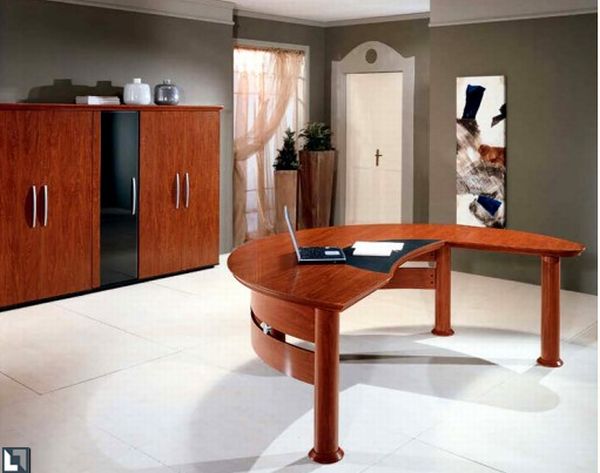 This one is designed for roomy spaces and looks really swell. People who need to accommodate a lot of knick knacks on their desk should go for this one.
What's unique
The crescent shape is quite practical. You can place a coffee mug, notepad, pen or anything else you reach out to often on the small section that extends away from the main work area.
Wood Storage Unit Desk Minimalist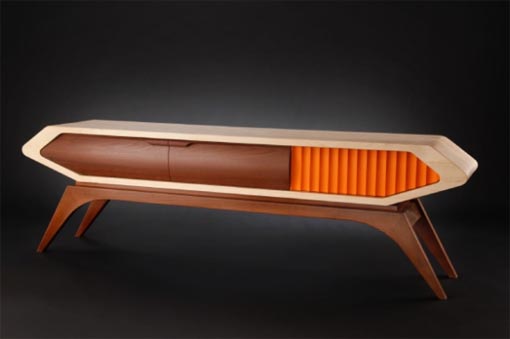 This one is a coffee table cum storage desk. It is available in a wide array of colors. It has been crafted by a skilled carpenter from California, Jory Brigham.
What's unique
The unit will need some space as it is 84 inches long. So, if you a lot of things to stow away then you should go for this piece.