Bathrooms are spaces we use every day, so they're far more important than we tend to give them credit for. From dark and sophisticated spaces to light and spacious expanses, modern bathrooms have come a long way from their sometimes harsh roots. Though there are many style options to choose from when designing or renovating your bathroom, here are some of our favorite modern bathroom accessories, accent pieces, fixtures, and designs.
Free-Standing Tub
Though free-standing tubs can be traditional or antique in nature depending on their shape, size, and color, they can also be modern depending on the same above requirements. A square or oval shaped free-standing tub in colors like orange or green is a great first step in creating the modern bathroom you've always dreamed of. For added modernity, consider placing the tub next to an open window, under a modern chandelier, or near a contemporary piece of art.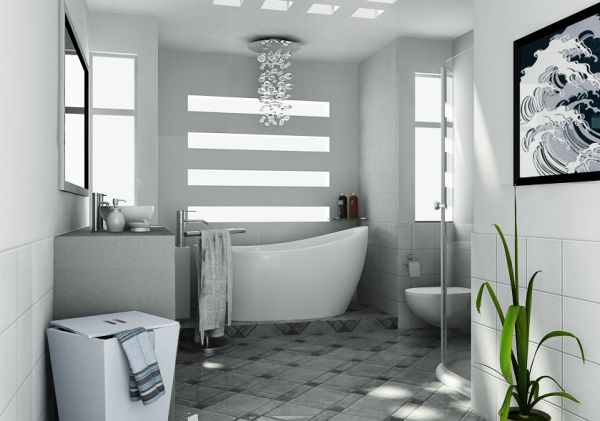 Modern Vanities
If you don't have the space or budget for a brand new free-standing tub, you can't go wrong with a modern bathroom vanity from a high-end retailer. Modern vanities come in a variety of shapes, sizes, and colors and, in many cases, can be custom built to meet the sizing demands of your bathroom. Pair your modern vanity with a large decorative mirror or a tiled backsplash for an added touch. If your bathroom doesn't have windows, consider placing a bouquet of flowers on the countertop of your vanity – not only are plants and flowers a beautiful touch, but they can help purify the air as well.
Flooring & Walls
It's easy to forget about the floors and walls when decorating a bathroom but, with the right touch, they can make all the difference. Walls painted in bright colors or wallpapered in out-of-the-box designs can add a modern touch to any size bathroom, while using bright and colorful tile on the floor, backsplashes, or walls is the perfect way to add a hint of modernity. No matter how you decide to decorate or design your modern bath, don't focus on the details so much that you forget about the basics.
Article Submitted By Community Writer.