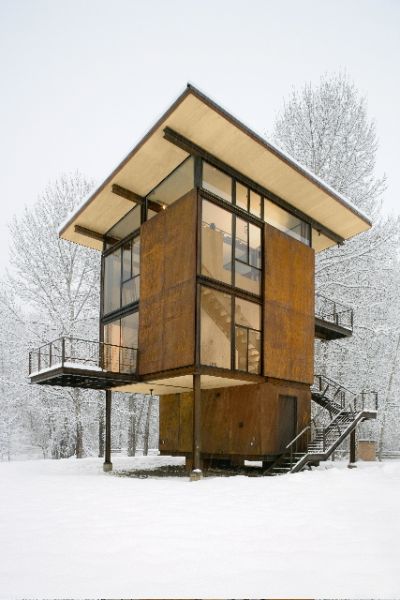 Delta Shelter designed by Tom Kundig of Olson Kundig Architects, which stands tall in Mazama, Washington, is 1,000 square feet of modernist retreat. Built around the Methow River in a floodplain, it is completely made from steel that makes this building strong enough to face ell the weather elements, that too in style.
The design
This steel walled hideaway stands tall on four steel beams, and is completely enclosed with hardwearing 16-gauge and hot-rolled steel sheet over plywood walls.
Located in a remote site in the North Cascade Mountains of Mazama, Delta shelter can be fully shuttered down when the possessor is away. Moreover, it also features 10' x 18' steel shutters, which can be fully closed or opened with the help of a hand crank.
The rustic character of the heavy-duty steel used in the construction of this beautiful house makes it strong enough to face the Washington's wilderness.
The interior
Delta shelter features three floors, with the living room and kitchen at the top floor. The ground floor is divided into two parts, half being the carport and the remaining half being the storage room. The main entrance is at the middle level that guides to two bedroom and bathroom combos. A wooden staircase hugging the wall runs to the top floor, which has the living room and a kitchen that follows an open floor plan.
House is decked with simple and elegant furniture that serves the basic motive of relaxing, lounging and dining. In addition, the built-in storage bins and boots make the space look clean and tidy. It follows a neutral palette that beautifully compliments plywood and steel, which turns this house to a visual retreat.