Since long, lights have been used to create desired effects. With lighting, having the power to bring out the beauty and also negate the weak points, light is extensively used to bring out the best. If you are bit experimental, then you will surely like the idea of table lamps as an interior decoration, too. Table lamps placed at right place in any room can give it a complete makeover with very little effort and create a cozy beautiful area for you to relax and enjoy with family and friends. The right lamp can be a great way to add light and color to a dull room. This guide of 10 selected designer table lamps can resolve your worry of buying an elegant and affordable table lamp for you.

1. Hermitage Dark Luxe Lamp
BRAND : The French Bedroom Company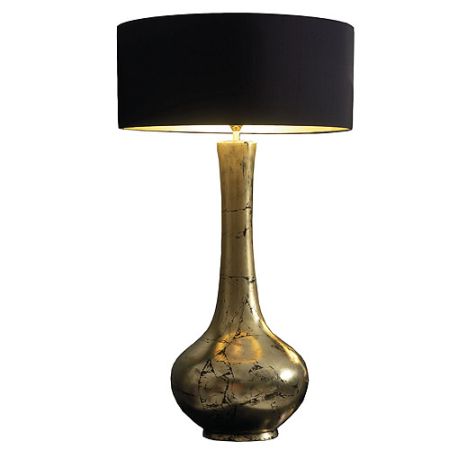 Hermitage Dark Luxe lamp is simply elegant and affordable but most importantly, unique! This Luxe lamp is designed to give a grand statement to your room. Its gold base is ceramic. It is hand leafed, then polished and finally finely brushed for a delicate burnished finish. The smart black silk shade is not simply a black shade – it is gold-lined and casts an extra warm glow around your room.
USP
This lamp can be easily cleaned with an aqua-based cleanser by using a sponge.
PROS
This unique french lamp is a delicately finished piece with gold shade.
2. Pipistrello table lamps
BRAND : Martinelli Luce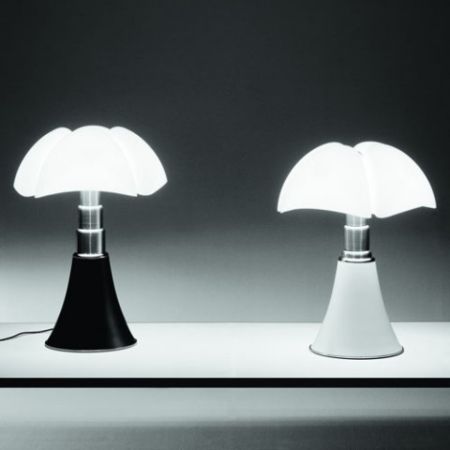 It's considered to be an artwork of 1960s contemporary Italian design. Attractive and sophisticated, this fixture is a contemporary classic which evokes a natural atmosphere. It's a timeless piece, with its elegant design making it an easy choice for any contemporary bedroom. The Pipistrello table lamp by Martinelli Luce is a cult object of design. This is a table lamp or a ground lamp with a light broadcasts. A telescopic system in stainless steel allows to adjust its height anywhere from 26″ to 34″. The broadcaster is in white methacrylate opal and the basis in white varnished metal or dark chestnut. Stylish, effortlessly elegant and uniquely beautiful, the Pipistrello lamp is a modern classic that evokes a minimal and refined atmosphere. The Pipistrello lamp is a modernist light vessel to be treasured forever. Its gracious shape makes it an easy choice for any modern interior.
USP
This lamp is very functional since it has a unique telescopic stem which is adjustable anywhere from 26″ to 34″.
PROS
Its gracious shape makes it an easy choice for any modern interior
3. Ceramic Silver Metallic Table Lamp
BRAND : Ceramic Silver Metallic Table Lamp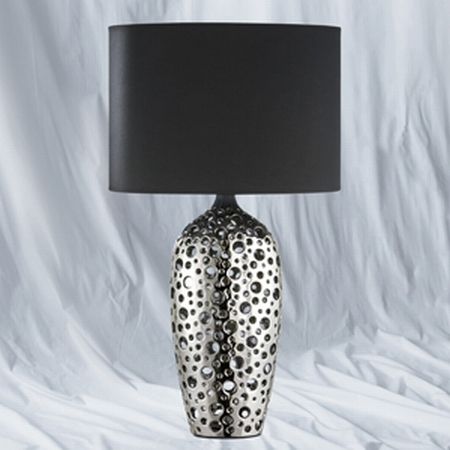 Ceramic table lamps are the perfect home accent to any room. If you are looking for a table lamp, to add artistry and design or brighten up your home, then Ceramic silver metallic table lamp will meet your demands. The ceramic silver base on this table lamp has Swiss cheese like holes all around making it a striking feature of this delightful table lamp. This lamp particularly suits to hallways, on narrow tables and sofa tables due to the reduced depth of an oval shade. The black oval fabric shade measures W: 330 mm x H: 230 mm. The toggle on/off switch is located 160 mm from the base on the cable. An E14 lamp is fitted inside this lamp; but you can also use any low energy bulb, too.
USP
One of the main reason's why it is worth buying these table lamps is because of the use of high quality materials.
PROS
Any low energy bulb can be used in this lamp.
4. Glass Blob Lamp – Amethyst
BRAND : Porta Romana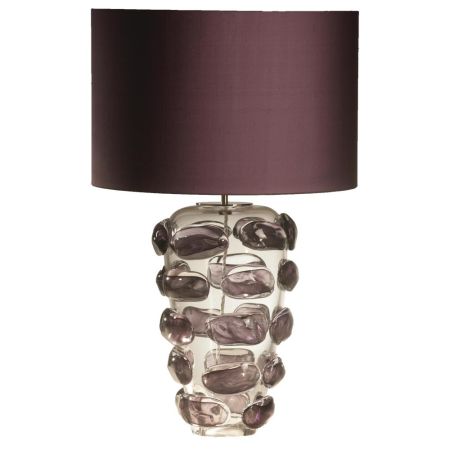 This Glass Blob table lamp from Porta Romana is stylish and unusual in design and will make a beautiful addition to any home. You can give any a room a perfect finishing touch with this lamp; and, it is available in several finishes including amber, amethyst, black, chocolate, olive, ruby and turquoise. It is made from blown and molded glass with nickel plated brass. This lamp also features a silver twisted silk flex with in-line switch. This lamp is beyond fashion and hence an all time luxury for your room. The lamp base height is 425 mm, 16 ¾" and width with shade is 457 mm, 18".
USP
The finishing of Amethyst make this lamp much brighter and appealing.
PROS
Glass Blob lamp is an object of beauty.
5. Lava Lite 5321, Pink Wax/Purple Liquid/Purple Base
BRAND : Lava Lite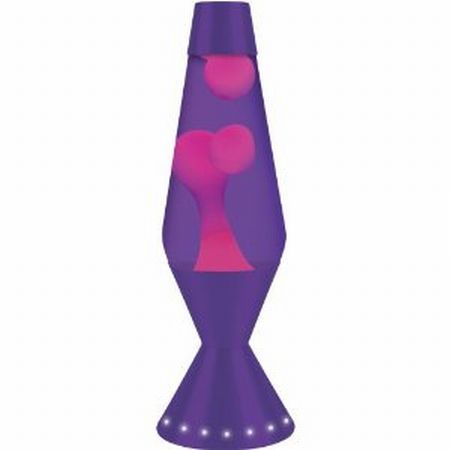 A perfect addition to any bedroom, living room or party space. Simply turn on this Lava lite lamp and set the mood. A 40-watt light bulb fitted along with a 16.3″ pink wax/yellow liquid lava lamp, which provides a relaxing, soft light. This lava lamp contains a standard incandescent bulb or halogen lamp. The bulb is normally 25 to 40 watts. These kinds of lava lamps are combination of water and the solid form of wax; and, you will find this lamp in a variety of colors. The different-sized formations of the melted wax collide, flow and split apart as they ooze their way up and down the glass globe makes a beautiful view for you indoor!
USP
These lamps are perfect innovations as they can save energy, give maximum light plus add a beauty to houses.
PROS
This Lava lite lamp can best set the mood.
6. Double table lamps (88156)
BRAND : Italian table Lamp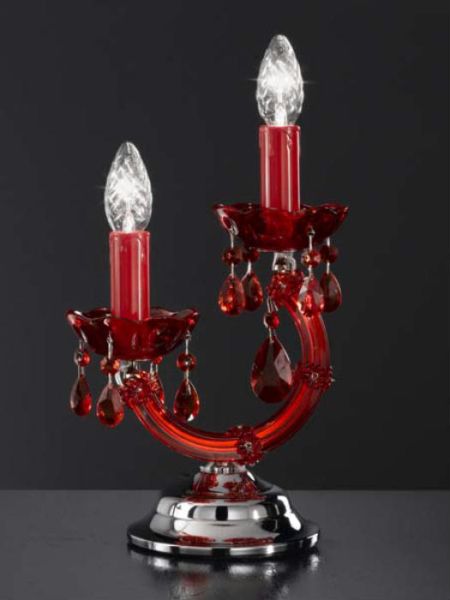 Compliment your room with this Italian double table lamp. In the medieval times; you would find the candle chandelier in the king's house. Well, now you can use this beautiful classic collection of lights featuring blown glass and acrylic crystals as a double lamp. This lamp features table lights and chandeliers, all of which are available in black, white, clear red or blue glass, on gold or nickel colored frame. The dimensions include length which is 21 cm with a height of 29 cm. The two E14 bulbs of 40 W  inside this lamp helps with the concept of saving power, too.
USP
The low watts of bulb are used in this lamp, as adding a chandelier requires large amounts of lights.
PROS
This delightful table light would add a touch of decadence to your décor!
7. Hamburg table lamps Large
BRAND : Brissi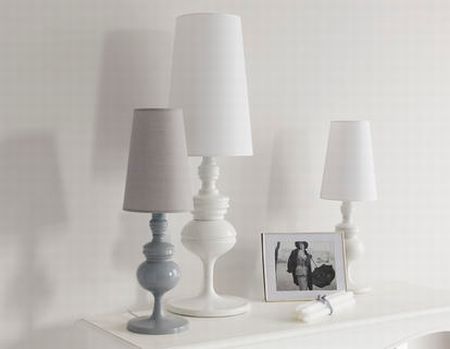 Hamburg table lamp works in both contemporary and vintage inspired spaces. With a heavy white or gray acrylic base and a textured cotton shade, these lamps look stunning in a living room or bedside setting. You are sure to make a statement with this Hamburg table lamp in gray or white, both. Two sizes in large and medium with three different models are available in this lamp, Hamburg table lamp with model number (11975) comes in white color with large size of 25d x 85 h cm. The other two models Hamburg table lamp (11976) with medium size of 18 d x 53 h cm in white color and Hamburg table lamp (12844) with a size of 18 d x 53 h cm comes in gray color.
USP
This lamp has a lighting unit with a sleek design, which gives a stunning look to your room.
PROS
The Hamburg lamp also comes in a floor style.
8. Ceramic Jazz table lamps
BRAND : Ceramic JazzTable Lamp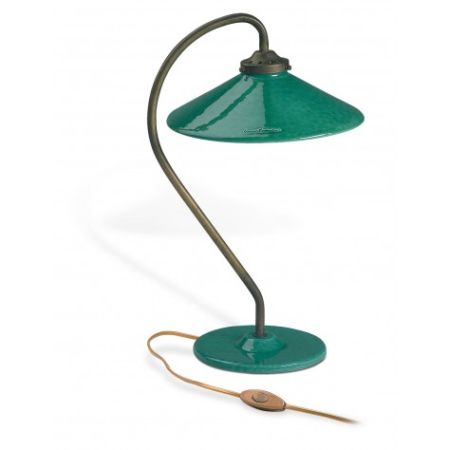 Ceramic Jazz lamp is truly handmade. The shade of this lamp is dipped by hand;  leaving a beautiful color emerald green that is not uniform. Moreover, the glaze is thicker in places causing areas of slightly lighter and darker color. The glaze also crackles over time creating a soft, lustrous finish. You will love this and the effect is a far cry from mass manufactured lighting; and, it comes with an antique gold cable. This stunning lighting comes in a wealth of colors, 26 colors are available for you so as to compliment your room best. This beautifully handmade table lamp with flex mounted switch is available in two sizes. In large, it comes into height 570 mm x shade dia 330 mm x base dia 230 mm. and in small the dimensions varies with the height 470 mm x shade dia 260 mm x base dia 180 mm.
USP
Two firings used in this lamp will jazz up and ensure resistance and quality.
PROS
This is a hand-made classic style lamp.
9. Verilux Heritage Natural Spectrum Deluxe Desk Lamp
BRAND : Verilux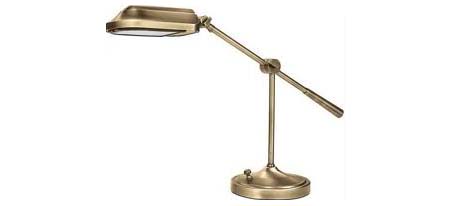 An ultimate reading lamp! It scientifically tunes to original Natural Spectrum indoor sunlight for readers' eyes. The exclusive Verilux technologies optimize black-white contrast and reduce harmful flicker and glare to eliminate eyestrain and enhance vision. It takes 8.5 of desk space and has full-rotation lamp head with telescopes 11.5 and 17.5. With timeless design, metal construction, hand-polished antiqued brushed nickel or brass finishes and microprocessor controlled power adaptor, this lamp last for generations. Verilux includes energy-saving 27 W bulb that adjusts brightness to the equivalent of ordinary 75 W, 100 W or 150 W bulbs. This bulb lasts 10 times longer, too.
USP
A 3-way brightness control in this lamp let you adjust a powerful light to suit your personal preferences.
PROS
All metal construction adds classic beauty to any décor.
10. Galileo Halogen Table Lamp Model No. 6031/3

The Galileo Halogen table lamp from Holtkoetter features a sculptural shape with illumination from two sources: the smooth base and its statuesque fabric shade. A specially designed dimmer housing provides a convenient location for controlling both the three-way switch in the shade as well as the dimmable bulbs in the glass base. Both the round and square shades are available to choose from. And the dimensions for both varies accordingly, Galileo with Square shade: 8.75″ W top x 9.875″ W bottom x 31.5″ H and Galileo with Round shade: 9.875″ W top x 9.875″ W bottom x 31.5″ H. Two halogen bulbs of 40 W which provides a very bright point source in a small package and provide excellent color rendition.
USP
These lamps provide a very bright point source in a small package and provide excellent color rendition.
PROS
The features of halogen lamps are hard to find in other lamps.