Tables, be it a center table, corner table, or a coffee table, add a certain charm to the interior décor. Well, the charm certainly depends a lot upon the material and shape you choose for a table in your home. Modern tables have changed a lot in their looks and feel than their traditional counterparts, as the use of unique materials and unusual shapes have become a commonplace thing now.
Here we have brought for you one such unique and a green idea that will enable you tomake modern tables on your own using nothing new expensive material but the waste things lying in your backyard.
Radiator coffee table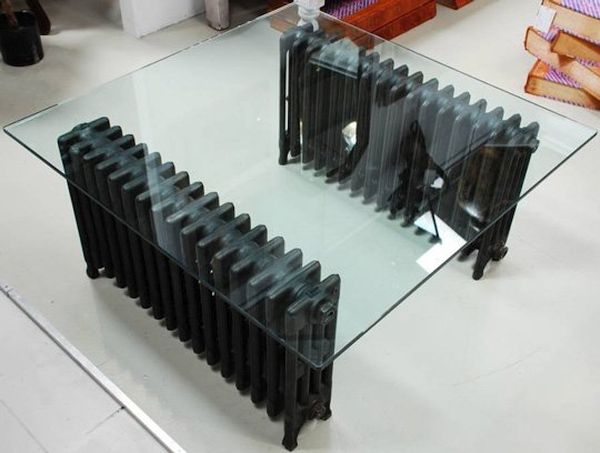 If you have covered and hidden a cast iron radiator in your store, thought to discard it so many times but something stopped you, then now is the time you take it out and put it to a very interesting and an impressive use. You can make a modern coffee table with it that can add a happening modern look to your home.
If you have a single vintage cast iron radiator then you also require four wheels to support it, as you will follow a horizontal radiator design. If you have managed to keep two vintage radiators in your store trying to keep them out of the landfill, you can make a vertical design, placing both radiators vertically and adding a glass top.
Tree log table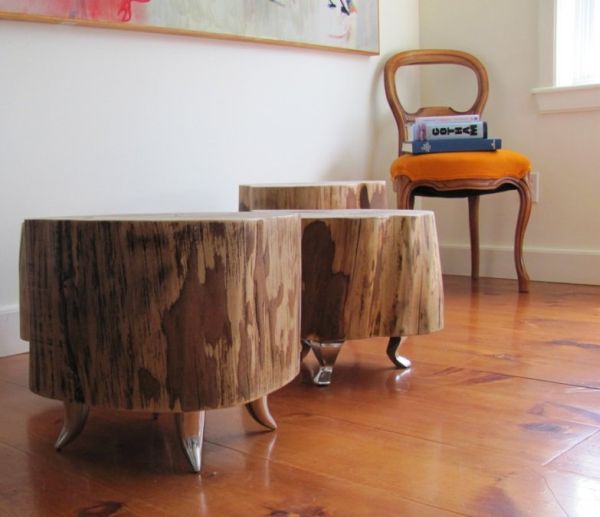 Isn't it too good to make something that does not cost you much but looks like a million dollar thing.Well, it certainly is and here we are talking in context of interior decoration that you can enhance placing some tree log tables inside.Making them is super easy, as all you need to collect are some logs of equal dimensions or of varying dimensions, as per your liking and convenience.
They look good if you keep them in their natural color tone, wooden polish goes well too, or painting logs in different colors can give your room décor a rainbow effect.To make the movement of table easy, you should fix wheels to it, and then take it anywhere with you, or shift it to cater your guests well.
The Tire and Rope Table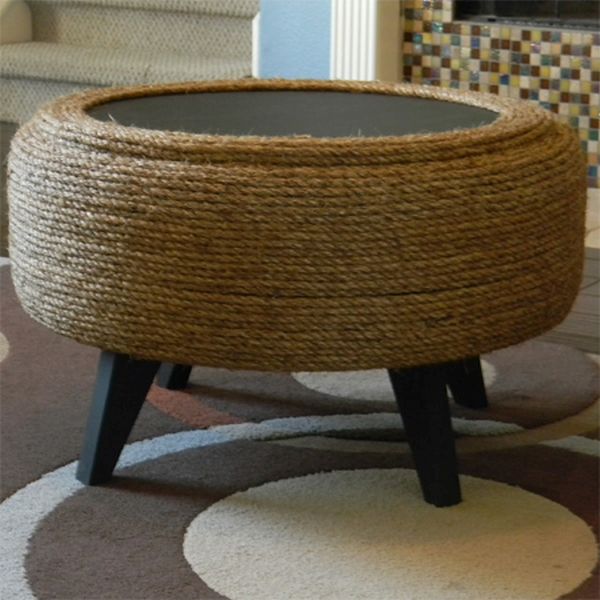 This project has the same motto, i.e. repurposing waste and saving the environment but this looks so gorgeous and trendy that nobody can say it is made of waste materials. You take a tire, a plank board and cut the plank board in size that matches that of the tire.
Plank board makes the bottom and the top of the table. Design four legs depending upon the height you want to give to the table and fix them to the bottom that designed using a plank board.
Place the tire on the bottom plank and then place the top plank over the tire. Wrap the entire visible tire and the top plank with rope in a way that sticks tire and the top and bottom part so secure that they do not set apart.To give this trendy and attractive furniture piece final additions, paint or varnish the legs and the rope and tire table is ready to amp up your room decor.
The crate table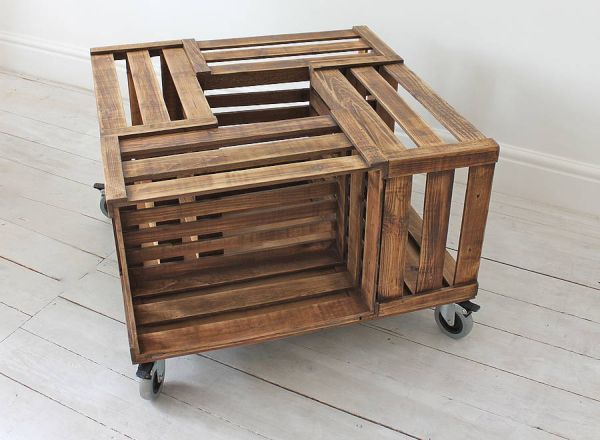 Wooden crates, if you have some of these in your home, you can make this ultra-modern table design on your own. The simplest to design and the most sophisticated to look at. Join the crates in whichever way you want, polish them or color them, whichever goes best with the existing home décor.
Making modern tabled using trash not only saves your money but also saves that waste adding up to the landfill sites. Moreover, it gives people satisfaction to make useful things out of something that they once thought to be a waste.